Defunding Police: An Interactive Discussion
---

Join us for an interactive discussion on the concept of defunding police, led by Janice Jackson:
July 1, 2020
9 PT/11 CT/Noon ET
The murder of George Floyd in Minneapolis sparked nationwide and global protests against police brutality on Black Americans. As an outcome of these protests, many communities are calling for defunding of the police. This concept is not new but has only recently gained national attention. Janice Jackson, of Janice Allen Jackson & Associates, LLC, will facilitate a discussion with ELGL members on defunding and what it could look like in your community.
---
About Janice: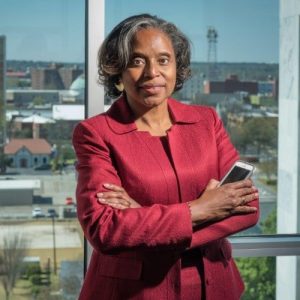 Mrs. Jackson has served as City Manager of Albany, GA, and Administrator of the consolidated Augusta, GA government. She also worked as one of four General Managers reporting to the County Manager in Mecklenburg County, NC, and Assistant City Manager in Albany. She began her career in local government as a Management Intern in Prince George's County, MD.
Throughout her career, she has always enjoyed bringing major projects to fruition, building public trust in government, and empowering staff to become their best and most productive. Her unique talents revolve around her willingness to address issues head on with honesty, sincerity, and integrity, and in so doing, bring people closer to the organizations that serve them, and employees closer to the organizations for which they work.
​Over the years, she has been active in various civic and professional organizations, to include the United Way organizations in Augusta, Albany, and the Central Carolinas, the International and Georgia City-County Manager's Associations, Women's National Book Association, Charlotte Chapter, and the National Forum for Black Public Administrators. She is also a graduate of Leadership Georgia, Leadership Albany, Leadership Charlotte, and Leadership Augusta.
She is a Diamond Life member of the Delta Sigma Theta Sorority, Inc., and an active Rotarian/Paul Harris Fellow. She has also served on the boards the Institute for Social Capital at the University of North Carolina-Charlotte, Partners for Out of School Time, Caring, and the Steering Committee of the Charlotte-Mecklenburg Women's Summit. She also served as a member of The Executive Leadership Team of the Central Savannah River Area (CSRA) American Heart Association Heart Walk. Additionally, she is an active member and Vacation Bible School teacher at Good Shepherd Baptist Church.
A native of Augusta, Mrs. Jackson graduated from the Academy Of Richmond County. She was the first student at the College of William and Mary to pursue the interdisciplinary major in Public Policy, completing it with a concentration in Urban Policy. Later, she was a recipient of the Alfred P. Sloan/Association for Public Policy Analysis and Management Fellowship, and earned a Master's Degree in Public Policy with a concentration in Management from Duke University.
Learn more about Janice and her firm, Janice Allen Jackson & Associates, LLC at their website or connect with them on Twitter.