Webinar: HR Beyond COVID: Preparing the Way for the Post-Pandemic Workforce
---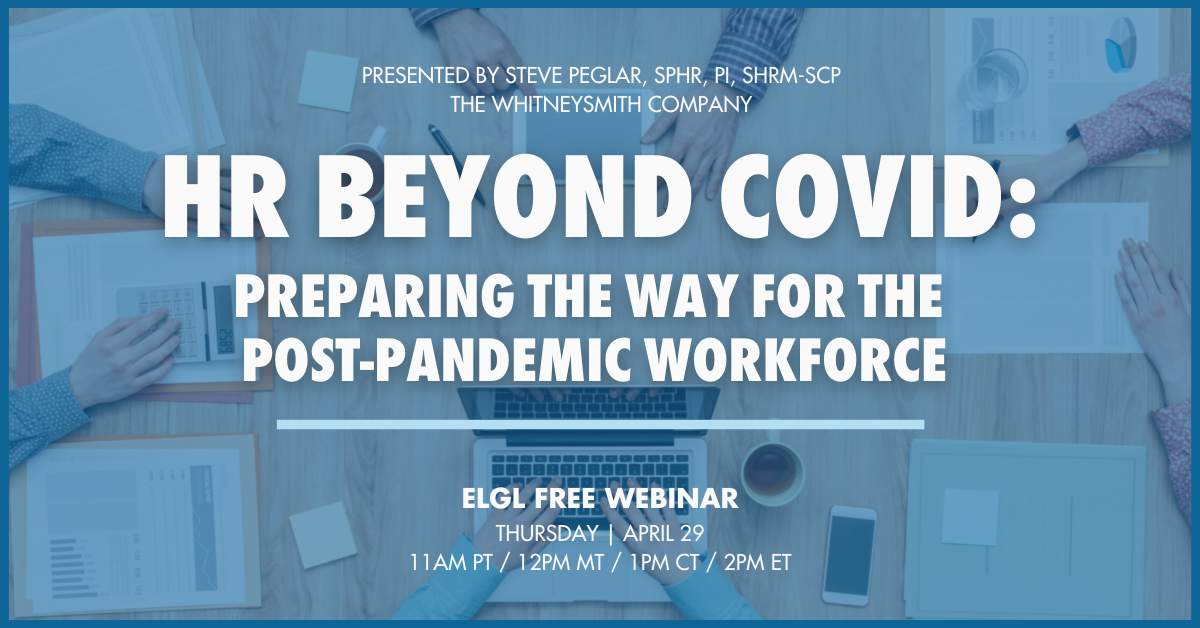 With hope on the horizon for an end to the global pandemic, organizations throughout the world anxiously anticipate what the future of the workplace will ultimately look like and how they as employers will adapt to the post-pandemic "new normal." After undergoing the largest ever experiment in remote working practices that the world has ever seen – which has generally resulted in a broad positive impact – things will never be quite the same for these organizations and their employees when the danger from COVID 19 has passed.
Moving into this uncertain future, HR is faced with a range of challenges in continuing to implement, administer, and enhance these new ways of working, and to effectively and successfully maintain and improve a workplace that is likely forever changed as a result of our collective experience.
In this engaging program, Steve Peglar, SPHR, PI, SHRM-SCP, will present insightful observations and practical tactics for addressing these concerns, with topics including:
The Great Remote Work Experiment of 2020-21
What Has Worked…and What Didn't?
The Likely Future
Critical HR Considerations for the Post-Pandemic Workforce
Potential Post-Pandemic Positives….and Negatives
---
About the Presenter
Steve Peglar, SPHR, PI, SHRM-SCP, is Senior Vice President with The WhitneySmith Company, a Fort Worth-based human resources consulting firm, and currently leads the firm's Austin, Texas operations. He has over twenty-five years of strategic and tactical human resources experience and has worked with a wide variety of industries including services, manufacturing, banking & finance, energy, nonprofits, defense & federal contracting, architectural & engineering services, municipal governments, education, telecommunications, and more.
Mr. Peglar holds a B.S. in Business Administration from the University of Tennessee. He also maintains the Senior Professional in Human Resources (SPHR) designation from the HR Certification Institute, the Senior Certified Professional (SHRM-SCP) designation from the Society for Human Resources Management and is licensed as a Private Investigator with the Texas Commission on Private Security. He is also a certified practitioner of the Myers-Briggs Type Indicator (MBTI) and True Colors personality profile systems, and a trained analyst in the Predictive Index (PI) workplace profile. He is a frequent author and contributor to local, regional, and national online business publications, and speaks regularly to business groups on a variety of HR issues and topics.
Mr. Peglar's areas of professional expertise include employee relations, HR strategy, policy development, HR legal compliance, internal investigations, EEO, compensation, performance management, training & organizational development, workplace surveys, organizational culture, executive coaching, organizational design, federal contractor compliance, expert witness testimony, international HR, workplace benefits, HR technology, and safety.
Mr. Peglar is active in the community and works with a variety of community service organizations, currently serving on the board of directors of Community Healthcare of Texas (Board Chair) and the Fort Worth Chamber of Commerce Central Area Council (Board Chair). Previous board service includes the Fort Worth Chamber of Commerce, Sister Cities International, Lighthouse for the Blind of Fort Worth (Chairman of the Board of Directors & Board of Trustees), Susan G. Komen Foundation of Greater Fort Worth, Boy Scouts of America Longhorn Council, the YMCA, and Fort Worth HR Management Association. He is a member of the Austin HR Management Association and is a founding member of Career Solutions Workshops. He is also a graduate of the 2014 Leadership Fort Worth Class.