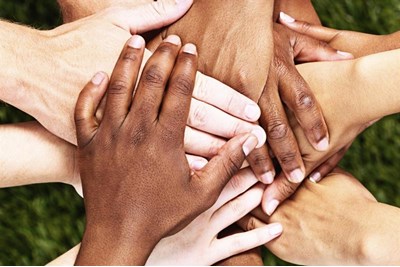 I'm going to go out on a limb here and guess that most local government organizations don't have recruiters. Sure, you might have people responsible for recruiting and even recruitment managers. Most of these people are focused on making sure the organization is in compliance, getting your jobs posted, recommending and placing ads, going to job fairs, and getting the word out about your jobs. I would bet your recruiting team is not out in the world every day head hunting, building your talent pipeline, and finding your perfect future employees who are currently passive job seekers. If you have that, congrats!  If you don't, keep reading.
Everyone is a recruiter.  This goes beyond the recruiting staff, or anyone in HR for that matter.  In fact, no one knows the vacant job on your team better than you (the teammates and the hiring manager). Chances are that you know way more people who know people who might interested in your job than HR does, because we know mostly HR people.  What does this mean?  It means when your HR staff prepares a job announcement, they are asking you to please share it!  Share it with your team and share it with your colleagues and ask them to share it with others who might be interested.  You never know when people you know might know someone who would be great for this job. Perhaps they have an awesome temp or intern but not jobs to offer.
Are you on LinkedIn?  If the answer is no, why not?  If the answer is yes, you should be using this tool to help bolster your recruiting efforts.  Your profile should be up to date and your photo should look professional (no pets or beach selfies).  If you are hiring, consider articulating on your profile why working in your department is so great (like this guy).  Remember that candidates want to find out as much as they can about the organization and about the hiring manager and they will do their research.  If they find you on LinkedIn, let them see something interesting and help them want to work for you.  If you need help creating a LinkedIn account or updating your profile, ask someone.  Don't forget to follow your organization on LinkedIn.  If jobs are not posted there, find out who is running the page and ask them to share. No luck?  Create your own social media image using Canva and share it up. This is different than LinkedIn job postings but still effective, especially if you can get your coworkers to share it, too.
Your recruitment campaign is like your name tag.  What?  That's right, it's the first thing future employees see; think of it as curb appeal for your open job.  If it's sloppy and needs a lot of work, they're just going to keep on browsing.  We all know the job announcement that gets automatically generated out of Neogov is kind of, well… blah; try working with your HR and graphics teams to create something better.  Your HR team can really use your help describing the job in a way that makes sense to people who don't already work with you.  Think about how you might describe the job to your neighbor – What are some exciting projects on the horizon?  What are the most important things this job does?  How do employees in this role impact the community?  What makes this job so great?  Keep in mind that with the record low unemployment many areas are currently experiencing, most of your future employees already have jobs.  Your job announcement and marketing materials should pique interest and invite them to look further.
Quote that.  What are you looking for in an ideal candidate? Tell them!  Yes, this can sound kind of hokey, but it's important.  Use the quote on your marketing materials or on a social media post.  Having a quote from the supervisor gives the posting a more personal touch, speaks to your future employees, and provides some insight about the work.  Your quote should be no more than 1-2 sentences… for inspiration, finish this sentence "I wish I could find someone who ____________."  Need a little help?  Ask someone in your organization who is a great writer, they'll be glad you asked.
But I'm in a hurry and just want to use what we used last time.  When was the last time you advertised for this job anyway?  Chances are, it's kind of stale.  If you weren't bursting at the seams with awesome candidates, you might consider a change in how you communicate about the job.  It's easy to copy what you used last time, but it's probably not the best approach.  Putting in a little effort on the front end, can help yield the right candidates in the end.  A big part of this is getting your description (read sales pitch) right and getting the word out.  If you're having trouble explaining what is exciting/important/motivating about the job, it might be time to re-think the job.
What gets measured gets done. Ask your HR team for some stats about job after it closes. How many hits did you get?  How many applicants?  Where did those applicants learn about the job?  Which ad sources yielded the most qualified candidates?  Show your HR team that you are interested in this stuff (they'll be impressed).