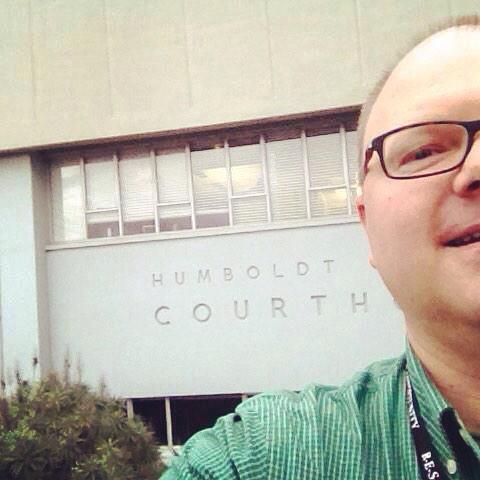 This article was originally posted in February 2015. At the time, Phil Smith-Hanes was the County Administrative Officer for Humboldt County, CA. He is the Ellis County (KS) County Administrator. 
---
The human tendency (or need) to categorize is a fascinating trait. Especially when we apply that to human beings. Even ourselves.
I'm in lots of categories myself.
White.
Male.
Mid-40's.
Married.
Double income, no kids.
Credentialed Manager
.
Dog person who's living with a cat.
College football fan.
Openly gay.
It's that last one that tends to be most intriguing to people.
Personally, my feelings about the "gay experience" in America tend to run along the lines of a song (unfortunately NSFW) from the duo Romanovsky & Phillips. Sample lyrics: "I don't brunch on Sundays. I've never
ACTed UP
. My life is somewhat mundane, from lack of shacking up. I even drive a Hyundai; I guess that wraps it up."
Although I actually drive – to quote the band 
Train
– a "crappy purple Scion," the point here is that I don't hold myself out as any sort of shining example of gayness. It is, as I said above, one of many pieces of my self-identity.
---
---
Still, although I'm far from being the only Lesbian, Gay, Bisexual, Transgender, Queer, Intersex, Questioning, or Asexual (LGBTQIQA) city or county manager, it tends to be easier to find colleagues who share those other categories into which I place myself. (After all, local government management conferences are basically pep rallies for middle-aged white guys; if I liked golf instead of football, they'd be nirvana.) So I'm sharing this piece of who I am because I believe there's value in connecting with others who identify with the same categories you do. (If you're a dog person living with a cat, by all means message me.)
I wrote an article for PM magazine's ICMA 100th anniversary edition. It generated a few nice e-mails from colleagues, but despite a small reaction over the use of the word "queer" it really didn't spark much discussion. While it was far from my best writing, I was really hoping for more.
In my dreams, my article would have garnered a bunch of new gay acquaintances in the profession. One of them would've been inspired to create a new organization for the queer community in local government – "our" version of IHN or NFBPA or WLG. That didn't happen.
I get it. I spend way more of my time trying to provoke culture change within my own organization than I do "being gay." When I'm not working, watching football with a cat on my lap sounds like a much more immediately gratifying use of my time than trying to lead a movement for increased gay visibility. And when I look for a new job, I'm self-conscious about when and how to bring up this part of my identity. I doubt other local government professionals are any different.
Despite that, another category into which I place myself is "people who bang their heads against walls, confident the walls will eventually move." Maybe that's a category of one. But perhaps not. If you're interested in provoking a dialogue around the topic of "LG's in LG," hit me up at [email protected]. Hopefully someone has a more interesting story than I do. (Oh, and the first person to identify the Romanovsky & Phillips song gets a reusable conference name badge holder.)
---
Supplemental Reading