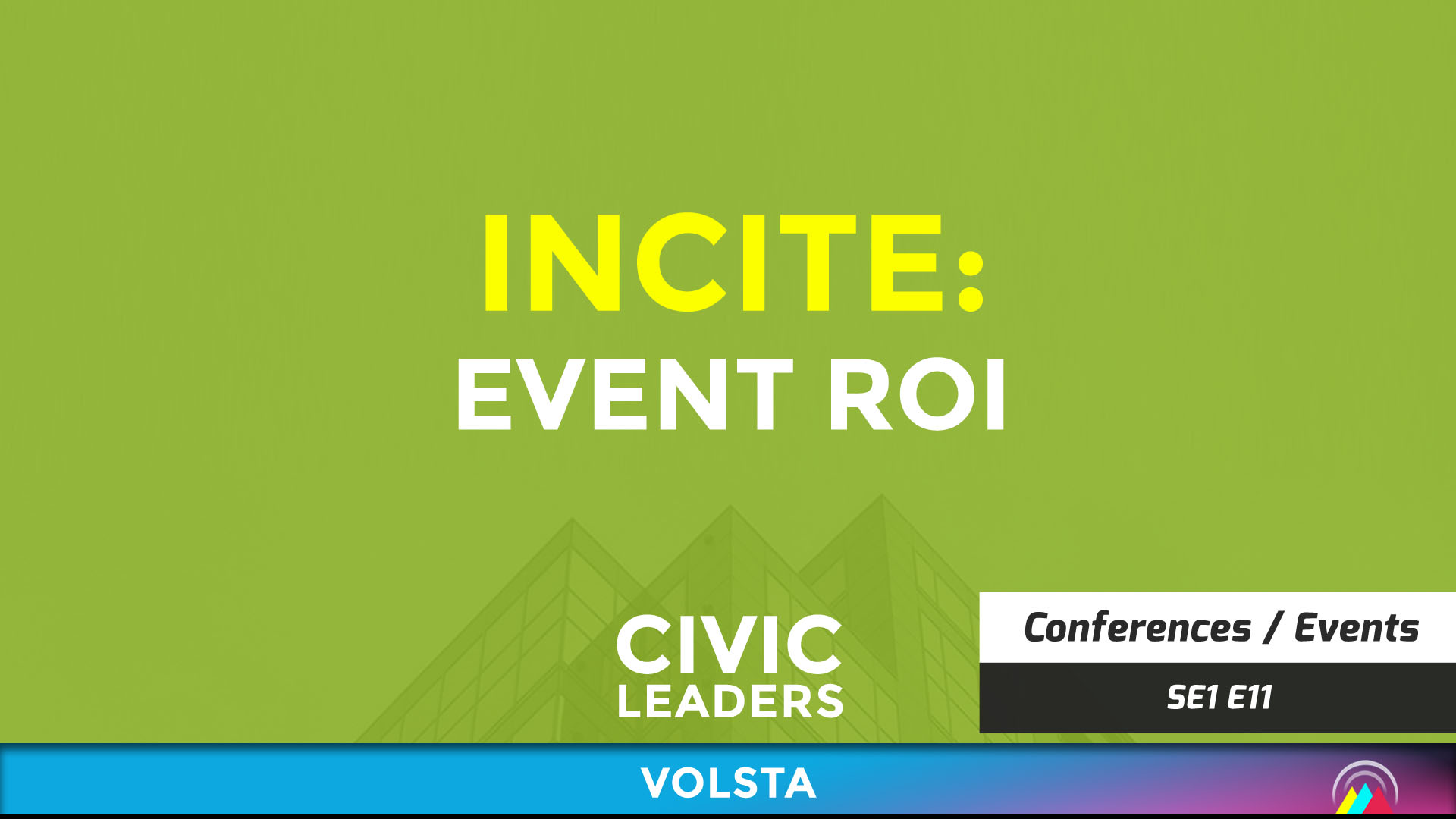 Are industry events and conferences worth it–or something to be glazed over? Check out these tips on making any event a more fun and valuable experience.
Incite: Event ROI [Civic Leaders] S1E11
By Bert Lowry of Springbrook Software
---
Civic Leaders is an exclusive local government web-interview series hosted and operated by Springbrook Software, an Accela company, produced by the VOLSTA Media Network, and syndicated on ELGL.org. Each month the show shares a candid look into the challenges and triumphs experienced by passionate public employees that are committed to their calling.
---
EVENT ROI
Getting the most from conferences and events.
Today we're talking about attending conferences–prepping right, keeping stress to a minimum and getting the absolute most from your experience.
Conferences are funny things–they can evoke feelings of either excitement–or resentment. Sometimes conferences come at just the right time–after the completion of a big project for example–and it's time to party, relax and revel in a job well done. On the flip side–attending a conference during a crazy, hectic time can quickly feel like a twisted form of punishment–keeping you from your work.
Either way, there is much to enjoy, learn, share and experience at these events–they should not be passed up. So, to help you make the absolute most of your time, and to keep effort, worry and stress to a minimum, here are a few tips to get you rolling:
We're splitting this into three sections: What to before, during and after the event.
Section One: Planning Before the Event
In addition to checking the event schedule, meal plans, the parking situation and hotel accommodations–what is often overlooked is creating an actual plan and goal for the event. Are you hoping to make a connection with agencies in other regions? Or even with one of the speakers? Be sure to check the event details and even the guest list in advance.
Reach out via LinkedIn, twitter or email to the people you'd like to meet with, penciling in meetings or coffee. This will ensure that your meeting time will be well spent. Also, knowing that you have a shared-mission will keep interest and excitement up as the event approaches.
Section Two: During the Event
You have arrived–and since you planned ahead, know the schedule and even have some interesting meetings coming up–you can sit back, relax and take in all that is ahead.
As the event unfolds, there may be unexpected changes and cancellations. Not to worry–in our super-connected world there are all sorts of options to stay informed.
Event coordinators today are utilizing all sorts of dynamic communication methods. Be it a page on the event website, text alerts, a twitter hashtag, a mobile app or megaphone for that matter–be sure to know where to hold your ear.
Section Three: After the Event
Well, you made it–good times, great conversations and even a little fun. As the event comes to a close, be sure to know how to stay connected. Does the event have a Facebook page? Sharing photos, your experience and even tips for next year will help evolve the event.
Beyond a social follow-up, reaching out to coordinators or panelists is always welcomed. A quick thank you, question or advice request can really keep the connections strong and meaningful.
Have Any Tips?
What's your take? Share your conference tips in the comments section below or tweet to us at CivicLeadersHQ.
By Civic Leaders host Bert Lowry, Market Intelligence Officer for Springbrook Software, an Accela company.