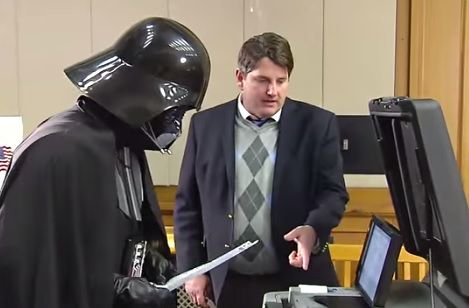 Kent Wyatt is joined this week by Brian Ligon from Round Rock, TX and Scott McDonell from Dane County, WI. These two are the brains behind Ron Pitchman and Chad Vader, the stars of two of the most creative local government videos we've seen. They discuss local government communication and finding creative ways to get your message out.
---
---
Brian Ligon, City of Round Rock, TX, discusses the genesis behind Ron Pitchman and how Ron fits into the overall communication strategy of Round Rock. Fun Fact: Ron Pitchman was an inexpensive character to create.
Scott McDonell, Dane County, WI Clerk, talks about how a unique community partnership connected Dane County, WI with Chad Vader.
Also, during the podcast, we announce the winner of the "Best Local Government Video." Here's a hint on the winner – The Cap Times: Chad Vader voter ID video wins best municipal public service announcement.
Podcast Highlights
The best interview question came from Scott when he asked Brian, "does he ever get tired of having staff ask him to do Ron Pitchman videos?"
Ron Pitchman may return but next up is "The Captain." Listen to the broadcast to hear "The Captain's" voice. Sounds like The Captain will be involved with an upcoming emergency management video. Not sure that Brian was supposed to tell us this so keep it under wraps.
Scott wrote the Chad Vader script. Scott is not Chad Vader. Chad Vader is a bit of a YouTube star.
Brian and Will Hampton write the Ron Pitchman scripts. Will played opposite Ron Pitchman in the property tax video.
Brian gives local government a "B" for communication.
Supplemental Reading
[/vc_column_text][/vc_column][/vc_row]