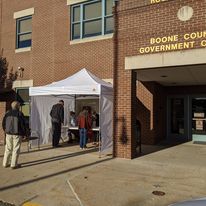 Today's Buzz (which is still technically posted in the morning  for those of us in the Central time zone!) is by Brianna Lennon — connect with her on Twitter and LinkedIn.
What I'm Watching: Great British Baking Show (again)
What I'm Listening To: Christmas music (don't @ me, it's been a long year)
We made it through! Local election officials faced a pandemic, concern about unrest, and expected poll worker shortages, but November 3rd still happened with nearly 150,000,000 ballots cast. Speaking as one of those local election officials, this season was rough to navigate, but it culminated in an Election Day that was incredibly smooth. As an administrator, it was incredibly gratifying to see a year's worth of preparation pay off and, as an elections official focused on voter rights, it was heartening to see our own county's turnout best 2016's by 1.6%. In fact, voter turnout broke records nationwide.
With increased participation and the general high-stakes of this particular election, however, came increased scrutiny on process and procedure. By and large, election authorities did very well adjusting to the unique challenges of this year. Many of us spun up additional ways to safely let voters cast a ballot (from drive-through voting to increased ballot drop off availability) and everyone made a huge effort to make in-person voting as safe and accessible as possible. Ultimately, election officials oversaw an amazingly secure election.
Still, this election has also made it clear that trustworthy voter and civic education is paramount to ensuring confidence in our elections. Combatting misinformation and disinformation is a daunting task and organizations like the National Association of Secretaries of State, the Election Assistance Commission, and even social media corporations have done their best to direct voters to the best informational source: state and local election authorities. In the interest of shining some light on the process, though, I wanted to provide a ground-floor view of what's happening right now: the certification of this election.
First, it's important to understand that Election Day is really the last possible day that voters can cast ballots. Early voting and absentee voting occur in the weeks leading up to Election Day and both allow voters to mail a ballot or cast one in an elections office in advance. Some states are fully vote-by-mail and some have adopted new vote-by-mail provisions due to the pandemic this year. However, added to this complexity, are state-specific laws that dictate when those ballots can be processed and counted and the deadline for receiving them. In Missouri, for example, absentee ballot envelopes can be "prepared" beginning the Thursday before the election, but they can't be "counted" until Election Day. Missouri local election authorities must receive these ballots by 7pm on election night (postmarks don't apply). That's not the case in every state. Some states can receive ballots later than election day and some can't even begin processing ballots until election day. Both of these policies can mean that counting continues–as it should–in the weeks following Election Day.
Second, every state has a lengthy certification process that ensures the integrity and accuracy of election results. We finished ours up this week, but again the timeline differs across the states. In Boone County, four bipartisan teams hand-counted all of the ballots cast at four random polling places to serve as a doublecheck that our voting machines correctly tabulated the votes. The teams also adjudicated all of our certified write-in votes and provisional ballots so that all eligible votes could be counted. It's the same process that we follow for every election and, although this was a larger election than the other three that we conducted in 2020, it was just as successful.
The variation across the states on these rules is not only normal, but it's by design (here's a good overview of it). Local election authorities play a huge role in ensuring our elections are fair, secure, and accessible and, if November 3rd proved anything, it's that the careful planning and preparation done across all levels of government served voters–and democracy–well.