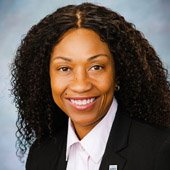 In this series, guest columnists reflect on one of three prompts provided by ELGL Co-Founder Kent Wyatt. This week, Renee Tyler, the former Director of Transportation Services for the City of Dubuque, Iowa, writes about the impact of COVID on the work environment. On Sept. 21, 2020, Renee started her current position as the Community Services Director for the City of Eau Claire, Wisconsin.
Sign up to be the next guest columnist for the 'I Have to Ask' column.
---
Transportation is an up close and personal in your face environment. There is a dependency on strong and coherent lines of communication.  As the leader of transportation services I enjoyed interactions with my staff. I extended an open door policy to my staff and my passengers.  This allowed me to have a firsthand exchange of ideas and feedback while getting to know my team and the residents in my community.
There were many instances when I randomly rode the bus or stopped at our transfer points during different periods in the day to chat with drivers and to say hello to passengers.  All of this came to a halt due to the impact of COVID-19.
One of the first decisions I made was to close the bus intermodal building to our public. Our offices were only opened to the people that occupied the building.  Our ticket window was shuttered because bus fares were no longer being charged. There was no need for bus tickets or passes.
COVID-19 removed my ability to interact with my team and my Jule family. I have had to learn to adapt to working from home. My dining room table has become my office.  My dog is my constant meeting companion. There is limited human interaction aside from the day in and day out ongoing zoom and go to meetings!
My days have not become shorter but I do utilize my porch as an extension of my office. I take a walk during the day to get more fresh air.  I compensate for in person  meetings with my team with face time. There are instances where I hold meetings on my porch with my senior staff to review and go over items that require attention.  I'm thankful that my porch is big enough to social distance.
COVID-19 forced me to adapt the methods that I used for communicating with my team. The first month of COVID -19 threw us all into a spiral. We were beginning our journey into the unknown. COVID-19 has taught me to be patient while strategically working on maintaining masks, cleaning supplies  and keeping our buses on the road.  My team continues to successfully meet the fluctuating needs of our staff and passengers. The artful adaptation of technology has helped me and my staff to maintain communication continuity with one another and with our passengers. While this isn't the up close and personal interaction that we are accustomed to it has allowed our operation to continue to run smoothly during this time of uncertainty.
The impact of COVID -19 also forced my department to review the effectiveness of our service delivery to our paratransit passengers.  COVID -19 coincided with the rollout of new reservations software for the Jule paratransit operation. The paratransit software rollout went smoothly.   The administrative staff took this opportunity to embrace the new technology. The result has been a user friendly reservations process and the ability to identify areas where our staff can better communicate with our passengers.
This pandemic pushed us all.  It did not result in a  singularly impact on my job. It effected my agency, my community, my state and my country. While stressful it caused us to raise to the occasion and work together more effectively.
Myself and my staff have evolved with to the impact of Covid-19. Our internal communication is stronger resulting in better communication with our passengers.