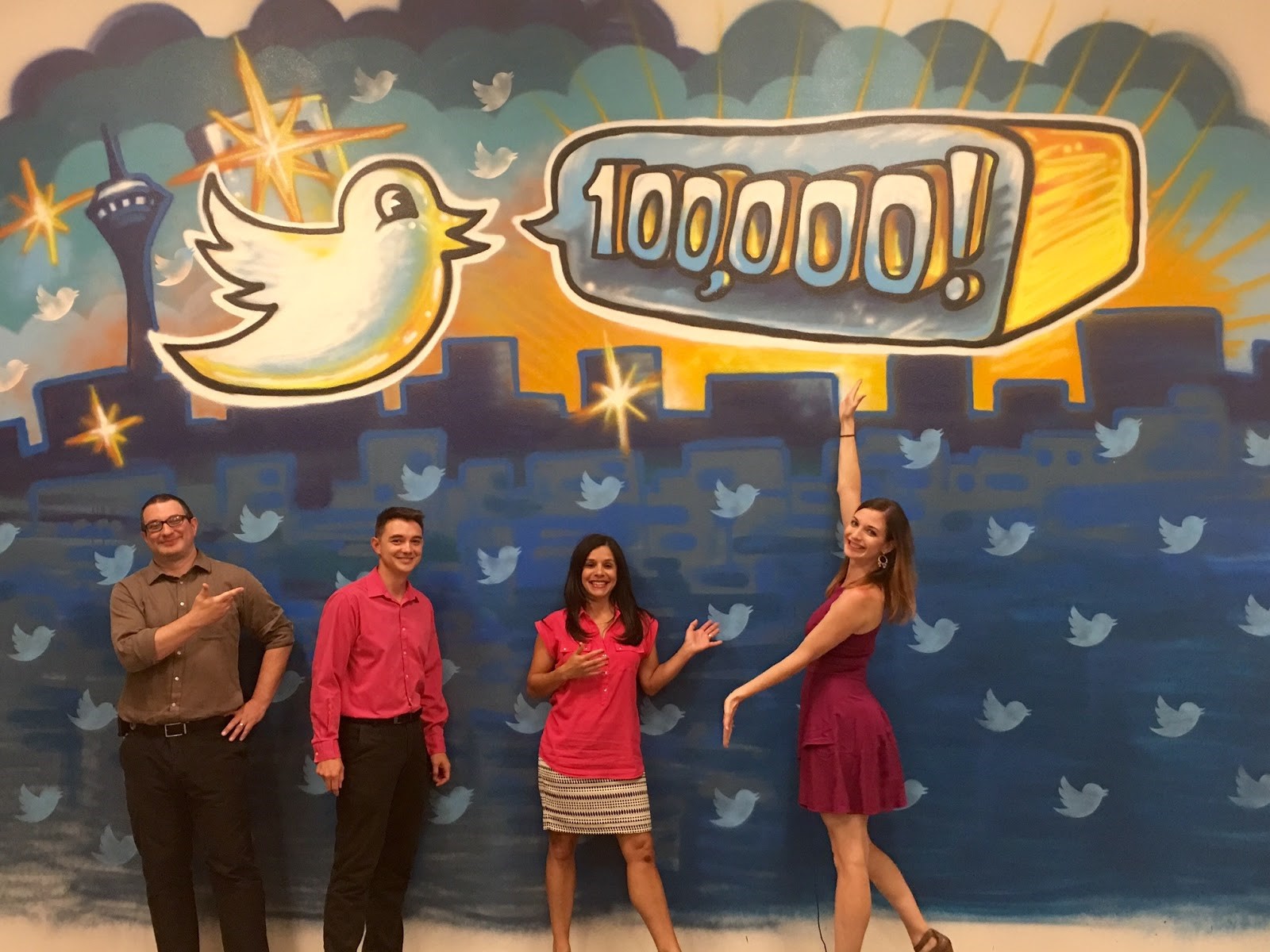 .@jendavies26 will bungee jump from @LVStratosphere if you vote for #Vegas#JumpingJenniferhttps://t.co/CYyGRREW1w pic.twitter.com/KZhnEYmkp1

— Don Jacobson (@BigSurfDon) July 7, 2016
[contact-form][contact-field label='Name %26amp; Email' type='name' required='1'/][contact-field label='I Stand Behind Las Vegas Because…' type='textarea' required='1'/][/contact-form]
Submissions
Las Vegas is a great place to live, work and play! #REALTOR
— Michele
It's a wonderful city in which to work, play and live. While many people associate Las Vegas solely with great gaming, incredible entertainment and fabulous shopping, they may not realize there are great parks and walking/biking trails, tons of recreational opportunities for all ages, a terrific library system, several colleges and universities offering both credit and continuing education classes and extensive volunteer organizations which would embrace someone's time, talent or treasures. In Las Vegas, you are only limited by your willingness to imagine, explore and enjoy all our community has to offer.
— Gretchen Papez
Born and raised in Vegas gotta help out the Vegas people hope u win good luck.
— Stacey B.
We are truly an electric City, if you do not believe me please visit us.
— C. Edwin Mayes
The Daily Dose keeps me updated on what's going on. I'm from MESA, AZ but my partner Bonnie and I love VEGAS. It has so much to offer for entertainment and site seeing. Dining and so much more. We try to visit as much as possible. On the average, we visit VEGAS 3 to 5 times a years.
— Leroy M.
It's not just a tourist attraction. It's an awesome place to live and work. There are things for everyone to enjoy here. It's fun, exciting, beautiful, unique and overall the best city in the world!
— Kate O'Hara
CLV has the best climate for residences, businesses and fun. Traffic could be better but is improving.
— John Stanton
Las Vegas is comprised of lots of small town folks from all over the world, who unite to grow the city as a friendly, productive, futuristic place to live and work.
— Penney T.
I drove areas covered by Carson, Las Vegas, and North Las Vegas. Roads in Las Vegas areas are well maintained compared to other two areas. I drive NorthEast areas.
— Robert V.
It is home surrounded by mountains and topped with a big blue sky. In my city it is common listen as children play in the park with their barking puppies while chasing monarch butterflies. As the day lingers into night the cicada choir sings desert ballads as bats dart by hunting their feast. Asphalt trails for bicycles and dirt trails for hikers are abundant and well used. Culture is a black tie symphony at the Smith Center and tank top boat rides at Lake Mead. I stand behind my town because everyone is welcome. Las Vegas is an honest multicultural experience. Food, song, and dance go hand in hand with history, education, and religions of all varieties. We are diverse in thought and civil in life. Las Vegas is a one of a kind place and a shining city that others are welcome and encouraged to emulate. Come by and see us when you're in the neighborhood.
— Jim Azar
They are great!
— Dianne Collins
It is always moving forward without forgetting its past. I stand behind Las Vegas because it has big city amenities with small town connectedness. I stand behind Vegas because it manages to be self-aware without being self conscious. While to some it is an icon for gambling and hedonistic abandon, Vegas is really an iconoclast, breaking all notions about what it means to be a metropolis: small yet big; raucous yet religious; vast yet intimate; frenetic yet easy going. It is all here like no other place on earth. I stand behind Vegas because it stands with me,
— K. Gibson
It is a great place to retire! No state tax and lots of good affordable housing. There are many new companies moving in bring skilled jobs with good pay! you can fly anywhere in the world from McCarran International Airport! Oh and the highway system is being upgraded and improved to accommodate the fast growing city of Las Vegas NV!
— Ben Lockhart
Lots of opportunities. Feel so blessed to share my time and talent especially my coming retirement years.
— D. Sanchez
Las Vegas is a great place to live and work!
— Larry H.
Everyone knows why small towns are great. It takes a lot to make a city with the size and reputation of Las Vegas seem like a place you'd want to live. Their Cant Stop the Feeling video makes it seem friendly and magical.
— Cassidy
Contrary to popular belief, the City is not home to most of "the strip" and therefore has to try a little harder to get some attention. As a nearly 20 year former resident, my heart is still in Vegas – go get em!
— Rasch C.
We have jobs in numerous industries, law, hotels, entertainment etc. Our economy is growing , homes are affordable and you can have a good time any hour of the day or night there is always something to do.
— R. Coud
Because there's more to Las Vegas than meets the eye. Everyone needs to understand that this is where locals live, work and play in Sin City.
— LaTrice P.
I love the city I was born in and I'm blessed to be a serving to it. #lovemyjob
— Sam H.
I stand behind Las Vegas because we are so much more than the strip and a slogan. Our tourism industry provides us endless entertainment, the best restaurants and the opportunity to take a vacation simply by heading a few miles away! Beyond our strip we are a dynamic city full of diverse cultures! We have a thriving philanthropic community and are all working to make Vegas a better place. I stand behind Vegas because its my home!
— Jennifer
Lets be honest. Which city are you coming to visit?
Hamilton (who?)
Lenexa (where?)
Kansas City (what?)
Las Vegas (Seriously, All the people in those cities come to us!!)
Just give us the award already.
— Patrick Moniz
Las Vegas is the most exciting city in the world with the greatest people! Everything should be iconic here– and the city's social media team already is.
— David Riggleman
I appreciate the MANY ways they have added Family Fun! The city has Grown very beautifully, keeping up with it's growth and making great family environments safe and innovative. LOVE THE PEOPLE THERE especially Melissa Duran Colón, makes me proud❗️❤️
— Lydia O.
There's always something to do no matter what your interests are.
— Bob
I love all the fun things there to do beyond the neon!
— Kathy B.
It's the best City in the world.
— Louise
The people of Las Vegas come together at the drop of a hat to support fellow residents in their time of need, it's magical, almost like an illusion 😉 Outsiders are under the impression the locals are Vampires & only come out in the dark. Blah! Blah! Blah!
— Diba Hubey-Ciampa
Home sweet home! And I have some great friends that work for the city and are in the video.
— Gloria Hall
Las Vegas is the most exciting city in the world, the best of everything at the least costs. Low to no taxes, inexpensive but quality food and entertainment. The greatest weather in the world. No natural disasters, no cold, rain, snow (all four letter words) or humidity. Yes, it's dry heat! Nothing some careful choices and water can't deal with and not for very long, probably less than a week or two out of the entire year. What is not to like? Vegas has it all!
— Sunny Lorusso
I live in Las Vegas. It's a city that cares and there is an abundance of charitable organizations that reach out to help the community. This is also true for our local government. Las Vegas is a "take action" kind of city that cares about the community and I can truly appreciate that. I'm falling for Las Vegas!
— Tammie S.
Ski just 45 minutes from town.
— Irene
I have been here for a decade and my only regret is that I didn't move here sooner. Such a great sense of community. Las Vegas locals take care of their own.
Las Vegas has a rich history and it's only getting better.
— John A.
I was born and raised in Las Vegas!! Super proud of my city!!
— Lupe
There's more the Las Vegas than Sin City. The City of Las Vegas Municipal Government shows everyone around the world that behind a public image created by tourists exists a local town with families, communities and recreational opportunities.
— Priscilla
The people who live here are amazing!!! I work with wonderful community minded people who work full-time and then willingly and enthusiatically join me at local food pantries where we stuff thousands of bags of food for distribution to local schools/senior centers. We have so many altruistic residents who, with only a moments notice, will come out to a volunteer event and pitch in where needed. Also, Las Vegas has so many awesome places to visit from our artistic and diverse downtown which includes Downtown Container Park, the Fremont Street Experience and the Neon Boneyard as well as gorgeous natural beauties including Red Rock Canyon, the Spring Mountains and Lake Mead which offer hundreds of gorgeous hiking and sightseeing opportunities for the outdoor enthusiast. Las Vegas has it all. I'm so proud to be a resident of this incredible city!
— Christy B.
I love Las Vegas because it is a city full of diversity. People from different states come to this great city to live and to visit. It is full of job opportunities and affordable housing. Las Vegas is a friendly and unique city. I love Las Vegas!
— Clara Hernandez Gonzalez
It's a melting pot of diverse cultures who appreciate one another.
— John Solvie
I stand behind Las Vegas because the social media team always manages to create engaging and vibrant content that really embraces the culture and diversity of the city at large. It's no small task and they rise to it every time!
— Daniella Cortez Alvarez
Vegas is a major City! Clark County is the size of New Jersey with over 44 million tourist traveling thru. We now have a #NHL franchise and T. Mobile Arena. We are destined to be the envy of all destinations.
— Kelly Gafford
People who live outside of Las Vegas have a perception that is not reality to those of us that actually here. Visitors think we all party, live & love going to the strip, & have glamorous lives. Truth is, the craziness Las Vegas is known for actually reflects visitors coming to live out that perception, not residents. Residents of Las Vegas avoid the Strip, care deeply about their community & are very generous to those in need and/or helping those in need.
— Michelle Layton
The Las Vegas area is a great place to live and work. There is an extremely diverse collection of people, places, things and ideas found throughout Las Vegas from The Strip to the Mountains and Valleys. From the Ultra Modern to Prehistoric Times. Sports,Culture, Entertainment, Food and Drink, Education and Medicine are found the most diverse and eclectic of mixes. There really is no other place like it anywhere.
— Steve Kessler
They magically make city government look fun and interesting!
— Melissa Duran
The social media team provides timely, relevant and entertaining information to citizens and visitors of the City through social media. Posts are are smart and creative and the team is proud of the City of Las Vegas. I'm proud of how they inform and represent us!
— Stacey Campbell
As a proud City of Las Vegas retiree and the grandmother of a recreation programs participant, I like to keep up with what is going on in our town. Daily Dose on Facebook is an important part of my morning routine. I appreciate the responses when I post on Twitter and Instagram. The social media team is doing a great job of keeping the Las Vegas citizens informed. Las Vegas is a great town. There is so much more.
— Bobbi Hale
They keep us informed on social media!
— Paula L.
I stand behind Las Vegas, because it is a vibrant city where anyone has the opportunity to achieve his or her life-long goals and realize his or her dreams.
— Guy DeMarco
This social media team is always thinking outside of the box. They are not afraid to try new things, throw away what's not working and stay fun. You expect local government to be boring, but the City of Las Vegas gets their messaging across in a way that's entertaining to watch. Kudos to this amazing team!
— Melissa Colon
Everyone thinks that Las Vegas is just a place to come party but they forget about the heart it takes to keep our gorgeous city safe and going efficiently. Is residents know how hard our government and city officials work to make it such a wonderful place to raise a family. We are a great place to visit but an even better place to live because of the hard work of our awesome medical, city and government workers. Thank you!
— Kim Bohannan
It is a city always strving to become better and better. The metal art on the street islands is outstanding, they have the best mayors as well as senior PIO.
— Dianne Speegle
Behind all the glittering lights and 24 hour energy, there are real people with real lives here in the desert. This fun video shows how our city employees do their jobs with an extra wink of excitement and joy being in such a unique environment. There's no place in the world like Las Vegas! People come from around the globe just to see what it's all about and we residents get the special privilege of waking up in the entertainment capital of the world, place right in the middle of a geographically beautiful landscape. It's magic!
— Elizabeth G.
Of the incredible creativity of the social media posts that the city presents.
— Jace Radke
Las Vegas has been our home for 48 years. We love the community of schools, shopping, restaurants, hotels and downtown is hip and happening, We love that our Mayor is our neighbor.and about town. Las Vegas is a great place to raise a family and I couldn't be more prouder every time I am asked that I get to say I'm from Las Vegas, Nevada.
— Monica Buckley
Las Vegas is not just about the glitz and glamor; there are wonderfully normal, hardworking, family oriented people living here.
— Barbara Bolling
The City of Las Vegas understands the importance of engaging with its citizens and with visitors to this global destination.. Engagement is the basis of Democracy; people just expect it. Engaged citizens…ALL of them…make for better government. Citizens are getting involved in their community because technology has enabled them to do more while going about their normal lives. Citizens visit their mobile device first…and city hall last…so the City of Las Vegas Social Media team manages the city's online presence 24/7 in an orderly way. Social media presents an opportunity to enhance civic engagement by encouraging citizens to use their talents and skills to help grow and improve our community. The City of Las Vegas truly embraces and promotes the promise of today's new level of hyper-connectivity.
— Don Jacobson
We are an amazing City!!!!!
— C. Morris
Las Vegas will always be home to me. I lived there for 30 years and everything about this wonderful city made me want to dance!
— Judy Clement
They've done amazing job portraying the many great things about this city!
— Jessica Bradfors
Its the people who makes the city shine the brightest. Some people think its the neon lights. The neon lights bring them here, but its the people who bring them back.
— D. Sjoberg
Vegas is a great place to live and call home from the parks to the mountains there is always something to do
— Chuck J.
Las Vegas is always thought of as "Sin City" but in reality to those of us who live here, it is a normal town with wonderful people!
— Stephanie Haney
Jen works her booty off for Las Vegas and more than deserves the honor and recognition. 😉
— Sarah K.
Vegas has the best of both worlds – man made and nature at a price no other place can beat. For man's creativity, the exciting Downtown Fremont Street Experience and the glittering world famous Las Vegas Strip. For nature made, the Lake Mead Recreation Center, Mount Charleston and the Red Rock Canyon. Stay in Las Vegas and you got everything within minutes.
— Rolando Karagdad
It is so much more than the strip. It is HOME!
— Jennifer Blanchard
Las Vegas is a place where people can be their true selves.
— Niki Gomoluh
Our city of Las Vegas employees reach out to the community with timely, useful information and quality customer service. Our people are helpful, creative, compassionate and resourceful. They try new technologies and avenues to reach our residents of every age and culture! Tune in and discover the Las Vegas you have not yet seen, nor heard!
— Margaret Kurtz
It's so much more than people know. Yes, it's entertainment and excitement but it's also community, hard working residents, parks, clean streets, cultural events and venues and dedicated public servants.
— Nancy G.
The City of Las Vegas is working to make this the best City in America. The City wants to be able to merge the past and the future, that is to make the most of both worlds.
— C. Edwin Mayes
As a tourist I have never been to a city with such a vibrant energy as Vegas.
— Christophe Thomann
Las Vegas is one of the most diverse, historical, and progressing cities. The fame of the Strip may sometimes overshadow the immense culture of Las Vegas, but beyond the horizons of the hotels and casinos, there is an ever-growing community of youth, local charities, and innovative businesses.
— Kenzi Callen
This is our new home and we like what we see. The video is well done.
— Fred A.
It's truly the best place to live! We love Las Vegas, NV. 🙂
— Nena Swanson
I love living in Las Vegas! Moved here 21 years ago while on active duty Air Force. Retired in 2007 and became a full time resident. So much to do here, spending time outdoors-Red Rock, Lake Mead, Mt Charleston, the great golf courses, amazing restaurants, hotels, shows, concerts, the strip, and abundance of job opportunities! Best city to enjoy spending the rest of my life!
— Teri Shell
There is life beyond the strip and gambling.
— Irene P.
The sun shines The sky is blue It is my home. I love here.
— Dianne Graham
I choose to come and make Las Vegas, Nevada my home. This is a great place for tourists, and all generations alike. There's alot to do here for each and everyone. Most people come to see the Las Vegas to see the strip, but lets not forget the residents that live here, that help make Las Vegas the wonderful city it is for all.
— Shelia J.