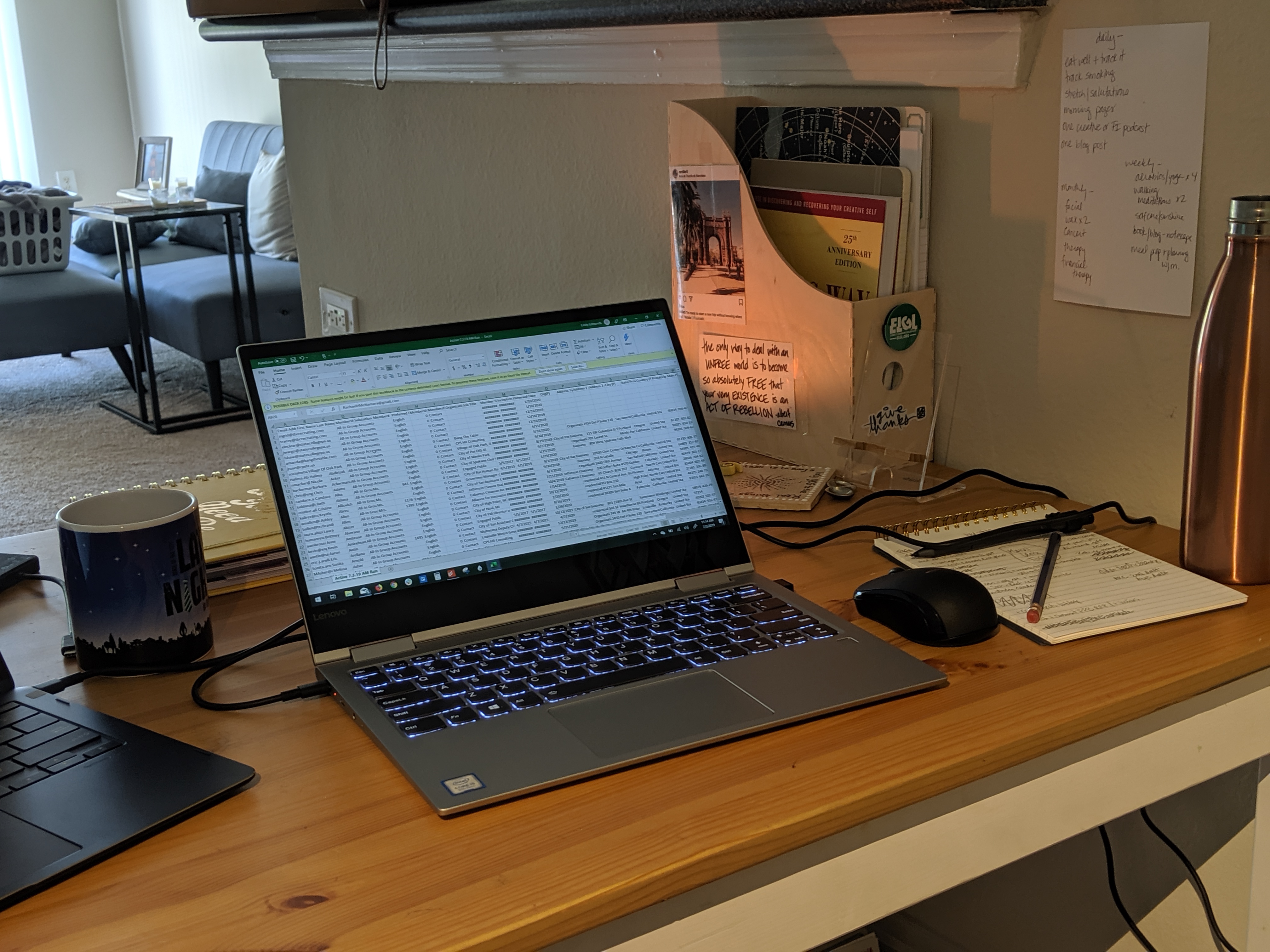 What I'm Doing: Merging Four Excel Membership Spreadsheets into A Single All-Powerful Database with Superpowers!
What I'm Listening To: Google Play's Nathaniel Rateliff and the Night Sweats Radio
What I'm Reading: Alternating Neal Stephenson's Fall, or Dodge in Hell (which at 980 pages has lasted me a LOT of pool time this summer and makes my brain hurt with big ideas sometimes) and PDFs for a free Harvard EdX course called CitiesX!
What I'm Stoked About: BEING DONE Merging Four Excel Membership Spreadsheets into A Single All-Powerful Database with Superpowers!
---
Hey y'all,
Emily here. We're starting a new monthly blog update so I can share all our ELGL news around membership and programs with you! I'm excited to get to virtually connect with you all about more than just renewal notices and database hacks 🙂 so please don't hesitate to find me on LinkedIn, Twitter (where I am a pitiful novice but love watching all of you and occasionally getting tagged by Kent's mad GIF game), Instagram, or email.
Here we go!
Membership Update
You may have noticed over the past few months that we've had some issues with our membership system – that place where you all can go pay for things, check out jobs, update your profiles, and on occasion access some ELGL-related members-only stuff like voting and webinars. In addition to causing collective headaches for 4,000+ members across the country, it also restricted us in terms of things like accurate member counts, geographic distribution and mapping, and demographics collection.
Since early this year we've been shopping for the best management system for our needs – we're a nontraditional association, as you may have noticed, and we do things differently than most membership groups our size. And speaking of our size…we've grown by almost 45% since I came on board in June of 2018 (!!). That kind of exponential growth is awesome and gets lots of cheers at conferences, but it also means we have to pay a LOT more attention to the systems and structures that we use to manage that growth.
We've finally sorted everything out and made some decisions around nimble, mobile online systems we can mix and match to meet our needs as we grow. So I'm spending this holiday week merging and cleaning all our databases of existing, renewed, lapsed, and archived members so we can migrate over to the new system.
Yay! But also. Ugh. As you can see, I'm rocking all my ELGL talismans to survive this, including my Late Night in Tigard coffee mug (which may after 6 pm EST contain wine), both my popsockets, and my 2016 ELGL Popups like-a-festival-headliners-list t-shirt. My apologies if I've been slow in responding to you in the past few weeks. I've been here chilling with all your data (and yes, that basket of laundry you see in the background has been sitting there waiting to be folded for longer than I'd like to admit).
So, here's a few things you should all be aware of over the next couple of weeks:
If you joined in the last couple of days, you'll have already seen our new system in action. Yay! You're good to go.
If you're renewing soon, you should be directed to the new system beginning next week. If you're not, oh no! Email me.
If you're an org member, in the new system, your employees will be tied to your email address. Yay! This is way easier than trying to get them all to use the exact same format and spelling of your organization. You'll get a special email (because you're awesome and deserve special emails) with more information you can share with your employees around July 15.
If you are totally lost about what I'm talking about and have no idea you had a membership portal login to begin with, definitely email me. ASAP.
Thank you all, especially Brent Stockwell, for your patience and understanding as we've navigated the last couple of months' worth of challenges in our current system. My job is SO.MUCH. more pleasant than it could be with such kind and understanding people on the other end of the email chain.
Programs Update
Now. Finally. The FUN stuff!
We launched our Innovation Cohort in June. It's amazing. I mean, really, really amazing. All these cities and counties and towns took a chance on this first-year program; our partners at UrbanLeap took a chance on a crazy idea I pitched to them and Kirsten six months ago; and here we are, matching these guys with rockstar mentors like Clay Campbell, Adria Finch, Larry Mattson, Cheriene Floyd, Jamie Eustace, Stephanie Chase, Nick Kittle, Mike Davis…and having real conversations about what it's like to work for smaller and more rural places around the country.
It's astonishing to me that so many smaller cities and counties face the same issues across ten different states and all geographic regions – but not astonishing that these folks' passion and dedication are lighting up the whole ELGL world right now. I'm so grateful to be part of making it happen and can't wait to see what's coming next. (You'll meet them all at #ELGL20! in Portland! in May!)
We've also been continuing our Money Talks series about all things grants and we have a GREAT one scheduled for August with my favorite federal employee on the planet. You'll love her. And the knowledge she's bringing you. And all the alphabet soup words we're going to learn together August 14. Don't miss it!
There are a few other pie-in-the-sky programming ideas (okay, there's a lot of them, and I have an entire posterboard on the wall of my dining room called "elgldreamboard" where I stash them) that we'll start working on after this database work is complete.Stay tuned for details on that in our next monthly update, from very-hot-Dallas-TX, where Kirsten and I will be finagling some time together to brainstorm and laugh and generally come up with ways to change the world.
I'd really love to hear your ideas, too; if time, money, logistics, and databases were no object, what would you want ELGL to tackle from a programs perspective? I can't promise we'll get to them all, but I guarantee a spot on the dreamboard posterboard where it won't get lost.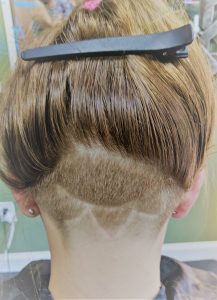 If you kept reading until now, bless your sweet heart. The prize is this picture of my secret sneaky superpower haircut, which is keeping my spirits up in all this Excel-ling and is going to make my teenage daughter's day when she finds out I got this done without telling her. It is officially my favorite thing ever, especially since Holy Pistachios Batman! it is sooooo hot in Raleigh.
"Here comes the sun" should start playing in your head right about…now. You're welcome.
That's all for this month – I'm wishing all of you and your families a safe, happy, and sparkly Fourth.
Emily