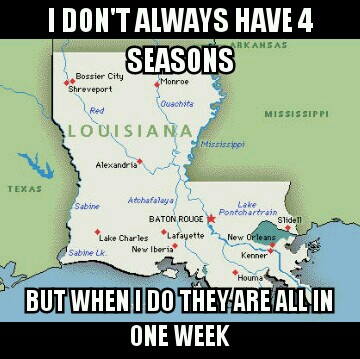 Nifty Fifty Takeaways
What do we hope to learn from this series? We hope you will gain a better understanding of the unique characteristics of local government in each state, we hope you will learn that there are others like you who are motivated to make a difference through the public sector, and we hope you will learn that it is best to learn from others' mistakes than yours.
P.S:  Contribute to the Fifty Nifty project by sending those names in your lil' black book to ELGL.
Our Take on Louisiana
Louisiana is home to a world famous event some of you may have heard of called 'Mardi Gras'. This is just one of approximately 400 festivals that take place in the state throughout the year. And you can't have a festival without food, right? Beignets, gumbo, shrimp creole, pralines, po-boys and other such deliciousness . If you find yourself in N'awlins eating something without a bib on…then you're probably not eating it right, or it's not worth what you paid for it.

For those of you unfamiliar with the government structure in Louisiana it is the only state in the union that does not have counties. Its political subdivisions are called parishes. Not only do they have a fun-sounding form of government called parishes, but these parishes operate either as a Home Rule charter,a Parish Commission or Police Jury system. Here is a whole lot more head-spinning information on how things operate in Louisiana.
And this is for all you northerners who need a quick lesson on how to pronounce some key Louisiana words.

But like every other state, Louisiana is not immune from dumb laws. Take the following as examples:
Hog Heaven: All garbage must be cooked before it can be fed to hogs.

Nothing Fancy: Fancy bicycle riding is prohibited.
Gatorgate: You may not tie an alligator to a fire hydrant.
Speaking of gators: You can go to jail for 10 years for stealing an alligator.
Water pistol hold up: It is illegal to rob a bank and shoot at the bank teller with a water pistol.
No Foosball for You!: Minors may not go to businesses with coin operated foosball machines unless accompanied by an adult.However, those laws sure aren't going to stop us from visiting Louisiana, and it apparently hasn't stopped others either since New Orleans was ranked as #3 destination in the world by Rough Guides.
Background Check
Buddy Boe, (LinkedIn) currently serves as the Chief Administrative Officer of St. Charles Parish in Louisiana. Saint Charles Parish is home to roughly 53,000 residents. It has a true southern flair and is home to 3 Antebellum plantations including Destrehan Plantation where movies such as Interview with a Vampire and more recently Twelve Years a Slave were filmed.
Boe received his undergraduate degree from Tulane University in Political Science and attended the Stephenson Entrepreneurship Institute of LSU where he completed the Certified Economic Developer Program. In addition to serving as the CAO of St. Charles Parish, he is the President and founder of Invictus Solutions which provides consulting services for strategic planning, public relations and development.


Prior to his time in St. Charles Parish, Boe served as Communications Director and eventually Acting Chief Administrative Officer for St. John Parish where he managed a $55 million annual operating budget, 210 employees and a $60 million capital projects program. And just to make sure you don't think he's only been focusing on a full time job or something, Boe is the Chairman of the National Association of Counties NextGen Network, has two restaurant openings under his belt, is the Outreach Chair of the Super Region Rail Authority whose primary mission is to build passenger rail between Baton Rouge and New Orleans, and has served as a program manager for River Region Young Entreprenuers. But it seems government is in his blood. Boe got his first political experience at the age of 14, and has continued to make a lasting impression in local government. "I think government can greatly improve the life of people," Boe said. "I strive towards making government work better and more efficiently."

Lightning Round

Best piece of advice you received from your mentor:
Work harder than everyone else.
In a dream world, which bands would headline your retirement party?
The Rat Pack singing Sinatra's "My Way"; my wife singing "At Last"
Before I die I want to….impact one billion people.
Three most influential books in your life.
If you could FaceTime with five people (dead or alive and not including family members), who would be on the list?
Benjamin Franklin, Winston Churchill, Lois and Clark, Napoleon, Thomas Jefferson
Describe the inside of your car.

Bottles of water, gum, two umbrellas, clean but needs a detail, phone charger, and this morning's coffee mug.
What's the meaning of life? To make the world around you at any given moment better as a result of your time, efforts, and presence.
Q & A
Three bullet points that best describe local government in your state:
Constantly tackling and successfully impacting issues that could devastate the local economy (ie. Flood insurance, coastal restoration, state budget crisis).
Responsive to the needs of our direct jurisdiction and the surrounding region.
Efficient and balanced
We'll assume you didn't grow up dreaming about a career in local government. What was your dream job as a 12-year old? What was your first local government job? How did you end up in local government?
President of the United States. Public Information Officer. I managed local elections.


Give us your top three career accomplishments.
Passing the Homeowner Flood Insurance Affordability Act.
Owning three businesses by the age of 24
Being selected as the 2014 Millenial Changemaker in the Greater New Orleans area.
We often learn from our mistakes. Name one or two career mistakes that you have made that you think we could learn from.
I thought the facts of an argument to support a project would convince others of it necessity and priority; however, I soon learned that it takes time, cooperation, and personal engagement to gain the support of colleagues, adversaries, and the public of even the most worthy of initiatives.
Our experience has been many of our friends, family, and neighbors are not well versed in what it is we do in local government, many think we are a "planner" or "mayor." Has this been your experience?
Yes
How can local governments better communicate their role in the everyday lives of the community?
Engage, push out as much information as possible, and expand the informed electorate at every opportunity
Would you encourage your family and friends to consider a career in local government?
Yes
Hypothetically, if we find ourselves interviewing for a job in front of you, talk about three steps we can take to make a good impression.

Bring something to write on. It makes one look responsible.
Dress for the position above the one you are applying for.
Relax.
Mentoring is such an important part of local government. Name your mentors.
Parish President VJ St Pierre, Jr
Pat McTopy

In 2018, local government will be… 
leading innovation and implementing solutions instead of waiting for another level of government to get it done.
What question(s) should we have asked you? 
Why do you enjoy it?

Supplemental Reading