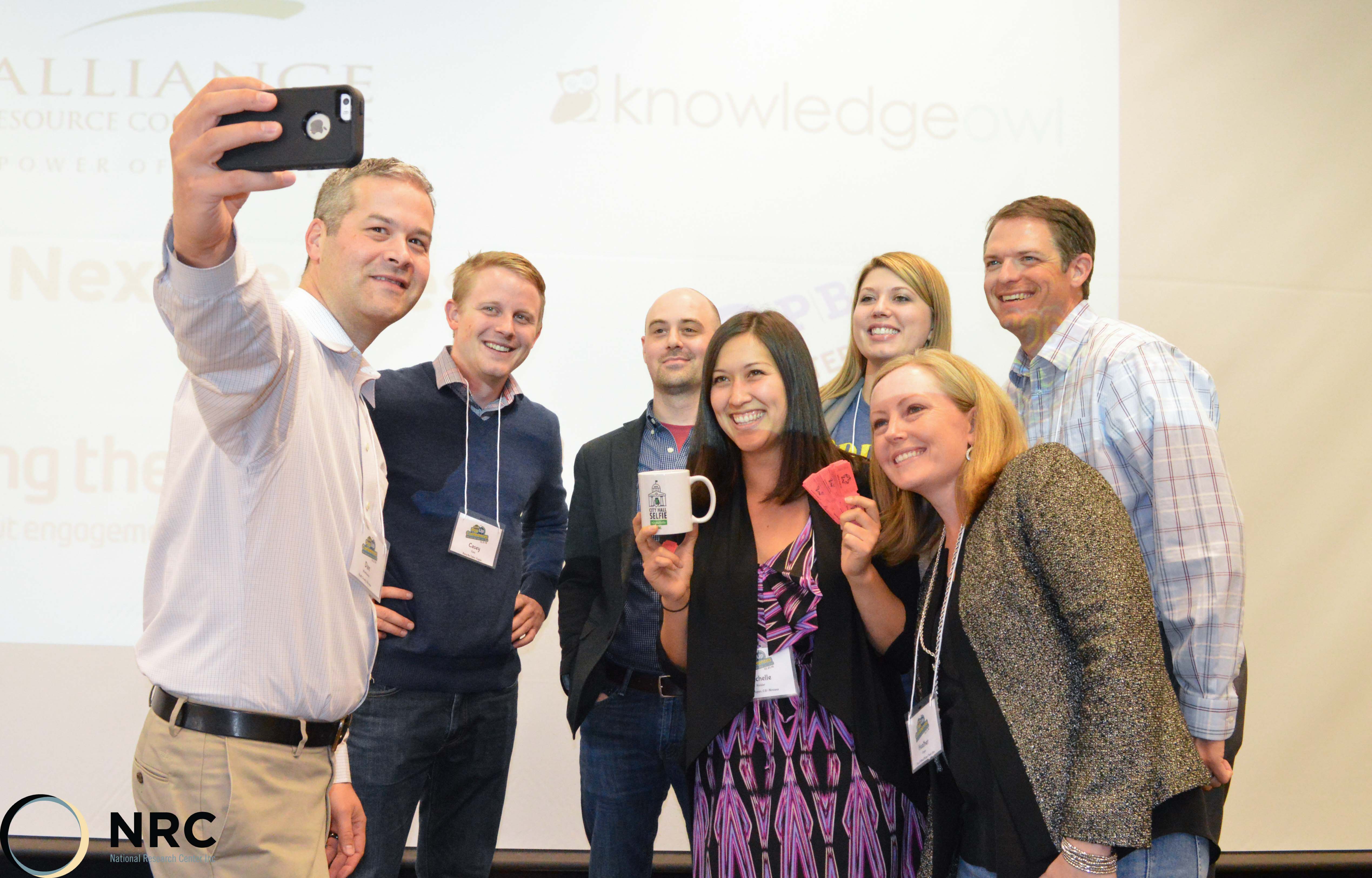 Angelica Wedell brings more than eight years of experience in multimedia communications to her role as marketing and business development coordinator and editor-in-chief of The Civil Review at National Research Center, Inc (NRC).  
By Angelica Wedell – LinkedIn, Twitter, Website
Corniest Popcorn Pic
ELGL popped up across the United States on October 21, enhancing the profession of local government; like kettle corn on movie night.  Colorado's conference turned out well, with about 80 people in attendance.
Best Pop Up Sign Picture
ELGL members noted current demographic trends from geographer Jim Russell, laughed at silly city council meetings with comedian Michael Karlik and were inspired by Kelly Jean Brough's path to success as the President and CEO of the Denver Metro Chamber of Commerce.
Other sessions featuring Bang the Table, Julia Novak of The Novak Consulting Group and Alliance for Innovation shared community engagement tactics, discussed solutions to the #13Percent gender imbalance issue and brought people together to (literally) draw up innovative practices to try in their own communities.
Gender Balance: It's Not That Complicated Panel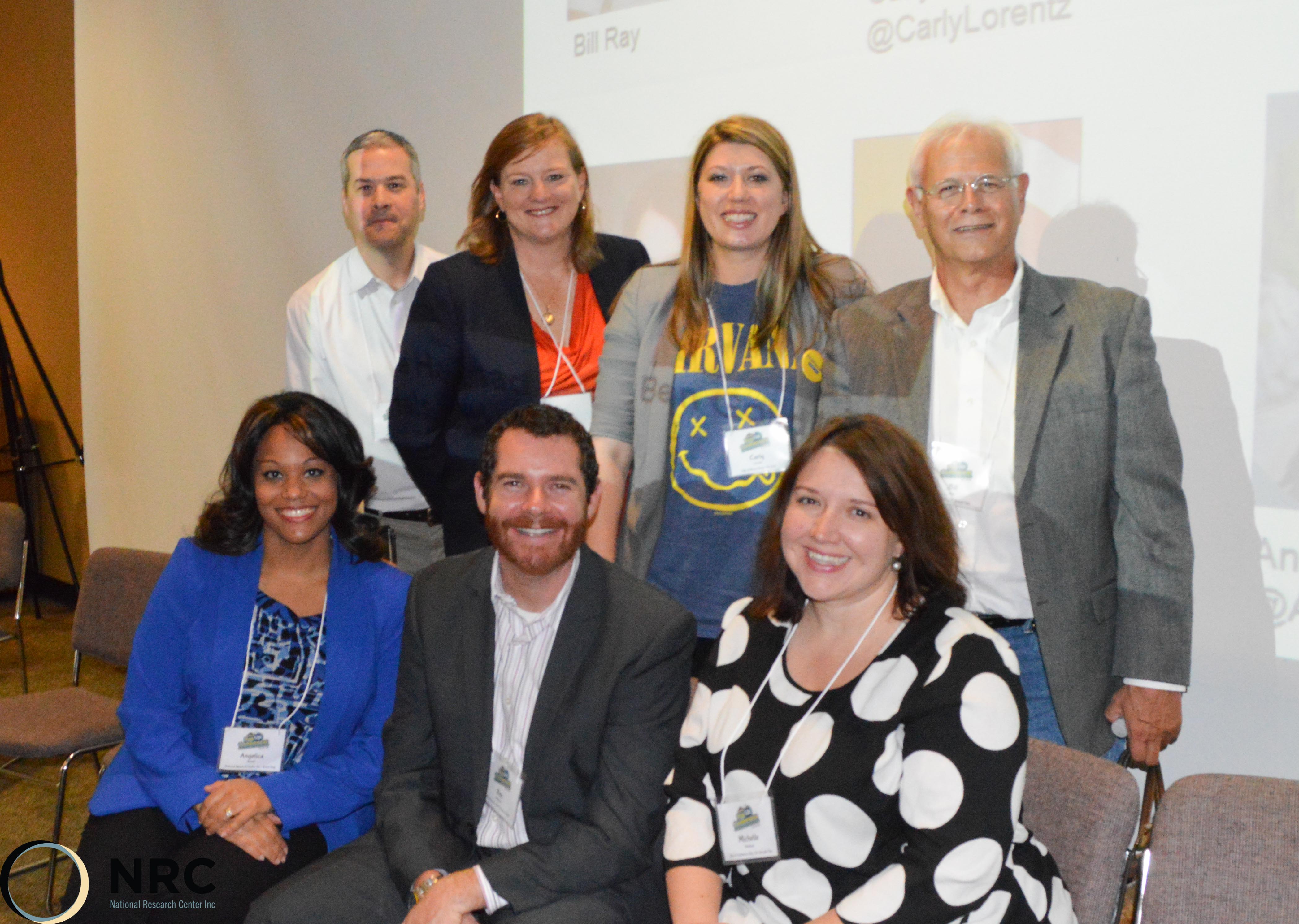 Best Innovation Finger Point
"This is the most informative conference I've ever been to," said Josie Warren, Transportation Planner for the City of Greenwood Village.  "We're all local government here, and even though we are all in different departments, we all have the same stories.  I really like that this conference is focused on us.  It's helped me to learn more."
Warren was not the only local government leader to take value from the Pop Up.  Here's what others learned from #ELGL16 in Colorado.  (Along with a few of my favorite photos.  Check out the full photo album, or see it on Facebook.)
Lessons Learned from ELGL 2016
"I learned that the best way to engage the public is to ask what their dreams and unmet needs are." – Holly Opansky, Housing and Sustainability Administrator for the City of Boulder
"Today was the first time I'd ever heard the term 'ironic demographics.'  It was very interesting to think about the way that cities are changing and planning to change – not based on traditional planning.  Ironic Demographics means that some of the areas we might not think are thriving actually have some of the largest influx of highly educated young people coming into the community." – Casey Earp, Engagement Manager for Bang the Table
"I found it surprising that when men [who had taken an ICMA survey, conducted by NRC] were asked if women have more career barriers, only 52 percent said yes.  (While about 80 percent of women thought the same.)  In conversations with my own guy friends, I think men recognize that there is an imbalance, but they may not realize the extent of it.  It is important to bring those issues up – not just gender imbalance but other diversity too – and to make people more aware." – Madeleine Winslow, Survey Specialist for National Research Center, Inc.
"I learned about how we can flip the negativity in the work that we do in local government into a positive experience for people: for our residents, for our staff and for our elected officials.  If we use appreciative inquiry and a profound way of looking at a glass that's full and not half-full, we can begin to experience what other people are experiencing and take that information to make things better." – Pat Martel, City Manager for the City of Daly City, California and ICMA Past President
"I really liked looking at the population trends – seeing them from a bigger picture and understanding what's actually going on.  That was very interesting to me and provided a lot of insight." – Megann Lohman, Facility Supervisor of Parks and Rec. for the City of Boulder
"I took a lot away from the community engagement piece with Matt Crozier: the different tools and techniques for engaging disgruntled citizens and meeting them where they are at; finding out the fire that's driving them to speak out against whatever the initiative is; and working towards conflict resolution on that front." – Jay-Michael Baker, Community Engagement Manager for Pueblo West Metropolitan District
"One thing I took away was how the problem of affordable housing has affected different communities in Colorado.  It was interesting to hear the different community leaders' perspectives on that, and to hear about how planners are thinking of changing their approach to affordable housing to meet Coloradans' needs." – Audrey Silliman, Survey Specialist for National Research Center, Inc.
"I really liked The Flip conversation and thinking more about not just the surface level problem when someone calls and complains, but delving more into the issue, trying to figure out the motivation behind the complaint and how we can pinpoint the root cause of what the resident is complaining about.  I thought that was really helpful for my everyday life." – Angela Cline, Citizen Outreach Specialist for the City of Lakewood
"Another really important aspect of this conference was Kelly Jean Brough, a keynote speaker.  Hearing from a strong, powerful, confident woman who has gone to a pinnacle in her career is inspiring.  It makes me want to do more and aspire to greater things in my own career." – Dannette Robberson, Public Works Management Analyst for the City of Greenwood Village
"ELGL continues to be the best place in local government to learn about the things that are important to early and mid-career professionals." – Eric Ameigh, Public Works Projects Coordinator for the City of Boulder
Photographer's Favorite Photos
Best 8 am Smiles
Best Over The Shoulder Poses
Best Selfie
Best Audience Smile
Best Picture of Heather Geyer
Best Photo-Bomb
Best Disco Dancers
Best Air Mic Performance
Best Rock-On Signs
Best picture of Michelle Holder and Angelica Wedell
Best Vogue
Best Lip Sync
Best Weezer Stance
Best Destiny's Child Arms
Best Nirvana Hair