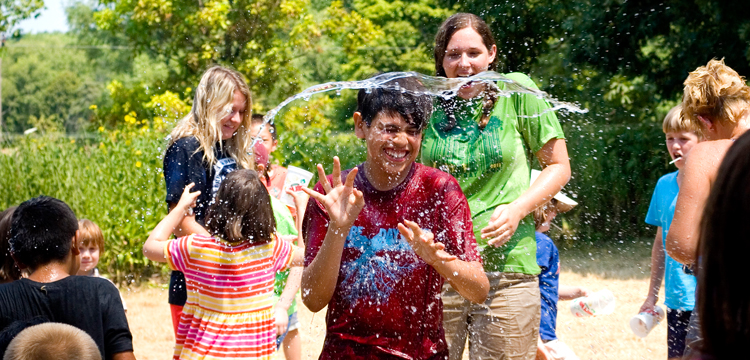 What I am Listening to: Video game music, it makes you more productive!
What I am Reading: The Long Ships by Frans G. Bengtsson; I joined an "under 40 book club."  Not loving the book, tbh, but we meet at a taphouse so that's cool.
What I am Watching: Finally finishing up Scandal!
What I'm Excited About: My upcoming Chicago to Portland road trip to pick up our newest family member, a sweet English Mastiff puppy named Remy. We'll pass through Kansas City, Denver, and Boise before landing at home Portland.
Slide into my DMs for a breakfast date and snuggle a cute puppy! We will be road tripping Friday 4/13-Monday 4/16.
---
By Kylie Bayer-Fertterer, Tualatin Hills Park & Recreation District, Equity Coordinator
Summer is nearly upon us which means for park and recreation professionals: it's time to market the pants off summer camps, programs, and events. Judging from my interactions with other park and recreation professionals, we can be a little uneasy about marketing. The thing is, for many years (in my own agency at least) our programs have marketed themselves. It feels weird to spend resources on advertising and many parks departments are still leery of social media. At my park district we snail mailed our program guide to homes in the community (we still do!) and sat back and waited for the programs to fill. And fill they did, but it's different now. We're competing with private dance studios, indoor soccer facilities, and giant trampoline parks among many other program offerings in the area. Besides competing for our resident's recreational dollars, we're competing for their attention. There are so many channels to interact with potential program participants the whole marketing business can be overwhelming…
To make marketing less overwhelming (maybe just "whelming?") here is a step by step guide to develop content marketing for your upcoming summer programs.
First things first, your parks department needs to have a brand and know which brand archetypes will respond to your brand. You can figure this out by spending a ton of money on consultants or you can do it the quick and dirty way by thinking critically about the services you offer and matching them up to a handful of brand archetypes. To be even quicker and dirtier, here they are! Your park and recreation department is likely some combination of "the regular guy/gal," "the caregiver," and "the explorer." The regular guy/gal is down to earth, supportive, and can be thought of as the person next door. Does this sound like the people who go to your community center or check out your summer events? The caregiver is nurturing and maternal. Does this sound like the parents of the kids in your summer camps? The explorer is adventurous and independent. Does this sound like the people who hike your trails? Boom. Those are your archetypes.


Next, develop your goals are as a parks department. Your goals might be high attendance at summer events. Or they might be to get enough participants in a new archery camp. Or maybe to get #MWords to attend an upcoming "Birds and Brews" event on your local trail system! Whatever your goals are make sure they're clear and attainable and related specifically to your programs.


Once you've got your archetypes and goals, figure out your target market to connect your brand's goals to your archetype. Enlist help from park and recreation employees and other creative types in your office. Set up a lunch and learn and pick everyone's brain about target markets. For those summer events you might want to target people based on their geographic location to an event or another characteristic related to that event. For the new archery camp your target might be parents of kids age 10-12. And your market for that Birds and Brews event is probably #MWords who like to hike…or drink…or drink and hike.
The next step is to pick your channels. These depend on numerous factors like cost, current comfort with said channel, and the channel's ability to reach those target markets in your community. Social media is a great tool and it gets even better when you target your audience and throw a few dollars behind ads. Consider blog posts on your website.Email blasts are another great way to reach your audience. Even a strategically placed flier is a channel! Choosing channels is another place to get creative so think about getting that group of employees back together to brainstorm content for your channels.


Before you go all out with your marketing take some time to consider guidelines for the channels. Guidelines help maintain consistency and keep your brand true to itself. This is especially important in departments with multiple employees handling multiple channels, which is probably the case at your parks department, unless you've got a full blown marketing and communications team at the ready. Multiple voices on social media can be confusing. Fliers for the same event developed with different color schemes or fonts can send mixed messages. Establish consistency with a few guidelines and save yourself time in the future.
Once you've developed your content and set it free to influence those targeted audiences, evaluate. After the your summer concert review the event's content marketing plan to identify strengths to build upon. In your course evaluation for archery camp ask how the participant's parent heard of the program. Give an extra drink ticket at Birds and Brews to everyone who heard of the event on social media. Give another if the participants "like" your page by the end of the event! Do more of what went well and less of what didn't and don't be afraid to try something new the next time around.
Marketing can feel strange to park and recreation professionals but that doesn't mean we aren't capable of doing it. Check out resources through the National Recreation & Parks Association and through your state parks and recreation association. Find examples of stellar parks and recreation marketing plans. Consider attending a marketing conference like Brand+Aid. Look to similar industries like state parks, zoos, and even museums for ideas! Let's have a great summer!