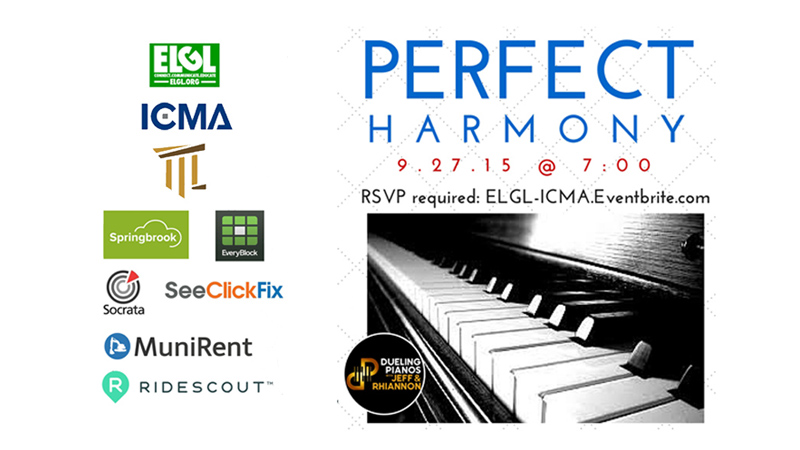 For the second year in a row, ELGL will be co-hosting an event at the ICMA Conference. This year we're bringing a couple of pianos and booking a much larger room. More than 500 local government professionals from all areas of local government will attend. Registration will continue until we reach maximum capacity. We recommend registering as soon as possible. Let's get prepared for the ELGL and ICMA "Mixing in Perfect Harmony" event by hearing from our guests.
Jason Escareno

(LinkedIn)

If you could pick any three bands (dead or alive) as the opening act for the Dueling Pianos event, which would you choose? 

I think we would have to hire a consultant, hold a charrette, create a five-year plan, and then, maybe, we would come to the sage conclusion that a Dueling Pianos event does not require an opening act—just beer.
(Complete the sentence) When I learned the ICMA Conference was being held in Seattle, I thought….…I am going to Snoqualmie—where I fell in love with the most beautiful person in the world (yes, my wife).
(Complete the sentence) I knew local government was the career for me when…..…when I job shadowed a phenomenal city manager who drove me through his city and explained every minute detail of how it ran. It struck me as an invisible world then, and it still does now. 
Our #13Percent Initiative focuses on increasing diversity in the local government workforce. Give us your perspective — does local government have an issue? what, specifically, can we do to increase diversity in the workforce? 
Certainly there's issues. But it's more like ignorance, and it is tough to solve other people's ignorance. A good place to start would be to celebrate Pat Martel, ICMA incoming president and Magda Gonzalez, President of the International Hispanic Network.
The Seahawks lost the Super Bowl by passing instead of running from the 1-yard line. Give us your best tip(s) for rebounding from difficult situations. 
Overthinking and under-inflating are really the same thing, right?
Related Post: Quick Take – Jason Escareno