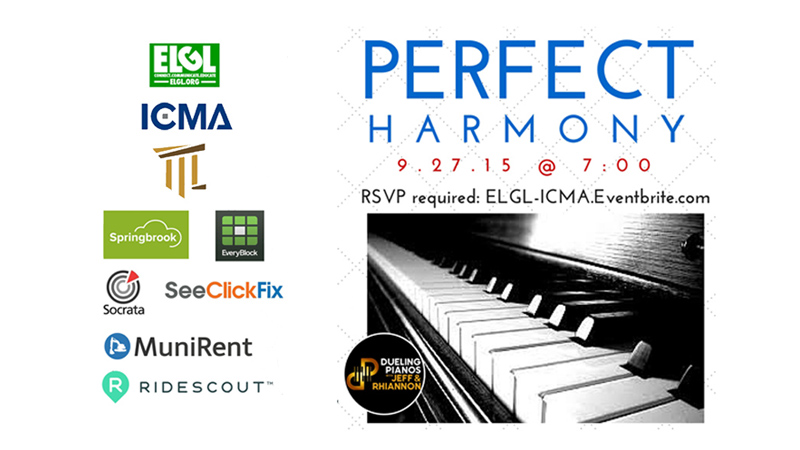 For the second year in a row, ELGL will be co-hosting an event at the ICMA Conference. This year we're bringing a couple of pianos and booking a much larger room. More than 500 local government professionals from all areas of local government will attend. Registration will continue until we reach maximum capacity. We recommend registering as soon as possible. Let's get prepared for the ELGL and ICMA "Mixing in Perfect Harmony" event by hearing from our guests.
Jim Hurley
McHenry County, Illinois  (LinkedIn)
If you could pick any three bands (dead or alive) as the opening act for the Dueling Pianos event, which would you choose? 
Any hair metal cover band
When I learned the ICMA Conference was being held in Seattle, I thought… Here's my chance to spend 3 days straight at Starbucks.
I knew local government was the career for me when… I recognized the value of local governments to coordinating solutions to solve problems.
The #13Percent Initiative focuses on increasing diversity in local government. Does local government have an issue?
I'm not sure if I can say whether or not local government has an issue, but diversity needs to be a priority. And it doesn't happen by accident. I believe the most successful local governments are intentional about creating a recruitment strategy and work environment for diverse populations to succeed. This may sound trite but it starts with reflecting on the process – What is our recruitment strategy? How do we evaluate candidates/employees? What do we do to encourage feedback from employees? What are the outcomes? Asking questions is not a silver bullet but it's a step in the right direction.

Seahawks lost the Super Bowl by passing instead of running from the 1-yard line. Give us your best tip(s) for rebounding from difficult situations.  
As a 49ers fan, I can say things could be a lot worse. After a difficult situation, the key for me is to take a step back and let it marinate. I don't want to overthink the situation but I try to get to the bottom of the problem before I move on. What happened? What is the core issue? What could I have done differently? Where do I go from here? Where do I start? It's still going to sting but I find both losses and successes in this profession are short lived.