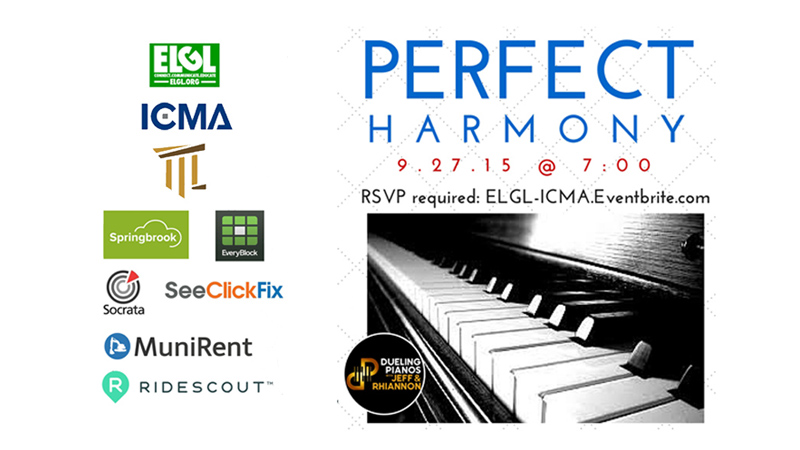 For the second year in a row, ELGL will be co-hosting an event with ICMA at the ICMA Conference. This year we're bringing a couple of pianos and booking a much larger room. More than 500 local government professionals from all areas of local government will attend. Registration will continue until we reach maximum capacity. We recommend registering as soon as possible. Let's get prepared for the ELGL and ICMA "Mixing in Perfect Harmony" event by hearing from our guests.
Angelica at the National Research Center, Inc (NRC) is looking forward to the ELGL "Mixing in Perfect Harmony" event.
Angelica Wedell
If you could pick any three bands (dead or alive) as the opening act for the Dueling Pianos event, which would you choose?
These individual pianists have been known to put on a put on an electrifying good show, bringing the piano to life:  Alicia Keys, Scott Joplin, and Mozart
 When I learned the ICMA Conference was being held in Seattle, I thought…


…of the exciting opportunity to discuss community and leadership over fresh seafood and charming shores.
I knew local government was the career for me when…
National Research Center works with local governments (among other public sector clients) to conduct the survey research and evaluation needed for leaders to take the best initiatives for their communities.  I'm proud to be part of a company that helps local governments across the nation improve quality of life for their residents.  Realizing this real-world impact, I know I'm at the right place!
#13Percent Diversity Initiative:  Does local government have an issue? What, specifically, can we do to increase diversity in the workforce?
I believe that government (local and national) earnestly needs greater diversity in order to best understand and represent the American population it serves.  While I cannot pretend to have the answers to solve this issue, I do think it helps to take steps to inspire, prepare and encourage people of diverse backgrounds to take on positions of leadership.  As humans, when we can imagine ourselves being successful, we become successful.  And it helps to imagine yourself in a leadership position when you can see others who look like you (or relate with you in some way)thriving in that position.  I  think it is important to show our youth by example that they, diverse as they are, can be leaders and they can be successful and they can follow their dreams.  I think it is important for people of any age to act on their ambitions and not shy away if they find themselves to be a minority in some way, and continue to seek the life of greatness they have been dreaming of.  If more of us (no matter what our background may be and what our version of "greatness" is) can achieve this, then perhaps our youth would actually believe us when we tell them that they "can grow up to be whatever they want to be."  I'll go as far as to say that the same goes for adults.  If I am to apply this to myself, I'd say that I have been inspired by women of color who have followed their path to success in the workforce, and the more I see them, the more they show me that I can be whatever I strive to be.
The Seahawks lost the Super Bowl by passing instead of running from the 1-yard line. Give us your best tip(s) for rebounding from difficult situations.
I think the worst thing you can do after surviving a difficult situation is to replay the event repeatedly in your head, beating yourself up and obsessing over thoughts of what you should have done differently.  It is better instead to learn to recognize the situation for what it was, learn from it and move forward.  It's OK to push the doubts away and treat yourself to an activity that makes you happy.  What did you do for fun when you were 10 years old?  Maybe you sang like no one was listening, drew on the side-walk or played soccer with your friends.  Seahawks, you can take this as permission to grab a yellow chalk and doodle some happy-faced suns in your drive-way.