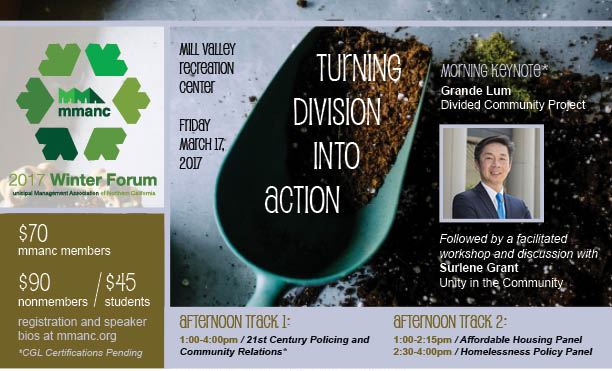 Friend of ELGL, the Municipal Management Association of Northern California has put together an incredible Winter Forum event in Mill Valley, CA.
The theme of this year's MMANC Winter Forum is "Turning Division into Action" — inspired by morning keynote Grande Lum's work as Director of the Divided Community Project, a initiative headed by leaders and mediators from throughout the country who had experience dealing with civil unrest in communities. Mr. Lum has guided during a time when race and law enforcement reemerged as a critical national priority. He was nominated by President Barack Obama and confirmed by the Senate in 2012 as Director of the Community Relations Service, an agency within the Department of Justice. Prominent civil unrest conflicts in Sanford, Ferguson, and Baltimore occurred during his administration. Following Mr. Lum's keynote, facilitator and experienced local government and community relations professional Surlene Grant will be leading an interactive session focusing on implicit biases both on the side of government officials and the public we serve, and how we can best recognize and work through those.
After the morning keynote, the event will feature three afternoon in-depth conversations on hot topics in local government: 21st Century Community Policing, Affordable Housing, and Homelessness, with leading experts on these issues focusing on real solutions for local governments. The panels will be an excellent opportunity for public servants to participate in meaningful learning about these issues in their communities. We anticipate great information and discussion at this event, we hope you can join!
For a complete list of panelists for the afternoon sessions, and to register for the Winter Forum, visit mmanc.org/events/winter-forum/.
MMANC Winter Forum
Friday, March 17, 2017
8:30 am – 4:00 pm
Mill Valley Recreation Center
180 Camino Alto
Mill Valley, CA 94941
About the location: Located just a few minutes off Highway 101, and a half hour drive from San Francisco and the East Bay, Mill Valley is a picturesque city in southern Marin County. There will be ample parking at the Mill Valley Recreation Center, and Golden Gate Transit provides bus service to the venue.