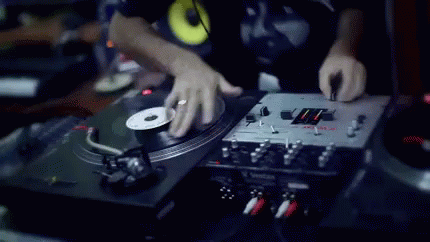 In this series, we're asking you to tell your life story through eight songs. Starting with your earliest memories, guest columnists will name their defining songs along with a couple of sentences explaining their meaning.
Previously: DJ Kirsten Wyatt and DJ Shelby Teufel
DJ Jason Jones
Guilford County, NC – Budget & Management Analyst
My dad was a big influence on my taste in music. I like a little bit of everything and will give anything at least one listen. I was introduced to John Prine pretty early and made it a point to learn the words to most of his most popular songs. There are a lot of memories attached to this song though. Music does that for me, kind of like smells for some people. I'm immediately reminded of summer trips to visit family in Kentucky and more recently my dad's sixtieth birthday party.

There is a company out there that has this slogan I love. "We're here to make good things happen for other people." Even though I struggle with this, I do believe it firmly. I don't remember how old I was when I searched for a cd with this song on it to give my dad for his birthday, but I was still pretty young. The cd had to be special ordered but I was determined to get it for him. I even had to record it on a cassette tape so he could listen to it in his truck. It wasn't easy and we purchased the entire cd for just one song, but it was worth it.

I put this song on here for two reasons. First, I'm a huge nerd and love Weird Al Yankovic's parodies. I'm not ashamed to admit it. Second, I was a rather "husky" child and ate anything within arm reach. I think my great aunt pretty much ruined me in this arena. Her fridge was lined with soft drinks and she had a cabinet full of unhealthy snacks. She even kept her dishwasher filled with snacks. Don't ask me why, I really don't know. I just know they hand-washed all of their dishes.

The soothing sounds of Aubrey Drake Graham. I think my wife and I owe some piece of our sanity to this song. For some reason our son was obsessed with it, so any time we played it he would immediately stop crying. We simultaneously loved and hated it while it was on repeat through the first year of his life. This probably isn't the greatest song to play on repeat for your newborn, but it definitely got the job done.
This one is a pretty simple continuation of my significantly high childhood nerd factor. At a fairly young age I had already watched every single James Bond movie and would continue to watch them any time there was a marathon on television. I still love James Bond movies and think Daniel Craig is a pretty good Bond. I'm partial to Sean Connery though.
This is a fun song to mention because my wife actually had some lyrics from this song as the tagline on her Myspace page when we first started dating. I saw that Myspace status change to single and I swooped in like a peregrine falcon.
Can't Tell Me Nothin' from Zach Galifianakis
So let me just say that Zach Galifianakis' music video to this song is hilarious. Beyond that, I put this song on my list because I think the title of this song is relevant for a lot of people. I know it was for me. People try to give you advice along the way but there really is no substitute for experience. Hard lessons seem to be the ones you never forget and they also seem to be the ones that remind you as you get older how easy you would have had it if you would have known what advice to listen to.

This might seem like a really odd song for me to throw on here, but it's my list so I can do whatever I want. It really is the words that I'm interested in. For me, it insists that every second of life that you have in front of you is undecided. I refuse to accept predetermination. It is an incredibly challenging thought experiment for some people to imagine that their future is unwritten. But what if we could all work through that? Imagining for a moment that your choices, as you make them, are constantly altering your future and the future of every life you touch.
Supplemental Reading