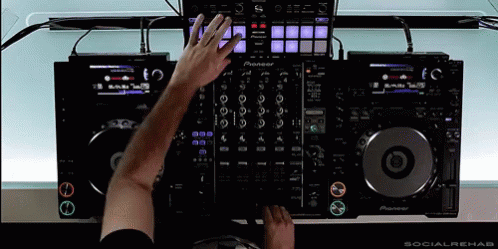 In this series, we're asking you to tell your life story through eight songs. Starting with your earliest memories, guest columnists will name their defining songs along with a couple of sentences explaining their meaning.
---
DJ Jesus Diaz
Connect: LinkedIn
---
Mana – Mariposa Traicionera

---
My family loves Mana. I grew up listening to what they did and that includes music by Mana, Juan Gabriel, and other Latino artists. I had no idea what the songs were about as a kid. I appreciate the meaning of their music now. Back then, it just put me to sleep!
---
Sheryl Crow – Soak Up the Sun
---
I grew up in Kansas with two older sisters. I pretty much ended up liking whatever they listened to. I remember Sheryl Crow was one of our favorites whenever we went on a road trip somewhere.  
---
The All American Rejects – Move Along
---
Reminds of the all the teenage angst I experienced as a student at Birdville High School and meeting my best friend in BCIS class. My takeaway from the song & music video is that bad things happen to all of us. We stay strong and make it through by refusing to dwell on negativity.  
---
Austin Mahone – Dirty Work
---
This song is about working evenings and overnights. The music video shows a bunch of white collar professionals working in cubicles but that's not why I relate to the song. The music video is really sexy & flirty but Security work is anything but that. From 2009-2011, I worked as a Security Officer for a private Security company based in Dallas, TX. I once worked noon to noon (24 hours straight). This job helped me survive the recession and I came out of it with enough experience in the Security field to transition into working in the public sector as a Security Officer for the City of Irving.
---
Little Big Town – Pontoon
---
This is my favorite song to sing on karaoke night after a few well drinks. Its crowd pleaser here in Texas and it's definitely one of a few songs that I can sing very well. Other karaoke favorites include "If I Die Young" by The Band Perry, "You Lie" by The Band Perry, "Walk Away" by Kelly Clarkson, "Bulletproof" by La Roux, "Diamonds" by Rihanna, and "take a bow" by Rihanna. Karaoke is one of my favorite things to do. I have fond memories of flipping through catalogs of music & googling lyrics before going up to the DJ with my selection. My friends almost always chicken out but I get up there and sing – to the best of my ability.  
---
Taylor Swift – 22
---
22 is totally a song about my early 20s. Who hasn't had breakfast at midnight after a night out with friends? Breakfast at midnight is a ritual me and my best friends do after a night out. After a night out on the town, we look up the nearest IHOP or Waffle House and agree to meet there. We almost always saw people from the bar there.  
---
Twenty One Pilots – Ride
---
Such a road trip song! Makes me think about the past and where I'm going. Last year I rented a car and went on a road trip to Santa Fe, NM (all by myself). It was spring break and I had about a week off from school and work. I was so tired of trying to get my friends to join me. It was a peaceful trip, nonetheless.
---
Marina & the Diamonds – Oh No!

---
When I told my best friend I was trying to come up with 8 songs to describe my life, he said "don't forget about Marina and her diamonds." Ok I won't! I love that she sings so bitterly about not being in a relationship and having a mountain of debt. As a recent graduate, I'm familiar with student loan debt and being single. She's so gloomy, realistic, and aware that she's down on her luck. She's confident and brave enough to talk about things that might make people uncomfortable, all while being funny & sarcastic. I'm kind of like her.
---
Previously