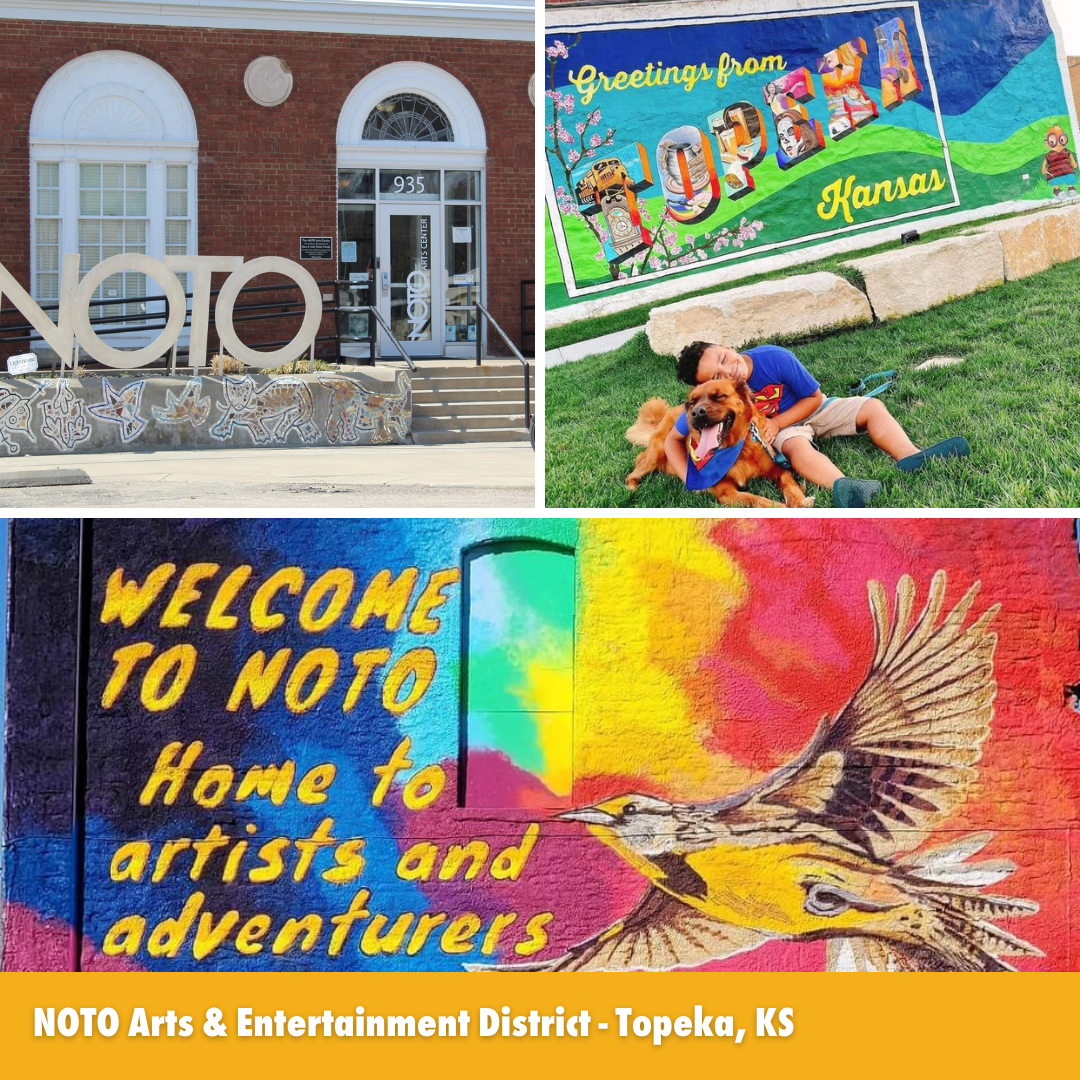 Voting for the 2022 Best Places in Local Government (aka the #ELGLKnope) Round of 32 opens on March 7, 2022 and closes at midnight PT on Friday, March 11, 2022. One vote per person. Learn more about this award online.
---
NOTO Arts & Entertainment District
Topeka, Kansas 66608 
Year(s)/Era:

The NOTO Arts and Entertainment District is a small, historic area of the city initially founded in 1865. The district is comprised of an eclectic group of art studios and galleries, small antique and home décor shops, a few clothing and specialty shops, a couple of small restaurants, and several service/trade businesses. It is also home to a few non-profits that serve the disadvantaged, such as the Topeka Rescue Mission (homeless shelter) and the Topeka Habitat for Humanity. The Great Overland Station, a renovated historic railway station that presents exhibits, displays, educational programming and activities that represent local history and heritage. NOTO also includes the area neighborhood. In the early 2010s, through the Heartland Visioning process, the Topeka community requested an "Arts district" in a survey. The historic North Topeka downtown was suggested as the location for the proposed arts district. Investors purchased many of the historic buildings to begin the revitalization. The area, dubbed the NOTO Arts & Entertainment District, welcomed three businesses in 2011, 12 businesses in 2012 and has since continued to grow to include art galleries, antique and home décor shops, restaurants and bars, all locally owned and operated. Included is the NOTO Arts Center, which serves as the district office as well as an art gallery or a venue for classes and events. 

Type of Place:

District  

Nomination:

Growing up in Topeka, often times it felt hard to find places and spaces that I really connected to and resonated with pridefully. I think I was a Junior or Senior in high school when I found the area. It was the first time in my life that I really connected myself to community though art and seen the benefit of connecting community, art and business. At the time I was super into photography and would research cool areas of Topeka. I was looking for places that just seemed to have a story and the NOTO area definitely did. I loved it so much since! Although from a distance now since I moved away from my hometown when thinking of historic places NOTO was the first to mind particularly because of how community driven the development was. Now its cool to hear my Dad tell me he is visiting the district for a First Friday Art Walk and to know how much the area has brought joy to the community. 

Most notable attribute(s):

NOTO Art Center. The historic NOTO Arts Center was originally built as a federal post office in 1938. Starting in the early 1980's the building was used by various businesses until it was purchased and donated by Stan and Jody Teeter in 2014 to serve as an arts center and as the administrative home for the NOTO Arts and Entertainment District. 

Special designations or recognitions:

 NOTO is the third most popular tourist destination in the county, following Lake Shawnee and the state capital, and is consistently voted as the "Best Place to Take an Out-of-Towner" in the Best of Topeka contest.

Three words to describe:

Midwest Grit, Eclectic, Heartland 

Anything else to share?

 
Local Government:
Topeka's Chamber of Commerce in 2008 began to develop a visioning process through Heartland Visioning to get community feedback and that's where the dream of the arts district came to life. Now The NOTO Arts & Entertainment District is a non-profit organization that supports and advocates for the district. It is managed by an executive director and is supported by a board of directors from within the district as well as the broader community.
Topeka, KS 66608 
---