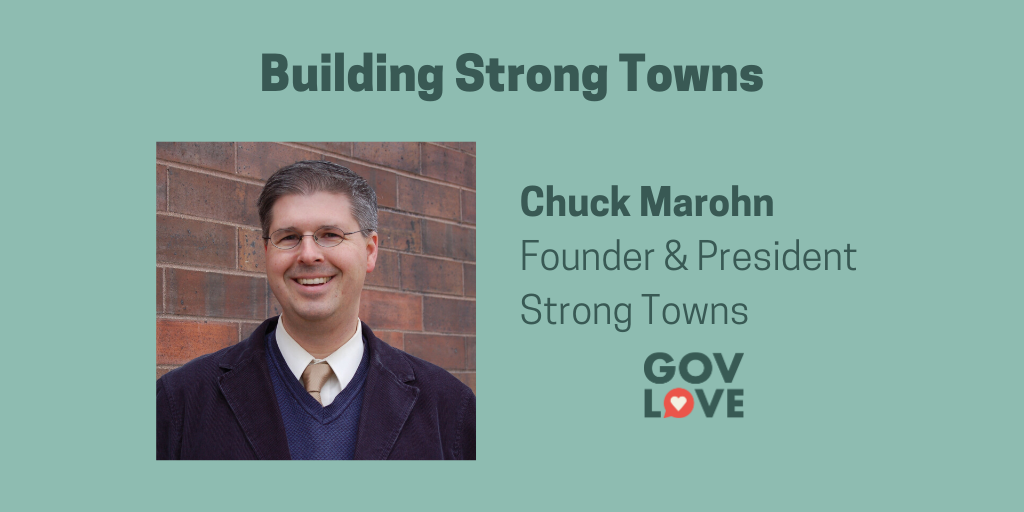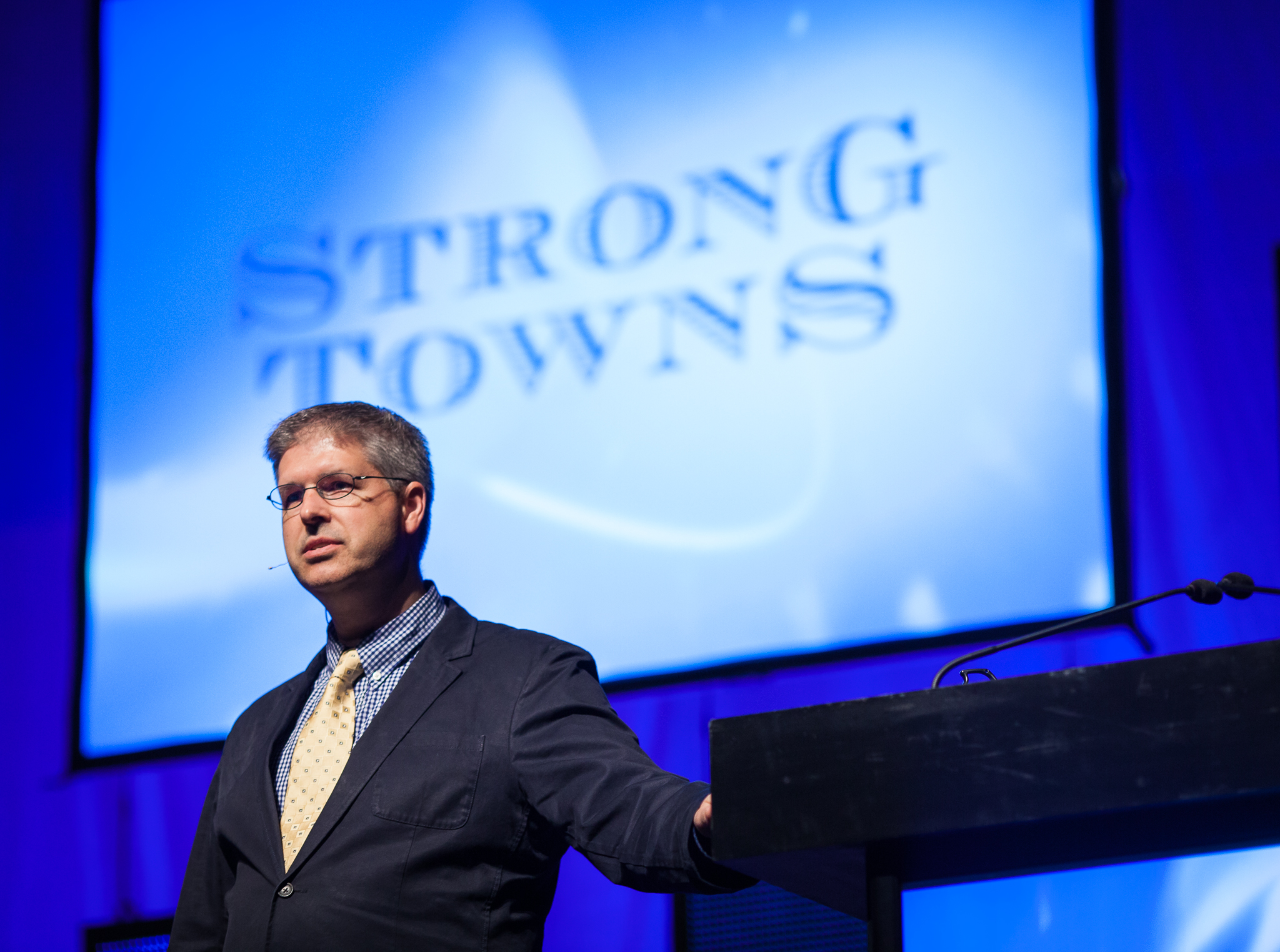 Chuck Marohn
Founder and President
Strong Towns
LinkedIn | Twitter | Bio
---
A bottom-up revolution. Chuck Marohn, the Founder and President of Strong Towns, joined the podcast to discuss about his new book and the work he is doing to shape the conversation about development in cities. He shared what led him to leave the engineering and planning field to start Strong Towns and his new book, Strong Towns, A Bottom-Up Revolution to Rebuild American Prosperity. He talked about how the way America has built cities since World War II has led to developments that do not generate enough tax revenue to pay for their infrastructure. He also shared the ways that local governments can change their approach and create stronger communities.
Host: Ben Kittelson
---
---
Learn More
Order the book: Strong Towns, A Bottom Up Revolution to Rebuild American Prosperity
The Curbside Chat: Charles Marohn of Strong Towns on Building Better Places
The Suburbs Will Die: One Man's Fight to Fix the American Dream
Strong Towns: Cities that thrive after COVID will be those that experiment
Nine Things Local Government Needs to Do Right Now in Response to the Pandemic
---
Episode Transcript
Ben Kittelson
Hey ya'll. This is GovLove, a podcast about local government brought to you by Engaging Local Government Leaders. I'm Ben Kittelson, consultant at the Novak Consulting Group and GovLove co-host. We've got a great episode for you today. We're taking a break from our COVID-19 coverage to talk about strong towns and new revolution to rebuild American prosperity. Before we get into the episode I want to remind our audience that the ELGL 2020 you know conference has been postponed. It'll take place this October 14 through 16th in Portland, Oregon. And as a reminder, if you want to support GovLove, you can become an ELGL member. An ELGL member or ELGL is a professional association engaging the brightest minds in local government. And lastly, GovLove is looking for your feedback. Visit GovLovesurvey.com and tell us a little bit about you and what you think of GovLove. Knowing more about you helps us make GovLove better. That's govlovesurvey.com. Now let me introduce today's guest. I'm super excited to have Chuck Marohn here. He is the Founder and President of Strong Towns, a nonprofit focused on shaping the conversation around growth, development and the future of cities. He's a licensed professional engineer and a land use planner and spent time as a consultant managing utility and capital improvement projects. He's the author of a new book that we're going to talk a lot about today called Strong Towns, A Bottom Up Revolution to Rebuild American Prosperity. And he's also the host of the Strong Towns podcast, which once you're done listening to every episode of GovLove a few times through, you should definitely subscribe to. I've really enjoyed the episodes, the interviews that Chuck does. So with that, thank you. Thank you. Welcome to GovLove Chuck. Thank you so much for joining us.
Chuck Marohn
Thanks, Ben. Thanks for having me. This is really great. I appreciate the opportunity.
Ben Kittelson
Yeah. So I definitely want to spend the bulk of our time on your book and sort of the lessons that local governments can draw from it. But and I want to ask these ones together, because I think they're tied up but I want to hear a little bit about your career path and kind of the creation of Strong Town.
Chuck Marohn
Oh, geez.
Ben Kittelson
Yeah. So yeah. You don't have to do the day by day details, but what was kind of the path to where you are now? And what is Strong Towns? How did you kind of start it and a little like background for our listeners, I guess?
Chuck Marohn
I think people would like, like a glamorous story like, yeah, you know, I set out to change the world. And, you know, it was nothing like that. It was actually the opposite. It's like, you know, I was just bad at everything I did and was frustrated and angry and wound up here. No, it's not quite that bad either. So I am a civil engineer. I graduated in the mid 90's, from engineering school here at the University of Minnesota. And I came back to my hometown, I married my high school sweetheart. She and I moved back here and that was it. Like, we were set for life, like, you know, ready to go. I was going to be an engineer. She's a journalist. She's a newspaper reporter. And, you know, life is good. And seriously like that. I was very happy with that. As I'm doing engineering work, I have a, I say that I wasn't a very good engineer because I asked too many questions. A lot of engineering today is about following established practices and following things that are in place. And I just really struggled with that. And part of it is just my character. Part of it obviously, is that things don't make a lot of sense. And so I wound up in the course of engineering kind of migrating more towards the feasibility study, project management, the softer side of engineering. I wasn't the guy sitting there doing calculations and stuff. I mean, I could do that work, but it some people are attracted to that because they don't like dealing with people and you know, what have you. So as I'm doing the, the feasibility side, and the project management side, it just becomes apparent to me that we have really bad planning in this country. Like all the problems that I'm trying to fix as an engineer are problems that if someone had thought about this stuff 10,20, 30 years ago, wouldn't, we wouldn't even be spending tons of money now today. So I decided as like a career break, I had my midlife crisis in my mid 20's. You know, so I went back to graduate school and got a planning degree. And my intention was just move right back to my hometown and go right back to work for the engineering firm I was in. But I wound up taking a different path because city started to call me, places I had worked with. So we've got this planning issue, will you come help? By the time I got done with graduate school, I had my own planning firm, and I'd hired a couple of my classmates. And so I'm working for cities all over Minnesota, doing ordinances, code writing, planning, and and in particular, helping them process permits, particularly like the high level stuff, so we, we were like specialists if you you know, had your own zoning staff and you were doing day to day stuff, and then all of a sudden, like the big complicated thing you didn't know what to do with came in the door, you would call us. And we would come in, and we would help you, help you through this big application help you get your processes set up so that things worked well, keep you out of court, you know, help you make good decisions, that kind of thing. This was during the housing boom. And it's kind of crazy, because during our peak period of time where everything was going really well, like we were processing tons of permits, we had lots of work, I had 13 staff and five offices, and we were just rockin, I became disillusioned with the whole thing. And I actually looked at it and I was doing some of the, like, underlying finance analysis for our cities. You know, we'd have a development come in, and I would say, Well, look, you could do this one, but here's the, here's the math underneath it, like, here's how much you're gonna make, and here's how much it's gonna cost you. And nobody wanted to hear that because it was grow, grow, grow, grow, grow. I started to realize, like I started to put math behind all this stuff we were doing and I really became concerned that we were walking down this fiscal cliff, like this was not going to end well. And particularly in the late stages of this, I mean, 2005 – 2006 you were seeing some insane developments happen here in Minnesota, just stuff that like you did not have to be astute in any way to realize like this was a bad deal for everyone. This was just being done. Because there was a ridiculous bubble going on. So all of a sudden in 2007 and then nationally in 2008, things started to fall apart. Our business fell apart first because we were on the very front end of the whole permitting process. And so by the time we got to you know, the bank starting to fail and the economy crashing and trillion dollar bailouts and stuff, you know, all this stuff that looks was amazing, then it looks so quaint now today, you know, in retrospect, it's like 100 billion dollars rescue package. Oh my gosh, this is insane. And I was like oh, you know that's Tuesday morning. But you look at that and my business had failed like way before that, you know we had shrunk down to one office, three of us people working you know a tiny trickle of what we had had before because you know before you can default on a home you have to build it, before you can build it you have to get it permitted, before you can permit it, you got to talk to me. So we were at the way front end of this and I had been running around telling cities like look, the sky is falling. And I actually had people calling me Chicken Little like, what are you doing Chuck? Like, you know, we're all making money. Like why are you, why are you the guy who's like the purveyor of doom here? And then it all went bad. And I really I mean, I'm, I'm being sincere in the sense that in 2008, I was having a personal crisis, the world as I was seeing it, and as I was understanding it, and interpreting it was way different than the world that everyone around me and our entire national dialogue was, was observing. And so I just to save my own sanity, I said, I'm just going to sit down. And three days a week, I'm going to write about cities, and write about my experience and what I'm seeing, and why this seems crazy to me. And I'm going to do this as a way to think through my thoughts. And so I started a blog in November of 2008, right after Barack Obama was elected. I started to write and I had no idea that people would read it. I mean, I was passing around with my friends, but all of a sudden, people start to read it, pass it around, I started getting interview requests. People want to talk to me. They're like, this is different. You know, we're, and, you know, a year later, a couple friends of mine, and I started a nonprofit. And a year after that, we had a 501(c) 3 and a foundation in Minnesota gave us three years of startup money for me to leave my whole practice and go figure out what the strong town's thing was going to be about. And so it was never something I set out to do. It was actually more me like, just not being comfortable with where I was and what I was doing and how things were going. And fortunately, that manifested not in me being institutionalized, but in me being able to talk to people about this stuff all the time.
Ben Kittelson
Yeah, yeah. That's fascinating. So, I mean, you mentioned you're working on like, feasibility studies. And was there something that I don't know a project you worked on, or maybe it was, you know, a handful of them that you're just like, this no longer makes sense. This is the thing I know would like this is kind of the core of this part of your book. Like, you know, this project is a good example of, hey, we're never going to make or this doesn't make sense. You should never pursue it, but it's that's not what people want to hear. Like, is there an example of that that like?
Chuck Marohn
Oh yeah.
Ben Kittelson
Maybe not a trigger point, but a trigger point.
Chuck Marohn
In the book, I kind of lay out a narrative where I go through a bunch of projects that I looked at. I will say, it would, it would have been really helpful for me if there had been one, like obvious inflection point. But it was really more like a drip, drip, drip, drip that I couldn't avoid. I think the one that, the one that hurt the most, the one that like cut, you know, like, like, made me sad, and also mad and just like really cut, you know, in a deeply personal way, there was a city that I'd worked with for a long time, Pequot Lakes and I talk about them in the book, but I didn't talk about this project. They were getting a highway bypass, which I did talk about in the book, but not this side thing. There was a, a, an effort by the city engineer, who, by the way, was the firm that I used to work for. So these were my friends and colleagues and actually mentors, I mean people that right out of college, were teaching me the basics of engineering. I mean, these are people that I learned from. They were there recommending that the city do a very prudent thing, which is run sewer and water out to the far side of the bypass before the highway comes in. Because when you're when you're working in bare ground, you can bury a pipe very easily. Once the highways there, you've got to tunnel and bore underneath it. And the price goes up, like 10 X, it's way more expensive. So just do it now before you know before all this infrastructures in, and this was so this was so obvious, this is something that a decade earlier for me, would have been so obvious that you would not even question it. Of course, I was questioning it. And I sat down and I you know, wrote out here's the cost the engineers providing. Here's how much our tax base would need to increase in order to pay for this investment. Because it's a lost investment. I mean, you can't. It's a pipe that goes under a highway. And so it's not like you can develop along it. It's basically like the ante to develop further beyond the highway. And like, here's how much your tax base would need to increase just to pay for this pipe. And it was, it was like, a 50% increase in the whole entire city's tax base. I mean, it was, it was an insane number. It was a number that made no sense. And I went to the city that I had this long, deep relationship with, where people you know, I felt I had a personal connection to, and people who I had a personal connection to in this engineering firm. And I believed that I was sharing information that they would want to know and hear that would actually, they would say, well, we want what's best for this community, like we would never do something that would financially set us back or harm us or do you know, any type of negative like, thank you, Chuck, for pointing this out. Like we hadn't, and I went to them in all like open spirit of like friendship and helpfulness. And I was not only roundly criticized, but I was like ostracized. I was dis invited to meetings. I was, you know, like, you know, we gotta get Chuck, like, out of here, we got to get him fired, like we don't want him around. He's ruining, you know, the conversation. He's negative. He's, you know, all this stuff that was very deeply personal. And these are people that I, you know, I loved. I mean, I really cared about this place. And so, yeah, you know, you look at that as like the combination of many drip, drip, drip, drip. And I had to make a choice, you know, do I get along with everyone and be part of this system and part of this, you know, this process and by the way, keep my, you know, co workers employed and their families fed and, you know, my own family fed. I have two daughters and you know, want them to grow up in a secure household and go to college and, you know, all this stuff. Or do I, you know, be the person who gets dis invited to the meetings and gets fired and doesn't, you know, can live with himself at night because like, I'm doing what I think is right, but there's a lot of people who do things they think that are right, but that are not right, you know, and wind up harming themselves. Like, who am I? Like, what am I doing here? So, those were hard days. Really difficult, difficult personal days, and I'm just grateful I have the wife I have, and the support system I have, because I don't think, I don't criticize anyone. It's the Upton Sinclair quote, it's difficult to get a man to change their mind about something when their job requires, to understand something when their job requires them to not understand it. And and so I've reached a point where I don't blame people who don't want to grasp this stuff, because oftentimes it means rethinking their entire job and career path and things they've done for decades and reevaluating their life's work. And that's a very painful thing to do, very painful.
Ben Kittelson
Oh, totally. Well, and I think, and I want to drill into that, because and underline that, well, you just kind of this financial question that's, the core of this. But just to kind of go off of what you just said, it's also challenging the assumptions and the like, long held beliefs and like, of how you build cities and how you run like cities and local governments and what you need, like, it's not just that, you know, you're challenging a person like personally, it's also like, this is like the common knowledge of like, how cities should be built and how they should be run and like what you do, you know, yeah, you turn that farmland into a subdivision so that like, you can add 1000 new houses. Like that's, that's just what was done.
Chuck Marohn
Right. This is the, I think this is where I was, did have an hallelujah moment and was kind of lost in the wilderness because I, at first just because of where I was and what I was doing, I really felt like the story I was putting out to the, the stuff I was developing, the target for that conversation, were professionals, like myself, you know. If I can just have engineers and planners understand this stuff, the way I understand it, they are all good people. I know, I know them. Like I've never met one that I thought was corrupt or evil or what have you. If I could just share this with them, they're going to share my understanding and they're gonna want to do things differently. That did not happen. [Laughter] But my thought then was that if public officials understood this, they would speak differently about it like they would have a different understanding and they would lead in a different way. They were more receptive. But, you know, it was equally frustrating. Where I found the most reception for our message, and actually where we've made the most progress is kind of this crazy thing of focusing on the broader cultural conversation. And, you know, the, the broader kind of set of beliefs that progress looks like a new frontage road, a new strip mall, a new McDonald's, you know, a new gas station. It's it's very interesting to me, and it's been very revealing how, how quickly that veneer cracks when it gets a little bit of, you know, like, you know, push back on it. People are people. A lot of people have told us we're like a red pill organization, which you know, is overused matrix analysis. But I think there's some truth to it in the sense that what I have discovered is a lot of people not in the business, are very uncomfortable with the decisions we make. But they acquiesce to the decisions for the greater good. Like, we need growth. We need jobs, we need economic development. Here's how we do it. We, you know, add a new lane to the highway, we put in a new interchange, we build a new frontage road like we all have grown up in this system where we see this is how you construct America 1, 2, 3, 4, it's a very like systematic process. And no one really likes it, they but they accept it because this is what it means to have a modicum level of prosperity. And when you crack that facade for them when you show them like no, this is actually the thing that's making us broke. This is actually the thing that is making your city less off. This is the thing that is raising your taxes and lowering your services and creating more debt for your community. This is the thing that is hampering your future. People just say Oh, thank you. I hated this. I didn't like this. Like I Don't like if I went along with it. But now that you're showing me like the reality of it that makes way more sense because it jives with what my gut and my heart and my instincts have been telling me all along. So it's like we opened people's eyes to something that was right in front of them. I used to describe what we did is like, explaining a post it note or explaining, like a paperclip. You know, it's like, whoever invented the paperclip was a genius, whoever invented the post it note was a genius. But they were a genius, because they told you something. They did something that was so obvious that after they did it, everyone's like, well, why didn't I see that? You know. And I really feel like that's what Strong Towns has become is like, we're just going to show you what's obvious in front of you. And, you know, that's really powerful.
Ben Kittelson
Yeah, well, the pairing of the financials with the like, cultural conversation I think is like really where, where it kind of clicked for me is that yeah, you know, I'm a child of the suburbs, I didn't love my hometown but, but I loved going into the, you know, I grew up outside of Portland, I loved going into downtown Portland and you know, being in those that type of community, and like, it's what we look for, you know, now when my wife and I are looking for, you know, places to rent, or, or what kind of neighborhood we're gonna live in, as we look for some of those same characteristics, not like the places where, you know, we grew up. But pairing that with the financial of like, not only is this not what some, you know, obviously, I'm not representative of everyone, but not only is this not what some people are looking for in a neighborhood, but it's also like a bad, you know, business decision or bad governance decision. And I think that was something when you read it, it was like, or when I when I read that part of your book, I was just like, it clicked for me and like it made complete sense. But can we, I don't know if there's a good way to go into it without being too boring for our listeners. But can we talk about like that that financial reality of life yeah, the why a, you know, because, I don't know, I look around like a, you know, the Portland metro area where I grew up. The places where there are, you know, they're great towns, they're high, you know, value communities, are these like big there's these the suburbs there. You know, the Lake Oswego is the Westlands of the world. And the places that are not, you know, the high income high growth areas are, you know, not those, like suburbs. They're actually like, you know, parts of and Portland is a bit of an exception because there's some growing, you know, downtown's growing like crazy, but I just like the traditional kind of assumption was that these suburbs are represent growth and represent wealth. But in but kind of the way you explain it is like, actually, this is like kind of almost a mirage. I don't know if that's a good entry point.
Chuck Marohn
It's a great entry point. And I think, you know, as I'm listening to you, I maybe shouldn't make this this point. I was the opposite of you. I grew up on a farm. And for me, like the suburbs were heaven. You know, like I had reached, when my wife and I got married, you know, out of college, we dated all through junior high and high school and college, and then we got done and we got married and we built a house on a five acre lot in the woods. And like, literally, we had made it like that was, we had reached like, the pinnacle at age 22. So I said, I have a midlife crisis in my mid 20/'s. You know, it was like, what comes next now? You know, I am I fully embrace this, it was a painful, you know, a painful transition into the, so I so my disposition was never to dislike this stuff. That came later and I started to loathe it and loathe my own like place in it. But let me let me walk through like the basics of it. And I'll use this analogy because I think it's the most it's an easy one to grasp. If you look at banking as a sector, I think we all understand that banking has now become, local banking has become less about saving your money, and then deploying your money in productive ways, and more about transactions. You know, Wells Fargo makes billions of dollars off of late fees and transaction fees and overdraft accounts. Your local bank makes more money processing loans and shipping them onto a secondary market than they make actually on interest on loans that they do. And so what we've done is we've created an economy where the velocity of money, how quickly we can get money moving around in transactions is more important than actually building wealth and productivity. If we look at cities as a manifestation of that shift, what you see is that post war development does a really good job of creating transactions. As planners, we derogatorily call it cookie cutter development. But what you're really talking about is commoditized development. Development that you can repeat a pattern over and over and over again, in a very efficient way. And so if you look at a housing subdivision, there's a very clear formula for a city for how you create a housing subdivision, how you write the regulations, and permit it and get it in place. There's a very clear formula for how you fund the infrastructure for that, how you cash flow that throughout the life of this development, there's a very clear formula for the builder to come in, build those homes, get those sold as mortgages to people. That is a very clear formula for getting those sold onto a secondary market, getting the properties insured, getting you know, the hypothesized you know, derivative contract that we saw in like The Big Short. All of this stuff follows in like a chain of production that you can actually think of as like an assembly line with a bunch of different players doing their part. The appraiser has their part, the realtor has their part, the person selling washing machines has their part. And the more money you pump into the front end of the system, the more transactions and economic growth you can create. That's why every time we have an economic downturn, including now, what do you get? You get a big proposal for infrastructure. It's like, let's go back and recreate the New Deal. Let's put people to work building infrastructure. And oh, by the way, infrastructure just creates growth. It's like a de facto religious belief we have and the reason we have that belief is because it's true. If you put people to work, building infrastructure, you will get growth. Here's the problem. If we look at this, not from the macro GDP, you know, we if we get out of Wall Street and Washington, DC and their spreadsheets and we look at it at the block level at the neighborhood level and at the city, local government community level, all of these transactions generate cash flow. So immediate cash benefits, but they also generate long term liabilities, long term promises. We put in that new subdivision. We as a community agree as part of that transaction that we will maintain the roads, the sidewalks, the curb, the drainage systems, the pipes, the valves, all the stuff that goes with it, we will take care of that. When you look at that, in proportion to itself, when you look at how much does it cost to provide fire protection? How much does it cost to provide police protection, what's the transit? But when you look at the costs of providing service, over the lifecycle of that infrastructure, and you compare that to the wealth that is created in that neighborhood and the revenue that the community is going to generate off that wealth, we are getting poor with every one of these transactions. We're getting, I've seen as low as like eight cents on the dollar. But you know, you can think of it as like getting 20, 25, 30 cents of the dollar back, for every dollar you commit to spend. The way we respond to that insolvency then of course is to do what? Two things, we grow faster, and we take on debt. And so what you see today is that cities coming out of World War II had very little debt. And, and now today, cities have had tons of growth, crew very, very fast, do lots of projects, subsidize them through all kinds of, you know, tax abatements and tax subsidies just to get more and more and more transactions going. And at the same time, we have massive amounts of debt at the at the local government level, high percentages of our budget go to paying debt, largely on these capital projects. And every city has a huge backlog of deferred maintenance, that they have really no idea how they're going to ever pay for. This is what happens when you create growth without productivity, growth without a return on that investment, when you're just doing transactions, and you're not actually building wealth in a community. So, I was just gonna say, because you brought up the the neighborhoods that you wouldn't think were wealthy or were providing value. This is where I got to in like, 2007 – 2008. Like I was looking at this going, I cannot find a single development I'm working on that will make the city better off. Like every one of these is financially a loser. And I finally wound up asking the question like, what, obviously cities are here, like, I'm looking at a city, you know, that exists. How does this exist, if this is the way they are financed? Like these should, things should have blown up a long time ago. And this brought me back to the traditional development pattern, the way cities were built before this modern experiment. If we look at cities around the world for thousands of years, there's a very clear way in which they were assembled. We can go back to those neighborhoods today. And I live today in a house that was built in 1914. My neighborhood and the neighborhoods immediately around me that were built at in that time period, even though they're occupied, I mean, my house right now is half of what my house in the five acre lot would cost, you know, would be priced at. But my block, like my neighborhood is three times wealthier, three times more value for the same amount of land area, than that old place would have been. When you look at these neighborhoods, they're tremendously productive financially. They create a lot of wealth and a lot of value per you know, increment a public commitment. And so our collective investment as a community has a much higher return, and individually, we're all more stable, secure, better off financially than this transaction based approach that we've got out on the edge of town.
Ben Kittelson
Yeah, yeah. And I think the there's a paragraph or section in there where you talk about the linear like the linear feet of investment for like a frontage road in front of a Walmart that has water, sewer and paved roads. And it was something like for every foot that you walk, you had to think about it being $1,000 or $3,000.
Chuck Marohn
It's $3,000
Ben Kittelson
Yeah, $3,000 of investment. And so there's this stretches where there's no, there's nothing going on until you get to the Walmart and then for the amount of space that it's on, it's really not that productive. And so once you kind of put it in that way, for me, it also clicked like, it's not just that like, it's not just that like, hey, these denser places are more are more productive. It's also that like, look how much you have to, you have to invest in and kind of money you have to put up front in order to get this like small little in the scale of things in private investment of Walmart or, you know, drive through restaurant or something like that.
Chuck Marohn
Let's say this in two different ways. So let's say it in, like the cultural way that Americans look at it today. And then let's flip that around and say in a Strong Towns way. So today, you can look and you can say, well, America, North America is a very affluent country, and we can, we have all kinds of space, you know, we're not some like, you know, European city, you know, all everybody all crammed in, we can spread out and we can have room and that's one of the great things of America is that we've got all this space to, to grow and spread out and everybody can have a little bit of the American dream. And, you know, this is what it means to be a prosperous place. And you're like, okay, yep, I get that. Let's flip it around and look at this from a Strong Towns way. The more you spread out, the more cost per person you have. The more you spread out, the more it costs to provide every single service that you provide. And the thing is, as you go further out, the costs actually accelerate up. There's a, there's a, there's a, you know, quadratic, there's an exponential in a sense of function to the further you go out, like the costs don't double when you go out twice as far they actually go up like four times, you know, they exponentially increase. So all of that space that you desire, you know, I've got a big yard, I've got greenspace I've got you know, all these things that you're like, this is the wonderful part of living in the suburbs. Understand that, that's all investment, community investment, that is paying no financial return. And so you have to make that up with your own taxes, your own productivity, your own wealth has to make up for all that other stuff. So this this this you know, panacea of being American doesn't come at no cost you know, it's not like there's an advantage to spreading out. Spreading out is like the luxury that we've chosen to spend our money on you know, as opposed to having nice things you know. So I think you can you know, once you, I've had people say, you know, Chuck, you've actually ruined my life because I can't go out now in the world without looking at these gaps and having them just hurt me. And you know that it does, it bothers me so bad when I see like, you know, these 200 – 300 foot gaps in the streetscape where there's just nothing and we've just accepted that there's nothing. To me it feels like, you know, the Native Americans, you know, starving to death, finally getting the Buffalo and just like leaving half of it there to rot, you know, it like they would never do that. And for us, we just don't realize how poor we are and how fragile we are. Maybe we're starting to a little bit now with COVID. But, you know, we, we have all this like waste and, and once you become attuned to it, it will overwhelm you with how, just how flaunting of you know how disregarding of the waste we have become. I wrote this thing years ago, and I think it's, it's apropos because, you know, I, I grew up in a conservative household and a conservative place and, and I tend to be rather conservative myself and back in the 90's, you know, this was when Bill Clinton was ending welfare as we know it. There was this idea that, you know, families that were poor, they've got you know, two TVs and you know, like, the cable TV, and they got luxuries, you know, like, if you're really poor, why are you having these luxuries? And it occurred to me like, you know, for the amount that we just wasted building this road and like to nowhere with all this like gap space, wasted space that no one's recapturing any value from at all, like, we could have bought everyone in town four TVs, you know, like, like, the, if you want to see the waste in society, it's not in like the poor person who, you know, splurges for cable TV in the 90's or the you know, the poor person who has a cell phone today. It's literally in like, the way we have assembled our places. Just burn money. I mean, it just destroys your wealth. And it's right in front of us and we don't see it.
Ben Kittelson
Yeah. And I want to get to the kind of your solutions and kind of visions for what governments can do, you know, to turn the tide against this stuff. But there was one, as I was reading kind of, you know, the first half of your book where you're talking in depth about this problem, there was something that stood out to me from my time at the City of Durham, North Carolina, which is a growing community. You know, it's one of the fastest growing cities in North Carolina.
Chuck Marohn
It's a great place.
Ben Kittelson
It's a great place. It's a great place to live. But I remember, I worked in the budget office, and one of our every year during the budget season, we have a conversation about street paving, and how much money we want to put aside for maintaining streets. And the Public Works director always has this very, you know, data driven, you know, this is the PCI level we need to get to, the you know, it's always something that's a big concern from residents and a survey. And then the, you know, the end of the last slide is always this is how much money, and it's millions and millions of dollars. And every year we find, you know, a couple million to move over, but it's but it's never the full amount he, he thinks we need to get to the PCI level that the community wants and consultant has recommended. And the reason I kind of want to say that story is that like, this isn't a place that's growing insanely fast and has the money, you would think would have the money to do this stuff. And even there, we couldn't afford to do, to maintain the infrastructure we had for the places that that already existed in the city. And so to me, there's this this piece of this that when reading through your book, it's like, that clicked, that was like the growth has allowed for some of the maintenance to exist so like we're not dropping off a cliff yet but and that's the reason like some of the you know, you mentioned sounding like chicken little. That's the reason like you know, the sky hasn't fallen yet, but there is going to be a point where some of this stuff will come due and even in Durham where like, you know, any place in North Carolina would be, would be able to be a strong town, even there like they're not we're not able to generate enough property tax revenue and from these places to pay for the infrastructure that's in place. And, and so like, it's not just a, you know, a problem for these small, you know, struggling towns. It's a problem in places that are, you know, the example of places, of cities, you know, across the country.
Chuck Marohn
I actually started, you know, my experience was in small towns. And so when I started getting invited to come speak to big cities, I'm like, I have no, I've no clue what, like, I don't know. Like, I'd like, does any of my stuff apply? And then I started to work with big cities, and I started to get into their numbers, and I'm like, Oh, my gosh, it's the same. It's the same thing. Like this is, that's when I started studying human psychology. You know, because I'm like, this is not explainable by engineering, or planning or economics. This is like something deeper than that. It's something very human. You're describing Durham and I'm, you know, I'm thinking in my mind, like, you're right. If not here, where? Right. Like if, if this place isn't gonna work, like where, what works? You could say I was down in Austin, I actually was sitting in the office with the Mayor of Austin, a few years back. And we had that same exact conversation, you know, like you're growing gangbusters, like this is the place. And if not here, where? You know, like, just, you know, you, you're screwed, like, your city is screwed. You have way more liabilities than you'll ever meet, you're going bankrupt. And you're the best one, you know, like you're, you're actually doing better than most places. So what does that mean for everybody else? It's, there's a, there's a, I don't think I wrote about this in my book. I've written about it in a couple of other places. But you made me think of this episode I had. We had put together this report for a city. This is when I was in the engineering firms, this would have been in the 90's. We put together a report for this city and it was an inventory which sounds very logical, it was an inventory of all their roads and then the amount of cost to fix them. And then it was like a priority list of like, here's the ones in the worst shape. And of course, it was, like, you know, millions, like millions and millions and millions of 10s of millions of dollars. And in order to meet this, the city was going to have to increase their road budget by like 20 times. I mean, some like the, the, the numbers were just laughable. They were they were so bizarre that like, there's no way this would ever happen. And I'll never forget, I remember this this engineer that I was there with, because I wasn't licensed yet at this point. You've got to work four years as an apprentice, an engineer in training before you get your license. So I'm there with a licensed engineer. And he said this to the city council, he goes, you know, I, I know these numbers are overwhelming, and I know that they just blow your mind and it's hard to hard to get your mind around them. What we recommend doing is, you know, just kind of close your eyes, you know, pick a couple projects out of the hat, and we'll just work on staying ahead on those and we'll do the best we can. And I remember thinking like, what, how is that a strategy? Like, how can you as a professional, like, recommend that as a strategy? And I was sitting there in the meeting, I remember thinking, I know why. And I love this man, I love the guy who made it. He's a, he's a dear, nice, wonderful, you know, I'll say this in my own lens, a good like church going person, like, I have a deep respect for him. And he's a very moral, kind man. But our firm got paid to do these projects. And so the idea that our recommendation would be, stop doing these projects, sit back, rethink the entire system. Like that, that that made no sense and there was no incentive for anyone in that room to actually make that call. The thing was, you know, pick a few of these projects, maybe increase your budget, you can't do it 20 times, but maybe do it by 50% or, you know, maybe double it. We'll bite off some of these projects and do them and we'll all you know, kind of make a living here and just keep going on. That's very human right?
Ben Kittelson
Yeah, very human. The other solution that our, our mayor at the time talked about was, we got to take a take on a bond to work on this backlog of maintenance to tie into your other debt conversation.
Chuck Marohn
Well, the thing is, I remember doing these calculations in the in the early 2000's, you know, before I really got to any type of, you know, drip, drip epiphany. And I remember, you know, having the same kind of thing where the city was, the city didn't have the money, but if we took the money they did have, and we turned it into payments on a bond, we could go out and do like way more projects. So, think about this. Like say you have a 20 year commitment. And there's no way like you can do it. You can only afford to do like, you know, a tiny percentage of this. If you actually go out and borrow the money, you could maybe instead of only being able to afford five years, you could maybe afford 10 years of it. If you converted those, the cash you had to do five years into payments, spread out over 25 or 30 years. [Laughter] So you're basically like, you're setting yourself up to get to a point and it is where we see many cities now today, where not only do you not have the maintenance dollars to fix the stuff you promised you'd fix, but all your maintenance dollars is actually going to pay debt on past projects that you did. If you live in New Jersey for the last decade, every single dollar of gas tax that you've paid to the state has gone to pay debt on prior construction projects. Like that, that's insane. Like that, that you extend that out into time and the whole system collapses, like it doesn't work. Yet, you know, there's no, there's no good time to fix it, right?
Ben Kittelson
Yeah. Yeah. Well then the, I swear listeners, we're gonna move on to, he has some solutions. [Laughter] But then the thing that you write about and which became obvious again, once I read it was, all this stuff went in at the same time. So it's all coming due at the same time. So it's the same if you do it with the bond, you do all these projects at the same time, and then guess what, 30 years from now you're gonna have to do all those same projects again, and not like the way in which we built cities where it's like a whole cloth, this whole neighborhood has done is is bad because the bill comes due all at once and that was something that that does not seem obvious at the front end or from the outside and then once you, once you kind of think about it, look at it, you're like yeah, that makes total sense that like you know, this neighborhood because it was built all at one time, which is not, you know how cities normally or traditionally were built, but yes, of course, it's all gonna come due at the same time.
Chuck Marohn
Well, it's funny because as humans, we get this. It's like it's not a hard leap. Like one of the one of the things that people were trying to be really smart at, you know, six weeks ago in the early days of COVID-19 quarantines and stay at home orders, with people were saying, oh, there's going to be a lot of babies born, you know, around Christmas time, because they're just taking today's date and adding nine months and they're like, yeah, all these people locked together. It's gonna be all these babies. Okay, that's, that's funny. But what it is, is it's just like basic math, right? Like, we know how long gestation periods are. And, you know, we know what can happen when you lock people together. And yeah, there'll be a baby boom, nine months from now. Okay. Well, the math for a road for example, is not it's the same thing. You're doing, in just not nine months, you're 25 years. And you can sit and say, okay, 25 years from now, here's what it's going to cost to fix this. And that's pretty knowable, it might be 24 years, it might be 26 years. But, you know, like, it's pretty easy math. And the fact that we don't do that, you know, like, the fact that we don't do that basic calculation and just add that to our inventory and say, at some point in the future, we've got this bill coming due. You know, imagine we all took a pill today that made us you know, smarter and more physically fit and healthier. But then 25 years from now, you, you know, you became old and decrepit like overnight. We would be like keenly aware of that pending, you know, pending decline. That's what we do with our cities like all the time, we're like, let's take this steroid. Let's get the sugar high, but then we ignore the fact that there's a bill coming due in the future and it's a bill that's like easily knowable.
Ben Kittelson
Yeah, well, again to the human psychology of is 25 years from now I'm gonna be retired but like, and it's not like, you know, people who work in local governments, are public servants and we they care deeply about the community and the place. But it's almost like this is a problem that's so far out I can't even wrestle with it because there's so much right here in the here and now that this development or this you know, extension will solve. I totally get where you are coming from.
Chuck Marohn
There's a, there's a great book about the Weimar Republic hyperinflation episode called When Money Dies. And you can read it from a monetary lens and there's, you know, there's interest there and people debate it and, you know, debate its validity and its applicability to today. I'm not trying to make a statement about monetary policy. I think it's fascinating to read the book from a human psychology standpoint. Because what you see in the, you know, in the 20's and early 30's in Germany, was this wrestling between two impossible choices, you know. We can't pay these war reparations and we can't keep people employed you know if we do. But if we don't, like the whole thing crashes down and there was this you know, back and forth and they resolved it temporarily by printing money and printing money like solved that problem. And you can see how they all understood that there was going to be a price to pay for this. But it never seemed like the right time to pay the price. You know, and and, and you put off paying the price and you put off paying the price until you got to the point where, you know, that there's a there's a great quote in the in the book that I've used a number of times, but it says you know that the trade off between employment and stability, you know, was one that they were never willing to make a choice until basically, they could have neither, you know, until both choices were off the table. And, you know, when you read the book, from a psychological standpoint, you realize that again, that is just a very human reaction. I mean, that's a very normal human response. Because, you know, I've got to take care of what's in front of me today. And the danger 25 years from now is an abstract thing. That engineer that recommended closing your eyes and picking a few projects, I actually asked him about it later. And, you know, I said, what, what long term advice would you give to the city? And his response was, Chuck, humans are innovative, you know, we'll, we'll figure like a future generation will figure this stuff out. And I think that's true. A future generation will and it will likely mean you know, depaving a bunch of roads, letting a bunch of neighborhoods go and walking away from a bunch of stuff that we never should have done in the first place.
Ben Kittelson
Yeah. Yeah. Well, that's a good transition that I've really enjoyed. You know, I went back through kind of your, the backlog of your episodes and podcast episodes and found the ones where you talked about, you did a episode on about every chapter in the book. And I really enjoyed going to the back and forth with you know, your team from Strong Towns and I recommend that our listeners go back and find those. But there there's a kind of a, I can't remember which one it was, but you guys talked about how the first half of the book is like this, you know, sky's falling like this this terrible, you know, problem out there that no one's talking about, and you went around for a long time doing this presentation.
Chuck Marohn
That was it. [Laughter]
Ben Kittelson
Yeah, that was it.
Chuck Marohn
Like, mic drop, goodbye. [Laughter] Good luck, everybody.
Ben Kittelson
And I totally understand the like, your, you know, people in the audience going well, well, so what like, what do you what do you propose we do, right, and then You spend kind of the, it sounded like there was this over, over some years, you came up with some ideas around how like cities can, can combat this and start to start to turn the tide. So I want to start, I'm just going to give you the floor, but like, what are some ways that and I think it's really would be interesting. Like, if you work in a city, you know, you're a city manager, you're the Public Works director, you're the planning director, like, what are some things that like, we can start to do to like, you know, make a town stronger, and, you know, use some of these principles that, where we can turn away from kind of the traditional, you know, way we've done or not the traditional but the way we've done cities since World War II and go to a way that's a little more sustainable.
Chuck Marohn
Right. I think that there's, there's a there's a ton of things to do. I mean, there's an endless number of things to do. I think, intellectually, one of the biggest shifts that we need to make at the local level, is to understand that we're, we can't be about growth and transactions. We actually have to be about building wealth. And you can think of wealth as stability, you know, broad based wealth in our communities, we have to focus on what is our return on investment for the stuff that we're collectively agreeing to do. So when you start looking at it through that lens, you can take and I'll use this example because we've gone to it a couple times, now you can take that big backlog of road maintenance. And instead of just randomly picking a couple projects off the list, or you know, doing what a lot of cities do, which is the neighborhood of rich people that show up and complain about their road, get their road fixed, and the poor people don't, you know, because they're……
Ben Kittelson
There was the one that was most recently built, because it's the cheapest to keep at a high level.
Chuck Marohn
Right, or you get that. Yeah, exactly. Or the one with the mayor, you know, where the mayor lives that their road gets fixed. Right. So there's, there's, you know, these weird processes where we decide where to spend limited funds. What we really need to do is spend our limited maintenance budget. Let me put it this way, we need to shift almost all of our capital spending away from building anything new. We should never build another foot of road, foot of pipe, foot of sight like, never, never expand like we're done. Our cities are going to contract so let's just stop making that problem worse. And focus your maintenance budget on your high productivity neighborhoods, your neighborhoods that have a high level of wealth and value today compared to the investment that you have. And I go through the book about how Joe Minicozzi and his group at Urban3 have done some pioneering work in this, how we've kind of validated that work with some deeper analysis of profitability. But essentially what you find is that a lot of these older, poorer, in many cases, traditional neighborhoods, places that are in my city falling apart, that the cheapest property, we can get a house for $60,000, the neighborhoods where, you know, all the poor people live, those neighborhoods are actually really profitable for the city, for the community. They don't cost much to provide service to, even if you provide the service, you know, and a lot of them were not providing the service. But even if you went out and maintain the roads and maintain the sidewalks and provided good services, you do really well financially by doing that. And so if we're going to prioritize, if we're going to switch from growth, to maintenance in our capital budgets, then we should then prioritize based on where's our greatest level of productivity. And I've used this analogy sometimes as a way to think about it. If you're a community and you've got you know, if you're a business and you've got five divisions in your company, and four of the divisions are losing money and one of them is making money, and you have a limited budget that you can put into these divisions, what would you do? Well, you would, as a rational business owner put the money into the one profitable division, because you would hope that it would generate enough profit to maybe take care of one of the other four non profitable ones and, and get them to profitability. If you were a city, what you would do is you would go out and build a sixth division that looked like the four non profitable ones, right. And that's a that's a really dumb business strategy. So focusing not on growth, but on, you know, sustaining your core base of wealth. And then building off of that is like, Strong Towns 101. I mean, let's shift to that. We then you know, acknowledge that within that shift of putting our money into maintaining the stuff that is critical, we then have this need to grow, we have a need to make investments that that are going to make us more prosperous are going to put us on an upward trajectory. You know, from a, from a business standpoint, that makes sense, from a human psychology standpoint, it's an it's an imperative. And so we talk about, like, what those investments look like. And they look a lot like little bets, they look a lot like small things you would do that have a big payoff. You can think of things like street trees. You know, we often relegate street trees as an investment of, you know, environmentalists and tree huggers and, you know, the old ladies that show up and at the meeting and like, hey, I want to plant trees. That's, that's the wrong way to think about street trees. Street trees are actually a very low cost investment that generate a lot of property value, a lot of long standing return. And so if you're looking at it from a cash standpoint, a street tree really pays off, really pays off like big, big time. You're getting a 10 x 20 x 50 x, return on that investment. And it's going to last, you know, decades and decades and decades, that return is going to be when you put in street trees. These are the kind of things where, when we think about them as return on investment, you start to get to, you know, crosswalks, fixing your sidewalks, improving your walkability, making your neighborhoods a little more flexible, providing some mixed use opportunities, providing opportunities for people to walk, providing opportunities for people to incrementally improve their houses, thicken up the neighborhood. These things are low cost and really high return. If cities could build a portfolio that was not like, what's the next, you know, big blue chip thing we can invest in that the neighboring community is also doing, you know, like the big, sensibly safe bet like, but instead of a portfolio of hundreds of little like lean startups, what you would find is that, in that portfolio of lean startups, you're going to have a lot of failures. You know, some of those street trees, you plant, some of those crosswalks you put in, aren't really going to matter much. But a few of them that you do are going to shoot the moon. They're going to be like, ridiculously successful. And that's how you start to create profitable wealth building growth within your existing framework.
Ben Kittelson
Yeah. Well, one of the things I loved in your book, is you talk about our departments and our staff in cities have traditionally been focused around growth and therefore have been siloed around, you know, planning is by itself, a street maintenance and public works is by itself. And one of the things you talk about is, let's create cross sectional teams that can do this radical maintenance across all the needs of the neighborhood. And like that was something to me that really stood out. And it's something that we believe in ELGL is that, like, you're not going to solve a problem in a silo. So you have to have, you know, a network and across, you know, all the different fields within local government, and you have to be able to work and have the skills to work across, you know, all those different fields. So, and that was something that really stood out to me too. It's like, it can't just be you know, the neighborhood services team or the Public Works team doing this. It has to be kind of across the board and you have to have people with the different skills from all of those, you know, all those disciplines at the table.
Chuck Marohn
I'll even take it a step further. I said in the book, and I truly believe this. I think we need to put within city government, our least technical people in charge of these teams. I think the idea of having like a street project, and it should be a public works project, and then they should go out and, you know, maybe at best get comment from other city departments is so antiquated. It's such a backward way to do things. We need to recognize that what we're building is human habitat. And if we want humans to thrive in that habitat, and we want the habitat to be successful, it has to be led with a human ethic. And that means that our project should be led, not with the values and the priorities of technical people. Technical people need to support those teams and add their expertise, but the actual values that are employed in these places, the ones that that, that dominate when we get to a difficult decision, what prism what lens do we look through? It has to be a more human value set. And the way you get that is you actually have your teams led by non technical people. You know, it's, it's it, I don't think anything has offended my fellow professionals more than that, you know. But really, you know, I, I'm working on a follow up book right now, that's all about transportation. And one of the early chapters is about the values of the system. Who should decide how fast the street should be? I mean, that that is a value decision. Because, you know, if you have a high speed, what you're saying is that its really important to have throughput, it's really important to have the vehicles get from one place to another very quickly. If you have very low speeds, what you're saying is it's very important to have that place become a place to actually have you know, more humanity, more life, more people out doing stuff and have less of a, you know, encroachment on that from vehicles. Well, that is a value statement. That's a, that's a value decision. And the thing is, in some places, you're going to lean towards one set of values in some places, you're gonna lean towards another because of what you're trying to accomplish there. What happens today is that engineers just make that decision. And they say, you know, streets can't be less than 30 miles an hour, just period like as a, as a de facto like everywhere. And, you know, a lane can't be less than 12 feet wide or 11 feet wide, which is, you know, approaching highway scales. So, you look and you're like, the underlying values of how we're building our places are being decided by technical people. And it's actually being decided, in contrast to the values of not only the people in the neighborhoods, but really in contrast to the elected officials and what they would want. If they were given the value part of the decision, and then allow the technical people to decide the you know, how do we implement this set of values, you would have, you would have a city that looked much different than what we have built.
Ben Kittelson
Yeah, yeah. Yeah. Well, and I think, and maybe it's not the thesis statement, but like, there's a almost a one sentence summation of kind of the solution of like, instead of making, you know, the cities, our cities based on whatever engineering standards that have been kind of accepted and based on like, attracting new people in, what if you made your cities better for the people that are already there, and your neighborhoods better for the people that are already there? And that to me is like the that's what I walk away with. Like, yeah, that makes a lot more sense than, you know, trying to put in a highway here to allow, make it easier for someone that's living, you know, three neighborhoods down to get through this neighborhood.
Chuck Marohn
Yeah. Once you grasp that it becomes painful. Because you recognize like how much of a city has become, how do we devalue ourselves in our experience, so that we can become attractive for people who have chosen not to live here? And it's, it's, it's mind boggling because every place if you and I sat down and we listed like the 10 places we love to visit the most. They're generally places that have said, we, you know, we're going to be a great place for the people that are here right now. Like the people that are in this neighborhood, the people that live in this place, we're going to be great for them. And then oh, by the way, that also makes us like wonderful for everybody else. I I wrote this piece a few years ago about my daughters, and like, what I would hope for them, and I would hope for them that they would become people who would be confident in being them and be like the most beautiful version of themselves they could possibly be. And what I hope that they never would do is become people who say, I want to try to be something I'm not in order to be attractive to other people. Because we all know people who are authentically themselves and who lean into like who they are as a person, and those people are the most beautiful people. They're the people you want to be around. They're the people you feel comfortable with. They're the people who make you laugh and make you smile and make you feel good about life. And the people who are frauds and fakes and the people who try to be something they're not so that, you know, other people will like them, they make us cringe, and they make us feel bad about ourselves and feel bad about, you know, being with them. Cities are no different. And when cities focus on the people that are there, and their immediate needs and their immediate struggles, what you find is that they become beautiful places, you know, beautiful places to be in beautiful places to live in and be part of, and ultimately better places to visit. When they desperately run around saying, how do we attract, you know, this thing that we don't have? How do we get, you know, in my city it's like, how do we get young people to live here? All of our young people leave. Well, you know, what we need is a skate park because young people like skating, and it's like, No, you know, why don't you go talk to some young people, you know, follow like, we do have young people here. Go walk with them, go talk to them, go find out why they're struggling here and address that struggle. And then you'll get a few more of them to stay and then you know, you can keep like iterating on that process. We run cities as theoretical exercises often, instead of, you know, real, living breathing organic things. And yeah, I think we need to stop it. If I had one recommendation to City Hall, it's like during this time of COVID you know, when your people are on lockdown, you should be doing the opposite of having them work from home, you should have them work in the neighborhood. Like get them out, put a mask on them, that's fine. But have them go out and just observe the neighborhood's, observe how people are using them, observe where they're struggling, observe for themselves, like what's working and what's not. We didn't make management of the next iteration of growth, less of a theoretical exercise, and more of like a real world on the ground. Let's roll up our sleeves, and hack this thing kind of experience.
Ben Kittelson
Yeah, well said. I agree with that a 100%. Like, that's well said.
Chuck Marohn
Well, the challenge there is, what's the business model for that, right? You know, and I think this is where, you know, you and me and I think others, you know, we can sit back and look and say like this, this makes a lot of sense. But, you know, your engineer, your planner, your consulting firm, your whatever, their entire business model is based on doing something different. And, you know, I think, you know, trying to resolve that is really like a, one of our deep challenges, you know, but you see this every, I mean, this is what the pandemic is exposing, you know, a lot of our business models don't work. They only work when we have this huge economic velocity and you can have people who are starving, you can have people who need to get to work, you can have people who don't own cars, and need to, you know, walk someplace. And we can ignore all of that if we can keep that velocity in our system. But once the velocity light goes away, all of that is exposed, you know. We've got farmers, you know, killing off their flocks of, of chickens now, because they can't sell them to McDonald's, because not enough people are going to McDonald's. Yet we don't have, you know, eggs on the store shelves, you know, because the supply chain for those is different. And those are the things where the systems are breaking now, and I think we need to say this. And again, it's a very human thing. I think instead of trying to prop up the systems we have, we should really be spending our time helping everyone transition to something that is going to serve us better when we come out of this.
Ben Kittelson
Yeah, yeah, I wanted to ask you this, I wasn't sure the best way to bring up but kind of on that note, like, what do you think this like COVID-19 you know, pandemic and the economic fallout of it, what is it that revealed to you about kind of the Strong Towns, philosophy or like, or? I'm just curious what your thought like, if there's anything you want to expand on that? Because to me that like it does show how like, kind of tenuous everything is like in our kind of our economic life, and how tenuous some of the things our cities do, you know, can be and, you know, we are… I have some colleagues across the country that, you know, we're going to be facing furloughs and there's going to be huge budget reductions and hard conversations about what services cities should provide and, and what things we need to keep doing to go for going forward. And I'm just curious like from your kind of perspective, and, like this is, you know, not great for anyone but like, as like an academic, you know, practice like, what, what, what has this kind of taught you? Or what do you think the lessons should be from kind of are the opportunities from this crisis that might align with some of the Strong Towns message and philosophy.
Chuck Marohn
I've struggled, I've struggled with this and I've struggled with it because in 2008, you know, I'm like, okay, this is it, like I've been saying for a couple years now, you know, two, three years that like, this is all gonna fall apart because it just doesn't make any sense. And now it's all falling apart. And I mean, I was like, ready to build the bunker and, you know, buy a bunch of ammo. And, you know, I'd be prepared for like, isolating myself because like the world is ending. And, you know, when Nancy Pelosi and George W. Bush stand up in front of the American people and say, you know, in 48 hours, there will be no food on the grocery store shelves unless we get banks a trillion dollars. I'm like, Yeah, no, that's, that's exactly what I see to like, this whole thing is ridiculously fragile. And so then they saved it. And they, you know, I think there's two narratives, you know, the one narrative is they did this brave intervention and got the economy back on its feet. And now it's been grow, grow, grow ever since. Another narrative is we spent trillions of dollars buying ourselves time propping up something that was going to fail anyway. Either way, the experience was the same. And I was very wrong about what was going on in 2008. I've been saying for the last, you know, decade plus, this system is incredibly fragile. It is all going to fall but it is it is like not something you should rely on in any way. And if you are a local government, the idea that the federal government is going to come in and save you, come in and rescue you, come in and help you in your time of need, that that's an absurdity. Like it's not, you're assuming they have the capacity and I don't think they do. And I don't think your state does either. So you have to be prepared for this. Well, now I have this guilt because it's a little bit like the the general who prepares for war, you know? Does the general want the war? Or does the general want peace? You can say, you know, I'm preparing for war because I never want us to have to do it. And I think that's like the stoic thing to say and I can say like, for Strong Towns, I've been telling cities you need to become stronger and more productive and less fragile because there's going to be come a time when there you really need to be there. People are going to need you. You're going to need the city. We can't be so strung out. Or as the general like, alright, it's war. I've prepared for this my whole life. Let's do it. And there's a part of me that's like, alright, I've been saying for you know, a long time that this is going to happen. Now it's happening. Now what are we going to do? And the thing is that that question of what we're going to do in the short term is we're going to experience a lot of pain, we're gonna experience a lot of all of that painful feedback we put off for years, all of that stuff that we, you know, kicked down the, like kicked the can down the road and ignored, all those things that were telling us like, you really shouldn't be doing this. Those now are all going to come to the fore. And we're gonna experience a lot of pain. And I'm, I am not thrilled about that. But I do have this like, part of me that's like, I want to get through it and get to the other side. Because I think on the other side, we can start to build something that's real, something that is human, something that responds to people's needs and, and something ultimately that will create a higher quality of life for people. So it's, it's tough because I don't want to root for the pain, right? Like I don't want to, I don't want to be the cheerleader for hardship. But I do want, the you know, that there's going to be a lot of people, and our natural reaction is going to be to want to prop all this back up. Like, you know, let's take our last ounce of strength and prop up this existing system. And then there's going to be a bunch of other people that will say, you know, oh, once this is over, we just need to go back to what we were doing because no one could have seen this coming. And you know, it wasn't because we were so fragile, it was because of a pandemic. No, you know, this is because we made really bad decisions. Something that we weren't expecting to happen, but something unexpected always happens, you know, like, that's part of being fragile. You know, like, if you've got bad diet and exercise, you can't say why I didn't think I'd be the one who'd get pneumonia. You know, like no, you're susceptible to it because you've made yourself ridiculously fragile. That's, that's the hard part of cheering for, not wanting to cheer for the pain, wanting to help, you know, minimize that. But wanting to cheer for us getting through to something that is fundamentally different. And, you know, the, the mantra we've started to use is let's not go back. Like, let's not go back to that. Let's build something new.
Ben Kittelson
Yeah. Well, I love the chapter you end the book on and aligns well with kind of the, what is the community you want to become? And like, what is the, what does the future hold and that like, life of intention, I think is the chapter?
Chuck Marohn
Yeah. An Intentional Life.
Ben Kittelson
Yeah. Yeah. It's like how do you how do you build a community to like, you know, serve what people want in their lives and like how to in your example from like, I think there was a Hasidic Jewish community. community in New York and like, that the community allowed them to do the things that were valuable to them are like the way that the physical like layout of the neighborhood and right. I don't know, like, there's probably not a perfect example but the it that like future and like how we could build, you know, neighborhoods that, you know, are better for people and better for that for like the life lives that we want to lead. Like that is a that is a hopeful like, you know, thing to kind of, end on and strive for. That's not just like, the doom and gloom of like, the finances not adding up.
Chuck Marohn
Right. I almost didn't include that chapter because it was it was so deep, it was so like, deeply personal and I'm like, is this even a, would people even care and I think I've gotten more gratitude and feedback on that chapter. You know, it's, it's, it's one of these things where right now, we're stay at home orders. And I know there's a lot a lot of people out there who don't get to stay at home. They have to go out and work. They have to go work in hospitals. They have to go work in grocery stores. And I think there's a there's a really good observation that was made. It's like we're seeing the people who are essential now. And a lot of them are people who have been long disregarded and long undervalued and long discounted by the systems we've created. I live in a small town. I live in a very poor place. I live in a place that and I don't want to get into politics. So don't, you know anyone listening like, you know, don't have a knee jerk to this, try to dial down the partisan reaction, but I live in a place that voted overwhelmingly for Donald Trump. And it was not at all surprising to me in any way, shape or form. Because this is a place that in many ways is desperate, has been poorly treated by this, you know, experiment we've been on, had been on the losing side of that. And, you know, the idea that we exist, because we have economic value to the system, the idea that, you know, we should work so that we can consume, the idea that maybe we don't have value in this community, except as consumers and so, instead of having an economy that creates, you know, jobs of value and jobs of worth, we should be given a universal basic income so that we all have money to, to continue to go to Walmart and continue to consume, is just very dehumanizing to people. And so I you know, I think the idea that you know, we exist not because as a you know, an economist can count our output. And we exist not for reasons of you know, increasing that output but that output is actually something that is supposed to serve our existence, is so basic and human, I mean so it's so in arguable that I don't even think economists would argue with it. But it's so misaligned with how we've actually set up our systems to operate. That it's, it's, it's become almost like a parody, right? Like I say, I say these things and I'm a rather like conservative person in a rather conservative community. And yet I say these things and you almost sound like a flaming hippie liberal. When you're really just like, you know, a human, you know, in a working in a place. This is where I think our entire, I will put it like this. And I do think that this will challenge some people's political narratives and I, maybe that's healthy. I do think that the one thing that our political parties have created a consensus around is that our economy should operate in top down ways. Whether that's a democrat socialism vision of top down government, or whether that's a, you know, a Republican vision of top down corporations, you know, you you have kind of a top down structure in place that reacts to stress by becoming even more top down. When you have top down systems, what, what happens over time is that the feedback loops between the pain and the anxieties and the difficulties that that humans experience at the human level at the block level, those feedback loops become way too long to actually be responsive. And so the way you get responses is like elections of, you know, people like, you know, you get like a Donald Trump election, where it's like, we're gonna, you know, we don't have a healthy way to send a message. So here's the message we're going to send, like we're going to throw a firebomb in the middle of your party. The way we solve these problems, is we actually start to make things more bottom up. And bottom up is messy, and it's parochial, and it's at times like sexist and racist. And like I get that bottom up is not perfect. But what bottom up does is, it creates more empowerment for people. It creates shorter feedback loops, it creates a capacity to respond to stress. And right now with COVID-19, what you see is like the best responses are happening at the local level. They're happening at like the state level. They're not happening at the federal level. This is every crisis in our economy should be thought of as this way, you know. We had a call here in town, bring your, you know, your protective equipment to the hospital. I had 24 masks in my basement, you know, just I had N-95 masks because every now and then I need one and you just buy them in a box. And you know, I had 40 of them sitting here. We brought them to the hospital. Those are the kind of things that can only happen at the local level. And they happen easily and fluidly when they're empowered to do it. I think more of our response needs to be bottom up. And I think if people can get their minds around that we can do some amazing, amazing things.
Ben Kittelson
Yeah, yeah. And yeah, I agree and that is gonna shift like… yeah, go ahead.
Chuck Marohn
Well, I was gonna say, I think the important part of that is to recognize that, that is not an anti government position. And that's not an anti like business position. What that is, is it's a pro local government and pro local small business position, which is like an ecosystem, as opposed to like a managed economy. I'm for I'm for markets and I'm for feedback. And I'm for capitalism. But and I'm also for government and neighborhoods and people, but I'm for it at an ecosystem kind of level. Not a, you know, managed economy kind of level.
Ben Kittelson
Yeah, yeah. No, I agree with that. And I think the shift is, like, we're no one's going to come with a solution of like, you know, here's, here's the answer. It's you, we kind of have to figure it out at the local level and be okay with that. And, you know, we're gonna experiment and try things and it might not always work but, you know, that's, that's part of what makes, what makes it stronger is that you know, you figure out what works, and the things that work or the things that stay in that you build upon.
Chuck Marohn
Right. And, and we'll screw that up. And humans have always screwed that up. But what we'll do is we'll figure it out over time. And we'll learn from each other. I mean, that the thing that we have right now today, that civilizations of the past that built magnificent places didn't have, is we do have like, instantaneous communication. You know, at Strong Towns, we've created this this thing, the Strong Towns community site. And, you know, we have people on there who are saying, here's what we're doing in my city. And then all of a sudden, someone on the other side of the country says, wow, that's a great idea. We're going to try that here. And then they report back and they're like, here's how it worked here. And here's how we, here's how we had to change it for our culture and our mindset and where we're at. You know, we as the ideas used to migrate much slower and now today we can migrate ideas much more quickly. And I do think that that is our advantage over our ancestors is that we can iterate these things to success much more quickly and much more fluidly.
Ben Kittelson
Awesome. Yeah. Yeah, I agree. So I feel like even though we've been talking for almost an hour and a half, that we left a lot of things on the board. So we're gonna err on the on the fields. We'll have to, we'll have to get to get you to come back at some point or something.
Chuck Marohn
Let's do that. That would be fun.
Ben Kittelson
Yeah. So we have a tradition….
Chuck Marohn
and discover how much we can chat about. There's no doubt.
Ben Kittelson
Exactly. We have a traditional last question on GovLove that I did warn you about. So if you could be the GovLove DJ and you could pick the song to end our episode or interview with, what song would you pick?
Chuck Marohn
You know, I was I was thinking about that because you did you did tip me off that. And I have a couple like go to standards, but I woke up this morning and I miss desperately baseball, and I miss in particular, my, my troop of softball girls. I coach a girls softball team here, you know, 11-12-13 year olds, and I, we were supposed to start practice, you know, this week and I desperately miss them. They're, they're such sweet kids. And so I have a mixtape that I play when we're doing practice and they all hate it because it's like old music you know for them. But the one song they do like is Centerfield the John Fogarty. And they all dance around to that and they all think that that one's fun. So that that was the song I woke up this morning going I I want to play that tune and I want to, you know, be with those kids again and have them all smile.
Ben Kittelson
Yeah, that's definitely a nice spring to have to go with baseball and softball. So if our listeners want to get more involved with Strong Towns or read more about obviously, we talked about the book but what other ways can they get involved or kind of find your work.
Chuck Marohn
StrongTowns.org is the site. And if you go there, we publish two, three articles a day. We've got three different podcasts. We've got social streams on all the major platforms. We're doing everything we can to share this message in bite sized pieces, so that people can have conversations in their community. We've got the community site, which I mentioned, which is a discussion platform. So if you've got questions, if you've got ideas, if you want to hear what other people are doing, you can get to it at Community.strongtowns.org. And then we just launched something we call the Strong Towns Academy, which is an online learning platform, we've got a free 101 course. So if you want four and a half hours, it's over 17 different lessons of how to build a strong town, you can get kind of the introduction there. And over the next 12 months, we're going to be rolling out some advanced courses for people who actually want to like, we are gonna walk you through the process of, here's how we go about building a strong town. Here's how we put together a plan and then put it into action for making our place strong and healthy. So that's what we're working on right now.
Ben Kittelson
Awesome, awesome. So, listeners, definitely check out the book. I've thoroughly enjoyed it and the podcast is great. With that, that ends our episode for today. Chuck, thank you so much for coming on and talk with me. I really appreciate you taking all the time.
Chuck Marohn
Hey, thank you, Ben. It's been a lot of fun. We will do this again.
Ben Kittelson
Awesome. Awesome. So GovLove is brought to you by ELGL, and listeners, you can reach us online at elgl.org/govlove, or on Twitter at the handle @govlovepodcast. You can support GovLove by joining ELGL. Membership is just $40 for an individual for 20 bucks if you are a student. As a reminder, ELGL 20, our annual conference will take place this fall. And we hope to see you in Portland. Subscribe to GovLove on your favorite podcast app. And if you're already subscribed, go tell a friend or colleague about this podcast. Help us spread the word that GovLove is the go to place for local government stories. With that, thank you for listening. This has been GovLove, a podcast about local government.
---