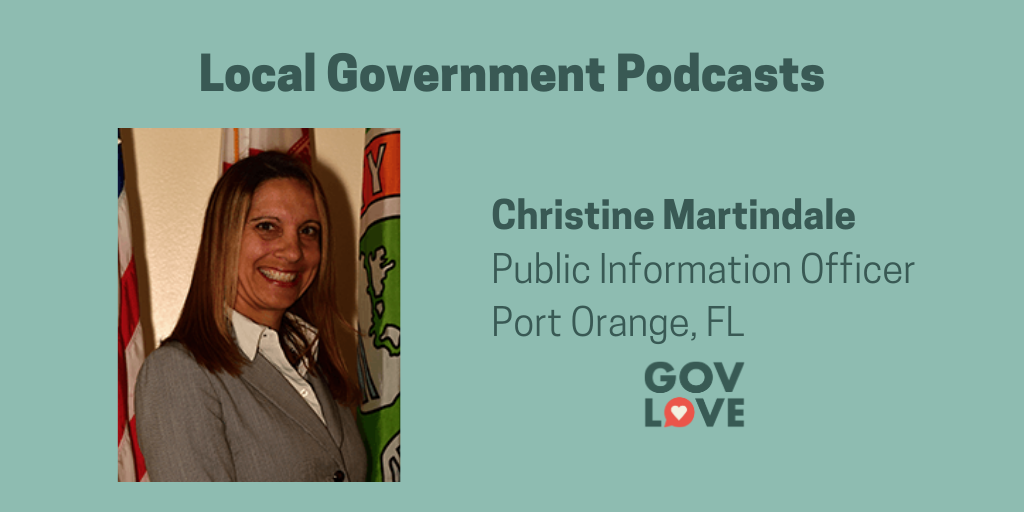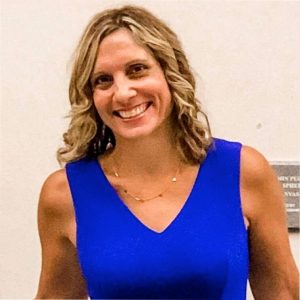 Christine Martindale
Public Information Officer
Port Orange, Florida
LinkedIn
---
The Port Orange Government Show. Christine Martindale, Public Information Officer for the City of Port Orange, Florida, joined the podcast to talk about her new podcast for the City of Port Orange. She shared her transition from the private sector into local government as well as all of the work she does as a department of one. Christine and Ben discuss the benefits of podcasting and how easy it is to start a podcast of your own.
Host: Ben Kittelson
---
---
Learn More
The Port Orange Government Show
Triathlon is a Lifestyle: City PIO and husband share passion for competing
Audacity – Free Podcast Editing Software
How to start a podcast: A complete step-by-step tutorial
7 tips for launching a successful podcast
---
Episode Transcript
Message  00:00
This is Brian Murphy ELGL's Data Manager. The ELGL diversity dashboard is the first national data collection on the gender, race and age of local government leadership. We're excited to launch our third full year of data collection. This year, we're expanding our collection to include all levels of local government positions, not just Chief Administrative officers, in an effort to get a better understanding of diversity across a wider variety of local government positions, this year survey is looking for responses from Local Government Leaders working in many different positions. We look forward to hearing from department heads, project managers, analysts and others as we hope to get data on the diversity of local government leadership. You can find more information on the survey and a link to respond at elgl.org/diversity-dashboard. We hope you'll respond and follow the data as we work to make local government more diverse.
Ben Kittelson  01:01
Hey all, coming to you from Hillsdale, Jacksonville. This is GovLove, a podcast about local government brought to you by Engaging Local Government Leaders. I'm Ben Kittelson, consultant at the Novak Consulting Group, and GovLove of Co-host, we've got a great episode for you today, we're gonna be talking communications and local government podcasting. So the best way to support GovLove, for all you listeners out there is to become an ELGL member. ELGL is a professional association engaging the brightest minds in Local Government. Now, let me introduce today's guest. Christine Martindale is the Public Information Officer for the City of Port Orange, Florida, a position she's been in since February of 2017. Prior to that, she held communications positions for a number of companies and the Florida Public Relations Association. She has a degree in communication and public relations for Maris college. She's also an avid triathlete. I found that out when I was doing the research for this episode, had to include that. With that, welcome to GovLove, Christine. Thank you so much for joining us. 
Christine Martindale  01:58
Oh, thank you, Ben, it's great to have, it's great to be here.
Ben Kittelson  02:02
So we have a tradition on the podcast to allow our guests to warm up a little bit, let our listeners get to know you, to do lightning round. So my first question for you, what book are you reading?
Christine Martindale  02:15
Well, it's funny, you mentioned that. So I'm really I love books. But I've been really getting into the audible kick lately, because I'm always in my car. So I'm doing a lot of audible listening right now. So the book I'm actually reading, I'm in between a couple, but the one I'm doing is, it's actually called perfectly you. And it's embracing the power of being real by Mariana Atencio. And so basically, it's, she encourages readers to take a leap of faith about what they can achieve. So it's kind of part memoir, and part self help. And I'm all about self help books, for sure. She talks about really being authentic, and about the way your thoughts and your fears, and just making a difference in life, and she talks about, a little bit about her life and career, but also she shares about what she's learned along the way, and putting service and servicing others first that can help with her journey. And you know, that's really called leadership. And so I've been really reading it, reading a lot about leadership as well, too. This book has been so good. I recently just started it, but it's, it's really good. I'll be in my car and oh, I'm already here, you know, the book really gets me into what I'm reading about. And so, you know, it really just reflects on, it's really not about your path, but about helping to pave the way for others. And so I really found that very interesting, and especially in my line of work of, you know, public relations and promoting and servicing our citizens.
Ben Kittelson  03:46
Yeah, I haven't gotten into the audible books very much, I think I've done one or two, like if I can't get a copy at the library, but that's a world I need to dive more into.
Christine Martindale  03:57
Well, I really got into podcasts, obviously. Yeah, I mean, one and so forth. And I there's a few people I do follow on podcasts, but I happen to have an audible account prior. So I actually have some credits I wanted to use up so I said, Well, this book looks good. And I heard her on a previous podcast. So I said, Oh, I'm going to check it out. And it's been really good.
Ben Kittelson  04:17
Very cool. So my next lightning round question for you – what was the first concert that you went to?
Christine Martindale  04:23
This is funny. This will age me, this will date me. I actually had to think. I think it was the Counting Crows back in like 1995 I believe. Yeah, I was a 90s girl, grew up in the 80s, but really 90s girl, I believe is the Counting Crows. And I really enjoyed them.
Ben Kittelson  04:42
I love the Counting Crows, so that's great. But then, in our kind of time of quarantining and like staying at home a little more, are you watching or bingeing any TV right now?
Christine Martindale  04:56
No, not at the moment. You know, my husband and I, you talked about me being an avid triathlete, my husband and I are both triathletes. We're actually Ironman triathletes. He's done four, I've done three, I'm taking a little hiatus on the triathalon scene right now. I am running and swimming, and a little bit of biking, but my husband's really into it. And so we've been really busy. If we're not working, we're training. So that's kind of where our life is right now. So yeah.
Ben Kittelson  05:23
I feel like, if you're a traveler, you probably don't have time to watch as much TV as I do.
Christine Martindale  05:30
But don't get me wrong, sometimes on a Sunday afternoon, I just want to put Netflix on and check what's out? I think my husband and I bought a couple of the Christmas Chronicle movies, you know.
Ben Kittelson  05:43
Cool. And then my last question for you – where do you go for inspiration?
Christine Martindale  05:49
Actually, I go to the Bible. I'm faith based, and I read a lot of devotionals. That's important to me, and so that's where I get my, just my, not just inspiration, but my calling in life and where, you know, I need to serve other people. So that's where I go every morning.
Ben Kittelson  06:12
So we'll kind of dive into the the bulk of our conversation, but I always like to know, like, one thing we talked about at ELGL, and we've covered a little bit on the podcast is, there's not really a single career path into local government, and everybody's path into the field is a little bit different. For you, how did you end up in local government? We've talked a little bit about your career, but how did you end up in the position you're in today?
Christine Martindale  06:34
Right. Well, so, I grew up in upstate New York, started in communications graduated from Maris college, in Poughkeepsie, New York, which is about an hour from Manhattan. I had a career with traveling around, then found myself in South Florida, wanted to get out of New York State, just the weather and all that, moved to South Florida about 21 years ago, worked in different agencies in public relations, but did a lot of my career at Embraer, which is a Brazilian aircraft manufacturer, and spent many years there climbing the ladder of internal Communications and Media Relations, and then led a department for Director of Corporate Communications and then relocated with them to Melbourne, Florida. They became the worldwide headquarters for the executive jet division. So I spent a few years in Melbourne there working as their Marketing Analyst. And then I met my husband, and he lives in Port Orange. And so it kind of made sense for, you know, it was just, it was actually a timing issue. Embraer was doing a lot of management changes at the time, and it just felt right. So relocated really to outside of Daytona Beach and Port Orange, and worked in some advertising firm, and then saw that there was a PIO position in Port Orange and applied for it and connected with our City Manager at the time. And it was just yeah, we'll be coming up on four years in February. And so this is really my first job in government. But I will have to say, working at Embraer, for those many years, working with dignitaries and putting on big events, and working with the governor on some things when we had to open new facilities. So I had some experience there. But yeah, this is really my first job in really government, but I've got to bring to the table here, A lot of experience from having international experience working with different countries and things like that. So I think it's really been a kind of a hand in hand. It's really been a great partnership so far.
Ben Kittelson  08:41
Cool. And was there something you got to work on, like, you know, the first year or two on the job that made you want to stick with working in Local Government?
Christine Martindale  08:50
Well, it's funny, you mentioned that because, so my first day, is like I had to write a policy or write a press release, which is my standard thing. But it was a it was a passion of our City Manager at the time to have a Citizens Academy. And so I like I said, started in February, and he's like, let's get something going like okay, so I started from scratch doing a survey to our citizens. Port Orange has about 62,000 citizens. And I sent like a survey monkey out if we were to have a citizens Academy would you want to, you know, be a part of it. So I gave a list, you know, a series of questions. And just to give listeners a view what our citizens Academy is, is basically learning all about local, our city government, and representatives from each of the departments would take a topic each week and they would get a tour of our parks and rec department, our public utilities, our wastewater plants, our police department, our fire department, and so it gave them a 10 week for two hours on a Monday evening from six to eight. And so I put my first one together in August of 2017, I just finished wrapped up the fourth year. And it's been, aside from the podcasts that I now do, which I'll get into later, that's been my favorite part of my job. I will say, I've loved it. And so yes, to answer your question that that's been I mean, I do a slew of other things, but facilitating that citizens Academy, I've gotten to learn all about citizens, I try to cap it around 30 people to a class because when we do tours, and whatnot, but it's really been rewarding on my end too, creating relationships with citizens and giving them what they need, and really serving them so that they, yes, so that's been that's been fun. And I've been doing that for years.
Ben Kittelson  10:46
That's awesome. Yeah, resident citizen academies. Those are, those are so much fun to like, put together. It's a lot of work, but it's like, super rewarding. 
Christine Martindale  10:54
Oh, it is. It's funny, because it's, you know, and now that I have the foundation done, it's really just working with our department directors, making sure they have what they need. But it's really been rewarding. And I really thought we were we weren't going to have it this year for COVID. I had to limit the class a little bit for social distancing, and everything. But it still worked out very well. We didn't have some tours based on, you know, we couldn't do a bus tour just because of social distancing and such, but it still ended up being a wonderful program. And then at the end, they get recognized by our City Council at a city council meeting, and they get certificates. And I have a cake because I help promote Florida city government week. And so it's really been, it brings attention and now I, it's this class is really hard to fill. Now. I mean, no, I'm sorry. It's not it's quick to fill, because
Ben Kittelson  11:49
Ya, it's hard to get into.
Christine Martindale  11:50
of word of mouth now, right? So now I'm getting referrals all over the place. And so before where I'd have to put a press release out about it, or a social media post about it, now I'm just getting random emails, just saying, you know, hey, we'd love to be part of it for 2021. Do you have space and right now, I'm only doing one class a year, but I'm getting a lot of requests about maybe adding another class. So we'll see. We'll see what happens.
Ben Kittelson  12:18
Well, and so you kind of touched on this a little bit already. But can you for our listeners who may be unfamiliar with Port Orange, can you tell us a little bit about the city, Port Orange and kind of your specifically your Public Information Office kind of operation?
Christine Martindale  12:33
Sure, absolutely. So Port Orange is, like I said, about 62,000 citizens. We're outside right outside of Daytona Beach, Florida. We're a very family oriented community, very family oriented. We have a great Parks and Recreation Department who puts on these fabulous events for our citizens, whether it be holidays, anything regarding a certain holiday, we've got an event planned. I'm a one person department as the public information officer. I am very busy. Basically, my job is broken into Media Relations. So I do all the media relations for the city. I'm the spokesperson for the city, as you call it, there is a public information officer for the Police Department. So I don't, I don't public I don't do the police department. But I do collaborate with him quite a bit. Social media, I'm the social media specialist, like you'd call it so I, I helped run the social media for our Port Orange City Hall Facebook page. There is a Parks and Rec Facebook page, and a Fire Department Facebook page, as well as a Police Department, which has they have representatives for each. But I kind of oversee all of that, making sure that they're you know, making sure they're keeping up on social media policies and things like that. And then citizen engagement was still part of external communications. And like I mentioned the citizens Academy, oh proud of, of so happy and proud to be part of that. And I'm excited that we're going to be hitting our fifth year next year on that. So that's citizen engagement. And then, of course, the podcast. And we'll get into that a little bit later. And, and so I start recently started a podcast called the POG show, which stands for Port Orange Government. And so that's kind of what I named that. And then definitely in terms of external communications, I have internal communications, which I work on a employee newsletter called the Orange Peel, and that goes strictly to employees. And so I want to make it more of a personal feel. More feature stories, babies, things like that, just more of a kind of getting to know your employees. Oh, I failed to mention too, we do have, I do put together a quarterly newsletter for citizens as well too. So there are many platforms and many ways that Citizens can learn about our city. And so I try to cover all avenues for sure.
Ben Kittelson  15:05
You wear many hats, which is a good thing.
Christine Martindale  15:08
you know, it's never a dull moment in my department, my one man department for sure. And I attend all the council meetings. And of course, I'm, I support all the department directors. And then of course Council, you know, when they need assistance too, so I work under the City Manager.
Ben Kittelson  15:24
Yeah. I mean, the one person departments are the best departments because you get the most freedom, right?
Christine Martindale  15:29
True. You know, it has been great, because I've been kind of given, you know, a little bit of freedom there where I can make the department really what I want in a way, you know, hey, let's do a podcast or the citizens Academy or, you know, they give me an idea. And I try to say, well, let's come up with some ways to do it. I right now, I'm currently working on the State of the City address video. So we've been doing that for the last couple of years, I have a couple of departments helping me out with that. But that's where all the departments send me all their accomplishments for 2020. And we get the council members involved, and they're interviewed. And then we put out a video, we've done lunches before, where we invite community partners to a luncheon, and then we show the video there. But due to COVID, we're just going to do the video, and we'll display it on social media and maybe a council meeting will show it there. So yes, it's never a dull moment, always. We're not doing the same thing every day. And it's been rewarding for sure.
Ben Kittelson  16:31
Yeah. Before we kind of dive into the podcasting piece, you've touched on it a couple of times, but how has COVID-19 kind of impacted your work? And we, we did a whole series of episodes in the spring with folks as they're kind of, as this pandemic was emerging. And like how it was impacting folks work. But now that we're, I mean, geez, nine months into it, like how is it kind of changed your work? Like how, what is it like now versus maybe when the pandemic first started, like, from a communication standpoint, what that's been like.
Christine Martindale  17:01
It's funny, because, you know, we had talked briefly before this podcast started, but I never really got, I never really worked from home. You know, a lot of people had to telecommute. I know, here at the city, some people had to kind of work from home and things like that I that didn't change for me. I think I worked from home one week, and I didn't care for it, because I love people. And so I didn't care for it. But I had to just because of third party exposure, possibly. So for, you know, safety precautions, but yeah, I've worked, I worked one week, and didn't really care for it. It's easy to get distracted at home. And I just prefer to be in the office, my computer's here and my files. And it just, you know, I didn't mind being here. So yeah, so that hasn't changed. For me, I would say, you know, we had to pivot for sure. I am such a face to face. person, I love meetings face to face. In fact, you know, I used to do my rounds a lot to the different departments. And now it's mostly by team meetings, you know, through teams, or zoom calls. So that's had to change a little bit. Even the way I did the quarterly newsletter, you know, news was changing so rapidly, that I, you know, I couldn't really put out a couple of issues in the past, just because things were changing. And it would have been old news by the time it came out. So those kind of things. One thing that has changed for the positive is that, working with the other sister city PIOs has been tremendous and has been so positive. And we've always had, you know, good working relationship with them. But we've had this, it's called the PIN, Public Information Network. And so we have meetings now every other week. And, you know, it started out obviously at COVID time where we had to make sure you know, what, city was doing what just so we, you know, we were all aware. And what's what was amazing about it was that we we actually got to collaborate so much with each other on similar messaging campaigns, we actually have a campaign that it's been ongoing called wash up, back up, mask up. And that took up. I mean, that's just now a county thing, because each of these are participating in that, you know, hearts for heroes with another campaign that we kind of helped with. So I think that's really changed for the better in terms of now that COVID you know, it seems to be kind of a second wave going now. But we still collaborate on just on issues in general. And I think this overall has really been a way to just create relationships and collaborate more with the other PIOs. So we all have similar messaging, whatever we want to convey. So I think that was a positive thing that kind of came out of that.
Ben Kittelson  19:44
Yeah, that consistent messaging is so important for like public health stuff. And yeah, hopefully that will continue. 
Christine Martindale  19:54
Exactly. We have our Florida Department of Health, who we have a contact and she of course has been part of the calls as well. And she's just been kind of giving us information and things that we can say. So it's all been collaborated. It's not like one city is going out on their own and doing it, we're all kind of working together. And so I think whether it's the pandemic or something else, I think we really learned how to really work so well together. Not that we haven't in the past, but because we had to for hurricanes, right, we every time a hurricane would come here on our city, we would make sure that, you know, because our city, you know, connects with Ponce Inlet and, you know, part of New Smyrna and so when the bridge closes, you know, making sure that Daytona Beach Shores knows what we're doing, and that kind of thing. But we never, you know, this pandemic has been uncharted territory for sure. And so we really learned to kind of work together and reach and knowing who to reach out to. So I think it's been really positive.
Ben Kittelson  20:52
Yeah. Cool. So I wanted to have you on to talk about your podcast, and I thought we were, as we were kind of preparing for this episode, I mentioned that they'd be good. I'm happy to lend to kind of our GovLove perspective as well. But I think part of what's cool is that you are, you know, what, like, you've mentioned a one man Public Information Office. And so you've got this new new platform for folks that, you know, shows that, you know, you don't need a whole team behind you to do it. But and, you know, here at GovLove, we've got a pretty skeleton crew as well. And happy to like, talk more about that. But so you started the POG show. What led to that? Why did you want to start a podcast and kind of, Where'd that come from?
Christine Martindale  21:39
Well, it's funny, you mentioned that, because so this was a couple of years ago. In fact, it was an article in a magazine that I was reading, and I can't think of what the name of the magazine, I think it was local government or something like that. And there was an article like an editorial on podcasts. And so I brought it to my City Manager's attention. He's like, Oh, this sounds like a good idea. But it really wasn't, like, what we envisioned what it is, now it was more like, hey, the City Manager would run it, or he would talk on it, and I would facilitate it, and maybe we'd have guests, or we'd have call ins like live and things like that. But then that idea, you know, not filled with the background. But as me as it like I said one person, you know, department, the citizens Academy became my focal point, and other things came on. And then it was over the last year where it was like, okay, now that I've got the citizens Academy under my belt, and I've got some other things, okay, let's start this podcast. And so it's, yeah, just kind of worked out and did some research on what I wanted to get out of this. And, like I mentioned, called the POG show, Port Orange Government. And so it's, it's really, for me, I wanted it to be another added platform to communicate to our citizens, you know, we get a lot of art, like I said, our community is very family oriented, we have an older generation, very older community who still like that hardcopy newsletter, it does get sent out via email. We have the citizens Academy, which is face to face, but I said the podcast is listening. And so this is something where we try to keep it between 15 and 20 minutes. And it's just enough time for people to get in their car and drive to work or drive to the store. If it's any longer, like going on an hour, 45-50 minutes, I feel like you lose them because it's like, Okay, well, you know, or whatever. So I wanted to keep it relatively short, but I wanted to give them the citizens, if they come back and say, well, we didn't know about it, and we did this, like, I want to give people another platform where they can say, this is another avenue where you can learn more about our city. And so obviously, it's live on iTunes, Spotify, and I Heart Radio. And it's just a way for our listeners to learn more about our city and the services and functions it provides, and really just adding value to the lives of others. And so it's not going to be, you know, department directors where it's just, you know, you know, I want it to be a variety like so. Just a variety, whether it's simply interviewing a employee from the Public Works Department, who works on the roads all day, you know, getting their experience.Really just telling the story of Port Orange, and how we can do a better job in communicating our story and share with our citizens that way. So that's kind of how, I know it's a long winded answer, but it's really I just wanted to be like how we can add value to citizens in a way where you know, people can listen and really get an idea of what we're all about.
Ben Kittelson  24:52
So, is your approach then like, hey, in this 15 or 20 minutes, you're gonna hear from an employee about something going on in the city or Is it like, here's a bunch of different things going on, or what is one of your episodes like?
Christine Martindale  25:07
Okay, and that's a good question. So I started out, so again, just started, in fact I released episode number five this morning. So, episode one really focused on the intro to the podcast really what we're about, and I did interview our city manager, and then Episode Two was our mayor because I wanted to make sure you know, people know who our mayor is, and kind of introduce him in that way, even though everyone knows who our mayor is, but just to give him an opportunity to welcome the podcast. Our episode three was actually talking to our participants from Port Orange University, our Citizens Academy. And well, I really wanted, we were in the middle of our citizens Academy this year. And it was in the middle of Florida city government week. And so I chose I chose a woman who said she would love to be on it. And I asked her questions, because I wanted people to know what our citizens Academy is all about, from the participant perspective, not just from the city, oh, you're going to love it. But actually, from a participant perspective, like, you know, just about what her experience has been so far, during Port Orange University. So that was episode three. And then Episode Four was interviewing the police officer, Andre Fleming, who is our public information officer for the police department. And he's also a recruiter. So I wanted to get him on there to explain his recruitment process, and thought that would be a good Avenue and good information that he can share with future recruits for the police department. So there's always a theme, or there's always kind of a mission that I want to get across. And then episode five is a special one. Dorothy Heugel, was a former state senator and our former mayor, back in 2000 to 2004, she had passed away two years ago from cancer. But she is being recognized this evening, for our wall of honor. And our we have a wall of honor in our lobby of City Hall. And so our mayor selects who that is. And so she is being honored at a council meeting this evening. And so I got her son, Jonathan Heugel, to say some few words, some fun memories about his mom, and he actually has a charitable foundation that he starting in memory of his mom. So I interviewed him, and it was released this morning. So I always try to come up with with topics that's related to Port Orange, maybe a big event that's coming. Even as simple, like I said, interviewing an employee who works maybe in the road section of our public works department who get his experience about what's going on here at the city, but  getting his point of view. And really, like I said, add adding value and publicizing Port Orange from their perspective. So that's, that's the whole idea. I think I want a feature, you know, really on the go information to gain a better understanding of our services, our functions, and of course, maybe touching on some community partners as well, too. But like I said, I always learn and lean on your expertise, too. I know, you've been doing this a while too. And, and, uh, hey, I'm open for, for information and wanting to learn. I'm like a sponge I'll absorb it. And that's a great idea. So I'm sure I'll be pivoting or I'm sure I'll be tweaking it here and there. But it's really gotten some great feedback and I'm kind of excited from a personal standpoint, you know, this is growing my skills as Public Information Officer, I don't think many other cities do this. And so I kind of wanted to start it and see what happens. And so far, it's I think it's going very well, and I'm really happy to be a part of it.
Ben Kittelson  28:57
Yeah, when you touched on some of the stuff that we went into when we started GovLove, and I realized, as I was preparing for our year end episode this year, which is coming up in like, the next week or so that we've been doing the podcast for five years. So when we started our goal to like kind of humanize local government and talk to folks doing the work and, you know, share stories from across the country. And I think the audio platform and the podcast platform, it really humanizes folks in a way that doesn't come across in other communications. And you also get to go deep on things that like, you might be willing to sit through an hour long interview and go really deep on you know, the operations of a water plant or recent episode I did on like, you know, an Arts District, like you can really get like in the weeds on something that might not be as engaging as an article or as a, you know, as an email news letter and so like there are just benefits of this platform that I think cities could really get value in. And, yeah, so I totally echo some of your kind of philosophy as approaching like, when you were kind of setting it up, we had a similar sort of humanizing and wanting to tell stories and kind of highlighting the good work that's going on. And I think, I think podcasts are like a really like, unique and powerful way to do that.
Christine Martindale  30:27
That's good. I'm glad I'm on the right track. For sure. It's funny, because our city manager wanted it, again, he was, you know, wasn't giving me some he was just giving me ideas. But he's like, oh, having a podcast, we could do audio and video. Because we also have a TV. It's called the POG Studio, which is, we have a TV station, but an internal Where our IT department kind of helps run council meetings, because we have spectrum channel 498 on our cable where people can watch our council meetings as well, we also have a YouTube channel where people watch our council meetings, but we also have a poodle channel. So he thought, well, this would be great to to link podcast video, to the 498, which I think is a great idea. But for me just starting, I am just a little I'm still getting my feet wet with the audio. Oh, totally. camera setup and doing all this, and because, I don't know. So we'll see. And then in talking to other people, podcasts are more of a kind of a listening platform. I know, there's video as well, too. But it's kind of where I'm going right now with it.
Ben Kittelson  31:37
Yeah, well, I think, for anybody that's interested in podcasting, and I've said this to folks that have asked me about a couple of and kind of, some of it is you got to think about the, your listeners first and then you can kind of add on some of this other stuff. So and like, it sounds like you did something similar, where this is who it's for, it's for, you know, people that might be commuting, you know, to work for and want to learn more about the City of Port Orange you know. For us, GovLove is for folks that are interested in or work in or work with local governments and you know, want to learn kind of about what's going on across the country. And so you can add on video, but that's not really now you're, you're no longer like, you're kind of transitioning to a different platform. So we've experimented with some, we've done some episodes, like from conferences like as are like, we've recorded conference sessions as episodes, which have turned out okay, so sometimes it's hard to control for sound quality in that environment. And we've done a couple of live streams for like our year end specials, which which are again, okay, but the first, I always say you got to think about the platform, where your listener is going to hear from and that's got to be the priority, because that's where, like, they're going to listen to that you're going to get more people from the audio version than you are on the on the video. unless anyway. So that's always been my kind of approach. Well, I was just gonna ask like, so what, how frequently are you planning to do episodes, because I know that was something that we had to think through when we were setting up GovLove and kind of planning out content that was an important piece is knowing how frequently wanted to do kind of episodes and stuff like that.
Christine Martindale  33:15
Right, so, when I started this, I have been doing them every two to three weeks, I don't have the bandwidth as a one person show to be doing them once a week now, you know, my city manager had said, Well, you could record about five or six, you know, a day. That would, makes total sense for sure. But then I always think about if I record many, and then and then like something happens in our community, you know, not, you know, something where it's outdated already, right. So, you know, I've already recorded it, but that happened. I could have said something about that, you know, so I like to try to keep it as current as I go. So for example, Episode Five, I recorded them. I recorded it on Thursday of last week, because my guest wasn't available. So I did on Thursday, but then I released it this morning. So if I'm within a few days, but I just am not one to record like 10 in one day, and then I could come out I guess but then I would be just late, scared of, not scared, but, oh, I could have mentioned this because this happened and then they're kind of not outdated, but you know what I mean? So I try to, every few weeks now, between episode four and five with the holidays and Thanksgiving, there was another week that was you know, left out but you know, that's one thing though, I would probably give advice to other PIOs who wanted to start a podcast, is really kind of know, like you said when you want to kind of release them because it's all about credibility. And when people know like oh the POG Show, because I put it on social media, or I put it out like they almost already expect it like Oh, it's been two to three weeks once should be coming out on whatever day or kind of, it becomes routine. I know for me, when I listen to podcasts and the people I follow, I know that they do a few of them do two a week. But I know like Thursday morning, I'm waiting for someone, you know, to come out. And I think that just shows a lot of credibility. And it just becomes, like, Oh, I can't wait to see what topic they're going to cover tonight. You know, so I think that's important. And then, so that's kind of how I've been rolling it every two to three weeks. I don't want to put so much pressure on myself where I', rolling one out a week. And then I'm, you know, this isn't my main job, so, a couple of weeks. And then the other piece of advice I would give is just to keep it short enough, where you get your point across, get your topic across, and what you're going to talk about and your guest and not go too long. Because I know people's attention spans these days or, you know, relatively want to get in their car, whether they listen to it in their car, or cleaning the house or whatever they're doing, but just gives them enough, you know, time to absorb the information, but not going on too long, where it kind of loses its flavor a little bit. So that would be my advice, for sure.
Ben Kittelson  36:16
Yeah. So for us like we that, that balance between being timely and kind of and fresh. While also like, you know, realizing it's not your full time job, like we've, at GovLove, we've had had to work that out as well. And so, I would say, for the most part, our episodes are usually recorded within a week or two of their release date. But sometimes we'll record, you know, with, because we have so many co hosts, sometimes we get, you know, a bunch of episodes recorded, and we'll be parsing them out over several weeks. And, and kind of what I tell our co hosts, and what we try to do is think about it, the content is evergreen. So it's always it should always be relevant, whether it's, you know, released tomorrow or three months from now. And that allows folks to, you know, go back and revisit episodes that, you know, had been released, you know, sometimes years ago. And so, I think that helps. But sometimes you're you know, you're covering an event or something, and there's just, you know, going to be something that's more time sensitive. And so having kind of that, understanding, I guess if I were to give advice, understanding like, what what are you trying to do? Are you trying to be timely and kind of like, here's this new event that's going on? Or, you know, are you kind of can some of the content be evergreen, and maybe there's a mix of that, where some some weeks, it's, hey, this is what's going on, you know, in the community. And the next week, it's an interview where you could kind of be more evergreen about it. For you on kind of the production recording side, what sort of like if, again, if you know, there's a PIO out there that wants to follow in your footsteps, what kind of equipment and what kind of like software did you have to get to a certain focus?
Christine Martindale  38:05
Actually, we have equipment that actually we have, in fact, I don't know the name of the equipment, but it was, you know, that we got the two microphones with the speaker there. And we're actually using free software, we're using the audacity software. And actually, I do have a little help. I have a colleague, who is our Public Works solid waste manager, Mick Neils and he has a, he's kind of a musician on the side. And I was telling him about, Hey, I'm starting this podcast, and we got talking. And he goes, Oh, I'm more than happy to help you out. So he's actually in the office while I do the podcast, he's like my audio engineer, I do have some help. Because I do want to learn. But right now I am just more about getting my program together, my guest together, my questions together and making sure that goes smoothly. And he's in the background, kind of making sure my sound is okay, I tend to, when I get excited, I might, you know, you know, my sound gets higher and my voice and all that, but, so I do have some help. But again, it's our podcast, it takes about, from beginning to end, because we really don't edit much I want these podcasts to be authentic. And I think I said this to you before, unless there's something I really do need to re record. But I really do want these to be authentic and real and conversational. And it doesn't have to be perfect or polished. Because I want it to be real and you know, it's like you and I just having a natural conversation so we really haven't needed to edit a lot. So he helps me out maybe maybe if that for you know, 45 minutes or so and I already have my guests set up and you know whether they most of them have been coming in. So I've been doing like a face to face six feet apart, of course, but I've liked that face to face contact because you can see that you know, that interpersonal communication and all of that. But this last one I had to, obviously record because he or not record but from a phone because he was from Washington DC. So, you know, you just have to kind of go with it for sure. But that and then making sure you're kind of keeping it short. But yeah, the software again, it's audacity, it's free. So far it's worked out really well, the equipment. I don't have the name of it, but we just had a couple core speakers. And we were really good to go. And it didn't it was like less than $500. And then I have my guess. And then you're good to go. And you've got another platform that, like I said, I don't think a lot of cities are doing this right now. I know the podcast thing is really kind of a hot item right now. And I think they're really popular. And I enjoy listening to people. So I thought, well, why not bring it to the city and see what kind of feedback I get. And when I introduced it, I remember I hit the Post button on social media because I had the links and everything. And I said, Oh boy, here goes nothing. Because what just start it, it's hard to be like, oh, we're not doing that anymore, you know?
Ben Kittelson  41:16
Exactly.
Christine Martindale  41:18
But you know what, you just go ahead and try and and just, you've got nothing to lose. I'm growing as a PIO and other ways I can get out to the community. I'm growing as a person, I think the city, we're trying to keep in with the times right. So I know people still like that hardcopy newsletter, which I still print a few copies of, but we've got to kind of be in with, with where we're at right now in this generation. And it's all about podcasts.
Ben Kittelson  41:48
Yeah, and I'm gonna underline kind of what you said that we don't, we didn't pay for any software for GovLove. Like we're, one of our producers uses audacity, which is the free version for PCs out there. And then I use GarageBand, just because I have a Mac, when we do kind of the editing, which similar to you, or it's not a very heavy edit, it's more like a you know, take it out ums and cross talker if my dog barks. And I think we bought, there's like $50, like, USB microphones that on Amazon or something and just use them with our, our computer. And so like you can really, I was telling people that asked me or, or some folks that are interested in podcasting that you can go really down the rabbit hole on sound quality and audio engineering, and you can spend through your nose to like, get the fanciest, nicest sound, but I think you can get 90%, 95% of the way there. Because with like very affordable and free software. And it's, because most of the time folks are listening to in their car, listen to on headphones, like they're not going to notice if it was done in, you know, the nicest studio or just done via, you know, video link from a couple states away. So I totally echo what you said that. I think that's a great approach.
Christine Martindale  43:18
Yeah, no, it's really been great. And like I said, like, we just started, I would say a little, you know, hasn't been that long. But I'm excited. It's another avenue, another platform that I can add to and the citizens Academy, the podcasts, the newsletters, the social media, you know, we do also do Facebook Lives when necessary. Obviously, we've done it for hurricanes, and when when something's coming, the mayor likes to get on and do a kind of a Facebook Live kind of thing. But again, podcasts are more about, you know, getting out to citizens and just having a topic, and yeah, it's really been a fun process so far.
Ben Kittelson  44:03
Yeah. Well, and like you said that you're meeting people where they are just like when governments started social media accounts. That's where the conversation was taking place. And if podcasting is going to be a, you know, a big part of the media landscape, Local government has got to be there to kind of get their message across.
Christine Martindale  44:20
Absolutely. And it could be one of the cities here in Volusia County to, you know, hey, we started it. And so it's it's really been it's really been fun. And we'll see where it takes us for sure. Yeah.
Ben Kittelson  44:33
So any other advice for, you know, another local government out there that's interested in starting a podcast?
Christine Martindale  44:40
I guess just making sure that you kind of know what you want to get out of this. Right. I think we talked about, you know, having a theme or having topics, you know, not just maybe making sure that you're planning ahead. That's very important, not just waking up and saying Well, I guess I'll do an episode today. I mean, I guess you can but I'm all about planning, making sure I have my guests lined up. When they're going to be scheduled, I always have lists of questions ahead of time. Just making sure that they're fully aware of what they're going to be asked. Just making a very conversational, and just kind of going with it and enjoying it. But making sure you're you're planning as the host that you're you're planning ahead and not to saying, well, I'll just ask them some questions because they like to be prepared on their end too, making sure that they're well prepared, and if there's anything that they want to add, but I think that, you know, it's good on our part that we, that we prepare, and we're good on that.
Ben Kittelson  45:45
Yeah, I agree with that. 1,000% I've got a big ol GovLove calendar like spreadsheet, that's got my plans for what episodes are coming up in the year. And I also share questions in advance. So for anybody that's interested in starting a podcast, they should subscribe to the POG Show. And then I'll give a shout out to one of the GovLove co hosts Kent Wyatt at the city Tigard, Oregon, they started a I think that the name of it, I gotta get the name right or else he'll scold me, they started a podcast as part of kind of the COVID communications if I remember correctly, but they've got one. They've actually got a Spanish version too, but it's called Talking Tigard. And then the Spanish version is En Contacto. That was not a very good accent on my part. But there are a couple of folks out there that you can follow and kind of see how it's done. And then I'll volunteer Christine for this, but if anybody has questions about starting podcast or wants advice, feel free to reach out to either of us.
Christine Martindale  46:52
Oh, absolutely no problem at all. And, you know, it's, I still consider myself very new. In fact, I'm learning so much from what you're telling me already and and how I can make mine better and whatnot. And so like even the your scheduling is a lot better than mine. Mine is kind of reaching out and email and all that. But you've got kind of nice scheduling. Another thing I'd like to add though, too, is I have like an intro that I do to podcasts, and then I have an ending there. So my intro and my ending is the same throughout every podcast. So it's already recorded, already done. So I've got the intro that I have the body of my podcast, which is the episode, and then when we conclude it kind of finishes up with like a tagline kind of thing. So I put a little intro together and what we're about, and all that and that stays the same through all the podcasts. So again, I just started researching podcasts on the people that I enjoy following and kind of got some ideas and just kind of ran with it. And then I recorded my intro and I send it to my city manager, he's like Wow, that's amazing. Okay, let's, let's go for it, you know, sometimes we always wait, and this doesn't go, just for PIOs, anybody, you know, sometimes we have, we always want to wait for the perfect, oh, well, when this is perfect, or no, I'm not polished, or when this is done or this is done and kind of reminds me of that audible I'm listening to is like, it's you be you. And you know what, we're gonna make mistakes along the way, and we're gonna learn from them. And we're gonna pivot or that didn't work, or this didn't work, but just start. And that's what I tell people in general, friends of mine or colleagues of mine, I always tell them just start, you know, and I think that took, it took a few months for me, because I could have started maybe a few months sooner than I did just was making sure this was perfect. And, you know, it's like, Okay, what am I waiting for? Let's just, all right, let's just start it. And so sometimes that's the hardest thing is once you hit the record button, but what's the worst thing that can happen? Right? So you just, you just start, so that's, that's my advice for anybody who maybe wants to start a podcast or anything, starting a business or starting moving somewhere and anything in their life that they're scared to do or, you know, we've got, you know, a new year coming up. Sometimes we just have to just go for it, whatever that is. Anyway, that's my advice.
Ben Kittelson  49:16
Agreed. That's a great place to to wrap up our interview, I think. So. We have a last question on our GovLove episodes. If you could be the GovLove DJ, what song would you pick as our exit music for this interview?
Christine Martindale  49:32
You know, I'm going to say, "Here Comes the Sun" by the Beatles. And I say that because one of the lyrics had just said, you know, and it's, you know, here comes the sun, here comes the sun and I say it's all right. It's been a long, cold, lonely winter, and it feels like years, but everything's gonna be okay. And so that just kind of sums up our year, you know, one heck of a year. But at the end of the day, we're all going to be Okay, and we're all going to come out of this stronger. I think I know I've learned a lot through this pandemic I've learned, you know, maybe the, I don't sweat the small stuff anymore and, all of this. So, at the end of the day, we're all going to be okay. So that's my pick.
Ben Kittelson  50:22
That's a great pick. And that ends our episode for today. Christine, thank you so much for coming on and talk with me and sharing your expertise.
Christine Martindale  50:31
Oh, my pleasure, Ben. I loved it. And again, anyone has any questions, please feel to reach out.
Ben Kittelson  50:36
Awesome. And for our listeners ,GovLove is brought to you by ELGL. That's Engaging Local Government Leaders. You can reach us online at ELGL.org/GovLove  or on Twitter at the handle @GovLovePodcast. And the best way to support GovLove is by joining ELGL. Right now membership is $40 for an individual and 20 bucks for a student but dues are rising on January 1. The higher dues will help support our expanding programming and manage our growing membership. So you can join now for a lower price or you can join January 1 for I think it's $50 for an individual and $25 per student. Learn more at ELGL.org and lastly, subscribe to GovLove on your favorite podcast app. And if you're already subscribed, go tell a friend or colleague about this podcast. That helps us spread the word that GovLove is the go to place for local government stories. And with that, thank you for listening. This has been GovLove, a podcast about local government.
---