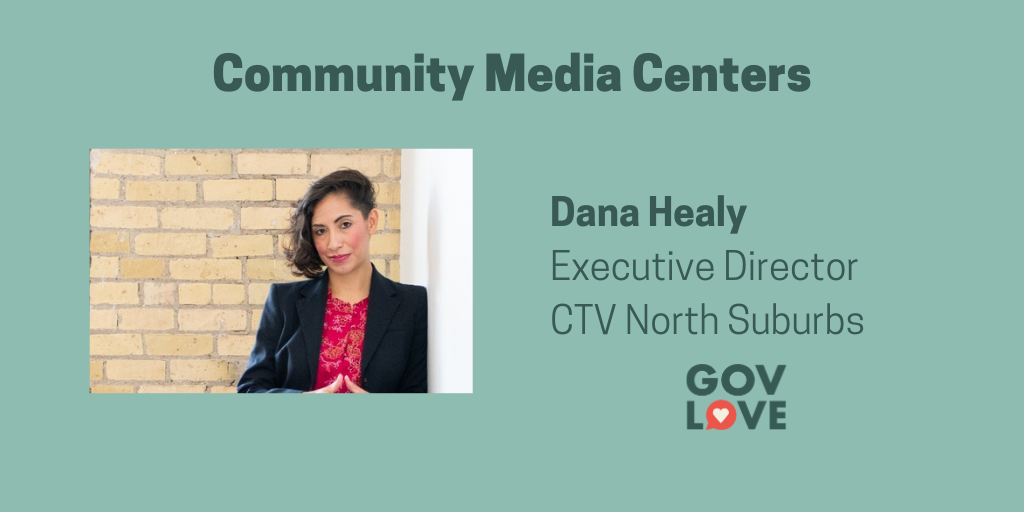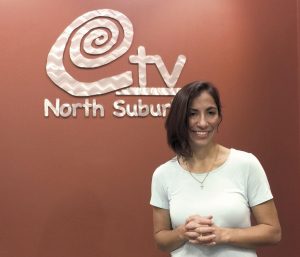 Dana Healy
Executive Director
CTV North Suburbs (Minneapolis, MN)
LinkedIn | Twitter
---
Don't make videos, make an impact. Dana Healy, Executive Director of CTV North Suburbs, joined the podcast to talk about the benefits of local community media centers. She discussed CTV North Suburbs which is a collaboration between nine cities in the Minneapolis area that creates video content on behalf of those local governments. The core function of the non-profit is to can help local governments promote and amplify their message. Dana also shared the upcoming content series with ELGL on effective relationships with community media centers and local governments.
Host: Kirsten Wyatt
---
---
Learn More
North Suburban Communications Commission 
Hyperlocal media is the focal point of CTV's new executive director
Dana talks about CTV's new mission
11 ways to start PEG alternate revenue tomorrow 
6 ways community media centers can offer support amid COVID-19
---
---
Episode Transcript
Message
This is Brian Murphy, ELGL's Data Manager. The ELGL Diversity Dashboard is the first national data collection on the gender, race and age of local government leadership. We're excited to launch our third full year of data collection. This year, we're expanding our collection to include all levels of local government positions, not just Chief Administrative Officers, in an effort to get a better understanding of diversity across a wider variety of local government positions. This year's survey is looking for responses from local government leaders working in many different positions. We look forward to hearing from department heads, project managers, analysts and others as we hope to get data on the diversity of local government leadership. You can find more information on the survey and a link to respond at elgl.org/diversity-dashboard. We hope you'll respond and follow the data as we work to make local government more diverse.
Kirsten Wyatt
Coming to you from Portland, Oregon, this is GovLove, a podcast about local government. GovLove is produced by ELGL, the Engaging Local Government Leaders network. We engage the brightest minds in local government. I'm Kirsten Wyatt, the ELGL co-founder and executive director and today I'm joined by Dana Healy, the Executive Director for CTV North Suburbs, a Community Media Center in the Minneapolis St. Paul area. Dana, welcome to GovLove.
Dana Healy
Thanks so much for having me. This is a pleasure to speak with you today.
Kirsten Wyatt
So today, we're going to talk about how local governments can best leverage and work with their local community media centers. But first a lightning round with Dana. What is your most controversial non political opinion?
Dana Healy
Well, I think cake should be eaten with a spoon, not a fork. There are are certain tools for certain things and a spoon is the proper tool for cake consumption.
Kirsten Wyatt
I mean, does ice cream on the cake factor in at all or is it just any time cakes you know?
Dana Healy
Really any time you know, and the Ice Cream factored is kind of solidifies the tool being a spoon. Yeah.
Kirsten Wyatt
What about a spork? I mean, would you be opposed to kind of a hybrid fork spoon?
Dana Healy
Yeah, you know what, I think I could I could totally get dig that. Yeah. Okay. I could work with spork. [Laughter] Like, for like a cheesecake.
Kirsten Wyatt
Oh, yeah, that would be good. All right, where was your most memorable vacation?
Dana Healy
You know, on our wedding anniversaries, my husband and I we go up for century rides, which are bike rides. So we've cycled through Massachusetts, Rhode Island, New Hampshire, Maine, Vermont. And hopefully we'll do a little Minnesota, Wisconsin pretty soon. And our most memorable one was on our trip to Maine. We were catching a train for the last couple of miles, which was about 14 miles, because the sun was going down. And they wouldn't let us bring our bikes on the train. We should have probably figured that out. [Laughter] So we had to keep riding the last 14 miles in the dark through the woods.
Kirsten Wyatt
Oh no!
Dana Healy
So, yeah. So we were held hostage by a family of skunks with about a mile left to our journey. So so that was definitely the most memorable vacation.
Kirsten Wyatt
Wow, that is, that is, and so but no one got sprayed by the skunks?
Dana Healy
No, no, we just hung out there until mama skunk said it was okay we could cross. [Laughter]
Kirsten Wyatt
Goodness. All right. And what did you want to be when you grew up when you were 10 years old?
Dana Healy
You know, it should be what didn't I want to be. I really, I wanted to be everything. I had, I wanted to be a lawyer. I wanted to be a psychiatrist. I was really interested in psychology, astronomer, I had telescopes. I wanted to be an archaeologist, which meant I just dug in my parents yard. [Laughter] I could not stop. Everything just interested me. And I guess working with the community is a great way to experience people with all these different backgrounds as well.
Kirsten Wyatt
Right. So tell us about your career path. I mean, when you stopped digging in your parents yard, like where did life take you?
Dana Healy
That's great. That's a great question. So when I first became interested in media production, that was my main focus. I was actually put in the wrong class in high school, a class that I didn't want anything to do with and it was television production, and I ended up loving it and I kept doing it. I would actually cut class to go do video production, which I don't recommend for you students out there. [Laughter] But in the long run, I ended up getting a scholarship for media production. So I went on to you know, my to get my undergrad and then my postgraduate and then some certificates as well, all in that area. So my focus ended up being nonprofit media production, this whole thing, you know, PBS Community Media, that's where my sweet spot was, and I really loved creating content like video about the community for the community. My strengths ended up being more on the business side. So I was a little more equipped with the executive director role rather than the content creation role. So, I found that out about, you know, a few years into the, my career. And then I moved from Boston out to Minnesota, for a new position at CTV North Suburbs about two and a half years ago from this podcast date, in 2020. And so far, it's been such an incredible journey. And I'm just really excited to be able to serve this community now in Minnesota.
Kirsten Wyatt
And what do you think prompted your interest in this nonprofit media aspect? I mean, some might think, you know, if you're into video production, can you get lured into, you know, television and movies and things like that. But what really hooks you into this nonprofit aspect of creating content?
Dana Healy
You know, that's a great question, a question that I really tried to dig into myself. And I think it's knowing that the content that's being created is really grassroots and of total quality for the community, being its sole purpose, rather than having a sponsor or funder pushing out content with a certain end purpose in mind, which is typically commercialized.
Kirsten Wyatt
So tell us about CTV North Suburbs. Tell us about what you do and how you're structured and who you serve?
Dana Healy
Sure, well, CTV North Suburbs, we are a nonprofit organization. Our mission is to produce community focused digital media that educates and engages our community in Ramsey County, Minnesota. So related to our structure, we are a joint powers authority with nine cities involved in our little cohort, and these nine cities are in the north suburbs area. So what we do is we uniquely we create content, video content, primarily. But we also have a platform to disseminate it out on to the public. Our we create social media videos, we create listening sessions and townhall forums, and what I call community engagement videos, are a couple of the pieces that we do. But essentially, we like to look at ourselves as a communication arm for the cities that we serve, looking to amplify their message. So if our city has, we have an ash borer, emerald ash borer, insect problem out here. So they're having an issue with it, let us help them create content, to educate the community on the dangers of this insect and what it can do to your trees. So essentially, we're an extra entity that can help convey their message and amplify it within the community.
Kirsten Wyatt
And I think an important distinction that I am reminded of is\, Community Media centers aren't just producing, like Wayne's World style videos that are on TV. You're creating content that is relevant on all of these platforms that local government uses. Correct?
Dana Healy
Correct. Yes. So Community Media centers have come a long way since Wayne's World. [Laughter] So um, you know, you're not seeing the cat videos anymore. You're not seeing you know, the, the roundtable about, you know, your neighbor next door. It's really quality work coming out of these media centers. There's some centers that are equipped with virtual reality equipment, and they're working with your community members to create cutting edge experiences in virtual reality. That that's not the Wayne's World environment that we grew up with.
Kirsten Wyatt
Right, right. Well, and we know that video is such an, it's a medium that captures attention as you're scrolling on social media. People are stopping and they're watching. They want to see things on demand. And and so those are precisely the types of things that you are pushing out and you're creating with your with your partner organizations, right?
Dana Healy
Exactly. We're, we're so, kind of citing one of our core services is community engagement videos. So we really try to work with our cities to identify what is your end objective. Do you want more volunteers? Do you want people to approve the upcoming budget that you're you're looking to spend for capital improvements? Tell us what your goal is. And now let's think about the subject matter. How can we appeal to them? And basically, we create content that leads to that goal. So we're creating content in a really proactive, thoughtful way, rather than a reactionary way. Let's cover this ice cream social, let's cover this particular event. We're thinking proactively in order to amplify our government's message.
Kirsten Wyatt
And there's a real economic benefit as well to not expecting every local government in the nation to have their own video production studio, right. I mean, these centers can capitalize on economies of scale, and community knowledge, you know, with the dedicated staff. Talk to us about about how that plays out as well.
Dana Healy
You know, that's such a great point, because you're right. It's expensive to have all these access to the equipment, and say you do have access to the equipment, how do you do you have access to the staff that's going to be able to bring that expertise you need. Technology is ever changing. And so we serve in our joint powers authority, nine cities, and one of our main functions is we do record their city meetings, city council meetings, Planning Commission meetings, and then we webcast that, we cablecast that, we chapterize it and get it out to the public. But we also provide that service to other cities that are not within our joint powers authority, that don't have access to a communications commission like us. So that's an example of how you know, now they can leverage just the pieces that they need, which is a great way to partner with your local community Media Center, is figure out what their core services are? And how can you build a relationship around that, in order to better serve your community. It's a huge cost savings.
Kirsten Wyatt
And so for our listeners, who maybe have never considered working with their Community Media Center, you know, maybe it's it's kind of outside of their their day job. But they recognize that some informational or engagement videos would make sense. What are some first steps? You know, how does, how does the local government most successfully begin working with you?
Dana Healy
You know, I think the well for us personally, just send me a LinkedIn message. But  generally, it's really a conversation. But each Community Media Center has different capacities, they have different core services, some of them have a freemium model. So you really need to understand what their scope of work is. So a good old fashioned networking conversation with the executive director would be a great course of action for you. And also they I mean, these people, they are connected, deeply connected to your community. So if as a government leader, you're looking for different initiatives, a way to engage a community, a conversation with those people in community media centers is a great way to start that.
Kirsten Wyatt
Uh huh. And are Community Media centers in every community? Or what's kind of the general distribution of how this service is offered, if you could make that generalization?
Dana Healy
So I think there's approximately 3000 community media centers in the US. They are primarily concentrated in Massachusetts. In Massachusetts, they have almost one Media Center per city, which is really impressive. Where I am in Minnesota, it's a little more county wide. It's a little little bigger parcels. And it varies throughout the whole country. But there are, mainly down south, there's a lot less Community Media centers, than on the East Coast, West Coast and the Upper Midwest.
Kirsten Wyatt
Okay. And for for those who are unfamiliar with the funding model, can you kind of walk us through? Again, I know it's hard to make generalizations. And and even if you want to use your own center as an example, but can you talk us through the funding, you know, where does the money come from? And typically, how do local governments you know, buy in or pay in to participate?
Dana Healy
So the funding model can can vary quite a lot from each organization. So I'll walk you through a couple a couple scenarios. So with our joint powers authority, and the commission that I'm part of right now, we are funded through peg fees, which are on people who subscribe to cable. We have a couple cable providers here. They have to pay a fee. And basically that is a fee for right of way for the cable company to be able to offer this service to the residents within the city. So think of it as as rent for the cable company. That money goes to the cities, and then the cities can pay a Community Media Center, they can pay a la carte for things that they need related to communications, they can use that money however they see fit. So we are paid through peg fees. And then subsequently franchise fees, which is basically that rent from the cities. So they pay for the services they want, and basically nothing that they don't want. But it could be different in other other spaces. Some places that I've worked, all of the franchise fees go directly to the Community Media Center, and they bypass the city. But the ones that I've been in recently, it all is funneled through the city.
Kirsten Wyatt
And you're playing a role in those negotiations correct on franchise agreements, and service agreements in your capacity, which may be similar for other multi jurisdictional media centers, but maybe different for some local governments that are trying to do that on their own.
Dana Healy
Correct. Yes. So every few years, we have to negotiate with the cable company in a what we call Franchise License Agreement renegotiation. So essentially, we go to the cable company, and we tell them, our community needs X, Y, and Z related to cable related needs. And when they agree on that, then they can gain access to providing that cable service to the residents. And that's where that franchise fee is usually a percent based off of people's total cable bill. So my role in that is kind of helping with the negotiations. I work with the cities, and I work with the community media centers and gathering information from the community. So that's known as a community needs assessment, and getting a deeper understanding on what is the need of technology, communication, and cable related within our communities that, you know, the cable providers need to be prepared for in order to provide the service to our community members. What we don't want is, we don't want a cable provider to come into one of our cities, and to not provide a great experience for our residents. So that's our main function is to make sure that everybody has a beneficial experience, and the cities are paid for that access to the residents.
Kirsten Wyatt
Mm hmm. Mm hmm. Well, and one of my experiences has been that when you have a collective or you have a joint agreement between multiple communities, that negotiation gets easier, because again, that economies of scale. I know that in my prior local government life, a sole city tried to negotiate a cable franchise agreement. You know, they could just basically not return your calls. But when you were part of a collective of 8 or 10 cities that were part of a media center, you suddenly had a lot more room at the bargaining table. Is that, is that something that you're seeing? Is that something that occurs? And is that an added benefit to a center or a joint agreement?
Dana Healy
Absolutely. It's always better to have more, I guess, power behind your punch. So, we umm, but it's not necessarily a trend that I've seen is having Joint Powers authorities get bigger. Lately, I've seen them actually some cities go off on their own, to try to strike up a better deal. Ultimately, it's better to stay in a larger consortium. Because you do, you get more power when you're at that negotiation table.
Kirsten Wyatt
One thing that you mentioned when we first met was this, this idea that the people who work at Community Media centers have this legacy knowledge, people that have been working in this field, you know, for their whole careers. You have engineers who understand cable infrastructure, which is totally complex. And it seems again, that that's another example of this knowledge that you can't always hire for an every local government and so finding a way to capture that legacy knowledge is so critical if local governments want to maximize you know that these franchise fees that they're receiving and then the ways that they're spending that on community engagement and digital media.
Dana Healy
Absolutely. I, our station in particular, I think we have over 160 years of experience.
Kirsten Wyatt
Oh, wow!
Dana Healy
It's insane. These people have been here since the beginning of the Cable Act of 1984. So with that kind of legacy knowledge, you're seeing the the legal changes, you're seeing the technology changes, you're seeing the just the different city administrators and managers, that leadership turnover, and your community Media Center is, is just staunch, and like a pedestal, like really strongly  umm still within the same people. We are lifers. [Laughter] Community media people are lifers. You can't really get rid of us. Because it's, it's really, we believe so strongly in the service for our community, the community needs access to information, they need content about your community, especially since our local newspapers are now shuttering. We play a huge role in that, and people really stand by that. So yeah, so we stay in our jobs for quite a long time. [Laughter]
Kirsten Wyatt
Well, let's talk about that changing those changing trends in, in technology and services, and, and maybe starting with, what are you seeing, you know, when you're at the negotiation table with the cable companies? You know, is their business model changing because of streaming services versus cable versus, you know, high speed internet? And how does all of that play into the the fees that are collected? And then, you know, in return the way that you're engaging on the cable side of things?
Dana Healy
Yeah, no, that's a great question. And right now, the there are so many eye opening trends that have become more visible in just the last couple of years and COVID has just accelerated things. Related to, so cities are paid those franchise fees through cable subscriptions. As cable subscriptions get cut, those franchise fees are not also get cut, and the cities are getting less of that. Franchise fees do not include internet. So this is exclusively cable. And the language within the law is very ambiguous about that. But it especially since technology is changing, the cable wire is the same as your internet wire now. It's all on fiber. But for some reason, the the city doesn't get paid for internet, they only get paid for for cable. So that is a negative for our our cities on that. And related to cable subscriptions dropping, they're dropping rapidly. So they're there just isn't the penetration that there used to be. Because we're streaming things online, we have mobile phones that can do so much more. And people are just not engaged with appointment television on cable. So all of those over the top devices are now taking away from cable. So what that what is this doing? Ultimately, this is forcing community media centers to find different ways to bring in revenue, because they can't be 100% dependent on those franchise fees and peg fees. They have to find different ways to provide value and thus get paid to do that. And that's what CTVs model is, is our core services, our city meeting coverages webcasting video production. And we do social media coordination as well. And those earned income revenue streams are able to keep at let us make up for that loss in franchise fees. So that's one of the trends is that we call it the cable cable cutters, cable cutting and cable shaving.
Kirsten Wyatt
Mmm hmm. And what about on the on the use side? I mean, are you seeing because because people are streaming more and they want things on demand, are your local governments creating videos and then using YouTube or putting them on their website or on social media? Or are there other trends that you're seeing that have been effective as local government tries to reach out to cable cutters?
Dana Healy
Yeah, no, those are great questions. Um, the biggest success that I've really seen is the webcasting in townhall forums. So long form webcasting on multiple social media channels has been so successful, people are craving this in a an age of when soundbites are king, like everything is quick, quick, quick, the amount of people that we see engaging in our long form meetings has been so eye opening, I and I, I would have never, ever thought that would be the case. Because I'm all about quick social, if you can say it in five words then don't say it in 10. [Laughter] But I think it's the the access information. People want to know the nuances right now. They want to know the tone that our local leaders are sending out. So I thought that was really, really eye opening. Our website engagement is up like 50% than last time because we web stream live from our website, our social media is through the roof. So people are just online craving content about their local government.
Kirsten Wyatt
And it seems like some of that comes from the fact that we've basically been forced into, you know, consuming that information from our homes, you know, on our own time, because we can't go to meetings, and we can't be out in public places right now. And you know, I've definitely heard from people working in other sectors of local government that engagement in council meetings is up and participation in planning hearings is up, because people are finally able to like sit at home and have that engagement. And it sounds like you know, some of these forums that you're producing, are allowing that to happen. And that's, you know, potentially even bringing more diverse voices in to hearings and town halls and things that maybe previously were only attended in person on you know, like a Tuesday night during dinner time.
Dana Healy
So Kirsten, that brings like a such a good point is bringing the more diverse voices in. This is so essential right now. So I'm from an immigrant family, my parents are from Portugal. And when they received news and updates from the government, they always relied on a neighbor that would translate the headlines for them. So I've firsthand seen how immigrants get our get sound bytes of information if that. In in Minnesota, we have approximately half a million people that speak a language other than English. So one thing that we started doing was we started working with TPT Now, in translating long form meetings of our governor addresses in Spanish, Somali and Mung. Yeah, so we're doing that live. And it is incredible. It's incredible to see these new audiences. It's incredible the feedback that the thank you's that we're getting, for things that English speakers I, me, as an English speaker, take completely for granted to have access to an unencumbered meeting in my native language. So that's something that I hope our governments will look deeply into, is the translation into a long form meetings, because with sound bites and graphics yeah, we can push that that content out. But they're not seeing the nuances of what our leadership is delivering to us. And that's what comes in those long form meetings.
Kirsten Wyatt
Right. Share with us some of the misconceptions, or maybe maybe those aha moments that people that local governments have, once they start working with you, or some misconceptions that you clear up, like, are there things that people bring to the table? And then they realize, oh, my goodness, you know, this is so much more than I thought. And, you know, what are some of those things that that our listeners might be thinking that we just want to kind of, you know, clear out of their heads.
Dana Healy
So, there's quite a few misconceptions about Community Media. So traditional Community Media models, is when community members can come in, they get trained up on equipment, they go out, they create their own content. And that's the content that you see on the channels. That's still a very common model out there. So what the  what people see is basically amateur productions done on the channels, but now these people have access to create content and learn. But the truth is, is the the staff that's in charge of these stations are total professionals in the content that they create. Like this, this stuff is not it shouldn't be graded on the same level, as a community member coming in to learn a new hobby. But rather than these are storytellers, equipped with professional equipment, that can really be an asset to your your city related to your communication needs.
Kirsten Wyatt
Such a great point because it's, it's not the same as just taking your iPhone out and walking around a park. And, you know, throwing it up on social media and thinking that that's going to engage your community member about the new trail you're building or the new playground. I mean, there's something to be said about the the artistic ability of someone that's worked in this field, versus trying to just do it yourself with your phone.
Dana Healy
Absolutely. And I'm not discouraging people to you should definitely take your phone out and make some video content. Video is king right now. [Laughter] That's always encouraged. But if you need to make, if you need to convince a auditorium of people, or a bunch of people watching your meeting, why you need to spend $500,000 on a new playground, you should have a video production that explains that concisely, professionally, you're not going to get that same kind of reaction from your iPhone video. So there's different tools for different things similar to you know, spoons and cake.
Kirsten Wyatt
Right. Very good point. [Laughter] Well, and your motto is don't make videos, make an impact. And I think that really, you know, sums up the work that you and other people that work in Community Media Centers do.
Dana Healy
Absolutely, it's more than just video. You're you're pulling together the community, you're engaging the community, you're telling the story of what you want the community to do, like, what is that? That's and that's something my government friends out there, you are doing so much wonderful work, you need to tell people about it, you need to have that video support, you need to have that storytelling support to let people know all those incredible successes. So when you do go for new tax levies, then you have that to help you.
Kirsten Wyatt
Mm hmm, absolutely. Well, before we get to our last question, I want us to both share the great news about the fact that this podcast episode is going to start a new content series that you're going to be producing with us on how to have a really successful and effective relationship with Community Media Centers. So can you share with us some of the different topics you're going to be covering on elgl.org?
Dana Healy
Yeah. I'm so excited to be able to work with you on this content. We're really going to be focusing on how to, the how to's to foster relationships with your Community Media Center, the why's, citing specific case studies from around the country of successes between the cities and their Community Media Center, and just really digging deep into that into that content. And hopefully, our cities will be better equipped by partnering with these wonderful organizations.
Kirsten Wyatt
Well, I'm just really excited too, to not only get the expertise from your experience, but then also to hear from our members for them to share the videos that they've created with their community media centers. And, and you know, send us links to, you know, your Mayor's State of the City that you produced, you know, even 10 times better than it would have been if you hadn't worked with a video center. And so I think this is going to be a great way too to highlight the wonderful work that is being done. And I think sometimes that can remind everyone else of the ideas and the possibility that's out there.
Dana Healy
Absolutely. I'm really looking forward to seeing all that content as well.
Kirsten Wyatt
All right, so our last question. If you could be the GovLove DJ, what song would you pick as our exit music for this episode?
Dana Healy
I would pick the Eagles Take it Easy, so people are reminded to be kind to themselves right now and take it easy a little bit.
Kirsten Wyatt
That is a great message. And I think you also could take it as, like, don't rip your hair out trying to become a video producer at your desk. Call your Community Media Center. They'll make it easy. Because they're experts. [Laughter]
Dana Healy
Exactly. That's awesome.
Kirsten Wyatt
All right. So this ends our episode for today. I want to thank you for coming on and talking with me.
Dana Healy
Thank you so much. This has been great.
Kirsten Wyatt
GovLove is produced by a rotating cast of awesome ELGL volunteers. ELGL is the Engaging Local Government Leaders network. We're a social startup with the mission of engaging the brightest minds in local governments. For our listeners, you can reach us at elgl.org/govlove or on Twitter at @govlovepodcast. And if you have a story idea for GovLove, we want to hear it. Send us a message on Twitter or email [email protected] Thank you for listening. This has been GovLove, a podcast about local government.