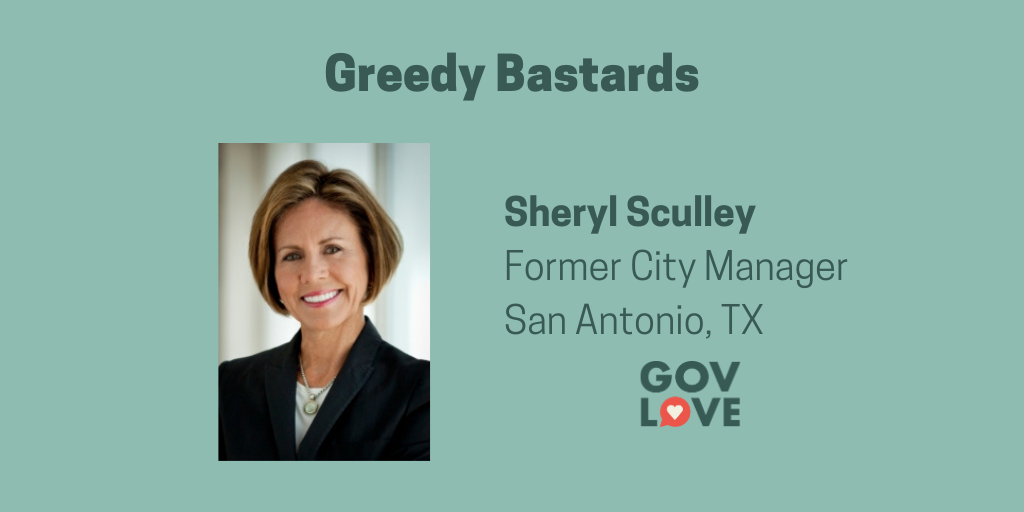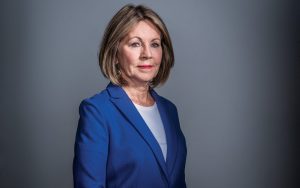 Sheryl Sculley
Former City Manager
City of San Antonio, Texas
Bio
---
A Texas-sized struggle to avoid financial crisis. Sheryl Sculley, former City Manager for the City of San Antonito, Texas, joined the podcast to discuss her book Greedy Bastards, which tells the story of her time leading San Antonio and dealing with financial challenges. Sculley was at the center of renegotiating public union safety contracts, which if not changed, would have bankrupted the City. She also talked about her career path and leadership style.
Host: Kirsten Wyatt
---
---
Learn More
Greedy Bastards: Sheryl Sculley finally has her say
What Sheryl Sculley Learned while Battling San Antiono's Police and Fire Unions
A Call for Innovation in San Antonio 
Former City Manager Opens Up about Fights with San Antonio Police, Fire Unions
Former San Antonio city manager to release pull-no-punches book, 'Greedy Bastards'
---
Episode Transcript
Message
This is Brian Murphy, ELGL's Data Manager. The ELGL Diversity Dashboard is the first national data collection on the gender, race and age of local government leadership. We're excited to launch our third full year of data collection. This year, we're expanding our collection to include all levels of local government positions, not just Chief Administrative Officers, in an effort to get a better understanding of diversity across a wider variety of local government positions. This year's survey is looking for responses from local government leaders working in many different positions. We look forward to hearing from department heads, project managers, analysts and others as we hope to get data on the diversity of local government leadership. You can find more information on the survey and a link to respond at elgl.org/diversity-dashboard. We hope you'll respond and follow the data as we work to make local government more diverse.
Kirsten Wyatt
Coming to you from Portland, Oregon, this is GovLove, a podcast about local government. GovLove is produced by ELGL, the Engaging Local Government Leaders network. We engage the brightest minds in local government. I'm Kirsten Wyatt, the ELGL co-founder and executive director, and today I'm joined by Sheryl Sculley, the author of Greedy Bastards and the former City Manager of San Antonio, Texas. Sheryl, welcome to GovLove.
Sheryl Sculley
Thank you, Kirsten, I'm happy to be a part of your program today.
Kirsten Wyatt
Today, we're talking about Sheryl's local government career and her new book. But first, we'll get started with a lightning round. What is your most controversial non political opinion?
Sheryl Sculley
Hmm. Well, I'm not a fan of the Dallas Cowboys, which may sound Whoo, living here in Texas.
Kirsten Wyatt
Wow. Okay. Are you a fan of any Texas football team? Or are you more of an Arizona Cardinals fan?
Sheryl Sculley
Well, actually, I'm not much of a professional football fan, but I do love college football. And, I'm a Texas Longhorn fan.
Kirsten Wyatt
And I'm sure that goes over quite well.
Sheryl Sculley
Oh, that's, that's very popular. Here in this part of Texas for sure.
Kirsten Wyatt
And what was your most memorable vacation? And why was it memorable to you?
Sheryl Sculley
Oh, gosh. We've had the privilege to do a bit of traveling over the years. My husband and I traveled with friends, and sailed in the British Virgin Islands, and one of our very favorite vacations. We island hopped for more than a week in …. and very beautiful and relaxing.
Kirsten Wyatt
That sounds absolutely wonderful. Especially the idea of island hopping now that we're all just staying put sounds especially glamorous.
Sheryl Sculley
Yes, it does.
Kirsten Wyatt
And then what food do most people enjoy that you do not?
Sheryl Sculley
Well, I don't know about most people, perhaps a lot of men enjoy barbecue wings. I am just not a fan of chicken wings. Too much. Too much skin and too many calories. [Laughter]
Kirsten Wyatt
Is it like the messiness and the bone too? Or is it just the like?
Sheryl Sculley
Yeah, but I think it's the messiness also, besides the lack of true protein without a lot of extras to go with it.
Kirsten Wyatt
Exactly. All right. So before we begin the interview, I have some exciting news for GovLove listeners. ELGL, has six signed copies of Sheryl's book, Greedy Bastards. And we're giving them away to our members. You can head over to elgl.org to enter a raffle for one of the books. And we just ask that if you're a winner, you agree to write an article with your takeaways from the book that we can share on elgl.org. And we'll publish those in December and January. And also save the date, buy her book and then read the book because Sheryl will join us at our January 21st 2021 book club to talk about the book. And you can RSVP for that and for the zoom link at elgl.org. And so with those announcements out of the way, let's get started. Sheryl, tell us about your career path.
Sheryl Sculley
My career path really is in 3d 15 year approximately 15 year chunks of time. I began my career fresh out of college out of undergraduate school in Kalamazoo, Michigan, where my husband is from. We met in college in Indiana in at Ball State University and I took a job with the City of Kalamazoo, Michigan to hold me over until I could find what I really wanted to do. And I ended up working for that city a total of 15 years, the first moving up within the organization, I started as a research writer, then an assistant to the city manager, Deputy City Manager, and then I competed for the city manager's position and served as city manager there for five years, a total of 15 years. Then I was recruited to Phoenix, Arizona as a Deputy City Manager. I served as the number two person in that organization for 16 years working with Marvin Andrews at first and Frank Fairbanks for 15 years of that that time frame. Had a wonderful experience in Phoenix. People asked me at the time, why would you go from being a city manager to a deputy city manager. But Phoenix was nearly 10 times larger than Kalamazoo, which at the time was 85,000 in population, and I wanted a bigger city experience. Phoenix was considered one of the best managed cities in the country. And it was a growth environment. I had grown up in the Chicago area, worked in Michigan, the rust belt, cutback management was all that I knew. I wanted a growth environment experience, and I had that 10 times over when, when working in Phoenix, Arizona. It was a great experience. And then I wasn't looking. But I was recruited to San Antonio, a search firm contacted me. And I did end up turning down the job the first time it was offered to me after interviewing twice in San Antonio. And then a few months later, a new mayor was elected. He contacted me and convinced me to come to Texas, and I was I served as City Manager in San Antonio for 14 years.
Kirsten Wyatt
And you had a interesting period, or an interesting outreach from a very prominent community member when they were trying to recruit you down to San Antonio. Can you tell us more about that?
Sheryl Sculley
Yeah, that was a fun experience. After I turned down the job the first time, I was still getting calls from San Antonio about their election and asking me to come to San Antonio, and I wasn't answering those calls, but a man by the name of Redmond Holmes was calling and leaving messages. And finally, after several attempts to try to reach me, his assistant emailed me and said Red really wants to talk with you. So I thought well, gosh, this this man has called me several times. Out of courtesy I need to call him back and let him know that I'm staying in Phoenix but thank him for calling. So I I did call him. He was trying to be very persuasive. I was in somewhat of a hurry going off to another lunch meeting and so I cut the cut the call short. And when I went home that night, I asked my husband if he recalled anyone by the name of Redmond Holmes ….had been to San Antonio for the second set of interviews. My husband kind of looked at me in with a puzzled look and said Redmond Holmes called you like, oh, maybe I'm in trouble here. He reminded me who Redmond Holmes was. Our daughter at the time was a sophomore at the University of Texas and he got her on the phone. And she asked me if I recall touring the McCombs College of Business at the University of Texas in Austin. And at that point, and told her that I knew the name sounded familiar. I just hadn't put it in context. So when I eventually met Red, when I did accept the city manager's position in San Antonio, we, we both had a good laugh about that experience. He was quite humbled [laughter] by that telephone call, but we became friends. And he gave me lots of input over my career here in San Antonio.
Kirsten Wyatt
And taking us back to that period of time, you know, when you were getting phone calls from prominent people, and they weren't really courting you and trying to get you to come there. Talk to us about the decision making process that you made, you know, for that job, or even for the Phoenix job. You know, how do you or how did you weigh different career options and, and how did you figure out you know, yes, this is the right fit for me. I'm going to take that leap.
Sheryl Sculley
Well, timing for me is a first consideration. Timing in terms of my career, my family, what's going on, with my husband, my children and I, my parents. And so I took all of those things into consideration. When we moved from Kalamazoo, Michigan to Phoenix, our children were only one and two years old. They were preschool age. And we decided that if we were going to make a move, a dramatic move as it was across the country, that we would do it before the kids were in school, and so that it would minimally disrupt our lives It actually was quite difficult because we moved across the country without any family support My husband quit his job as an assistant athletic director at a college. But it was, it turned out to be a great experience. But it was a timing issue for us. And I believe that just that ounce of separation from being the city manager to a deputy city manager gave me slightly more flexibility. I did work a tremendous amount of hours and have heavy responsibility. It gave me a chance to have a little bit more control over my my schedule than when I was a manager. So that timing was important. And when I was recruited to to San Antonio, our kids were already going off to college, our daughter was in college, our son was graduating, he was a senior in high school and going off to school in California. So we didn't have to stay in Phoenix. So it became, you know, a timing issue that the time was right. I also studied the city extensively. Data about performance, I interviewed the prior city managers and several business people. I got to know the council members. I even interviewed the executive staff, so that I assess the top talent to see what kind of challenge I would be facing when I came to San Antonio. So I did an extensive amount of research before I came to the city.
Kirsten Wyatt
And then going way back to when you were first starting in local government, and, you know, you mentioned that it wasn't, you weren't the type of person that took that first job, you know, with your eye on that city manager seat. You know, how did you make that pivot? And how did you make that move maybe away from your early interest in journalism or communications and then you know what, what piqued your interest to say, okay, city management is the path for me?
Sheryl Sculley
In college, I majored in journalism and minored in political science. Growing up in the Chicago area, I really wanted to work downtown Chicago as a political reporter. That was a, that was what I thought I wanted to do. And when I graduated from college, and married my husband, we moved to Kalamazoo, Michigan, and I, I took a job with the City of Kalamazoo as a research writer, completing a documentary on their public private partnership with the Inland Steel Development Corporation to construct their convention center. And I did that work, they liked it, they gave me some other things to do. And I realized that I enjoyed doing the work more than reporting on the work. And then, as I was recruited to the city manager's office to work on special projects and take on greater responsibility, I went to graduate school while I was working, earned a Master's in Public Administration, and stayed in city management my entire career.
Kirsten Wyatt
When you arrived in San Antonio, it was an organization that was in need of almost immediate leadership and management and some complete overhauls of different systems. Tell us about that.
Sheryl Sculley
The city council was looking for a seasoned city manager to really undertake a turnaround for the organization. They were looking for someone to help them improve the professionalism of city government and to assess talent, to improve the financial position of the city, to undertake big bond programs similar to what I had worked on in Phoenix, Arizona. And they really in some were looking for a change agent. And I found that it wasn't that there were bad people or but rather that some people as Jim Collins would say, the author of Good to Great great by choice. People weren't in the right seats. I did find an organization that about one third of the executive level positions were vacant or had interim people serving in those capacities. We're a large organization with 13,000 employees, and a budget of nearly $3 billion in annual operating and capital budget. And it's a complicated, diverse Municipal Corporation, a company of companies It's large and very complicated, in a highly political environment as a major city. So they were looking for a tremendous amount of change. And I believed I was up for the task, and leaned in to take on that challenge. It was quite an undertaking. And we did over time, replace all of the city department heads, more than once, and I replaced all the deputy and assistant city managers as well. So there was a tremendous amount of work to do in terms of talent recruitment, but I have to say that I'm extremely proud of the team that we assembled and that I leave behind. And I'm proudest that all six of my deputy and assistant managers, applying for my position, any one of them could have done the job. And they selected one of my deputies as my successor. And that wasn't the case, when I came to San Antonio. In fact, the council back in 2005, did not even consider anyone from within the city organization. They wanted someone from the outside. So I knew that my work was very much cut out for me when I came here, because they were looking for a tremendous amount of change.
Kirsten Wyatt
How would you describe your management style? And how did you motivate people to try new things and push through and reform systems and processes, when you first when you first took charge as city manager?
Sheryl Sculley
I would describe my management style as adaptive. I take time to listen to my team to gather input, to have them participate in the decision making. But in a crisis situation, or in an emergency, I'm quick to take charge and make the decisions and give instruction as to how we need to go forward. In the end, the buck stops with the city manager. And so you have to be prepared and willing to take on that decision making. And I don't shy away from that. I I'm very strong about how I approach what needs to be done. But I also want to involve others in that decision making. And even in taking on some of the biggest challenges that we did in San Antonio, I didn't do that in isolation, but rather talked with my team about how we might approach taking on some of the biggest challenges like the public safety union contracts. And together, we decided that we would, we would move forward in that direction. How to motivate employees to try new things, I think through a reward system, and you have to be a manager that isn't afraid to let your team fail at something as long as they learn from any mistakes or something that fell short, and they don't make the same mistake again.
Kirsten Wyatt
And when it comes to leadership being different than management, what have you done in your career to cultivate or showcase your leadership style or how you inspire others to follow you and to to get on your bus?
Sheryl Sculley
Well, I, I lead by example. I spend a tremendous amount of time with my executive leadership team. And we developed a number of programs to also help our executives be stronger leaders within their areas of discipline throughout the organization. I believe I demonstrate courage, I am calculating in what we take on and how we go about the big challenges. But it also helps to sharpen your skill set and to learn from others who are doing it well. And so one of the first things I did when I joined the organization, because there wasn't a deep bench, I had to do a substantial amount of recruiting from outside the City of San Antonio. And we put in place an executive leadership training program, where we hired coaches to work with executive staff about a dozen each year to help them hone their skills on how to be better leaders within their departments and throughout the organization. We also put together a First Line Supervisory Academy so that we could help those who were promoted to a leadership role in a small workgroup on how to be effective how to how to handle personnel evaluations, and discipline and project management. Because many times people get promoted because they're the best worker in the work group, but don't necessarily have the skills to manage or to lead a team. And then we also put together a Management Academy, so that mid managers in the organization had an opportunity to learn more about other city departments, and also understand the overall picture of what we were trying to accomplish for the city. So lots of programs to help others within the organization learn how to be better at what they do when stronger leaders within the organization. And one of the things I'm proudest about is the women's leadership management program and mentoring program, because we were able to also help women in the organization who may have felt like they were the only person that may have childcare issues, or a spouse that isn't especially supportive, or trying to figure out how to finish their master's degree while raising a family and working full time. So that program also has been very helpful to us. So having these kinds of training sessions that help the employees and the managers and leaders within the organization be better at what they do.
Kirsten Wyatt
To be sure, the alumni list of people who have worked for you are kind of like the who's who in local government city management these days. And it was evident that you lifted people up and let them go if they needed to, to grow their careers. So talk to us about that style of building up leaders knowing that maybe they were going to go to Tacoma or Johnson County or, you know, other organizations that that needed their talents and abilities.
Sheryl Sculley
Well, I'm, I'm always sad when top performers want to leave the organization. But in both of those cases, you've cited TC Broadnax, who is now the City Manager in Dallas. I recruited him to San Antonio, early in my career in in San Antonio from I think I recruited him from Florida at the time. And he he came to me after about five years and said, I'd like to be a city manager. And I told him I wasn't going anywhere quite yet. That he had an opportunity with Tacoma, Washington, would I of course, support him in that endeavor. And I did. I didn't want to see him go. And I always tell the employees that are high performers, I want you to stay, I value your work. But I don't want to hold you back. And there's only one city manager in each city. And so TC did go there. And then of course, after about five years there, he called me and said, Hey, a search firm has contacted me about Dallas, what do you think? And I said, go for it. And I'll help you in any way that I can and gave him an outstanding reference there. So he's there now. Penny Postoak Ferguson, I also recruited to San Antonio early in my tenure as an assistant city manager like T C Broadnax. And she worked here for same, about five or six years and decided she wanted to go back to her home area where her parents were living. She had her first child when she was working as an assistant city manager here in San Antonio, and was looking for more family support. I didn't want her to leave. But I also knew that this would be a great opportunity for her and she's now the county manager in Johnson County. And others of my staff, Peter Zanoni who was one of my deputy city managers is now city manager in Corpus Christi and other managers that have worked in our city manager's office in San Antonio are in other places in Texas as well. So I'm proud of that. And we all want our our staff to succeed. And this is tough business and it's good if you've had strong training and experiences that you can move on and use those skills well and I'm very proud of Eric Walsh, my successor here in San Antonio, as well as TC and Penny and Peter and the others who are working in city manager positions.
Kirsten Wyatt
And you mentioned the the leadership program leadership development for women in local government. For any of our listeners who are hearing that, and they're saying, I want to do that in my organization, how would you recommend they take that first step to building that succession or pipeline program in their own agency?
Sheryl Sculley
Yes, we, we initiated that program, gosh, more than five years ago, I think it's in its seventh or eighth year now. And it's a women's leadership mentoring program. And it is handled, managed by the our human resources department, but it has to have strong city manager support, and for it to be successful So if someone wants to develop the program, we have been highlighted and received an award from ICMA for this program a couple of years ago. And Gloria Hurtado, one of my assistant city managers at the time, helped in initiating this program. We first of all designed a format that we team or pair up a junior female member of the city organization with a senior female executive. And it's a year long program. There is a mentoring component where the junior and senior member will meet at least monthly, sometimes more often than that stay in contact with one another. And we also have a speaker's program where we bring in outside speakers, primarily female executives from both the public and private sector, to guest lecture to the group. And each year, there are about 30 women in the program. And they divide into teams and work on a project together on how to solve a city issue. It gives them a chance to meet other women in the organization that are in similar types of roles within the city working on projects that they might not encounter, working in their large departments. And also a chance to work on solving a challenge that we may have as a as a community by working together or an organizational issue. So I think starting with the HR department for support, and then making sure that the city manager is supportive and involved because if there isn't support at the top, it will be hard for the program to be effective. I'm proud to say that we've been able to retain more women within the organization as a result of the program. And a majority of the women who have gone through the program have competed for promotions within the organizations within our organization and have achieved that. So it's it's been highly effective. And I think a high majority of the women would say it was very worthwhile for them.
Kirsten Wyatt
Let's shift gears and talk about the book. Let's talk about Greedy Bastards. Tell us about writing it. Why did you decide to write it and tell us about that process?
Sheryl Sculley
Well, the book Greedy Bastards, the subtitle is One City's Texas-size Struggle to Avoid A Financial Crisis, is the story of my San Antonio experience and what prepared me for it. The title was inspired by the police union president. I can't take credit for the title entirely [laughter]. But it does reflect the hardball experience of taking on the powerful police and fire unions to remodel their public safety contracts. And it was a tough experience in analyzing the organization and what changes needed to be made. I uncovered these at the time 25 year old contracts that had been put in place back in 1988. And they were destined to bankrupt the city as soon as 2024. But clearly by 2030. Not during my tenure. But I didn't want to leave that financial legacy having worked so hard with our, to build a team and to improve local government in San Antonio. So I decided to take it on. I thought it would take a couple of years. I knew it would be tough. I talked with my team about whether or not we were up for the challenge. And we all shook hands, had our hands in the huddle and said let's do it. And it ended up taking six years but we were successful in the process. And just during the five years of the current contracts for police and fire we've saved the city more than $150 million in the changes we made, remodeling the healthcare formulas. So it was well worth it. But it took a lot longer. And there was a personal price to pay because it was a very vicious and personal process. The union attacked me throughout as well as the council members and mayor's who supported what I was doing.
Kirsten Wyatt
Was writing it cathartic? I mean, did you, did it feel helpful to revisit and and to share the facts of the story? Or was it painful?
Sheryl Sculley
Yes, I'm glad you use the word cathartic. It was, it was somewhat of a therapy for me. That year, I started writing it a year ago summer, shortly after I retired in the spring of 2019. And send it off to proofreading in March, just as COVID became a big issue here in the US. But it was, it was a good process. I had kept a lot of notes over time, over the years. And it took about six years to get to conclusion on that side project of mine taking on union contracts. But it was it was important. And I view the book as a history lesson for those in San Antonio, because for all the media attention that this issue received, and there were front page stories regularly, the union spent hundreds of thousands of dollars on TV ads against me as though I were running for elected office. Kind of like the ads we're seeing on national television now in the presidential election. And that was pretty difficult to watch all of that. But we took the high road. I told my staff, we're not going to get in the gutter, and sling mud. We're going to stay focused on the issue at hand. And I knew that if we stayed true to our core core mission, which was a data driven, honest, transparent process, at least I believed we could come to some consensus on the kinds of change that was needed. These contracts there, I was mistaken, the union's just dug their heels in and didn't want change. They they thought that what they were able to get back in 1988 in those contracts would stay in place forever. And they were determined to make that happen. But as it turns out, we all can learn, change and improve. And with the changes that we did make, we've saved the city a tremendous amount of money. I've talked with Eric recently about COVID, the impact financially on the budget, we had a more than $200 million dollar impact in San Antonio due to COVID. And I reminded them, good thing we took on the unions and save that $150 million in health care. It wasn't even more impactful to the city. So it was a it was a tough process. But it was very worthwhile.
Kirsten Wyatt
What has been the reaction to the book, you know, both from the local government community, but then also from the unions?
Sheryl Sculley
I haven't heard much from the unions, knock on wood. [Laughter] But, you know, the book is more timely today than it was when I started writing it a year ago, given COVID the changes in policing that are now being discussed across the country. The book was originally published in May of this year. And I had to make the decision in mid April as to whether or not to go forward with the publication in May. And I declined to do that. And wrote an email to my publisher and project manager explaining why I thought we needed to delay. It was that the first round of COVID intensity. Everyone was focused on on COVID and those serving us in essential positions as they as we all should be. And I wanted to be able to do public speaking, media interviews, in person book signings, and I knew that wasn't going to be possible in May. …. and they convinced me that I should convert that email that I sent them into a letter from the author to the reader, which I did include at the front of the book, as you know, since you've read it, and it explains what I was thinking at the time. But after the George Floyd killing Memorial weekend and the protests that began in early August and the upsurge in COVID activity, it became obvious pretty quickly that we weren't going to be back to any kind of in person normal normalcy by September. And I believed that the subject was even more timely to put out there, because there are still things that need to change in our police union contracts that we weren't able to get when we mediated a settlement in the summer of 2016, specifically related to police accountability. So I rushed to get it out in early August ahead of the RNC and DNC conventions that I knew would get a lot of attention and the community response, I've been overwhelmed with how positive it has been. Most people have said, I had no idea what was going on behind the scenes, we only saw the headlines of what was reported in a sensational way. And the community has been very grateful and, and receptive to the book. People love the title. A lot of good feedback about that. I have to say, I've done more than 50 media interviews, podcasts, as well as virtual events for business and nonprofit organizations, since the book launched in August, and they're still scheduled through October, November, into February, actually. So it's been well received. And people are appreciating having the facts about why we took on this challenge. And what we did. The only feedback I've had from the unions came from someone within the police department who said that the union wasn't too happy about the timing of my book. So I guess the timing was, was excellent. [Laughter]
Kirsten Wyatt
Well, I have called you the John Grisham of public administration books because the book is so compelling. I mean, you read it and you keep, it's not that you're sitting there and you're just, you know, reading facts about about this, you know, this conflict or this negotiation, but it keeps, you're turning the page, because there's such a human element. And that human element, often was how you were being treated. And there were these incredibly negative, targeted attacks against you and your leadership. So talk to us about how, you know, I read it on a page, and it was it was stunning. You lived it. So tell us how you made it through that time. And what got you through when you would see these ads and this negativity directed at you?
Sheryl Sculley
Well, when the first TV ads came out, I remember it was a Friday evening. And I received a call from a CEO here in the community, who was mortified, and said, oh, my gosh, have you seen these ads, they're terrible. We're going to have to put money together and run ads to counter this. And I remembered saying at the time, of course, this was early in the process. I didn't know at that point that this was going to go on for several years. But I said, you know, that's money, good money after bad. Let's stay focused on what we're trying to accomplish. Let's ignore it. Don't look at it. I'm not looking at it. You shouldn't look at it. And I had an understanding with my staff that they weren't to bring me every article, every TV ad, every social media post that was negative. But rather, if there were one or two that I especially needed to see that they could, they should show it to me, but not that they should show me everyone. And the reason I took that approach was that I was still running the entire city organization. This was a project that I had taken on, in addition to the regular duties and responsibilities to change these contracts. And I had to keep my head on straight. I wanted to stay motivated. I didn't want to be brought down by all of that. I will say it was hurtful, what they did. It was a negative experience. For certain my family knows that better than others. But I had to put on a very good front and stay strong throughout the process. And I believe that I did that. But it was it was a tough process. There is no question about it. They were very difficult. In fact, they have a handbook that's written that was written by the police unions chief negotiator. The book is entitled Police Union Power, Politics and Conflict In the 21st Century. There's chapters in there that talk about how to fight City Hall, how specifically to fight city managers, elected officials that try to change their union contracts, act bond programs or initiatives that are proposed by mayors and councils or city managers and worked very hard at putting someone in the crosshairs and keeping them there. Unfortunately, it was me in process. But the mayor asked me to be out front on the issue and said he would keep the votes together. And I had support. I worked with four different mayors during my tenure as city manager. They all supported me and what I was doing as did the city council's. I think they were all just glad it wasn't them. The Union was was picking on …. the union did pick on some of them, don't get me wrong, but they were very focused on me because they believed that I was driving the issue. And I was leading the effort, there was no question about that.
Kirsten Wyatt
You write about the three B words, which we will not say on this family focused podcast. Would a male city manager have faced that same aggression and negativity from the unions? Or would they have just used different words?
Sheryl Sculley
No, they would not have done this to a man, especially a man who was from San Antonio. There's no doubt in my mind. And if you think about it, think about the public safety departments. They are predominantly male. It's a very quasi military organization, they deal with a lot of conflict. In fact, when I came to San Antonio, the Department of Justice was looking into, was investigating San Antonio, because there were so few women within the police department, and the new city attorney at the time, and I convinced them that give us a chance, we are new female city manager, new city attorney, new mayor and council give us a chance to make improvements. So we went from about 3% female within the police department to more than 10% by the time I left. But there were there were still lots of issues that I think were very sexist and how they approached dealing with me. So no, I don't think they would have done what they did to me, to a man, no question about it from my standpoint.
Kirsten Wyatt
If you could go back in time and tell your 30-35 year old self, you know what to expect, in the final, you know, two to five years of your career, what would you have said and what might you have encouraged yourself to have learned or do differently to prepare?
Sheryl Sculley
Well, I subscribe to a saying I think that's been attributed to Eleanor Roosevelt, do the thing you think you cannot do. You have to be very prepared. I'm a very data driven individual and like Jim Collins says, you have to confront the brutal facts. You have to know what it is that you're dealing with and be overly prepared. I don't think I could have predicted taking this on, although I will say that I believe that my background enabled me to do it. I began my career in Michigan, one of the toughest labor states in the country. And worked there for 15 years were all the employees were members of unions, and in a closed shop. Only my department heads were not union members. And I also come from a union family. My dad was a union member and a union leader, went on strike three times. I'm the oldest of seven children. So I understand that side of things. And of course, with unions in the public sector in in Phoenix as well. Here in Texas, it's a right to work state, as is Arizona, so there isn't as much familiarity with with unions and what collective bargaining means. But I think that if I were recommending to myself, it would be to always do what's in the best interest of the city in the end. That's why we're here. We're trying to improve communities. So if you have the data, you have the support of the mayor and council because that's as essential. I couldn't have gone forward with the changes that we made without having mayor and council support, but also to build community support. And with that, I think that you, you can achieve the kinds of changes that you need. And as long as it's in the best interest of the city. So there isn't a whole lot I think I could have done differently other than to have a more formalized communication plan. Because it, as I took on this challenge, it was during the rise of social media, very difficult to combat and keep chat, keep track of what was happening through social media, and prepare, how to respond in those instances. It was very overwhelming.
Kirsten Wyatt
Looking into the future, what I took from the book was that the the things that you were doing in San Antonio, standing up to the union's, equalizing contracts between public safety and the rest of staff, controlling those runaway benefits cost, all of these things seem to fit into this bucket of defunding police, knowing that that movement isn't calling for, you know, for us to get rid of police, but it's a budget reallocation or an adjustment. Do you agree with that? I mean, is is this are these types of reforms and negotiations, part of realigning budget back to reflect city services?
Sheryl Sculley
Yes, I think so. I didn't view it in the sense of defunding the police department at the time. I was trying to avoid a financial crisis to be quite…. But, yeah, it would fall into that. And as you said, we aren't going to do away with police departments. Its core business of a local government. Public safety is important. And as you know, I dedicate the book to our first responders who keep us safe, as well as to the community. It's dedicated to the residents of San Antonio. But we can adjust what we do. And I think that most cities will now take a look at excessive contracts. They were certainly excessive here in San Antonio, excessive by any metric. But they'll also take a look at, for example, mental health issues. Are police officers truly equipped to be able to deal with the mental health challenges out in every community, especially big cities? And so I know that here in San Antonio, that analysis has begun. And Eric Walsh, my successor, and María Villagómez, Deputy city manager, are looking at that now and will be analyzing all of the things that we have asked our police and fire personnel to take on for the communities, to address all the social ills of a community and respond to those. Maybe they aren't the best equipped to be doing that. But what goes hand in hand with that is police accountability. There are more changes that are needed in the public safety contracts here in San Antonio, to make our police officers more accountable and to give the chief the authority that he needs to get rid of bad cops, and I'll quote our police chief, he was one of the first people I hired when I came to San Antonio, William McManus. And he has said several times bad cops don't need arbitration. They don't need that kind of protection. And so I think there are many changes that will be happening. And my book is very timely for that, for that reason, because it houses many of those components that are being discussed at a national level today.
Kirsten Wyatt
You have built an incredible team that has succeeded you. And it sounds like any one of them could have stepped into that city manager's role and they're they're still working for the city today. Looking further ahead, will San Antonio, local government leadership suffer because of the salary and 10 year cap from the ballot measure that was approved? And is that going to affect recruitment and retention, looking ahead?
Sheryl Sculley
I think time will tell. You know Eric Walsh is my successor. He was hired and appointed from within the organization and yes, I think any one of my six deputy and assistant managers could have done the job. But it long term. Yes, I think so. It's it's hard. This is a major corporation as I said, $3 billion annual budget, 13,000 employees, 40 different departments. And in addition to that, in San Antonio, we also own the energy company. So CPS Energy is a municipally owned utility. It has a separate board and a CEO and employees that are not city employees. But the City of San Antonio owns it and has rate authority over it, as well as debt financing authority. And so I have charter responsibility as the city manager to analyze their rates that they're requesting because the mayor and city council serve as the Public Utility Commission, so to speak. They have to approve any rate request. We also earn 14% of gross revenue from that utility company, which in today's world is approximately $400 million annually into the city's budget. And our property tax rate would be much higher, but for owning that utility, owning utilities, and we're vertically integrated utility. We do coal, gas, green technology, we own two nuclear reactors, here in Texas. So we have nuclear power to diversified power source for the community, but it enables us to have some of the lowest electric rates in the state, all very complicated. As we thought about expanding nuclear power, about 10 years ago, I know I was spending more time in CPS board meetings than I was in city council meetings, …., because it was such a complicated subject. So this is a complicated Chief Executive Officer position as city manager of a major city. And I'm a total proponent of professional management, the best managed cities in the country, in the world are professionally managed, have the best bond ratings. We were able, during my tenure to achieve the AAA bond rating in San Antonio and have held that status for more than 10 years. So I, I believe in professional management. And I think capping the tenure and the salary in the future will inhibit the city's ability to maintain strong staff. When I left, they moved Eric Walsh up to that top salary. And ironically, it's the amount I was offered back in 2005 to come to San Antonio. So I think it will have a long term impact whether or not Eric decides to stay for eight years at a salary that's capped today. I don't know. He'll have to make that decision himself. But I do think it will impact the city long term. The union took that ballot proposition to the public, because they couldn't get rid of me and they couldn't get the council to get rid of me. They did not want another strong city manager to keep them from getting what they want in their contracts. And that that's a shame. But you know, they told me back when we started the process, and I sat down with the union presidents to discuss what I thought we needed to do and ask them for their support to work together on it. And they gave me a flat no, that I should raise taxes if they if we didn't have the money to support what they wanted. Easy for them to say since most of them don't live in San Antonio. In Texas, public safety doesn't have to live in the cities they serve. So less than half of our police and fire actually live in in San Antonio. So if that is not a good thing, I know the mayor would like to go back to the voters and try to get that changed, whether or not it'll be successful at that I don't know or whether or not he'll have the courage to go back and put that on the ballot at the right time. Time will tell.
Kirsten Wyatt
I love the way you phrase this, you know the role of a city manager as being the CEO of a multibillion dollar organization. And what also struck me from the book was the fact that your council are serving two year terms, is that correct? And so it seems like it's there's also that on the on the political side, there's that additional challenge of like constant churn that you were dealing with, and the city will continue to deal with. And now the added limit on the term of the city manager seems like that just runs contrary to running a multi billion dollar organization.
Sheryl Sculley
It does, you're right. During my tenure, I worked with 47 different elected officials. I came to San Antonio in 2005. Council members were limited to two, two year terms. And that's probably in large part because they had some corruption here in San Antonio before I was here in San Antonio, but council members that had taken bribes and were convicted, went to jail. And so the public didn't have much confidence in the elected leadership. During Phil Hardberger's tenure, he was the mayor that convinced me to come to San Antonio, and after we had made a tremendous amount of change, during his four year tenure, he took a charter amendment to the voters to change that to four two your terms, instead of two to your terms. I recommended at the time two four year terms, [laughter] they're running all the time.
Kirsten Wyatt
Absolutely.
Sheryl Sculley
You get about one year of productivity, because it takes six months when they come in to kind of get their sea legs and figure out what the major policy issues that are dealing with and to present their own issues that they would like to see undertaken. And then you get a year of productivity. And then they have six months before their next election that they're running again, and they're fundraising all the time. So it makes it difficult to get things done. Two four year terms would be much better. And I'm hopeful in the future that a charter commission will be able to consider that the mayor is the only person who's elected at large citywide. Here we have 10 single member council districts. And because we're a large city, one and a half million, each council member represents 150,000 people. That's that's a lot of members to be responsible for. But in big cities, it's that way. It was similar in Phoenix, eight single member districts and the mayor elected at large and the city's even slightly bigger. Phoenix is slightly bigger. The largest council manager plan city in the country, Phoenix is, San Antonio is the second largest, Dallas is the third. So I've spent the last 30 years of my career in the two largest council manager plans. They're also more politically complicated, as well, as many mayors in the larger cities run for higher, much higher office and as you know, Julian Castro was for the Democratic nomination for president. So it's, it makes it politically complicated, as well. So these are big jobs. And I think that's hard for the public to relate to, especially in a city like San Antonio, where the average income of a family is about 50,000.
Kirsten Wyatt
Would you ever consider running for office?
Sheryl Sculley
No. [Laughter] I have been asked, in fact, I did a book event the other night. And they asked me if I if I'd run for mayor or Congress. And no, I'm I'm really not interested in running for elected office.
Kirsten Wyatt
So what is next for you? What do you see in your future in the next couple of years?
Sheryl Sculley
Well, I joined a corporate board. And I'm enjoying that work. You know, by comparison, it's a publicly traded company headquartered in in Wisconsin, and they expect the board members to serve a minimum of five to eight years, and one of our lead directors is retiring. He's been on the board for 20 years. And corporations look for adding people to add new dimensions and new ideas, but they also want to have some longevity. So I'm being considered for and recruited for a couple of other corporate boards. So I think I'll do some of that. I'm still engaged in the community and serving on several nonprofit boards, and working on the Texas 2036 board as well. It's a statewide organization looking at how we improve Texas for the Bicentennial in 2036 and it's pillar category, areas of workforce development and health care, the environment, education, government performance. And so that's that's been an interesting board to serve on. One thing that's happened with the book is that some universities have picked it up and are using it in MPA programs. And so I've been talking with a few of them about guest lecturing and I did teach at the, I taught a graduate class for three years back in 2008, 9 and 10 at the LBJ School at the University of Texas, and I don't know, I may, I may teach again as well, but I'll stay busy and continue to be involved in whatever community I live in.
Kirsten Wyatt
All right, and we have one last question for you before we wrap things up. If you could be the GovLove DJ for this episode, what song would be the exit music for today?
Sheryl Sculley
Oh, well, let's see. I'm I'm an Eagles fan. So I'll pick Life in the Fast Lane.
Kirsten Wyatt
Oh, that's a good one. That's a great one. And, and hopefully things are slowing down a little bit and you're enjoying retirement and enjoying some of these other things that you're doing to make the world a better place. But we certainly have enjoyed hearing about life in the fast lane on today's episode. So thank you for joining us.
Sheryl Sculley
Thank you, Kirsten. It's been my pleasure to be with you.
Kirsten Wyatt
Thank you to ELGL members, Karen Daly, Serena Breeland, Lauren Fisher and Diane Stoddard for their help in setting up today's interview. The book giveaway and the book club discussion with Sheryl coming up in January. A reminder that we're giving away six autographed copies of Sheryl's book. Head over to elgl.org to enter a raffle for one of the books and then read the takeaway articles about the book before our book club on January 21, 2021 on Zoom. We'll talk about Greedy Bastards and Sheryl will be there to answer your questions. GovLove is produced by a rotating cast of ELGL volunteers. ELGL is the Engaging Local Government Leaders network. You can reach us at elgl.org/govlove or on Twitter @govlovepodcast. Thank you for listening. This has been GovLove, a podcast about local government.
---