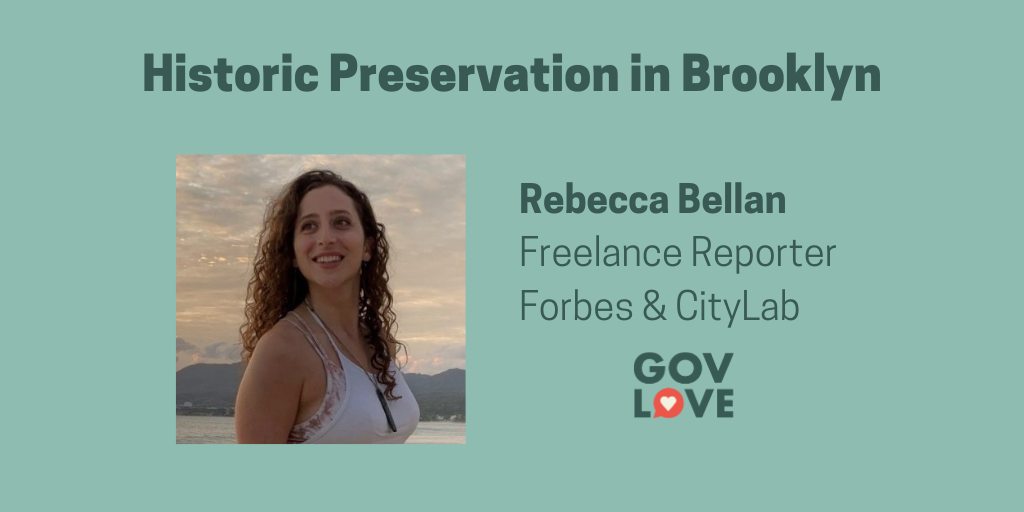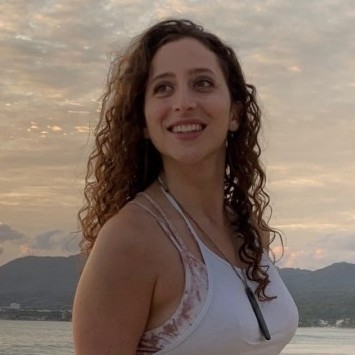 Rebecca Bellan
Freelance Reporter
Forbes & CityLab
LinkedIn | Twitter | Muck Rack
---
Preserving black history. Rebecca Bellan, Freelance Reporter for Forbes and CityLab, joined the podcast to tell the story of 227 Duffield in Brooklyn, New York. This home has ties to New York's abolitionist movement and is believed to have been part of the underground railroad. In two articles this year she's detailed the battle over preserving the home and the fight to preserve black history. Articles: What It Takes to Preserve a Building Tied to Black History and Did a Brooklyn Home's Tunnel Provide Passage to Escaped Slaves?
Host: Alyssa Dinberg
---
---
Learn More
What It Takes to Preserve a Building Tied to Black History
Did a Brooklyn Home's Tunnel Provide Passage to Escaped Slaves?
After More Than A Decade Fight, A Brooklyn House With Abolitionist Ties Will Be Considered For Landmark Status
Abolitionist Place, Brooklyn, New York
Save 227 Duffield: There's More To A City Landmark Than Architectural Significance
---
Episode Transcript
Message
Hi ya'll, it's Emily at ELGL. Cohorts for 2021 are now open and you can take up any of the issues that you're most interested in learning more about in data citizenship, creative placemaking, justice and equity,  valuing engagement and building resiliency. You can read more today at elgl.org/cohorts and applications are due December 15. Hope we see you there.
Alyssa Dinberg
Coming to you from Denver, Colorado, this is GovLove, a podcast about local government. GovLove is produced by ELGL, the Engaging Local Government Leaders network. We engage the brightest minds in local government. I'm Alyssa Dinberg, and today I'm talking to Rebecca Bellan, independent journalist. Rebecca is a Forbes.com contributor where she covers social media and technology innovation. She also reports on cities, policy, housing and transportation. Welcome to GovLove Rebecca.
Rebecca Bellan
Thanks so much, Alyssa. Happy to be here.
Alyssa Dinberg
Yeah, we're super excited to have you here. This is I think is a different spin on what we normally do. So I think it'll be really interesting to have your perspective on this topic.
Rebecca Bellan
Yeah, I'm really excited to talk about it.
Alyssa Dinberg
In this episode, we're gonna we're gonna discuss the fight to save and landmark 227 Duffield Street. Before the Civil War 227 Duffield Street in downtown Brooklyn was the home of the abolitionist Harriet and Thomas Truesdell. Well, they're not famous names in the history books. Rothblot and other activists believe that the couple played a key role in the Underground Railroad, hiding and feeding escaped enslaved people making their way to freedom. Rebecca has done extensive research on the history of this property and reports out on the recent push by local activist to land market. So we're gonna get started with one of GovLove's signature lightning rounds. And what is your best self care tip in the time of quarantine?
Rebecca Bellan
I would say just to get outside, if you can get into nature. As this pandemic has progressed, so many stories that we've told, that we've been told, and we've told ourselves about the world and society are just unraveling, but nature is really that one constant. And for me, it's been really helpful.
Alyssa Dinberg
I agree. I totally agree. I live in Colorado, and yeah…
Rebecca Bellan
You guys love it out there.
Alyssa Dinberg
We have, yeah, we have so many amazing outdoors spaces. I totally agree. I think being outside saved me. Um, okay, so what is the first app you open on your phone most mornings?
Rebecca Bellan
It's probably either Facebook Messenger or WhatsApp. Because that's how I communicate with my partner and a lot of my friends around the world who I'm in contact with daily. So I always wake up to messages.
Alyssa Dinberg
That's a good answer. I think that's probably the answer a lot of people have. Okay, so this third question, I was just at a happy hour with a friends last week, and she asked me this question. It really got me thinking, so I thought it would be a good question to ask on this episode. What are three things or you can even just do like one or two, what are a couple of things that everyone likes but you do not?
Rebecca Bellan
Well I did come up with three for you so…
Alyssa Dinberg
All right perfect.
Rebecca Bellan
So I have the movie Drive, starring Ryan Gosling. I don't know. Everyone seems to really love everything I hate about it, which is like, the soundtrack and the weird camera angles and stuff like that. I also don't love watching a new TV series every week or watching that much TV in general. I'm past experiences kind of boring. And resorts.
Alyssa Dinberg
Hmm. That's a good one.
Rebecca Bellan
Yeah, I hate sleeping in them. They're so gross.
Alyssa Dinberg
Yeah, it's true. That is I think that our concept and our our love for America's love for resorts is definitely going to change after COVID.
Rebecca Bellan
Yeah, or it won't. I mean, it might even increase because people are scared to get out in the cities and be you know, close to populations. But it to me it feels kind of gross to be, you know, sitting poolside in a country that's developing from squalor to poverty.
Alyssa Dinberg
Yeah, that is very true. Okay, so last question in our lightning round. This is a question that I ask in every episode. If you were a vegetable, what would you be and why?
Rebecca Bellan
I would be a mushroom.
Alyssa Dinberg
Why?
Rebecca Bellan
Because I'm not for everyone. But those who love me, like really love me. And I'm adaptable to new flavors and textures and shapes, and I go great with risotto. And if you're lucky, perhaps I will bring you to an altered state of mind.
Alyssa Dinberg
That's awesome. That's like the best answer I think I have ever gotten. That was really great. [Laughter] All right, so I feel like we're thoroughly warmed up and ready to go. Let's shift our attention to the research you've been doing with 227 Duffield Street and what it takes to landmark a building in NYC. So number one, can you tell me a little bit about you? And give a brief bio on you, but can you tell me who you are and how you got involved with this project?
Rebecca Bellan
Sure. So I'm a freelance journalist. And I had a connection with CityLab via my old job at the Atlantic. So the Atlantic magazine used to own CityLab. Now it's owned by Bloomberg. And my editor at CityLab, KA Dilday, amazing person, she was a mentor to me, she knew, she'd been assigning me quite a few stories, just New York news, city related news. And she knew that I wanted to get involved in something more investigative, something more long form, probably because the dress I would give her were always really long. And she, you know, this one came up to her and she assigned it to me, and the two of us actually really developed this piece a lot together. I couldn't have done it without her. It was so much research, when the piece first came out last year. And this piece that you reached out to me about, is more of a follow up. So the story essentially is, as you said that the house 227 Duffield Street is up for landmark status. It's been a long fight, it's been going back to 2004 to save it from demolition of one form or another. It was the home of Harriet and Thomas Truesdell, who were well known abolitionists, in New York in Brooklyn. And a lot of historians think that this house was a stop on the Underground Railroad. There was a lot of investigations into this to see if it was or it wasn't, it's really difficult to prove underground railroad status. But right now, the way that activists are kind of talking about it is, let's say it wasn't a stop on the Underground Railroad. It still was the home of famous abolitionists. And it's still really important, especially right now to be looking at which landmarks could be a part of black history, right, like, abolitionists, history is black history, which is American history. And it's really important, especially during the Black Lives Matter movement to preserve this history.
Alyssa Dinberg
How long were you working on this story?
Rebecca Bellan
It's been about a year now. Yeah, I think I was first, it first started about a year ago that I started paying attention to it. And I've been, you know, checking in every now and then. To be honest, last year, I didn't think that the house would get landmark status. I really didn't. It's really not in good shape. And I don't know if you've been to many landmarked homes or neighborhoods or areas, but they're usually quite pretty. They've been well preserved, and this house has been through the wringer. And it also doesn't have its original, like 1850s facade. So that seemed like it was going to be an issue but I really think that this the cultural significance of it is starting to weigh more heavily on the decision makers at the LPC. I hope it is, at least. So recently…. oh sorry.
Alyssa Dinberg
Oh, no, go ahead.
Rebecca Bellan
So recently, I Raul Rothblatt, who's one of the activists who's brilliant been involved in this from the start and who knew the the owner of the house back in 2004, Mama Joy Chatel, she, he reached out to me a couple of weeks ago in July to let me know that the LTC was going to have a hearing, which I thought was amazing news. I went to the hearing, virtually, of course, and it was overwhelmed by the amount of people testifying in favor of saving this house. There's only one testimony against.
Alyssa Dinberg
Wow. So can you give the listeners a brief wrap up of the story as it stands today? And who owns the house?
Rebecca Bellan
Yeah. So last year, the house was purchased by a developer named Samiel Hanasab. He and his partner Yuval Golan, own a few properties around the city. They've kind of made some headlines in the past before for kind of sketchy dealings, but we don't need to go into that. So when he purchased the house, I'm not exactly sure what year he purchased the house, but he put he filed a permit to demolish the house last year, last summer. And activists were obviously tipped off about this. There was you know, they saw a demolition sign on the house and immediately, you know, took to the streets, started a I think not a GoFundMe, they started some kind of online petition to try to save the house to get, you know, the LPC to land market, they really created more of a buzz around this house, because it's been in and out of the news for you know, almost two decades. So, the city responded. They paused the demolition and the LPC decided to consider landmarking the home again. So right now the current owner, his plan is to demolish and build a 13 story mixed use residential building in that neighborhood. And, you know, for his part he said that he would work with the past owner, Mama Joy Chatel's daughter, to create an African American History Museum in the basement. But activists are not exactly happy with that. They don't trust that he will do that. And they also say, well, who will want to go to an airless basement if you're trying to experience you know, the history of a home? So yeah, that's kind of where it stands right now. The LPC has had a hearing. And that's kind of in the phase of, in the stages of their process. This hearing is really important. Because once you know, the commissioners have time to review all the testimony, they will make a decision on whether or not there's so few other steps, but pretty much they'll make a decision on whether or not they'll landmark the building. And then Hanasab will still own the building. But he won't be able to demolish, he won't be able to build a mixed use residential building on top of it. And that can mean, that could be a good thing and a bad thing. But we can talk more about that later.
Alyssa Dinberg
Hmm, interesting. So they're kind of in a standstill right now.
Rebecca Bellan
Yeah. It's a bit of a standstill, the house is not in good shape anyway. So presumably, if he were, if they were to landmark the building, the city might take steps to reimburse Hanasab who has who said that who shelled out nearly 5 million in terms of oh, sorry, I thought it was 3 million in terms of you know, starting with demolition plans, starting with plans for everything, and buying the building itself which he got for a steal. And yeah, so if he ends up, sorry, if the LPC does landmark the building, then perhaps the city will buy it back there will be probably a lot of nonprofit organizations that, you know, and other foundations that work to help preserve buildings such as this one that might step in, maybe buy it from him, help, you know, turn it into a museum, develop it further so that doesn't just fall into a state of disrepair. But really the LPC landmarking a building just means that it's landmarked and now you can't touch it.
Alyssa Dinberg
Gotcha. Okay
Rebecca Bellan
Sorry that was a lot.
Alyssa Dinberg
No no no. You're totally fine. Umm in some of the research that I was doing and in the stuff that you sent me, it looks like the building has gotten a lot of attention, especially from some like big names people. Can you talk about why it's gotten so much attention and who's now paying attention to what's going on?
Rebecca Bellan
Sure. So as of recently, Mayor Bill de Blasio and his wife have been really involved a bit on social media talking about this house and saying that it must be landmarked. Which I'm not sure I can't speak to why they started to get involved in this specifically. You know, cynics will say that, you know, De Blasio is trying to jump on the BLM bandwagon. If he is I'm okay with it. And also New York Attorney General Letitia James did testify at the hearing. She has been involved with this from the beginning. She was a city council member, back in 2004. And definitely helped this fight back then as well. So yeah, it's getting some good attention. And I think it's just part of this movement, right? Like we in New York, we're always kind of raised that slavery was a southern thing. And, you know, the North was good. And New York was good. But New York was one of the major slave ports, you know, starting from the Dutch, then the British rule and to American rule. And then, you know, after the North didn't have as much slavery, perhaps, but there was still The Fugitive Slave Act in which, you know, escaped slaves could be captured in the north, in in New York, because many of them did come through New York, and sent back. So there's this need, I think, in America right now, generally. And this house is kind of a symbol of that to reckon with our whitewash history. To say no, New York wasn't to say both that New York wasn't uninvolved in the slave trade, but also to highlight, you know, how New York was involved in helping enslaved people escape. Because many, for example, in 227 Duffield, a lot of historians believe that, you know, slaves would escape enslaved people would come through underground tunnels on that street. So the whole house so the whole, the whole block would have potentially been a part of the Underground Railroad. And so they'd come through these tunnels which would lead to specific buildings like they would head to nearby buildings like the Bridge Street Church, the home of Lewis Tappan, who was founder of the American and Foreign Anti Slavery Society, there were several Prince Hall masons lodges that were home to African American freemasons linked to the Underground Railroad activity. So this area was really a hub. So it's important to not… that that whole area has already been pretty much demolished and rebuilt. So it's important to try to preserve as much of that really important history as we can. Yeah.
Alyssa Dinberg
Yeah, it's interesting. I'm from the south. I'm from Atlanta. And, and they, even in southern history classes, they do not teach you the importance of the north on and the Underground Railroad. So this is super interesting to me. So you mentioned that most of the neighborhood was destroyed already, and that this is the last home. What happened to the others?
Rebecca Bellan
Right. So yeah, in 2004 Mayor Bloomberg had a plan to revitalize that neighborhood. It was an urban renewal plan. They basically, the city basically said that the whole neighborhood, or at least that block was blighted and sees the homes via eminent domain. So eminent domain, seizures can happen. When eminent domain seizures happen, the city is meant to kind of reimburse whoever they're taking the homes from, and they need to give you know good reason why they need the space, so for some kind of public use, like hospitals, roadways, public schools, things like that. And most people didn't make a fuss. Most people kind of took whatever money that government offered and left. There were two people that really thought this. So as I mentioned before, Mama Joy Chatel, who owned the house, she inherited it from her late husband Albert Chatel, who had the oral history, his family had been in that house for generations, and they had the oral history passed down to them about the house being part of the Underground Railroad. And the other person who was really had a dog in this fight was Lewis Greenstein, and he was a neighbor. He was, I think, 223 Duffield Street. And the two of them, Joy and Lewis, you know, were in contact. They both talked a lot about the history of their home in that block. They, you know, they became historians almost like the amount of, Lewis is still alive today. Mama Joy has passed away in 2017. But he has a ton of archival evidence of how his home was also stopped on the Underground Railroad. So the two of them banded together to work on saving their homes and cause enough of a stir. They got the South Brooklyn legal services, filed a lawsuit on behalf of Joy. And eventually the city backed away and agreed to a settlement in 2007. That was three years after that said that they wouldn't take the home via eminent domain and that year, they didn't landmark the house, but they named Duffield Street, between Willoughby and Fulton they renamed it Abolitionist Place.
Alyssa Dinberg
So when Mama Joy passed away, and you might not know the answer to this, because that was gonna be one of my questions is, why is it not still owned by Mama Joy? And when she passed away, did they sell it presumably?
Rebecca Bellan
So it's a really tangled history of ownership. Apparently, during her time, like she, she had always Mama Joy was, you know, a force in this community. She was, her home was always in the spirit of the home being part of the Underground Railroad, she was always, her doors were always open to people who needed it. It was already kind of a cultural center for people who lived in that neighborhood. People were always coming by if you needed a hot meal or a place to stay or something like that. So she also wanted to try to turn her home into a museum. And for a while she had tried to renovate the front and turn it into a hair salon for the neighborhood, and in the course of that she ended up getting involved with someone who was a bit sketchy, I guess. And he did a lot of work on the house in exchange for a portion of the house. So she essentially gave this man Errol Bartholomew, a part of the house to do work on the house, which he did a shoddy job and kind of disappeared after. So he owned a part of the house. Few years later, he sold part of that house to the current owner. So by the time Joy died, the whole house wasn't even hers anymore. She was in a lot of debt. The house was falling into disrepair. There was a lot of renovations happening on that block because of, you know, Bloomberg's urban renewal plan, there's, you know, office buildings and hotels and stuff there. So, you know, her house suffered a lot of damages. So it was really not in a good state. So then when she passed away, the house was in her daughter's name, what was left of it. And she, you know, I haven't been able to get in contact with her. She really doesn't seem like she wants to be a part of this, you know, retelling of the story, but from what I've heard from others familiar with it, she was dealing with a lot of pressure to sell and there were so much debt and so much to deal with that she ended up selling the other half for, for not that much money. And I think that the current owner who acquired both halves by I want to say 2017, I think he got it for under a million and houses on that home have sold in the same years for like 7 million.
Alyssa Dinberg
Oh, wow.
Rebecca Bellan
Yeah.
Alyssa Dinberg
Okay, well, that answers my question. I was just wondering how it how it got in the hands of the current owner. But that makes sense.
Rebecca Bellan
So it's pretty it's a pretty wild story. So apologies if I have been talking too much about any one thing. Please feel free to cut me off.
Alyssa Dinberg
No, that's totally fine. It's super interesting. I think house ownership is always really interesting how it gets passed on to different owners and the evolution of ownership is very interesting.
Rebecca Bellan
Well, it's fascinating that you can just see it all right, like the city public records are so like, you just have to know what lot block it is. And then boom, you've got it all. And you can just so I've just gotten lost in, in the public records.
Alyssa Dinberg
Yeah. Um, so I know that the house was supposed to be demolished several times, I believe. And how has it escaped demolition every single time?
Rebecca Bellan
Right. So the first time was in 2004. They the city after so once, so I mentioned the lawsuit and the fact that people were protesting trying to save this home, really just get gathering evidence that was part of the Underground Railroad trying to get the LPC involved to landmark the building. The city responded finally, by issuing a report. They hired an outside consultancy agency, AKRF to really look into the history of the neighborhood and the oral history of the building. It's actually the thing is, this report is actually the most in depth study of the house and the history and its ties to the abolitionist movement and the Underground Railroad. But at the end of the report, when it came out in 2007, the researchers said, well, there's actually not enough to prove that it was part of the Underground Railroad. So we're not going to recommend it for landmark status, which a lot of historians have kind of come out and said, well, that's that's really not fair, because it's hard to prove the clandestine activity that was meant to be secret existed, especially when the house has gone through, so in the neighborhood has been through so many demolitions like the tunnels that were underground that, you know, Joy and Lewis had been in, or had been, you know, built on top of and so it's it's, they found that a lot of historians said that it probably was part of the Underground Railroad. But nonetheless, they said it wasn't. So the city didn't demolish it. But they, it didn't, it didn't mean it was safe forever, because it wasn't landmarked. So we've kind of the activists involved and Joy and her family that you know, everyone just kind of washed their hands of it for the moment. Still tried to make it a museum. But then when Joy died, and the last of the home was finally sold off, and it became clear that the current owner wanted to build a, to tear it down again last year, that's when the fight started again.
Alyssa Dinberg
Interesting, okay. So if it gets landmarked, then they cannot tear it down.
Rebecca Bellan
Right.
Alyssa Dinberg
That is the goal.
Rebecca Bellan
Correct.
Alyssa Dinberg
Gotcha. All right. So let's shift our attention a little bit. I kind of want to broaden our topic to preserving homes in black neighborhoods. So we talked a lot about landmarking this specific property, but can you talk about how many landmarks exist in New York City and nationally with ties to black history and culture?
Rebecca Bellan
Sure. So it's it's difficult to say. The LPC doesn't have a firm number. They don't like their database, and they're, you know, there's massive spreadsheets that I've looked through and they don't sort based on, you know, cultural ties. But I can say that out of 37,000 New York City landmark sites only 17 exist that relate to abolitionists history. And according to a New Yorker article that investigated this nationally, only 2% in the National Historic Register have any ties to black culture or history.
Alyssa Dinberg
Oh, wow.
Rebecca Bellan
So I mean, considering that there's nothing to me more American than black history. The city was literally built on the backs of, you know, enslaved Africans, it kind of blows my mind that there are so few landmarks associated.
Alyssa Dinberg
Yeah, that's crazy. So is there a an active group that's working on trying to landmark more, more properties?
Rebecca Bellan
I mean, there are plenty of groups that are involved in saving, you know, history. There's, you know, just there's local groups, there's national groups. But I will say that, I'd say that the reason why you won't find, one of the reasons why you may not find as many as many landmark sites as it relates, as they relate to black history, aside from just good old fashioned, you know, racism and white washing is the fact that a lot of I mean, there's there's a few approaches to this, right. So there's a in New York City, specifically which I can speak to, there is a history of eminent domain seizure by calling a neighborhood blighted. And it seemed blight means severe disrepair. It encompasses vacant, lots of abandoned buildings, houses in derelict or dangerous shape, as well as environmental contamination. Lewis will tell you today that his neighborhood was not blighted when the city tried to seize it. But that's another story. But yeah, so as we know, the city can seize blighted properties via eminent domain for public use, like roadways, hospitals, housing for the disadvantaged. So New York City, especially, and I have a sense that this happens nationally, has really put a low bar on what they consider to be blight. Sometimes even letting neighborhoods fall into disrepair by like leaving abandoned locks and stuff, so that they can come in, seize properties, sell them to a private developer, etc. So that's one piece of it, the fact that a lot of the times, historically, black neighborhoods are often seized or gentrified or something to that effect before anyone has a chance to learn market. The other part of it is that, as you might know, from walking through any low income, communities of color, a lot of the times these buildings fall into states of disrepair. There's the corrosive effects of time and age, there's less benefactors to pay for upkeep, etc. So, you know, when we think of landmark historical buildings are not always that apartment in the Bronx where hip hop was created there, you know, a Rockefeller home, and they're pretty and they have original molding on the ceiling.
Alyssa Dinberg
Can you give me some examples of eminent domain in New York City that maybe necessarily were not blighted?
Rebecca Bellan
Sure, so also in Brooklyn, and this was a big controversy at the time around like 2009. So this was after the 227 Duffield fight originally started, Atlantic Yards and Brooklyn. So the city decided to seize homes again, not for hospital or public school, but rather for Barclays Center, which is a sports arena and they have concerts there. And I think Brooklyn Nets play there. And, you know, people protested but the state held up the ruling, seized the property and gave the and gave the properties to private developers. And by the way, the consulting firm that did the environmental impact statement for Atlantic Yards, AKRF was the same one that conducted the report into Duffield Street and had found no underground railroad ties.
Alyssa Dinberg
Oh Wow.
Rebecca Bellan
So yeah, so you know, sometimes when the city doesn't want to find something, they won't find it right. And, you know, again, in 2015, that same firm found no slave burial ground in Brooklyn, and another area of Brooklyn in a spot the city wanted to build a preschool. But a lot of activists said that there was that it used to be a slave burial ground.
Alyssa Dinberg
Interesting. So I know that there are requirements, there have to be requirements for landmarking. Do you know what those are in New York City? I would imagine that, I mean, I don't know a whole lot about landmarking. But I would imagine they're a little bit different to do the city. So what are that, what does that look like in New York?
Rebecca Bellan
Let me actually just look. The building has to be at least 30 years old. It has to have according to the LPC, a special character or special historical or aesthetic interests or value as part of the development heritage or cultural characteristics of the city, state or nation. So often, I mean, the way that historically they kind of if you look at the way that they their database is structured, it's often based on the architect so I feel, I've gotten the sense that the the physical qualities of a space are very important to the LPC, historically more so than the cultural significance. Because, you know, part of the reason why last year when I spoke to the LPC, they said that they might they, you know, they might not landmark 227 Duffield was because the facade was no longer the original 1850s facade, I think it had been redone in the 1920s. And the 1850s, facade would be important because that's when it coincides with the historical importance of it, which is that it has ties to the Underground Railroad, not that it's not just that it's an old building. So I get the sense now that they're more concerned, they're less concerned with that, you know, when I talked to them on the phone this time around, they were like, Oh, yeah, there are still some original moldings and things like that. And, you know, trellises, or, I don't know, other architectural terms. And, and, yeah, and they seem to be really interested in the, in the cultural and historic significance of the space. So I get the sense that the these requirements will change, depending on the administration at the time. And depending on, you know, the cultural conversation that's happening around these decisions.
Alyssa Dinberg
Okay. So do you know what the future for this home is? Like, what happens if they do land mark it versus if they don't land mark it?
Rebecca Bellan
Yeah. So we'll hopefully we'll find out in a few weeks. I mean, we're, you know, we're hoping that the LPC makes a decision soon about whether or not they're going to landmark the building. It, it's tricky, the current owner has actually sued the city for a lot of money for hindering his, you know, right to develop there. And for pausing his building permits, and while the LPC makes a decision on this. The owner is suing the city for 100 million dollars. So if that sounds like a lot to you, it's you know, considering that we said earlier that he has probably shelled out about 3 million to buy the property and to work on it and to, you know, develop plans and things. Mind this is meant to be a, you know, residential mixed use commercial building, like he will, he would have gotten money from rent. So I think that that's kind of where that's coming from. This is like, not only can I not build here now, but I'm also losing on profits in the future. So I don't know how willing this, you know, this owner would be to be cooperative at this point. There, it's incredibly rare that the city will pay an owner back if the if they happen to be in possession of a landmark building, but that's kind of a risky take when you buy a home that people have been trying to landmark for over a decade, right? So there's, you know, there's the LPC get sued all the time for things like this. They don't seem to care that much. We get some more fun. So I don't know that his lawsuit will be fruitful for him. I don't know, if he will try to sell it back to the city and accept, you know, tail between his legs walk away. It's hard to say. I can say that, the sources that I've spoken to, they say that there are, excuse me, plenty of organizations, nonprofits, foundations that look specifically to preserve historic homes, like to 227 Duffield. So advocates, neighbors, city council members who all testified at the hearing last month, they you know, many of them said that not only should the city preserve this building, but they should you know, work on getting funds to to restore it to its original splendor and to turn it into some sort of a Black History Museum.
Alyssa Dinberg
Hmm, interesting.
Rebecca Bellan
So those are some potential outcomes for it if it gets landmarked? If it's not then the demolition will go through.
Alyssa Dinberg
Are you planning on keeping, are you going to keep following the story?
Rebecca Bellan
Yes. I'm super interested in what happens next. I don't I don't know why I I'm so attached to it. But I really, I really am. I just I love history. I love New York. And I think this is potentially a very important part of history. And I don't like to, you know, it's sad. It's I've lived in New York, pretty much my whole life. I'm born here. I've lived other places as well, but it's sad to see not just gentrification. You know, when people get upset about gentrification, you know, they're always getting mad at the gentrifiers, the white people who move into a black neighborhood and whatever. It's like, well, those people you know, people are just trying to live where they can afford to live. It's close to work. What bothers me the most is that we live in a city that doesn't protect the rights of homeowners that, you know, helps, that doesn't that almost creates incentives for private developers to take advantage of people who, you know, could otherwise live happily and affordably in the neighborhoods they choose. And the, you know, aside from pushing out people out of neighborhoods, it's also pushing out our history and replacing it with shiny buildings. And, you know, another grain bowls, lunch store for, you know, suits to visit on their lunch hour. It's just, yeah, it's I think it's important to preserve all history, but especially black history, and especially now.
Alyssa Dinberg
Yeah, absolutely. And it's definitely a struggle that governments face, is finding a way to preserve that history, but also further the development in a community. And it's a fine line. And I can firmly say that I don't think that anyone has perfected the art of it. I think it's really hard. It's, it's really, it's a challenge definitely is. Are you going, this is just a curious, are you gonna keep reporting on these types of things? Like has this sparked an interest in in the types of reporting that you're going to be doing in the future?
Rebecca Bellan
Um, possibly, I, I do enjoy, I have enjoyed writing about housing when I was mostly writing for, doing freelance work for CityLab. I was doing, I found this to be a very interesting topic. Just cities in general really interest me. Do you mean landmarks specifically, or housing or?
Alyssa Dinberg
Um, probably just like housing and landmarks? Yeah.
Rebecca Bellan
Yeah. Yeah, I think I think if a story crosses my path that I'm really interested in, such as this one then I will, I will definitely continue to follow it. For the moment, I'm trying to focus more on technology reporting, social media reporting. That's been an interesting pivot for me, but yeah, I think both are, it's you know, it's hard to always stick. For me, it's hard to stick to one beat.
Alyssa Dinberg
Yeah, that makes sense. All right. Well, thank you so much for coming on. And talking about this. This is really interesting. And it's definitely a different type of episode than we normally do. And so I hope our listeners find it interesting. And hopefully, some people start following this story as well. I know that I definitely will be. So I really appreciate you coming on today.
Rebecca Bellan
Thanks for having me. And I uh, yeah, I hope this gets some good attention. And maybe we can, you know, save this home.
Alyssa Dinberg
Yeah. So I have one more question to end our episode. If you could be the GovLove DJ for today, what song would you pick as our exit music?
Rebecca Bellan
I would have to say, I think it's appropriate. Coming Home by Leon Bridges.
Alyssa Dinberg
I love Leon Bridges. It's a good song.
Rebecca Bellan
Yeah. A good soul.
Alyssa Dinberg
Very, very appropriate. Well, thanks again. That ends our episode for today. GovLove is produced by a rotating cast of awesome ELGL volunteers. ELGL is the Engaging Local Government Leaders network. We are a social startup with the mission of engaging the brightest minds in local government. For our listeners, you can reach us at elgl.org/govlove or on Twitter at @govlovepodcast. And if you have a story for GovLove, we want to hear it. Send us a message on Twitter or email [email protected].  Thanks for listening. This has been GovLove, a podcast about local government.
---