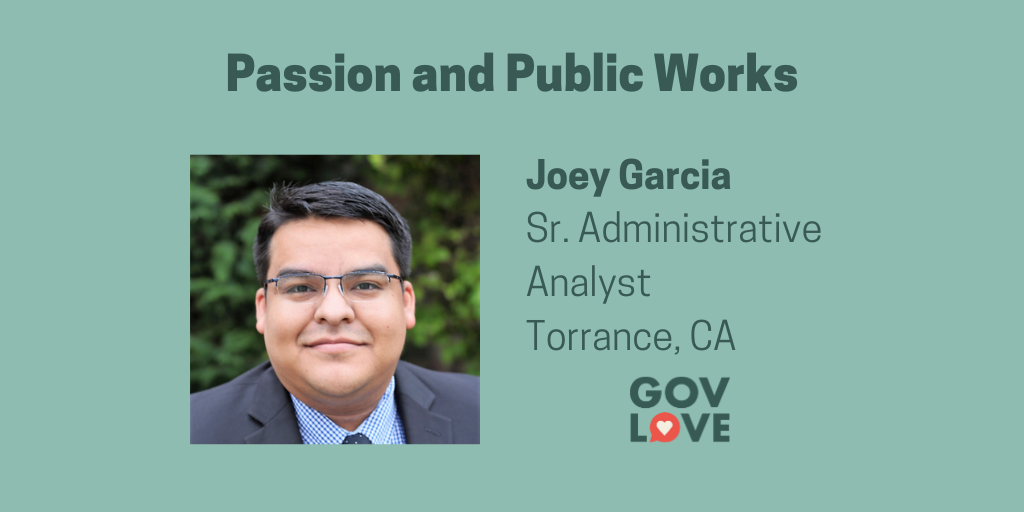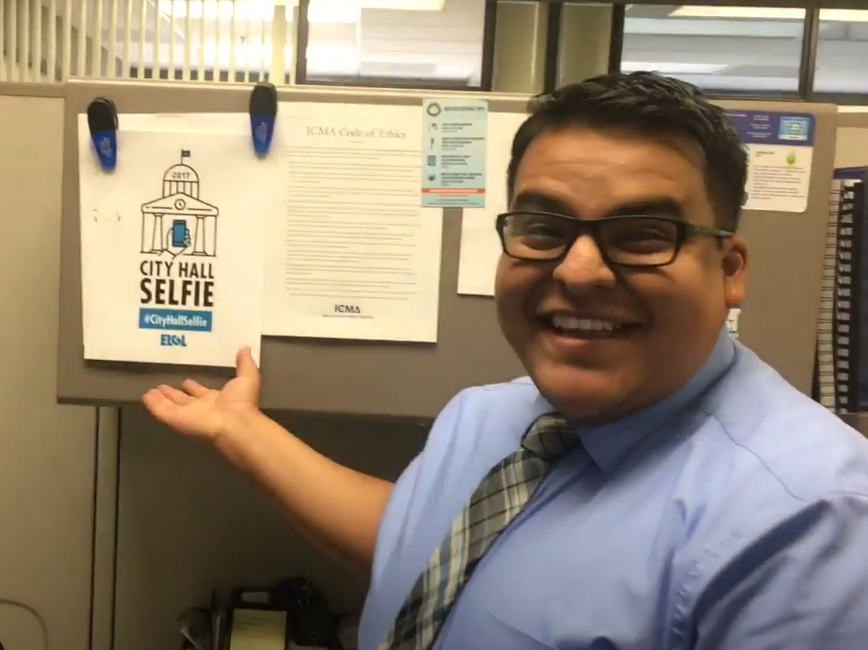 Joey Garcia
Sr. Administrative Analyst
City of Torrance, CA
LinkedIn | Twitter
---
Keeping the fire lit. Joey Garcia, Senior Administrative Analyst for the City of Torrance, California, joined the podcast to talk about his career path and public works. He shared his experience finding that first job in local government, what he's learned from working in public works, and the impact of COVID-19 on their operations. Joey also discussed culture change and finding your passion.
Host: Ben Kittelson
---
---
Learn More
Local Government Passion and You
Podcast: The Local Government Workforce of the Future
---
Episode Transcript
Message
Hey GovLove listeners, Ben here. Before we get to today's episode, I want to share an announcement about a fellowship program that ELGL is offering in partnership with the Government Finance Officers Association. This fellowship is around the Popular Annual Financial Report. It will pair graduate students and local governments to create the PAFR and help organizations get that coveted GFOA award. We know that COVID-19 has made it difficult for graduate students to find meaningful summer freshmen work experiences due to hiring freezes or just you know, coordinating remote work. And we're hoping that by matching graduate students that need their that experience, and PAFR is a great experience with local governments that they want to upgrade their Popular Annual Financial Report, we can find a match that will meet everyone's needs. So applications from local governments and students that want to participate and be matched are due by Friday, July 3. You can find out more by going to the ELGL website, elgl.org. Thanks.
Ben Kittelson
So we'll get started. Hey all, this is GovLove, a podcast about local government brought to you by Engaging Local Government Leaders. I'm Ben Kittelson, consultant at the Novak Consulting Group and GovLove co-host. We have a great episode for you today. We're taking a break from our COVID-19 coverage to talk about Public Works in local government. Before we get into the episode, I've got a new ELGL annual conference announcement for you. To our GovLove audience, ELGL 20 will be going digital. So the details about the conference will be announced soon but we're spreading it out over a full week. So you'll avoid that that zoom burnout, but it's going to take place October 12 through 16. So be sure to mark your calendar. If you want to support GovLove, you should become an ELGL member and you should participate in the conference. ELGL is a professional association engaging the brightest minds local government, and we're also looking for your feedback. You can visit govlovesurvey.com to tell us a little about you, a little bit about what you think about GovLove. Knowing more about you helps us make GovLove better. That's govlovesurvey.com. Now let me introduce today's guests. Joey Garcia is a Senior Administrative Analyst for the Public Works department in the City of Torrance, California, a position he's been in since 2016. Prior to that, Joe worked for the Association of California cities in Orange County, and he is about to finish. So we'll have to give him a round of applause at some point during this, this interview. He's about to finish his two year term on the ELGL Board of Directors. So with that, Joey welcome to GovLove. Thank you for joining us.
Joey Garcia
Thank you. Good to be here.
Ben Kittelson
Awesome. So you are familiar you know, you've been on GovLove before as a panelist but we do like to start our GovLove interviews with a lightning round to get to know you a little better, allow you to warm up. So what, my first question for you…what are you watching or bingeing on TV right now?
Joey Garcia
Yeah. So I grew up watching way much, way too much TV and movies. And now that I've moved in with my fiance's family, I'm finding out that not everyone watches as much TV as I did growing up. But I, I just finished rewatching Avatar The Last Airbender, which is a fantastic cartoon, partially when I was younger, and it recently came on Netflix. So if you want to binge it, you can binge along with me. But it's, it's an incredibly complex cartoon with its characters. And it does a really good job of exposing children to, to essentially the consequences of war, which is really strange for a cartoon. But the jokes hold up. The animation is fantastic. And it's hilarious.
Ben Kittelson
Well, I'll have to add that to my list because I saw it pop up on Netflix, and I think I must have missed it when I was a kid so that I'll have to go back.
Joey Garcia
It's such a great show.
Ben Kittelson
Okay. Awesome. And I know part of your quarantine routine, at least from social media has been doing a lot of baking. So can you share what what's your latest baking adventure? What are you working on? What's what's the plan? What's in the plans, like?
Joey Garcia
So I'm gonna I'm gonna plug my Instagram account here. So follow me @joedoespolitics for all of my baking adventures and misadventures. I like to share my failures just as much as my accomplishments. But no, I bought, I bought the book, Flour, Water, Salt, Yeast and the Dutch oven like about a year ago and it just kind of like sat on my shelf for an entire year. Opened it, it looked way too complex. Like when you start reading the, when I read this cookbook, or this recipe book, talks about formulas, ratios, hydration rates, time, and the one thing that stood out to me the most was time. I do not have 18 hours to bake a single loaf of bread, like I just don't. So when the pandemic hit and you know we were on modified schedules, I work from home every other day, is a great opportunity to dust literally, dust off my book and Dutch oven and bake it. It's been quite an experience, thrilling, to bake bread. I cannot believe you can buy bread for $1 at the store. It just, it's, it's amazing to me. I want to apply my effective rate to the price of my bread. But I baked French, French bowls. sourdough pancakes. And probably my favorite one is Berlioz, which is the like Mexican French bread. It's fantastic, super airy. But no matter how ugly or terrible my bread is, whether it's like ugly gummy, or weird tasting, it never goes to waste. Butter, butter will fix anything.
Ben Kittelson
[Laughter] Butter, jam. That's fair. I'd be in the same boat. If I was baking like, it's gonna get eaten.
Joey Garcia
Yeah.
Ben Kittelson
All right, so my next question for you, what book are you currently reading?
Joey Garcia
So I've been watching Netflix. [Laughter] So now I i've been catching up on, on, on a couple books and a book that I just finished. It's called The Story of Jane: The Legendary Underground Feminist Abortions Service. And it's, yes, it's not a light read. [Laughter] But it's actually, it's about the illegal and covert abortion counseling service out of Chicago in the late 1960s, early 1970s. Like this was taking place around like the women's movement. But basically, the gist of the book is you're finding out that you know abortions are illegal during this time, but the services were still required, like for women, right who needed to have those abortions for whatever reasons. And, and so it's like a narrative journalistic approach on into that underground abortion service in Chicago to make sure that women could, could have you know, safer or more affordable access to abortions that were illegal, that people are going through leaving the United States to get abortions when they could, but those that didn't have money to travel just can't right. So they were initially connected women with other with other male doctors who would perform these abortions like under the radar and like risk like their medical licenses, but then that led to doctors taking advantage of these women because it was all illegal and there was a lot of like abuse. So it's like it's kind of a In this picture about, you know, what services should be illegal, what isn't illegal? What happens when you don't have access to the services that you need? And then the internal fights between, like the women themselves right, it's like a women's movement like, do we partner up with black women? What about gay women? Like, like poor women, like this isn't the image that we want to be giving, like, during the time when we're asking for more civil rights? So it is like a narrative around the internal structure of social movements themselves. But to, to say that it's a book about government services is kind of, you know, it's doing a disservice to the actual book itself. It's a, you know, I studied, you know, having studied political science and like political science, and having studied history and political science and like, general movements, throughout history, it's, you know, it's like a footnote, but when you actually go in there and you read, know the experiences of these people, and it's very powerful. I mean, I didn't lived through it, but it but it is, it is very, I mean it's a powerful book. I recommend everyone read it. It's not a light read, but I mean, I finished it on a three hour flight. It was, it was very captivating. Please read it. Oh, yeah. That's yeah, that's a Jane: The Legendary Underground Feminist Abortion Service. I think there's a movie on it now. I, but I don't know if it's out.
Ben Kittelson
Well, I have to add that to the list. That is, that does sound fascinating. Like history. You know, you don't learn much about I think, like normally. So that's cool.
Joey Garcia
Yeah.
Ben Kittelson
All right. So my last lightning round question for you. What, where do you go for inspiration?
Joey Garcia
I go, you know, I probably spend too much time on like Facebook and Twitter. One of the reasons that I that I do that is, I make sure to follow all of our ELGL members, or potentially ELGL like members. Because they are doing amazing work, right? Whether it's like starting a new service or different approach to whatever we're doing. These past couple weeks have been incredibly inspirational and seeing how our members have reacted to a global pandemic, ensuring that everyone is safe and the messaging is correct. And then voicing their, their opinions on like police brutality and how we can improve, how we police and then also kind of reaching out to their own networks and explaining how government funding works to begin with and how they can actually ask their Council people on how to make changes. Certainly, our members are, are very inspirational in that sense.
Ben Kittelson
Yeah, no, that's fair. Yeah. I'm with you, like, I probably spend way too much time on Twitter, but it's also like where I like to learn about [laughter] most of the things I learned about. So I understand that. All right. So let's go back in time. You know, frequent listeners to the podcast know I like to start, you know, interviews with this question. But how did you end up in local government? What was kind of like your path to this career and where you're at now?
Joey Garcia
You know, it's hard. So I, I started, I started in local government for, for the money. And by that, by that I mean I was 16 years old. I saw a, i was sixteen years old and my brother, my brother basically forced me to apply to be a lifeguard, take lifeguarding classes. And then I realized that I could be making $15 an hour as a lifeguard for the summer right. Since then, so 16 and just falling on cash, right? No, no debt, no, nothing. You know, I end up going to all three proms of my high school like but it was, you know, it was that was a summer job, not through the parks department. I think I owe a lot to my brother and I hope he never hears this [laughter] because it's gonna, it's gonna explode. So my oldest, my oldest brother, his name is …. Alex Garcia, or Alejandro, but he goes by Alex. And there's a whole variety of issues why he goes by Alex. But he's the Assistant Dean at UCSB in the College of Letters and Science. He basically paved the way for all four of his younger brothers. So there's five Garcia boys. All five of us have been through the City of Santa Maria's Parks and Rec department, either as a lifeguard swim instructor or rec leader. And that was, that's basically his fault. [Laughter] Show him we can take a couple courses, you, you do a little bit of training, you learn first aid and CPR. Now you're specialized. Now you can get a great job where you don't necessarily have to upsell people because, you know, you go home at the end of the day. Yes, you smell like chlorine and sunscreen. But you feel good about what you did. So it's his fault. It's his fault that I'm in local government now.
Ben Kittelson
So, so you start off with you know the summer job of your dreams it sounds like. Like what made you want to stick with it? Like where did you go from there? Cuz, I mean I also like one summer like worked in for a local government. It was a zoo but I don't know that I would have stayed in that. [Laughter]
Joey Garcia
You would not want to be a keeper? That sounds like an amazing job, like dolphin trainer, like there's a whole myriad of different career paths you could have taken.
Ben Kittelson
[Laughter] That's a good point.
Joey Garcia
So lifeguarding is a summer job. But I got used to that disposable income so I started working in retail. This is not, I keep a pretty curated list of all the jobs, internships that I've done, to get to where I am now. But what isn't on there is Best Buy. I worked at Best Buy for about four years in high school and community college, and I hated it. I hated working at Best Buy and trying to like upsell people, trying to get them to, like apply for credit cards. Like it's just, what I find out, what I found out from, from working at Best Buy was, I liked, I was probably like their ideal employee in the sense that I helped people find the services that they needed, right? So someone comes in, they're looking for an for an iPod or an iPad, you know, kind of, you know, ask them questions, find out what they want, and then direct them to the product that they actually need. And that will hopefully, is also what they want, right? One of my, one of my favorite experiences was this, this little boy came in and he bought a PS3 with his dad. And he was like, so excited. He brought in his little like, money and like little bag and and I looked at it and I go, like, Oh, you know, I think it's less expensive at Target. And he was like, Oh, right, cuz he's like he was so ready to buy it right then and there. But I looked at his dad and he says you know if you can show me that it's cheaper at target.com I can price match it [Laughter] and so there I have, you know 17 year old kid essentially under selling Best Buy, second price match for him right and this little kid he was so happy to save, and $60 is a lot of money right, to save $60 he was so happy and I realized that I would not be good at making money selling people, cuz that's that's really what I enjoy the most is, it's just helping people and and so then I ended up, so how did I end up in local government? So I ended up transferring to UCSB for, I had to complete a Bachelor's in Political Science and foolishly coming out of, out of, out of political science, I you know was gungho you know I'm going to work in government in some capacity or another. All I gotta do just to play, and I will get this job. It took about two years for me to get my first like real full time job. I interned everywhere. Some of them were terrible, some were good. I interned, these were all free. So these were all unpaid internships for, for about two years, and it was everything working with the seat with the California Public Utilities Commission for like two different parks and rec departments. I did try interning with a social justice group in Long Beach called the California Conference for Equality and Justice, which is an amazing organization. All around like social justice and and social justice and decreasing the amount of kids that go to juvine hall and then to prison, kind of reducing that school timeline. They do amazing, great work. But it was unpaid and hasn't been like I'm in graduate school, I'm living on my own. So, you know, I had to I had to make a choice, you know, I can't continue to be unpaid at this amazing organization and now I have the opportunity to go work paid, working with like, county supervisors and different kinds of people. So, so I kind of made that decision in my head. Okay. I will try and do it that way. Like, try to implement everything I've learned into like the system. So I'm working at so so it's okay. I swear. I think it's a good story. [Laughter] So, okay, so I've been a lifeguard. Working at UCSB, worked Best Buy, UCSB, this nonprofit, a couple of terrible internships. One internship I was the intern for the parks and rec secretary, which, that lasted three months. What I've learned from that is, some work is not delegated correctly. Anyway, okay, so so now I'm working for the Association of California Cities in Orange County, which broke off of the League of California Cities or League of Cities like the nationwide. And it's pretty great job, right? Like, I'm getting paid. I'm getting paid like 15 or $16 an hour. I have an executive office, right. So here's like, here's 24 year old Joey, like, yes, I have my bachelor's degree, but I have like, I have an amazing fake cherry wood desk, and then a little conference table in my office, window view, in the middle of Orange County. It's amazing. But it's like I didn't like the bickering between county supervisors and council people, which is mainly what I was doing. And what I enjoyed the most was writing these white papers for these council people so that they could take my findings and take it back to their staff and be like, see what the association is saying about preventing drowning. Like we're doing it wrong. And then so but so that was kind of my favorite part was, you know, developing the tools for those kinds of people to like make better decisions that necessarily their managers and staff who wouldn't show them. One of the, one of the committees that we had was for city managers and so I helped develop some of the agenda items for that. And the meetings that we had for elected officials was incredibly different than the meetings that we had for city managers right. City manager's job, like, we like they can't, like they can't just approach things from like a political perspective, like they have all of their other operations. So they can't just throw everything behind like that one topic, right. One of the people in the in those committee encouraged me to, to start applying for analyst positions in like different cities. His name was Ken Domer. I met him, he was then the city manager for Huntington. No, assistant city manager in Fullerton. Oh no, he's okay so he's been around, but he was one of the first people to kind of like encourage me to go that way and some of the other managers on that committee I had reached out to, I had coffee with you know, they were very open to helping someone grow and find their way. So after like two years of just like terrible internships, of like jobs that were like fine, but not like really what I wanted, finally, finally found the job that, I finally found, so after applying and getting rejected on so many different positions, I actually ended up getting offered three different jobs all within the same week. And I was …… and City of Torrance, and they were like wildly different. It was like, do you want to go into housing, public works or HR? And like, I cried. There was just like this like relief of like, okay, I can do it, I'm worth it someone's willing to give me not only is someone who's willing to hire me, three people on the same week are willing to hire me. So I, I ended up choosing Torrance, specifically because they wanted me to take over their analyst position in water. And then back in 2015, 2016, this was like at the height of the drought and like water is like in California. And so water is a huge topic and all the policies around water conservation water use is changing, which I had already been involved with from the policy side of it. So I, that's when I decided to go the Public Works route. Because eventually I wanted to go into like management and I figured understanding how operations work works is going to be vital to any role that I'm in while I'm in public service. And that's the story of how Joey got to the City of Torrance.
Ben Kittelson
Oh my god. I can totally relate that like finding that first job in local government and to our listeners out there that are in grad school or like early in their career like, totally like empathize because it it's this catch 22 of like, you need to have experience to get the job but you don't, you can't get the experience until you get the job.
Joey Garcia
It's insane and it's just like, there's I have issues with like how recruitments are made and from where the pool of candidates come from, it's there's people out there doing good work, and I hope their work gets adopted by other agencies.
Ben Kittelson
And I totally agree with that and the internship thing, like it's as much about learning what you don't want to do and like pulling out like the one lesson or the one you know work product that can help you make the case for the next, the next application.
Joey Garcia
I will say, in this, in 2015 I applied for the City of LA as a Management Assistant position. They had 40,000 applicants and the writing ones have had ten thousand people at the Staples Center. They I applied in, I applied in April, and then I got hired, and then I got offered the job in May, 13 months later.
Ben Kittelson
Oh, I was gonna say, for months, not so fast.
Joey Garcia
No, it took it took a while but it that I've heard lots of improvement from their HR in general. So don't be discouraged to apply for a gigantic city state like LA.
Ben Kittelson
Yeah, so I'm, I'm curious, like, because I'm thinking, like I could have similarly kind of taken a path where you know, you're interested in management and you end up kind of going up through into a department like public works or, you know, and kind of getting your experience and stuff there. I mean, I, I think I like I spent my time in budget offices kind of early on and which is a little more general but still like you know, definitely not in city manager's office. But so what's kind of been your experience in the Public Works office, like what have you kind of got to work on? Why, why, you know, what are the lessons that you'll take kind of going forward?
Joey Garcia
Yeah. So I so when I came in, like I knew I would be replacing this guy who looked like he was on his way out, right? Like, I mean, he can he was clearly older and you know, he looked tired like this is so I figured, you know, I learned the ropes from him for a while, like three months he's gonna announce retirement, and then I'm gonna be able to take over water and wastewater operations. That was four years ago. And Chuck is still there. So you can go on ELGL and search for Chuck Shike. You can learn about Chuck, I think I wrote about him like three years ago.
Ben Kittelson
But he's the sweetest person, he is the sweetest most dedicated person I've ever met in my entire life to water. He's been in water for about 40 years. Like he is he was that he literally wrote the book on like water urban management planning back when it was only 10 pages and now it's 400 pages long. So he so he's still there [laughter] which I didn't get to take over water but I do, I did get to supplement or I supplemented a lot of like just everything to do with water, so conservation programming, the budget, capital improvement projects. What probably the most I would say the biggest like life change or event that I that I've done in public works, was help with the rate study. So what I what I've probably what I take away what I will I will take away from my time in public works is how valuable enterprise funds are. So in public and in Torrance, we have water, sewer, refuse and sanitation, sanitation, no water. So we have four different enterprise funds. And they are cash cows. So you need to so from like from water perspective, like I'm over here trying to make sure that our rates don't go up, at the same time that the city is asking us to move every expense that they can into an enterprise fund, get it away from general fund and put it in a in a revenue fund and justify the expenditure that way right. Which, which is, which takes into my second point about public works and enterprise funds in general is, it's incredibly easy to raise rates. It's like you, in California you need, it takes about like nine months from like beginning to end from like, from doing the study to posting like public notices, hearing second hearing and then adoption. What one of the one of the first things I did was assist in a 112% rate increase to our water rates in two years.
Joey Garcia
I remember you writing about him.
Ben Kittelson
What!!
Joey Garcia
So, Yeah, so, right. So it's like, how do you, first of all, why are we, why do we need to raise rates a 112% in two years? And how are we going to sell this to our board and council? The easiest way to do it was to never mention or mention at the very at least we could 112% and that mention $3 a month. So yeah, $3 it's got an additional $3 a month is a lot more probable than 112% increase in your water rates. But when you're doing a rate increase, you know, I have pressure from, you know, from management and from my director to get as much money as we can, you know, there's, we have tons and tons of capital improvement projects that need to be funded. So it was this balance of how much money do we really need? And what projects can we, what projects do we prioritize now, while not increasing rates for our low income residents and our senior citizens who are on fixed incomes, like theirs and it's not just like single family home, oh my god rates, I could talk about rates. We should bring on one of the …… or something on here to talk about rates. So, point is,
Ben Kittelson
Yeah, I know there's a whole world I've been exposed to so I understand why it could be a wormhole. So what are like some of the other like, maybe big projects you've been a part of, like, if you were to kind of, I don't know, talk about like your day to day or kind of maybe this season, maybe it's more seasonal. Like what are some of the big like, bucket things besides like rate increases or rate studies they you're kind of going to work on?
Joey Garcia
Yeah. So, so it's, it's like a little bit of everything. Like it's, we had, one of the things that I recently worked on was like how to deal with like roadside memorials right? Well, there's a traffic collision and someone like, you know, tragically, they die in this accident. And people want to put up like a memorial on the side of the road. Well, we had an incident in our city where it was like, it became like a nuisance to the residents around them, like large crowds. And it's like, that is a very sensitive topic to like, the people that are mourning, but also like, now you have residents who, you know, it's disturbing, you know, their, their neighborhood for like months, right? So, so it's everything from like figuring out like, what other cities are doing a little bit of research between like neighboring different regions, and then presenting those options back to Council and saying, like, here's what everyone else is doing, here's what I think will work for our community. How do you recommend we proceed right, and for the most part, you know, they do listen to staff and that are very grateful for everything to do from like, how do you deal with something that I'm dealing with now is how do we deal with illegal dumping? So like when people are moving out, they just like leave out mattresses, like do we, do we go like an educational route? Do we offer like more service, expand services? Do we start finding people? Do we do all three? How do we do all three? Who's gonna pay for all this in the middle of a pandemic and incredible recession? So it's, it keeps me on my toes. Because there's always something new. Every day there's something new. Yeah, and then all the invoicing and so there's all the normal stuff, which is like invoicing, contracting, doing, like purchasing and then all like the special projects and stuff that I just know, small things become big things quickly. And that's usually what I end up dealing with.
Ben Kittelson
Yeah, well, I know, like, Public Works departments are different. You know, every practically every city has, its slightly different. So it sounds like water wastewater, is the stuff that you're dealing with. Is it what else are like kind of the big the big services underneath the Public Works umbrella in Torrance?
Joey Garcia
So in Torrance we are 130 residents 17.2 square miles. We do
Ben Kittelson
I mean, how many? Is that 130,000?
Joey Garcia
Yeah. 130 and 17.2 miles that might be off but 17 square miles is what I want to say. And so I think it's what we had street sweeping was a huge issue for some of our residents at one point. They just didn't want specifically the parking, they didn't want to move their cars for parking. And this is like pre COVID. So pre COVID they just, you know, someone was upset about their tickets, riled up their neighborhood. And now we had people coming to council every week, trying to change parking, change fines, but essentially try to get rid of street sweeping. They were pretty vocal, right like it did make us and this is part of what it was, reevaluate our services and figure out you know how to what level do we have to do it you know it's it street sweeping has been working for years so there's no real like initiative to take a look, closer look at it. So we're in the middle of doing that and then COVID hit and we had to reduce services which means so we stopped sweeping in the street, stopped asking people to move their cars, we stopped finding and we stopped doing that for about three months. Now we have an even bigger, more vocal group of people asking us to restart. So we had an entire like it was it was weeks of people asking us to stop street sweeping. We stop street sweeping and now they're upset that we stopped street sweeping. That's Public Works.
Ben Kittelson
Well, and we were talking a little about this before we started recording but what's been the impact on kind of your department and your operation with the pandemic. Because obviously, there's it changes how people are kind of interacting with your services, but it also changes how you, you know, provide them and can deploy folks. So what's that been like in your city?
Joey Garcia
Yeah, it's uh, so we were lucky enough to get hit with a ransomware attack right before COVID. [Laughter] Yeah, yeah. So in the like, in the beginning of February, we got hit, I think I think I'm supposed to refer to it as a as a cyber incident. So we had a cyber incident in February, which essentially shut down all of our computers, emails, servers, everything. It just completely shut it down for three weeks. Our front staff was literally using carbon copy paper again. Yeah, we're using typewriters, carbon copy paper, and, and, like, you know, for the first week, fine, right. Like we can do this. We can go on without computers, we'll just everything will backlog everything and then get back to work on it next week, right? Except week two came. And then week three came. So in week three, it was, it was, well, week two, we started, we started opening Gmail accounts and starting Slack channels. And essentially, we like bought new laptops. And so it was right before COVID hit. Our staff who was very hesitant to do anything new and like …., is all of a sudden on Google Sheets, Google PowerPoints, they're on Gmail, they're on Slack. They're like collaborating on documents at the same time, which is like inspirational, [laughter] but also, like, like, I got shut down so many times, and now it was my time to shine. [laughter] Like, oh, here, let me teach you like, how, like, no, you don't need to save the Word document. It saves automatically. Here's how you can track changes. Like it was, so it was like a moment of shining. Week three and a half comes, comes  around. And now the whole city is back up, right. So we already had our police up and running our managers office. So some of our more critical departments up and running on computers. And that same week that you're like that I got inundated with all my emails coming in, we're told to quarantine. So now we're shutting down everything. The same week that we just started getting back up. And, and so now, now that we had the opportunity to just expand on everything that we were already doing, my department that would one way or another said working from home was never going to happen, literally happened overnight. So I don't think they have any excuse ever again to say that it will take too long or that there's like a process that we need to go through like no, we did this overnight. There were a couple hiccups along the way but things don't need to be perfect for you to start, like implementing these these new policies. So, it was everything, like it was on our end is reassuring all of our services kept going, right? We, it was, it was difficult to be able to quarantine, where like for our engineering staff, it was a little bit easier. They, they, they were able to take the files that they needed to work on a laptop from home know, kind of when they needed, you know, a lot of our engineering staff is younger. So they've been working with these, you know, they're working on Zoom, working on Google Docs. But it's a little more management staff like it's kind of like now the now the kids are teaching the older staff on like how to work with these tools that already existed and they're comfortable in. Our admin staff has done a split schedule. So I come into work every other day, take files home as I need them. Do, I would, I was rejected from a VPN for years, for years, there's just like safety and there's just like, no, like, now we needed to work, please do work. But there were challenges like specifically like I'm thinking and we had an issue in water, right? So when a mainline breaks or concrete needs to get fixed, like you can't do you can't fix these things on your own. So we have guys out there who, like, are in close proximity to each other, like they're, they're touching each other while they're fixing and turning all these wrenches, right. Like, how do we keep them safe? And how do we ask, you know, our staff you know, we yes, we're in the middle of a global pandemic, you're supposed to stay six feet away from each other except for you guys, because we need you to do your work. Right. Like that is a difficult conversation to have with your staff is just we care. And, you know, there is, there's just plenty of like push back from like labor groups and like longtime staff, who you know, it's either have like felt neglected or there isn't like proper communication to begin with. So it's like how do you tell your, how do you tell your guys out in the field that you care about them, at the same time that you're asking them to, like put their lives at risk. So that those are those are difficult conversations where thankfully our staff, you know, they, they, they love their work, right? They love what they do, they know what they what they're, they know that what they do matters. And thankfully our residents you know, like to send little thank you notes all the time about the work they do. COVID.
Ben Kittelson
Yeah, well that that is the cool thing like to hear from like operations departments and folks that work in you know, public works or water or whatever like, like this public service ethic and like this passion for, you know, serving the community, like it extends down to those frontline guys and like we should do well to remember that that like you know, they're as much a part of this, like, you know, this infrastructure and this and this, you know, public services does anybody and guess what they have to do it, you know, if it's two o'clock in the morning and a sewer line breaks or during a pandemic, or you know, any other day, so, yeah, that that's inspiring, but also like, yeah, I get, it's hard. It's hard a conversation.
Joey Garcia
When we were talking about, and then this is, because it's become, it's come up again now, but you were asking, like, what does it mean to work in like public works, right? So before I went to my, like, pre COVID rant, one of the things that I, that I wanted to address and kind of like, it's not necessarily a warning for more of like, now I mean, it's a warning, right? Public public works, is, you know, can be sexist, right? Like it's a male dominated departments just across the board, right. Most of the, most of the people on the fields are men. Engineers in the office also tend to be mostly men. There are literal locker rooms, right? Like in our department, where people, you know, say what they want. You know they're out there doing the work, they're doing it well. But they're not necessarily out there, you know, trying to figure out what society's underlying issues and how to address them, right? Like they're there to pick your trash. They do it really well. They do it consistently. So it's like, how do you that's, that's been one of one of the biggest challenges that I have working in public works is is addressing like this like, old, well not old but because it's current but this like mentality of like the boys club, right? Like we have, we have more women engineers, we have women on our staff now. But it's like, like we like easy cases aren't like when we're re re we were a couple years ago, we refurbished our men's locker room. But literally no one thought about, like redoing our women's locker room because they just thought that's not where the men who make those decisions are, like, they're not in the women's locker room. They never go in there. How would they ever know that it needs to get repaired? It's just like, they just like a short little comment of like, hey, why, why are we doing one instead of both? And they'll go well, I don't think it needs work. Like, have you ever stepped foot rin there? Have you ever asked any of the women who work here? And, and then just like on a daily basis, it's just like a, like, feels daily of having to pull these full grown men aside, you know, and talk to them about why what they said was wrong, or like, how their remarks or comments or commenting on what one of our engineers is wearing, of how that is inappropriate. And, and then just think those conversations, right? Whether you do it, you know, in public in front of everyone or you take these people aside and you try to explain to them, you know why, like why we don't do that anymore? It's, it's hard. It's hard to, like, it just feels like it's ongoing. But I've seen progress. Or maybe I've just become numb to it. I don't know, if I'm numb to it, or if I've seen progress away from it. But if we do have younger people coming in, we have, like more women coming to work for us. But like it's still there. And, like, you need to be uncomfortable with having those conversations at work.
Ben Kittelson
Yeah, I totally agree. And what I want to underline that, like, they're hard conversations, but they're totally like necessary because that's how you start to change a culture and like change, you know, how folks act in the workplace that, you know, extends to, you know, micro aggressions around race? Yes. It does feel like sexism. Yeah,
Joey Garcia
I think something that's helped me is like the ability to like code switch, right? Like, I mean, I was also like a jerk, right? Like I also held like it's, well, coexistence sounds like it's literally two different languages are being spoken in my department, right? Like you have the guys in the field. And then you have like management administration, in our engineers, like, we use different words, we use the same words we use them differently. So it's something that I have, but I've, I've tried to, like, make sure I don't lose that ability to, you know, talk to talk to our staff in a way that they'll understand like, I can talk like them with them without talking to them or talking down to them. Because it is trust. Like how, how do you expect your staff to work well, if they feel like they're always having to be policed, right? Like, are we like, Oh, I can't say that anymore, right, like making jokes like this, but it's like, no, like, I'm not gonna like punish you. I'm not gonna try to police you know, it's like, I understand, right? Like, here's, here's how we can do a little bit different. Okay, please go into public works. Public Works is good, I swear. [Laughter]
Ben Kittelson
Well, yeah, that doesn't just exist in public works. Like it's an everywhere thing. And just because it's obvious like to you right now in public works doesn't mean it's not, you know other places.
Joey Garcia
And like every organization is also different and like at different stages of, of like their culture right. It's always it's but if you never like if you always just shy if you always tell people not to come into organizations then there's never any new blood in there right?
Ben Kittelson
So if there's no one inside pushing that, it won't change either. So we'll switch gears a little here but one of one of my favorite things you've written for the ELGL website fairly recently, I feel like it's not that that old of an article, but you were about like following your passion and like and continuing to find passion especially when you can and I totally related to this like when it can be a little bit of a grind, the day to day and like, you know, maybe your eyeballs deep in a rate setting survey or spreadsheet and you can't see the forest from the trees, but so for you like what, what's it been like to like or what advice do you have around kind of continuing you know, define and follow that passion within local government?
Joey Garcia
Yeah, there's so I've I, I'm still working on like keeping the fire lit, right. I had the pleasure of hearing and it's Grant Lee. He used to work for the City of Ontario now since retired, but still an amazing person. And I don't I don't think he'll mind sharing conversations. But one of the things that he shared with me was his difficulty in keeping his own passion lit. And, and the thing that stuck out of all the conversations, the one thing that stuck the most and has always stuck with me is when you care, and you fail, it hurts, right? It's like they're tied together, the more you care about the work that you're doing and how we do it, and then when it doesn't go how it's supposed to, it's gonna hurt, especially if you if you keep getting shot down, if you keep getting no's of, you know, there's not enough funding, this isn't the right time. There's so many ways that you can justify not changing or not doing it well. So, so when I hit those barriers at work, it hurts. And I get down like I'm talking, like actual depression of distancing myself away from my work. Like I don't I don't want to be involved with anything right now. Do you know this is myself, of what I was really excited for to begin with. And one of the things that, that, you know, he'll share too is, you know, do you have to build this coalition, you have to build your team of people who support you. And they don't necessarily have to be in government, but it's just people who, you know, who know, you know, know what you're capable of. And I can see that change in you to, you know, check in and ask, you know, hey, what do you like, what's going on? How do we help, right and then so it's that short, that small family, a small group of friends who keep your flame lit and then you reciprocate that for them when, when their flame goes down. There's a lot of airbending, firebending in this too, but no, but it's, I think it's, it's so hard, right? Because humor is like my like deflection when things start to get serious, but it's, it's hard because it's, you know, you can only take so many no's. So, it's about having that small group of people with you. And understand that, like, the small accomplishments that we make, like they, they matter, right? Like, yes. Like I talked at length about, like, the rate analysis and, and like how complex it was and like the hundred 113%, but like we only raised rates for our, for our seniors, it was it was 0.5% for our seniors which is like that, that's good. That that really matters for our seniors because they're their own fixed income. So that it has lasting impact. Cuz we can't raise rates again for five years. So that mean that, to me that is reflecting on, on your accomplishments. Yeah, I mean, it's just it's, it's always it's changing. I have I have my difficulties.
Ben Kittelson
Well, and I always think it's about how do you connect kind of the mundane and the, like, boring to like the big picture into kind of the mission or the goals of like, of your of the organization in your work and like, yeah, that that rate study might be like boring but guess what it's going to help, like, achieve a more equitable structure than it would otherwise or I feel like every, I guess it's a little late in the budget season for me to have been doing this if I was in my old work, but every year around, you know, April or early May I'd be banging my head against the wall, because some department wasn't getting what they needed, what I needed to do my job and, and like part of part of it is taking a step back and being like, well, you know, they're dealing with all these things. And if we get this right, like it'll mean you know, they're able to do their work effectively. They're able to get the resources to serve the people that you know, they deserve and, and so it's I always think like, yeah, have that support system that people know what you're going through, but also like, man that even though like really like boring stuff, like connects to this bigger picture like it, and so it does matter and if you run, run into a spot where like maybe it's not connecting, maybe that's something that that shouldn't be done. Or we should stop doing.
Joey Garcia
Well, yeah, I think it's easy to kind of like forget why the processes that we've built exist, right? It's because they were created for a reason. And that like turns into like, mundane stuff, right? Like, why are we telling people not to fax their RFPs to us? Right, like, but we haven't had anyone fax the RFP to us in like decades, right? It's like, why is that disclaimer still there. It's just like, no one's ever really looked at it. There's what I think so people when you're like building your resume, and like people ask you, so how do you get noticed? How do you get ahead? Are they always talking about like reach assignments and like big projects and like but I think that kind of breaks that that like mundanity, is that a word, of like, what you're doing right is like, like, yes it helps with your career and helps you get noticed, right. But also it's like it helps channel whatever passion you have to, you know to totally put all of it into like this one project right that's like kicking your butt. And like there's no better feeling of like when it goes well, it's almost all worth it right like you worked a year on whatever project you're working on. You worked on it for a year. You know, you put in unclocked overtime for got to make sure it works. And it gets approved. You do it, it gets put in place. And it's amazing, right you feel like a freakin rock star. Hold on to those moments. Because it's gonna come again. You just gotta put, you gotta look for those reach assignments or special projects.
Ben Kittelson
Yes, totally those kind of like other duties as assigned. I used to tell people about like that they allow you to kind of stretch and they allow you to like, I don't know, find passion or find kind of your, your interest within maybe, maybe a job that's not as exciting. And you get exposure to things that you wouldn't otherwise and like that's yeah, I totally agree with that. All right, so I've got one, one more like, serious question for you. And then we'll, we'll kind of wrap up. I've been thinking a lot about, and I know, Rick Cole is a city manager in the Southern California area. So you may be familiar with him. But he came on the podcast recently to talk about 21st century government and some of his comments, it's kind of stuck with me. And so now I'm wanting to start asking folks that come on, kind of their thoughts around this. So Joey for you, how do you think local government will change in the coming years and decades and this might be post pandemic related post, you know, the recent protests and kind of uprisings related or it might just be hey, this is kind of where local government needs to go and should've gone there a long time ago. So what are kind of the big things that you see, like on the horizon?
Joey Garcia
I have I listened to, I think it was just recent, the latest episode with Rick Cole on where he kind of went through that and his experience with Santa Monica. And then, you know, his departure from Santa Monica. I have nothing but the highest respect for Rick Cole. It's, but it's like it kind of highlights like, even if you are like a superstar, right, and like, is a highly regarded city manager. He's inspired a lot of people. And he's no longer in Santa Monica, right. Like, I think I was shocked to hear it. If you haven't had the chance to listen to his podcast, please go to it now. I don't, I won't even pretend to, to know how we can best right move forward in 21st century. I think, I think he does a pretty good job of it. My ideas and I'm going to reach for the low hanging fruit. Oh my God, we can do a whole other podcast on like businessy  language like low hanging fruit where I want to strangle myself. Okay. So the low hanging, right it's like it's always there's always this underlying characteristic of government that it is slow, it is bureaucratic and you know, and the reasons for them to exist for one reason or another, but the reasons of why they became bureaucratic might not exist anymore. And so, you know, in, in light of the, the, what I call it was called ransomware attack it's let's call it the, the technology incident, right? cyber, right. So in light of our cyber incident, COVID and now this, and now the conversation around how we police. We, one of the things that I've seen, that really is inspiring and I hope we hold on to it is city council meetings are now more inclusive than they were in the past, right? Like, yes, we still have people who, you know, who don't have access to internet, they don't have access to, you know, to the online platforms to which we moved our council to. But look how quickly everyone is like adapted. It was so fast. I hope, like I pray that we don't move back to only in person stream online. No. Like, our, like our people, like our residents now know that they can call in and ask questions, they can, they can send emails, and it'll actually get read and commented on. So it's like, we're expanding the accessibility of our council, so much like so that now we're like, limiting the amount of emails right, like you can't read a 1000 emails on how you should defend police. Like you, like it's, it's like we're seeing people care more and trying to talk to a counselor so it's like, don't drop, don't drop the ball, right. Like people are engaged. You agree with them, you don't agree with them, but they're there, right? Like, these are the people who have feelings. They have concerns about their community, please don't close off these meetings to them. So we talk about making more inclusive, like, maybe we should, you know, disband city council meetings, right. Like you have a business meeting and like community meetings, like, Is it working? And for the most part, no, right council meetings aren't working the way that we want them to? Or maybe they are working the way that they're supposed to, right, in that we are limiting people's access to a …, limited access to how government works, right? Like, maybe that's how council meetings were or invented, right? Like, only allow the people that are supposed to be making decisions, let everyone else live their own lives. Wow, council meetings. And, and then there's, like, it's this whole of how we like in our own department it's like, we spent years saying, never work from home. And now we can, right. Like, there's no reason to go back to normal, right? Like, there are some things that we need to go back to normal, right? Like, yes, we should probably street sweep. But maybe we don't need to commute to work every day. Right? So it's like, it's ….
Ben Kittelson
Especially in a region, like, especially a region like yours, where like, you might have to commute, you know, an hour or 90 minutes to get to the next town over. Like, man, if you don't have to come in two or three times a week, that'd be way better.
Joey Garcia
I come in every other day. It's, it's 17 miles to my office, or about an hour and 10 minutes pre-COVID, right? I would love to say working from home but you know, you got to show that it's, it's effective, and then it's sustainable. And we got it, we got flattering but not going back to normal, right. It's like, I hate because it's like you're always like oh like this is the opportunity to, you know, to improve ourselves and really stand up to the challenge where it's like, yes, like it actually is, like it in our community to not go back to what wasn't working. So it's like a time of like low employee morale and like no money. It's like, how do you make it work? Right? How do you make sure that our council meetings stay accessible or make them more accessible?
Ben Kittelson
I totally agree with that. And all of a sudden, they're way more accessible and it costs like nothing to stream live on YouTube, or do you know, like, zoom meetings? Like, it turned out it wasn't that hard. But like, I and I, I say this, despite having had to sit through four hours of public comment, at a recent meeting that I attended, but unfortunately, but like having more people at the table is a good thing and having easier access to things is a good thing. Like I Yeah, I agree with you. If we can keep that aspect of these online meetings, even if you know maybe the elected officials are back in person, like I think that'd be a good thing.
Joey Garcia
We can do it. The takeaway is don't go back to normal. Please.
Ben Kittelson
All right. Well my last question for you. If you could be the GovLove DJ, what song would you pick as the exit music for this episode?
Joey Garcia
Oh my god. Okay, so do you know Luis Miguel? Yes of course you know Luis Miguel. Everyone knows Luis Miguel. Okay, so so there's a song called, oh my god I'm missing right now. Okay, so it's called "Ahora te puedes marchar" which is basically like, now you can like leave, right? Like you can you can go away, which is an adaptation from the English song. I only want to be with you and flipped. So it's like, go away. I don't need you. And I love that song one because it's like peak 80s and like happiness, but also it's like you just broke up. And now you're owning it right like you're realizing yourself for it. You didn't love me then you can leave right like Peace out. [Laughter] So it's Luis Miguel "Ahora te puedes marchar".
Ben Kittelson
Awesome, yeah. Now I need to listen to listen to that. That's my like Spotify playlist like, awesome. Well that that ends our episode for today. Joey, thank you so much for coming on and talking to me. I really appreciate it.
Joey Garcia
Yeah, thank you for having me on Ben, and giving me the opportunity.
Ben Kittelson
Well, and, and I do want to take this chance to like, thank you for your time to run the board. Like and for our listeners, if you ever run into Joey, like buy him a beer, pat him on the back, and then it's a firm handshake, like normally, we'd get there thank you know, him and other leaving board members, you know, in person at the, you know, annual conference, and that wasn't possible this year. So if we can do as a community to do our best to make sure they feel appreciated. So Joey, like thank you, thank you so much for your time and for what you've done to make ELGL what it is.
Joey Garcia
Yeah, I will say thank you, Ben. Thank you, Kirsten and Ken. You guys are amazing. Thank you, everyone who's who's been there from the beginning, right like I jumped in when it was already cool, so it's been a it's been a it's been transformative two years right to to be a part of this organization and drive it to what I think it is and can be. So thank you. Thank you everyone.
Ben Kittelson
And for our listeners, GoveLove is brought to you by ELGL. If you didn't catch that already, you can reach us online at elgl.org/govlove, or on Twitter at the handle @govlovepodcast. You should support GovLove by joining ELGL. Membership is just $40 for an individual or $20 for students. Subscribe to GovLove on your favorite podcast app. And if you've already subscribed, go tell a friend or colleague about this podcast. Help us spread the word that GovLove is the go to place for local government stories. And with that, thank you for listening. This has been GovLove, a podcast about local government.
---