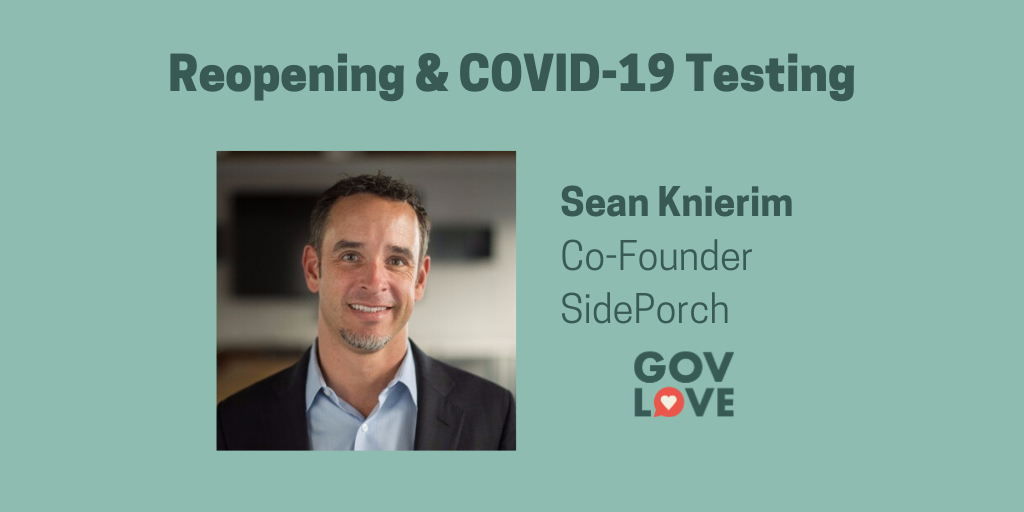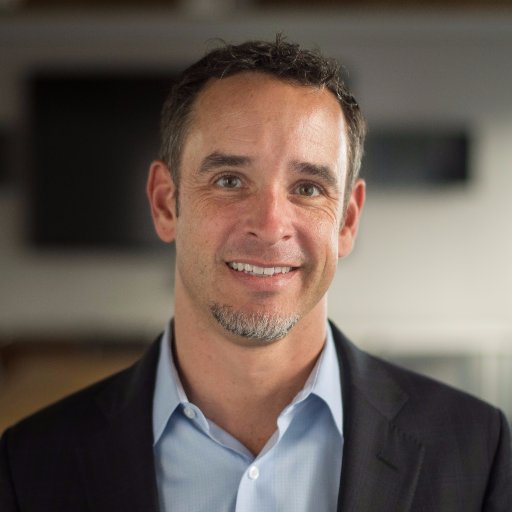 Sean Knierim
Co-Founder
SidePorch
LinkedIn | Twitter
---
Creating a culture of health. Sean Knierim, the Co-Founder of SidePorch, joined the podcast to talk about resources for communities in reopening after COVID-19 shutdowns and expanding testing capacity. He talked about the need to be adaptive and flexible in procurement as well as being ready to scale small actions.
Host: Kirsten Wyatt
---
---
Learn More
Rockefeller Foundation: COVID-19 Testing Action Plan
---
Episode Transcript
Message
Hey, GovLove listeners, Ben here. I want to take a second before we get to today's episode and tell you about a new fellowship program that ELGL is doing with the Government Finance Officers Association or GFOA. We are partnering together to do a fellowship around the Popular Annual Financial Report. So cities and students can participate where we will match students or interns with organizations to help them put together their Popular Annual Financial Report. This nerdy finance, budget communications goodness warms my heart. So if you're interested in partnering and giving some experience to a graduate student, or if you're a graduate student that's interested in local government at all, a PAFR is a great kind of first experience. So you can find out more on our website elgl.org, and the applications are open for both cities and graduate students to apply until July 3rd. So that's elgl.org to learn more. Thanks.
Kirsten Wyatt
Coming to you from Portland, Oregon, this is GovLove, a podcast about local government. GovLove is produced by ELGL, the Engaging Local Government Leaders network. We engage the brightest minds in local government. I'm Kirsten Wyatt the ELGL, co-founder and executive director, and today I'm excited to welcome Sean Knierim, the founder of SidePorch to the GovLove podcast. Welcome.
Sean Knierim
Thanks for having me. I'm really, really grateful to be here with you.
Kirsten Wyatt
Today, we're talking about the real and immediate need to help local governments get their reopening plans in place, as well as the supply chain access required to enable those plans. We'll talk to Shawn about the work his organization is doing with local governments and about the resources that are available from SidePorch. But first let's get started with a lightning round. What is the food that everybody likes but you do not?
Sean Knierim
Cantaloupe. I see it as this Styrofoam filler of the fruit kingdom.
Kirsten Wyatt
[Laughter] It's kind of like the carnation equivalent in like a bouquet of flowers, I think.
Sean Knierim
It really is. Long conversations over COVID quarantine with my family on this particular topic.
Kirsten Wyatt
Have you ever been served like a side of cantaloupe with like cottage cheese in the middle?
Sean Knierim
I have seen that. I also have strong feelings about cottage cheese but cantaloupe just is….
Kirsten Wyatt
That's what I was thinking.
Sean Knierim
Yeah cantaloupe for breakfast fruit bowls, it just seems like the thing that takes up space, that gets in the way of the good stuff.
Kirsten Wyatt
All right, and what is your favorite font?
Sean Knierim
Avenir is my favorite font by far. We've just had to move away from it in our company because it actually doesn't show up as a bolded font in Google Docs but I love Avenir.
Kirsten Wyatt
And like, where did this love affair with Avenir start?
Sean Knierim
When we started the company about, that we'll talk about, about six years ago, I had the chance to go through and do all of these selections, and I had to make the decisions for the first time in a long career of working with other people who got to make choices. So I had a lot of fun with this. And you know, I spent the good part of my life reading and writing for a living. So fonts have always been important to me.
Kirsten Wyatt
You know, fonts are a really hot topic at ELGL. So I'm glad to hear you say that. I think you're going to fit in just fine. So what is your most controversial non-political opinion?
Sean Knierim
Um, without being able to think on my feet a lot on this one, I'm going to go back to the cantaloupe. I really do believe that it needs to be eliminated from all breakfast fruit selections that come to tables. So I don't know if that's political or not, but I would love not to have that show up on my plates in the future.
Kirsten Wyatt
You know, in my little backyard garden that gets great southern exposure, I actually can grow cantaloupes in my garden and had to stop doing it because I caught my dog eating them whole, like rind and all.
Sean Knierim
Yeah, I realize and I had been told by good authority, which, including the person I'm married to 19 years next week, that I'm wrong on this particular topic. I've gotten really good at cutting cantaloupes up for my family to enjoy as well over the last few months, but I don't know. I'd rather the strawberries and blueberries.
Kirsten Wyatt
Got it. All right, and what is your best self-care tip during times of quarantine and shelter at home?
Sean Knierim
Yeah, thanks for that question. So along with eating fruit, of course, it's super important so I'm not anti fruit. Um, I think it's something I've been working on hard in the last few months and really the last, you know, decades of my life is acknowledging that things are tough. Like just being able to say yeah, things aren't easy for me and everyone around me is important. It sounds simple, but it's pretty tough for, for folks like me that are trying to group through tough things all the time. But there's there are four things that we have learned over time studying and working with first responder communities and communities working under high pressure with not sufficient information, which is a topic we'll be talking about this hour. But there's four things that have been researched that we know help us get back to kind of level equilibria, one of them self-care. So how do I take care of myself, which is, you know, physically, emotionally, nutrition, getting enough sleep. The second is emotional regulation. So keeping an eye on how long it takes me to pull myself back down, when emotions hit, it's not throwing emotions and pushing them aside. It's figuring out how you, you move through them. The third is social networks. So and not just the size of a social network, but how well is it set up so that it can support me? And how well am I able to actually reach out and use the support from that network. That latter part is the one that I work on a lot. And then finally, purpose and spirituality. Knowing that what I'm doing every day, in what I know, the groups the individuals in your communities are doing, is working for a purpose, working on a mission. That's really, really important for me, and being able to, to know that working through these hard times are worth it. And so I have to be my best to be able to support myself and those around me.
Kirsten Wyatt
So let's shift gears and talk about you and your work. Can you tell our listeners more about your career path and how you got to where you are today?
Sean Knierim
Yeah, I've been, I've been really blessed to, to have a number of jobs that have all been in service to others. And I've been in roles where my job was to try and create environments so that people could go and do great things. I started as an educator. So I started as a high school English and Spanish teacher and a baseball coach, from there had an opportunity to go and work in higher education, got a PhD in Comparative Literature, with a focus on economic development, and taught at the university level. Going out and trying to find a teaching job in Comparative Literature was was pretty challenging. Especially we had two little kids and went back to Chicago where I grew up. So you usually don't go get a Comp Lit gig in the town you grew up. So I got, very again, blessed is probably the best way for me to say it, I had the opportunity to become Chief of Staff at the MacArthur Foundation in Chicago, served two different presidents there, and then got brought out to where I am now outside of Los Angeles to be Jeff Skoll's Chief of Staff. Jeff was the founding president of eBay and runs a number of organizations aimed at trying to help improve the world or make a positive impact on the planet. So through this, had a great, I mean I learned more doing different things that, I didn't even know some of these jobs existed when I was growing up outside of Chicago. And from there in the last five or six years, we've been trying to build an ecosystem of, of organizations to support groups trying to make a difference in the world. We have a consulting firm that we'll talk about today called SidePorch. It's a strategy consulting group. We have a fund of funds platform and investment platform to be able to deploy capital for the forces of good. And then we created a individual and team performance company called Liminal Collective that we've also been building with some just extraordinary individuals all across this ecosystem. So I get the, somehow lucky enough to work with some of the best people in the world on a daily basis.
Kirsten Wyatt
Where did your public service ethos or interest come from? Like, what was 10 year old Sean thinking he wanted to do with, with his life and how did you really bake that into the career path and these different opportunities that you've had?
Sean Knierim 5
When I was 10, I was intent on becoming the next second baseman for the Chicago Cubs. I, so you know, as it as I was growing up, you know, I wanted to ride horses for a while and then figured out it was gonna be too tall to do the kind of stuff I wanted to do. And then I wanted to be a baseball player and then figure it out. I wasn't good enough to be a baseball player, I was able to be a coach. But yeah, I've always been surrounded by people who understand the privilege and the and the blessings that they've been given in their life and really wanted to, you know, give to others. My mom's been, became a grade school teacher. She graduated from college the same day that my younger sister did. I've been, you know, I've been around people who modeled the kind of behavior that I wanted to, to live up to in my life. I just always knew I wanted to teach. I loved reading and writing and loved working with kids. So I started there. And it was when I came out here to, to, to work with the Skoll group, that I had the chance to actually intentionally think that through and say, well, I've been lucky enough in the past to be, you know, creating and working with organizations that are trying to do good and going forward, that had to be true. So the question I asked a lot of people when I talk to them is you know, what needs to be true for me, it's being of service.
Kirsten Wyatt
So tell us more about SidePorch and the work that you do and how our listeners might interact with you and your company.
Sean Knierim
Sure. So we created SidePorch five or six years ago, having spent a few decades of hiring consulting groups in different areas, and we had seen that, impact in working across complex systems to generate positive change around the world required a few things that we didn't necessarily see all over the place. It required the ability to move across different networks and different systems and be able to have trust and motivate different groups to come together. And you know, as many people that I'm sure listening to this or working with differently incentivize groups that are pulling in reasonably similar directions, but not necessarily for the same reasons. So we knew that the network's we had been lucky enough to bring would be important. So at SidePorch, we are agnostic in terms of sector, industry, size, geography. So we've worked with big international NGOs, government agencies and corporations. We've helped launch startup companies and nonprofits as well. So we do three things. Everything we do always starts with a founding ethos of helping leaders figure out not in marketing, communications, but kind of foundationally, what do you stand for? What are the values and principles that have to to be true, and then how are you gonna, what impact you're gonna have in the world. And then you build the accountability mechanisms, which are business plans and growth strategies and stuff. So we do strategy work, we build business strategies, growth strategies, we do operations to help set up the operational infrastructure to carry it out. And then the partnerships required to work across contexts to get this work done.
Kirsten Wyatt
And let's talk specifically about your work on COVID and helping local governments and local communities right now. Can you share more about that?
Sean Knierim
Sure. A year ago, through some of SidePorch's work, we helped the high complexity molecular lab that was doing cancer diagnostics work, build their Series B round of infrastructure, so financial models and other materials. We later on three months ago called the founder of this group to wish her a happy birthday to find that she had turned her lab from doing cancer diagnostics, doing COVID testing. So we had the opportunity to support this group here in Los Angeles, build their internal operations to scale from the lab work they were doing to be able to be a very important I think, in scaling, excuse me, the scaling COVID testing group, and also had the opportunity to build their outreach. So both philanthropic and other donations coming in, but the sales channels required to, you know, get them hooked up, for instance, helping the drive thru capability for testing in Los Angeles County. So coming out of that work, we saw, really three needs which track with the three things we're doing right now. One is to generate some trusted information and communications to pull good information out so that leaders can responsibly and ethically build their reopening plan. So we're pushing a bunch of, we're making our own publications, we're creating videos of leaders that are grappling with this and we're working a lot advising different groups. So the second thing is consulting. So there are groups that need help for, for a variety of reasons in different contexts, building their reopening plans or their back to work plans. So we're helping, you know, organizations, from counties to law firms to, you know, to a number of other groups that we can talk about if you'd like to help figure this out. And then it really importantly, we've been spending a lot of time learning about the different networks of resources that are required for those reopening plans. So we've done diligence and formed relationships with labs that are providing PCR testing, both a variety of PCR types of tests, we've identified logistics companies and antibody serology testing companies and thermal imaging groups. So trying to put together all the resources necessary, so when we meet a group or a set of organizations that need certain resources, we can make good connections to groups to save their time, but also for us because everything we do is connecting with folks that have that strong ethos in place, and knowing all of the different actors that are emerging right now, we want to make it easier for good groups to get access to the kind of individuals and orgs that they would be proud to be working with and that they can trust. Because right now we're building trusts with, with groups in new ways. We don't get a chance to shake hands and give people hugs anymore. So if we can help establish that basis for trust, we think it's really important and valuable.
Kirsten Wyatt
And since you and I first talked, a lot has changed in our world and COVID is no longer our main consideration and focus as we look at our communities. Can you share with us how SidePorch is focusing on what's happening in our communities now with COVID being just one layer of many?
Sean Knierim
Yeah, I think it's so important right now to acknowledge that we are in a rapidly evolving dynamic environment that is throwing challenges at us that we may not have been able to anticipate a few weeks ago. I mean, I think the world, the world we live in today is pretty similar to the world we lived in a few months back. But certain things have emerged that help us understand how little we actually know. So I know many, many in your community are grappling with really deep and deep seated long standing, but immediately important challenges to people who are facing, that face their entire lives injustice and discrimination and other groups that are trying to be of service and trying to figure out how to move across it. So we think really the approach to how communities especially municipalities are supporting responses to COVID has to be informed by what's going on around the country that the most vulnerable in our communities who are struggling with COVID the same as any others, need help, and we need to make sure that any reopening plans or back to work plans are you know front and center, keeping an eye on the disparities in our society to make sure that anything we're doing has a chance to make life better in an equitable way across all the communities that we're trying to serve.
Kirsten Wyatt
Yeah, absolutely. And I think that that's where the point you were making earlier about trust and, you know, finding new ways to build trusting relationships, in a constantly changing world where we are striving to serve our vulnerable communities, you know, is so essential. You know, how, what, what are some guidelines or what are some perspectives you've seen on how we make plans for six months from now when things seem like they're changing daily?
Sean Knierim
Well, let's, let's start with something that's really important as a kind of just a baseline reality check. We don't know what the world's gonna look like in six months. I mean, we don't necessarily know what's gonna happen a week from now, if you and I had this conversation last week, this would have been a very different conversation. So recognizing that, that we are in, in general, we're always in a state where we, we can't we don't have crystal balls, we can't tell the future. But we can build processes and approaches that are dynamic and able to take on information and make decisions and change those decisions as we move forward to the most effective organizations we're seeing right now are avoiding this fight and flight reaction that a lot that everyone has, where some groups are kind of sitting back waiting for enough information to make a decision and take action. Others are operating as though they knew what the future was going to bring and try to make long term decisions. What we're seeing really effective work by those groups that are saying, look, we are going to make the best decisions we can right now, based on information we have but we're going to make sure that we're keeping our eyes open and keeping our resource acquisition open such that we can adapt as we go for it. So our thoughts as you're whether you're a corporate we've talked to you know law firms, we've talked to a company building fusion reactors, we're talking to large counties around the United States. There's a common approach that we think is really important, which is starting with what we're calling a culture of health. So every organization needs to adapt this in their own contexts, because every context is different. There is no one playbook that's going to work for everybody right now. But if I would say that if you begin thinking about a culture of health, how are we taking care of the people in the communities that we're responsible for, and start from that perspective, a lot of the processes will emerge in a way that can be consistent and be understood across your communities. How are you going to keep people and different groups safe and healthy? How are you going to make sure that they understand why you're doing it, to make sure that if people feel that they are unsafe, that they have the ability to come out and say it so this is you know, some organizations that have pushed forever to you come into work, no matter what and you never take a sick day, now it hasn't changed where you know, if you got a sniffle, your allergies hit the way that mine did this morning, stay home. And that's that's actually you doing the honorable thing. But this culture of health also by calling it that requires us to go and learn from healthcare professionals and learn from a epidemiologists and public health experts and figure out how those different sectors fit into our, you know, our decision making, you know. A small company we've been talking to that makes puzzles in Colorado hadn't been thinking about culture of health necessarily, as they built their company mission and ethos, but you know, figuring out how to take care of their employees, it becomes really important moving forward. And groups that are serving municipalities and cities have to think about this just as much and more, and health is not just physical health, health is mental health, health is spiritual health, the vibrancy of a community and the economics is part of that. So that's one of the approaches. I think, another piece that you know, we've mentioned this a bit already in this conversation, recognizing and really studying one's own context, so that you can understand what you're dealing with, and then importantly, understanding the context of those intersecting your own is important. A colleague of mine, Dave Baiocchi, who is a Complexity Engineer, Professor Rand was talking about how, in these times, it's turning out that how we construct our own contexts are changing. Like what it means to be working from home and working, not seeing family and everything else that's happened means that we're constructing context differently. But so too is everyone else around us. So it takes, it requires us to sit back and try and understand how all this is working, while at the same time, and this is the other piece that sometimes works in opposition to taking your time and getting a lot of information. I think we need to start doing things. We need to take small actions that can be scaled as opposed to waiting to see what happens later on. And that's where you look to others for examples, you figure in your own domain, that there will be others that are doing a good job. But looking outwards and getting examples from all these complex systems so that you can build stuff that fits and adapts to your own, to your own context.
Kirsten Wyatt
Well, I think one thing, you know, with all of this uncertainty, one thing that we know now, you know, on this day, and again, this could change, but that offering testing opportunities is essential for this recovery from COVID. And probably even more so now that our communities have seen large gatherings, protests, riots, and we know that people's social distancing, you know, hasn't been in the last two weeks what it what it should have been based on best practices. So let's talk about testing and about some of the resources that are out there and best practices for local governments to bring forward testing programs that can work.
Sean Knierim
Yeah, I think testing is essential for getting out of this crisis and reopening our country and the cities that make up you know, the kind of the bedrock of that economic and community, the engine that pushes our country forward and those around the world. We also think testing is one of the harder areas to get your mind around. There's so much disparate information. There's so much variety of tests and results and how to understand these tests that this is where SidePorch actually began, a lot of our, our, our outreach in the materials that we're pushing out is to try and help make this understood a little bit better. It's where we started. I think there are there are some very strong resources, we put some stuff out on our website and we're, we're pushing off other, other resources to check. I would say anyone that's working for a city or municipality should definitely check out the Rockefeller Foundation's recent publication on testing talking about how that, in their view, our country has to get to a point where we're testing 30 million people a week with the PCR based testing, the diagnostic test to know if you have it or not. And in order to do that, it's going to require, you know, remarkable scaling of our labs and the supply chain going into those labs. But something I think that's really important for this group to hear is there is available testing out there. There are labs all across the country, both large labs and local labs that have sufficient capacity to support cities to provide testing. Something else that's really important for groups to figure out would be, what types of testing are available. There's different types of swabs that can be used. There's new saliva based tests, there's portable PCR tests that are able to be put on site to get much quicker results. And this goes back to the context we've been talking about. Depending on the situation in which you're working, you're probably going to need access to multiple of these different resources, and you're going to need access to a diversified supply chain that doesn't just rely on one group or one area. Because different parts of your communities are going to require different things, your jails are going to require very different approaches, than your drive through testing facilities, then very different there from your first responders, or your the hospitals that are in your areas or the and then figuring out how does a city provide appropriate resources alongside with the businesses in, in their, in their city limits are doing as well. And working together among groups, you know, that's what we've always done. So we're finding ourselves kind of sitting in the middle of these different communities to help them out. And testing fits within this culture of health. So I don't, to be clear testing is not the only thing we think is important. Testing, it's all about trying to ascertain your relative risk at this moment and then finding ways to reduce that relative risk. Social distancing that you pointed to is essential. PPE, logistics, sanitation, advisory are all important. But this, and it all comes down to the culture, that one is putting forward the processes, the norms and the standards that are being both upheld or created for these different organizations. So putting all of that together with a, with a comprehensive and thoughtful testing process is going to be important. The other point just to make testing is changing by the week. And so both in terms of the availability, the pricing is changing. Some are trying to push the market as high as they can. Others are trying to anticipate pushing the pricing down so that we can get this to more people and different technologies are coming online right now. So all of this is important for leaders in cities to kind of have their fingers on the pulse of.
Kirsten Wyatt
And so you know, given, again, how rapidly things are changing, what are some of your recommendations or best practices for public health departments that need to get testing up and running and that are trying to provide guidance on reopening?
Sean Knierim
I would start in, if I was writing this, I'd put an exclamation point at the end, I would say start, start small. But start many groups, and especially cities are waiting to see what the counties are doing and trying to figure out what the state's going to do in terms of, of funding. And budgets are incredibly important here, right. So this is not a cheap proposition. But our recommendation would be to identify needs, through your prioritization and categorization and hopefully the ethos that you're building upon for this culture of health, figuring out what communities needed and start this so you can start figuring out how it works. Putting the logistics in place, making sure your constituents know that you're doing something is incredibly important. We don't have sufficient information right now to come up with fully comprehensive plans that are going to, you know, work for the next couple of years. We do have enough information to figure out how to put small scale testing in place so that you can keep some of your folks healthy or be able to support the health of some of the groups that that you're that you're supporting. I'd say tied to this is determining your needs across the constituent base in your organizations. Make sure that you have prioritization and planning in place, make sure that the procurement teams in your groups are capable of moving at the speed necessary to work through this kind of iterative and adaptive process. Something that we have been just incredibly impressed with, even a county and a city as large as Los Angeles, the procurement people have found ways to move quicker than I have ever seen a county operate at and this is and it's hard to do because counties are supposed to move at a certain pace so you're taking in diligence and being very thoughtful and cautious in support of the responsibilities that you that you have to your constituents. But there's times now when we need to move because you know, decisions are going to mean lives. So I'd say those are all important. Diversifying your supply chain is really important as well. A lot of, a lot of groups are trying to rely on just one vendor. And I'd say that different vendors are gonna be able to support different parts of your communities in different ways. The time to get decisions back is going to be important. So all of this moves, it's a pretty complicated and even complex environment to be playing with. But we got to do stuff. We can, I don't, I don't think we have the, we don't have the luxury of waiting a few months to figure out how we're going to respond.
Kirsten Wyatt
And so given all of the work that you've been doing in these last couple of months, on COVID, you know, across industries, across sectors, any closing words or important last thoughts you'd like to share with our listeners?
Sean Knierim
Yeah, I'd say, yeah, this, this goes back to the very reason why we started our, our group. But it's because we were trying to build these trust relationships over the last decades. I think figuring out the values and principles that you think are important for the kind of groups you're able to work with, are essential. We are only trying to identify and recommend, you know, testing groups or providers of PPE or advisory services that are being run by individuals that are driven by their values and the service to communities. In this there are so many groups that are seeing opportunities, which is good because the opportunities are there, people are able to build these resources. But I say really do try to think about the character of people with whom you're working and think about how you also are able to uphold those values yourselves, as you become the brokers to bring these services into your communities. I think that's that can't be stressed enough. And then I think getting to the point where you're able to move quickly and say, based on our information now, we think this is a good group, but in two weeks, if you're like, look, it's not what we need right now, make sure you have the flexibility and the courage and the ability to move and adapt to a very quickly changing environment.
Kirsten Wyatt
Well, and that's such an important way to sum up, you know, one of the places that we started today, which was building trusting relationships, and one way that you can do that is to find partners, like you said, that share the same values and beliefs. Trust is much easier when you know you have that foundation. So I think that's a that's a great point for you to wrap up with today.
Sean Knierim
Great.
Kirsten Wyatt
So my last question, which is not as serious as the topics we've been talking about. If you could be the GovLove DJ for this episode, what song would you pick as our exit music?
Sean Knierim
All right. So like every sought question about songs, for me always comes back to the great American songwriter John Mellencamp that I grew up with in the Midwest. You know, and he is, there's so many songs that can be picked. But yeah, he wrote about social transitions and challenges moving from one, you know, phase of the economy to another. Rain on the Scarecrow, Weakest Moments, Lonely all Night, all of these songs that kind of lament loss and change. But there's one that that he writes and sings called Peaceful World where, you know, the last lyric in there actually points to how racism is alive in our world. And we need to look to leaders like Martin MLK and others to to make sure that we're charting paths forward. But it's a hopeful song, and I think anything that is able to bring us hope, while still pointing to the fact that we're maintaining that hope in very challenged difficult environments is important to me. So knowing I was coming into this conversation yesterday, we listened to a bunch of Mellencamps happy songs last night, which, which got me ready for another day.
Kirsten Wyatt
Good. Well, and I think you might be the first person to pick John Mellencamp as our exit music. So, so that's pretty exciting.
Sean Knierim
Right on. Well, thanks. Thanks for having me. And thanks for the opportunity to to be part of this conversation. If there's any way we could be of service to anyone hearing this, please do let us know and we'll do everything we can to help you out.
Kirsten Wyatt
Well, thanks again. For our listeners, you can find links to SidePorch  and to Sean and to all of the work that they're doing as well as their online resources at elgl.org in the show notes for this episode. GovLove is produced by a rotating cast of awesome ELGL volunteers. ELGL is the Engaging Local Government Leaders network. Our vision is to amplify the good in local government and we do this by engaging the brightest minds in local government. A reminder that our full suite of COVID information and resources is now online at elgl.org/COVID-19. And for our listeners, you can reach us at elgl.org/GovLove or on Twitter @govlove podcast. Thank you for listening. This has been GovLove, a podcast about local government.
---