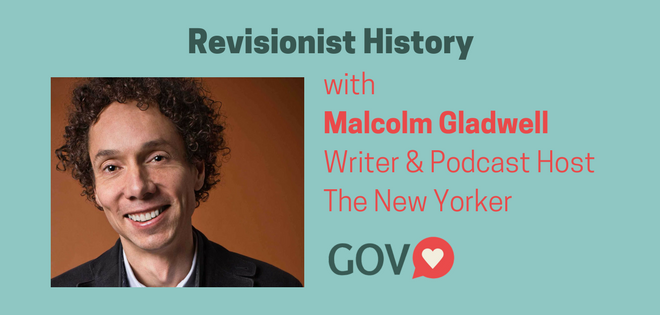 Malcolm Gladwell
Staff Writer, The New Yorker
Bio | Twitter | Podcast: Revisionist History
The legendary Malcolm Gladwell joins the podcast to discuss the education system in America, social justice and the second season of his podcast, Revisionist History. Gladwell has been a staff writer at the New Yorker since 1996 and is the author of several books including David & Goliath, The Tipping Point and Blink.
Revisionist History is Malcolm Gladwell's journey through the overlooked and the misunderstood. Every episode re-examines something from the past—an event, a person, an idea, even a song—and asks whether we got it right the first time. Because sometimes the past deserves a second chance.
Show your appreciation for GovLove by leaving a 5-star review on iTunes.
---
---
Keep Reading
Malcolm Gladwell on the NBA Carousel, Billionaire Owners, and Multipurpose Golf Courses
How to Save Olympic Track for Its Fans
Malcolm Gladwell: 'If my books appear oversimplified, then you shouldn't read them'
Malcolm Gladwell says golf is 'crack for rich white guys' in new podcast