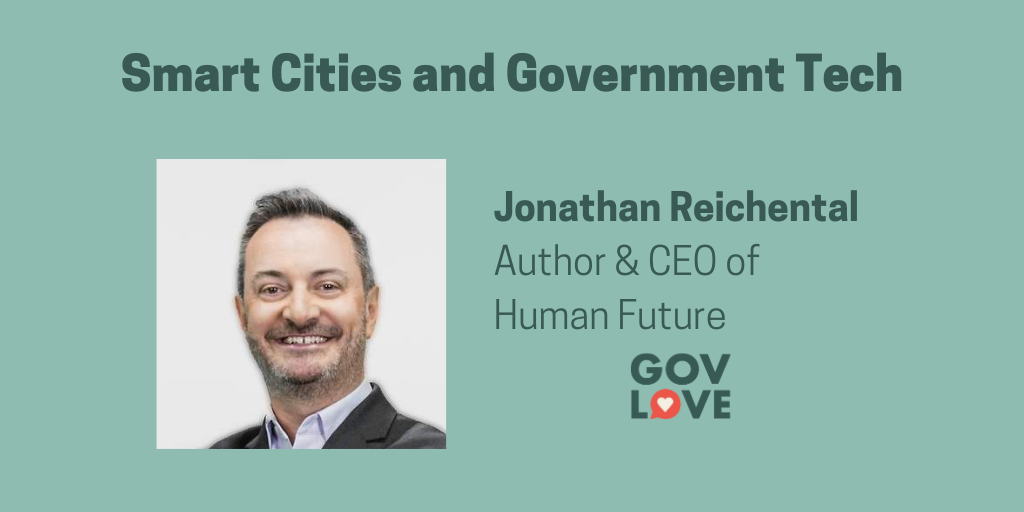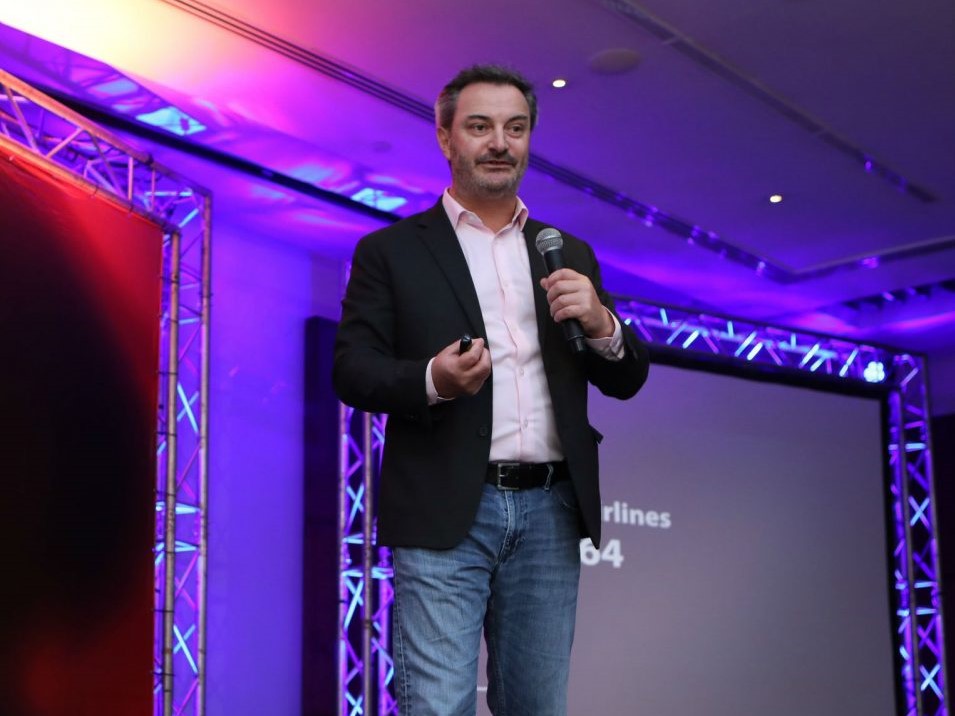 Jonathan Reichental
CEO of Human Future
Author
LinkedIn | Twitter | Bio
---
Smart cities for dummies. Jonathan Reichental, is the CEO of Human Future, author, and former Chief Information Officer of Palo Alto, CA. He joined the podcast to talk about the role of government technology and his view on what makes a smart city. He also shared what he thinks the impact of the COVID-19 pandemic on government technology will be and how organizations will change. Jonathan discussed a book on smart cities that he is writing and a new training for public sector leaders.
Host: Kirsten Wyatt
---
---
Learn More
Former Palo Alto, Calif., CIO Won't Work at Oracle After All
The Impact of COVID-19 on the Implementation of Digital Twins in the Global Building Industry: Perspectives from Expert Practitioners
---
Episode Transcript
Kirsten Wyatt
Coming to you from Portland, Oregon, this is GovLove, a podcast about local government. GovLove is produced by ELGL, the Engaging Local Government Leaders network. We engage the brightest minds in local government. I'm Kirsten Wyatt, the ELGL co-founder and executive director. And today I'm excited to welcome back to GovLove, Dr. Jonathan Reichental. Jonathan, welcome back to GovLove.
Jonathan Reichental
Thank you so much, Kirsten. I'm so happy to be chatting with you again today.
Kirsten Wyatt
We know from our last GovLove conversation with Jonathan, plus many other episodes of this podcast, that government technology is fundamentally changing the government community member relationship. The impact of tech is felt across all departments in our local government organizations. Today we'll talk about Smart Cities, a new certificate program that Jonathan is part of, his new book on smart cities, and how all of us working in public service need to embrace and understand the essential area of government technology. But first, let's get started with a lightning round. All right, what is a food that everybody likes but you don't?
Jonathan Reichental
Okay, so this week was the 50th anniversary, the 50th year of Earth Day, which is pretty cool when we, when we, you know, recognize the importance of the earth, mind you, we should do it every day, but one special day a year to recognize the earth. And people ask me all the time, you know, what, what can they do? What can they do to contribute to a better future? And of course, there's lots of things you can do, but one of the things you can do, that you can do this evening or tomorrow, is reduce your consumption of red meat. So, my answer to your question is, I don't eat any red meat and I don't want to because I'm trying to do my bit for the planet and do more things, but that's my food.
Kirsten Wyatt
Well, I mean, there have been many studies about, you know, obviously not just, you know, the costs associated with feeding and, and watering, you know animals but then also like the methane deposits into the atmosphere. Isn't that something that's often cited?
Jonathan Reichental
It really is. Yeah, yeah, no, here in Northern California, you know a bulk of the carbon emissions are is transport, about 70% of it is. But that remaining 30% a big chunk of it is a meat thing. And some of that is, you know, raising cattle.
Kirsten Wyatt
Uh huh. Well, and again in the southeast, you know, obviously the same thing with the hog farms. So I guess not technically red meat but the same thing with the environmental impacts of of having huge hog farms for pork products.
Jonathan Reichental
Yes, it is an unpopular point of view, and request you know, to reduce or eliminate meat, but I will say this, I recently been trying out some of the vegetable based meats like, you know, Impossible burgers. And, you know, years ago, you'd eat these vegetable meats and they would taste like vegetables. They didn't taste very good. [Laughter] We've come a long way. And I think people would be surprised, I think, you know, having and making little burgers, you know, mixing it up with some spaghetti or pasta. And it's surprisingly good, like in terms of not only the texture and the smell, but the taste. I haven't eaten red meat for well over 20 years, but it was easily, easy for me to remember. So people, people should try it. And, and by the way, the trend is definitely that people are eating less meat. I mean, we're seeing that positively.
Kirsten Wyatt
For sure, for sure. All right. So moving on, from food to fonts, what is your favorite font to use?
Jonathan Reichental
[Laughter] I'd love to know the genesis of this question. But I do love design. I really love, user experience and good design in all its forms. I'm going to choose a Myriod Pro.
Kirsten Wyatt
Oooh! That's a good one.
Jonathan Reichental
And oh, and yeah. Thank you. MYRIOD, Myriod Pro. And it is the font that Apple uses in their presentation. Apple uses it in their presentations, and I was able to find it, royalty free online. So there is a free version of it that people can download and use if they like it, too.
Kirsten Wyatt
All right, good to know. Yeah. ELGL members have surprisingly strong opinions about fonts [laughter], we've found. And so we wanted to put this question in here because it tells you a lot about a person. So but I feel like I feel like Myriod Pro like puts you in the upper echelon of guests.
Jonathan Reichental
Oh, thank you.
Kirsten Wyatt
You're not picking like the Times New Roman, which I think people look down upon. All right. So last lightning round question. What's your most controversial non-political opinion?
Jonathan Reichental
Oh, wow. Oh my goodness. Can such a thing exist? [Laughter] I don't know. Let's see. I'm gonna say that social media regulation should happen. Yeah, my opinion is we need social media regulation, well thought out smart regulation. And we don't have that and it's causing all sorts of issues.
Kirsten Wyatt
So if you could wave a magic wand and put into place one regulation that you think would pretty quickly, you know, you know, go into effect and be really helpful, what might that be?
Jonathan Reichental
Well, there's quite a few but you asked me for one. I mean, I think we need to do a better job at protecting children. A lot of just, you know, there's the cyber bullying that's happening. The kids getting exposure to materials that, you know, are just terrible. You know, I think that we can, you know, the social media companies are doing things. They're trying to be proactive. But we're beyond that now. I think we need to take some enforcement measures to protect children online. So that would be my one thing, you know, out of a long list that I would suggest.
Kirsten Wyatt
Got it. Well, let's shift gears a little bit, still talking about technology and online tools. But I want you to first kind of reintroduce yourself as a refresher to our listeners who maybe didn't get a chance to listen to the previous episode that we did with you. So what is your background and kind of the career path you've taken over your career?
Jonathan Reichental
Sure, thanks. Thanks for the opportunity. And I'll try to be brief. You know, your listeners are probably trying to figure out where's my accent from? [Laughter] I don't know. I don't know if it's strong today. Not some days it's stronger than others. [Laughter] But I was born in Ireland. So I'm a citizen of Ireland and a citizen of the European Union. But I'm also a citizen in the US. It's really a great privilege to have dual citizenship. I moved to the States almost 25 years ago, can't believe it. It does feel like last year that I moved, but it was 25 years. And I've always been the tech guy. Even when I lived in Ireland, I was playing with computers and I was working in the computer industry, came to the States. And I've continued that I mean, my whole life has been primarily as a as a technologist. And I worked for a big professional services firm when I first came here and was there for almost 15 years. And I became at the end, the Director of Technology Innovation for this big global firm. And you know, that job was one that was so fun and so interesting that I was surprised when I got paid every two weeks, you know, I get paid for doing this. And by the way that that reminded me for that for the rest of my life, I would only do things that I love to do. And that the, that the income would just be sort of a bonus and the necessity to be able to live. Getting up every day and doing the thing that you love is so important. During that time, I also went back to school and I, you know, didn't stop because I kept getting degrees. My middle brother would often joke, you know that in the mail, he received yet another invitation to graduation. Like John, when are you going to stop. [Laughter] So I went all the way to the, what they call the terminal degree, which is the PhD and got that in Information Systems. And then after that big professional services firm, I went to work with Tim O'Reilly's firm in Northern California, O'Reilly Media. Many technology listeners will know Unix in a nutshell. And maybe know, the web 2.0 summit. He is famous for a lot of things. And that company continues to do very cutting edge work on the edge of media. In fact, they just announced just about two weeks ago that they're getting out of the in person conferences. And they're going 100% to virtual conferences.
Kirsten Wyatt
I saw that. That was really interesting.
Jonathan Reichental
Yeah. Big bold bets. But you know, they've made others in the past and have prospered. So let's see how this one goes. And you know, they're leaders, so they succeed, perhaps others will be inclined to go that way too. And then the biggest surprise in my life, I got invited to work for the City of Palo Alto as the Chief Information Officer. And that was a surprise in so many ways. I didn't expect to work for government or a city, but they had an amazing city manager. And a great proposition in terms of what they wanted me to try to achieve. How can you leverage Silicon Valley to be able to deliver government services in a better way? And that was really the thesis of our work. And I stayed there for seven years, had a great experience. I learned a lot about government and about cities and about life in society. But you know, what, I learned a lot about me. [Laughter] Anyone, I think, who does public service, discovers who they are, a lot of the time. And so, you know, I finally wrapped that up at the end of 2018, after seven tremendous years, and I fell in love with cities, I really fell in love with the possibility of what our cities could become and how in particular technology could be applied. And so a lot of folks wanted to hear my point of view. I, you know, continue to be so humbled by that, you know, I got the chance to go to many, many cities around the world and meet with mayors and city managers and, you know, share what worked well in Palo Alto and also, what didn't work so well, so others could prosper too and learn from what we were doing. I learned a lot at the same time and brought that back to the city. And so anyway, I wrapped up in 2018. And I was looking at a whole variety of things to do, as I was beginning to know that I was, you know, it's time for me to think about my next adventure. And I looked at tech firms, I looked at academia, and I looked at the things and then I said, you know what, I live here in Silicon Valley. And if I don't try to do a startup, I will have missed an opportunity. You know, everybody's doing it. So I formed a small company called Human Future, which I've been running now for almost a year and a half, just coming up in a year and a half, and it's going really well, super focused on education, because that's my passion. I love education, I love being a teacher, I love learning. So primarily focused on education, consulting, and also I have a portfolio of investments that I, that I am, I'm working on in the role, mostly all of them are social impact companies. So, we might talk more about that, but that's my quick summary.
Kirsten Wyatt
You know, now that you've had a couple of years, you know, stepping away from the city work, what, you know, what's kind of your, I guess, your thesis statement or your takeaway from your time in local government? I mean, was there, was there kind of like one core theme that you feel, you know, defined your time there?
Jonathan Reichental
Very hard to identify one theme. But I'll say this, I'm, I'm going to talk a little bit about my new book later in our interview. But in researching my book about cities, particularly, on local government, It, you know, opened up so many new ideas. And I learned so much about the history of, of urbanization, that that's contributed towards how I think about this question, even, even more so today. But I'll say I've two thoughts. One is that I was surprised and warmed by how many amazing people I met, who worked for government. And I genuinely mean that. I was really impressed by the dedication, the passion, the intelligence, and sadly, there is a perception on the outside that that isn't always the case. And that's, I regret that you know, but I really it didn't matter if I was in Palo Alto or a surrounding city, or even when I went, for example, to some federal agencies over in Washington, DC. Again, I met such bright, energetic motivated people. So that's one of the things I think I learned and I want to share with, you know, people outside of government. There's a lot of smart people doing amazing things. You know, there's a few people who aren't right. And let's, let's be, let's be fair. I think the other thing is, you know, delivering cities is really, really hard. Really hard. And I don't think that's appreciated broadly outside of government, and, you know, I'm saying this to, you know, to a friendly audience. We get, we get slapped around a bit, you know, we don't always get treated well by those outside government, you know, because of perception. But delivering government today, I think, in the 21st century, with all the demands, you know, you can you could talk about providing, you know, low cost energy or better transportation, but throw climate change into the mix, and it gets really, really hard. So, I think, I think that's the one thing, it's really tough. And there's so many limitations, whether it's, you know, just budget, just having the dollars to do the thing, the amount of priorities, being able to, you know, be able to listen to everybody's point of view, try to accommodate everything, but also at the same time make a decision. You know, not everybody's going to be happy. And then I think maybe…sorry, I know you asked me for one, but I'll do three.
Kirsten Wyatt
No its great. I love it. [Laughter]
Jonathan Reichental
Okay, my third is, there is room for improvement. Big time, you know, whether it's in training and skills, whether it's in the adoption of technology and keeping, you know, the data center current and giving the tools to government workers that they need. I do think there's still a big gap there. And while we're making amazing progress, we need to step up our game because the gap between where cities are and where they need to be is still quite wide.
Kirsten Wyatt
Well, and not to get too off track, but I feel like that's what COVID does to everyone nowadays. But I do want to, I want to move away from smart cities for a sec, because I want to ask you a question about how COVID has impacted local government. And I saw a quote, something like, you know, local government has innovated more in, you know, in two months than it would have normally in 10 years. Do you agree with that? And, you know, what is what is the potential silver lining? You know, especially as it relates to local government, technology and innovation, and then and then after we talk about this, maybe then we'll move into smart cities, because I think there might be a nice connection there. Sure.
Jonathan Reichental
Yeah. Yeah. You know, it's, I mean, it's revealing something. I think it's revealing something. So I have, I'm talking to a lot of government CIOs right now, for a variety of reasons. Some of them are friends, some of their three different things we're working on and you know, immediately when COVID happened, and we started to anticipate that things were going to be locked down, and then you know, City Hall was going to be shut down in every city and a lot of cities then scrambled. They didn't have laptop computers for everybody, they didn't have VPN in place. But they quickly executed purchase orders, they imaged the machines, they got VPN on there, and people were able to start working from home. And many people, not everybody, but lots of people who were, you know, information workers could suddenly work. And so that happened very fast. In some cases that happened in two to three days and other cases that happened in a week or so. If that had gone through the traditional processes, it would have taken a year. And again, I'm not exaggerating. I you know, every time even when I was at the City of Palo Alto, and my team and I would talk about a project, and they, and I would say how long do you think it's going to take and they would say nine months, I'd say probably another six months on top of that. Because we weren't being truthful to ourselves. It takes a long time to get stuff done. And so we have revealed that it actually doesn't. If there's the, if there if we're prepared to come up with streamlined processes, but while still being diligent on openness, transparency and making sure that we are fairly acquiring products and services, we can, we can, we can move fast. I think the second thing is, government workers can work from home. [Laughter] There, there are a lot of government workers, you know, public service staff, all over America, by the way all over the world, who have been forced to go to work every day because their leadership don't believe in tele work, who now are seeing that not only is tele work possible for a lot of people, but they can do very good quality, high productive work. So that's been revealed too. It's going to be hard when we do finally get into a post pandemic world, when a government administrator says, no, you got to come to work, and the staff member says, but why, I can be as just as successful from home, that that's going to be a very interesting conversation. So those are just two. I have lots more, but you know, just for the, for now that's what I have.
Kirsten Wyatt
So let's jump into this idea of smart cities. And I think many of our listeners have their own definition of what that is, but what's yours? What's your definition of smart cities?
Jonathan Reichental
Yeah, that's another thing I find out you know, when I was researching my book. There, there is no definition that's agreed upon. There's lots of different ideas. Some people will say, a smart city is a city that uses data. Others will say it's one that embraces the Internet of Things. I think that's probably too narrow. I actually like the Smart Cities Council definition and it's a simple one. It just says, using technology to improve sustainability, workability and livability. And I kind of like that. It's sort of simple and that that's our world. The sort of the Jonathan version, my sort of tweak to that is, smart cities are a response to local needs. And through that we deliver through better technology and improved processes. So the reason I use that language, a response is because I think Smart Cities are specific to individual cities. You know, what's important to Seattle is different to what's important to Paris, or Cairo, or Melbourne in Australia. There isn't a one size fits all. So it has to be in my view, a response to your local needs. So that's it. Using technology for workability, livability and sustainability. Better versions of that, right. [Laughter]
Kirsten Wyatt
Well, one thing and we'll talk about the Pepperdine certificate program in a minute. But one thing that struck me when I was first learning about this approach to you know, pushing and continuing to learn more about this field of government technology, was that it doesn't matter what department you're in. There's, there's a smart cities role that your department can play. Talk to us about, about that, how varied it can be, the approaches that government can take and still kind of fit into this workability, sustainability, livability framework of what Smart Cities are trying to do?
Jonathan Reichental
Yeah, it's a great question. It reminds me of the riddle, you know, how long is a piece of string? You know, it's like, how many ways can we sort of think about all the different amazing ways that every department can contribute? There's no limit really to it. And so I have a just like few quick ideas I'll throw out there. The first thing is, everybody can be engaged in digital transformation. And, you know, what I mean by that is, moving a lot of those paper based analog, clunky expensive processes online, making, you know, better online experiences, not only for internal processes, so let's say expense management, you know, approving an expense should be should be simple and quick, maybe that's an app and a click of a button, you should be able to submit your expenses, but also for a better community experience. So, if you're requesting, you know, a new permit for, let's say, an electrical inspection of a new, sorry, a permit for a new kitchen and you need, you know, inspections. You know, that's pretty straightforward. You shouldn't have to drive to a building, you know, take a number, speak to five people, fill out forms and go home and then wait. All that can be done, either on a smartphone or just online. I think digitalization is such a sort of a, it's a, I'll use a overused term, you know, low hanging fruit, we can all go there. This stuff is not complicated or expensive anymore. One example I have of a sort of high end digitalization is the paperless effort in Dubai, United Arab Emirates. They have a mission by I think 2022 to basically eliminate all paper in government services that, that to me sounds like a really good target. Not only does it force an agency or agencies to improve their processes, because you're moving from manual to digital, but also they lower costs, they lower errors, and they make a better user experience. So it's a win-win all around. You know, if you're in transportation or public works, there's lots of great work being done on grooving the street lighting. No, I think that's very common in the Smart City realm. And you know, even if you don't call it smart cities, your you know, your city is probably looking at more efficient lighting to reduce power consumption, LED you know lighting, so it lasts longer and it's lower cost over the long term. And then you know, our light posts become very useful for a range of sensors, whether it's environmental based or even for helping apps in using data for finding a parking space. One of the areas that I've got more excited about recently is what we call Smart Water. And Smart Water is the technologies around improving the delivery of water to homes and businesses. The world's cities have a mixture of water systems that are, have been around for a long time, are in bad, you know, disrepair and are expensive and they lose water. They're very inefficient. We need to make progress on that, you know, on average, a water system in a city loses about 25% of its water on the way to delivering it. And that, you know, clean fresh water is quite a you know, is a resource we can't afford to lose. So I think Smart Water is a great one for the water department and those connected to it. Transport is a huge area, as you know, and there's many ways to look at it and sort of think about it. But one of the things we want to do, and people are willing to do this, is to is to deliver more public transport. So you know, we don't have cars every morning and evening with one person inside them creating a lot of congestion and pollution. If we have really nice, clean, efficient, public transport, more people would use it, and then I think it's fascinating to look at a city, state like Luxembourg where just a while ago they announced that they were going to make all public transport free. That's the way to motivate people. That's a way to change the game. And that's really, really smart. And then I think the final area that every department can actually contribute towards is sustainability. And by the way, with sustainability, I'm not just talking about, you know, lowering carbon emissions. I'm talking about things like more green space in the city. Having, again, less congestion, less cars, better, cleaner, water, cleaner air, not using near as much products, you know, packaging, recycling or creating, ultimately, the circular economy, where we're, you know, we're reusing stuff, we're not even producing waste in the first place. So it's a great space and this is one of the reasons why I love cities is because so many people can get engaged and there's so many different ways to get engaged.
Kirsten Wyatt
You know, in thinking about, you know, smart cities, and then especially now where people are working from home and kind of this digital connection is so much more important than ever before. Do you think that internet access, you know, fiber to the home or however provided, I mean, should that be a responsibility of local government? Should that be a public good? Any thoughts on that as it relates to how we support not just our city organizations, but the actual, like city itself in in being connected and online?
Jonathan Reichental
Yeah, this is an evolving debate, I think, in many ways. You know, just if we look at the United States alone, you know, we're pretty well connected, but we're not all connected in the same way. You know, some people have very high speed, fiber connections, others still have dialogue. Even the capital of Silicon Valley, San Jose, there's a lot of people first who don't have access or can only access in libraries. And then there are a lot of people on dial up still. So it's not just about developing nations or poorer cities. And, you know, so I think about it in a few ways. If, if, if, for example, the mail service or public transport, or, you know, getting around cities was primarily left up to the private sector, it's possible that some areas would never be, never be served. And that's the reason why government has intervened historically, is because, you know, something like the US Postal Service, they'll bring a letter to any building anywhere in the country, regardless of whether it has to be subsidized or it's expensive. It's just seen as a more equilibrium in the system, more equal, So you could make you could use that to argue for public intervention. And I think I think that's a decent argument. The more fuzzy argument, I guess, could be whether government should provide the best, you know, high speed internet, or whether they should support just access. Now, there are many communities where they are too small, they're not competitive or where the city is delivering, you know, fiber to everybody, connectivity. So, there are certainly circumstances and regional reasons to address it that way. Now, if you look at the role of the private sector in in the United States, it has stepped up and does deliver many of the, many important services that we, that we need. I mean, you know, electricity delivery in the United States is, is largely provided by private companies. Telephone service is provided by private companies. So we do have to recognize that they have a role and in fact, the private sector can ensure, you know, low cost and high innovation if, if it's competitive, you know. So it's not, it's not as sort of a clean answer as perhaps you'd expect or would want. I do think we need to debate that more. And the final point I would make, by the way, is, there's many, many ways of delivering internet today. And I think that has to be thrown into the, into the mix too. You know, there's people who are super passionate about that the only way you can have fast internet is going to be fiber, you know, basically bringing glass to every single person's house and country. But we see the emergence of a very, a lot of different very fast wireless technologies that are emerging. And so you know, there's got to be sort of a an evaluation of that too, that there we are moving quickly in the, in the internet/bandwidth connectivity debate. And it can it's not the same debate as it was five years ago. So I think that's an important element of it too.
Kirsten Wyatt
And so, you know, I feel like every time I talk to you, I think of 500 different things that we could talk about and that I'm fascinated about. But to me, that just is a reminder of, you know, how much continuous learning that's out there around government technology. And so, you know, I'd like you to share more about this new learning opportunity that you're part of, and how you're trying to help local government continue gaining that knowledge and that perspective on these government technology issues?
Jonathan Reichental
Sure, yeah. Thank you for that. Earlier in our conversation I shared with you that, you know, education is something that I'm passionate about and it's a big part of my little startup now. And even in this quarantined, COVID world that you and I find ourselves right now, on April 24, I'm still teaching, but I'm doing it online. It's a new experience teaching, you know, graduate students through video. Normally I like to be in the classroom. That's my favorite place. But, but I love to teach. And I do teach at several universities. I'm a professor at University of San Francisco. I do some work with UC Berkeley, and I'm Academic Director for a Spanish University called Esade. And I do occasionally some work with Pepperdine University down in Malibu, near Los Angeles. And they've a just, it's a tremendous school, just a gorgeous campus, right on the right on the ocean on a Pacific, and I really admire and work closely with the incredible Dean there of the School of Public Policy. His name is Pete Peterson. And we have formed a lovely friendship over many years. And we talk very often about the challenges of government and how we can help and I've done some teaching with him. And, you know, through our conversations with not only between each other, but also with students and with government leaders and other government people, we saw a great need for more knowledge and guidance on leadership in the future of cities. So we have put together what I think is quite a unique certificate program that we will deliver in person at the Malibu Pepperdine campus. And it's about leading smart communities. And it's going to be by the way, it's June 4 through 6th, which is Thursday through Saturday. And right now, you know, we're still in quarantine. Those that are optimistic, including myself believe that hopefully you will be out and about maybe in a different way, we will probably be wearing masks that that's one thing we may that may be different than the short term, but we plan to have it on campus. And, you know, we'll, we'll keep an eye on that. We definitely want to provide it. So if June doesn't work, we could postpone it or we could deliver it virtually, we'll see. But right now, it's going to be on campus. And in the course, we're wanting to help people in government understand a whole range of different leadership practices in a world that's changing very rapidly. And we will be, you know, focusing on a number of leadership techniques, but also technologies. We can't, we can't, you know, not look deep at some emerging technologies. So we are going to explore the role of something like blockchain technology, artificial intelligence, the Internet of Things, the Role of data which, you know, I've been speaking about data and government for about 10 years, and it's getting hotter and hotter, it's even getting more interesting. We'll talk about how to secure your city from cyber attacks from cyber criminals, which far too many cities have, unfortunately been the victims of in the last few months. We'll also touch on an interesting topic that not a lot of people, not enough people are speaking about in the leadership realm, which is something called techno ethics, which is the ethics of using technology and we'll specifically direct that at government leaders, Local Government Leaders. There is, by the way, just, you know, this might be useful to many of your listeners. Pepperdine is offering some limited financial aid. If you can't get sponsorship from your agency, so they do have some funds for people. You just need to go to the Pepperdine University website and, and look into that. But that's yeah, that's what we're doing and, you know, we're trying to be super helpful and elevate this topic and, you know, make sure that we're able to educate and help cities and government leaders, and all sorts of government people around this country just be better and have a larger toolkit for delivering the next generation of cities to our communities.
Kirsten Wyatt
Well, and what strikes me about this program is that, you know, this isn't something that you send, you know, your, your systems administrator to. Like, this isn't like a coding class, like this is about leadership in cities. And so this is for people who are, you know, setting a vision and, you know, they're not necessarily like, wiring the building to make it happen, right. I mean, you know, so who's kind of the ideal job title to attend, attend this class?
Jonathan Reichental
Yeah, I hope I do justice to this. I love your point. Yeah, this is this is for the broadest audience possible. It's not, it's not for technologists, although technologists will benefit from it. I think anybody on the executive team of a city can, will prosper from it. Elected officials would be, would be amazing people to have as part of this. We've already got, you know, a lot of government leaders and others signed up. So, we know already that this, this is a very popular offering. You know, I think definitely the, the IT director, the CIO, so, so definitely some technology folks can, can attend. City managers, assistant city managers, deputy city managers and city administrators, folks in departments like Public Works, Transportation, in your, anyone who deals with data in your agency and the communications, because we do, we do a deep dive on, you know, contemporary communication strategies. So very, very broad, broad government audience. Look, if you're if you want to know, you know how to drive change, positive change for your community, how to build a smarter community, it's probably going to be interesting to you and valuable.
Kirsten Wyatt
And you mentioned earlier that you've written a book, and I'd love for you to spend a few minutes telling us about it and what a reader might expect.
Jonathan Reichental
Thank you for that. Yeah, you know, I've been taking advantage of this quarantine to finish this book I've been working on for about six months. It's called Smart Cities for Dummies. And yes, it is it is part of the dummy series. [Laughter] Turns out that the, turns out that the Dummy series is the world's most popular reference series ever made. They sold, I think, in excess of 300 million dummies books, which is just mind blowing. So now I'm, I've been I'm part of that family. And I was actually surprised when they when they approached me that they didn't have a book on future cities and smart cities. And so I was so flattered and just want to be humbled to be the guy that they chose to write this book. So they gave me a timeline. And we said we'd, we'd probably, we'd write it, you know, from about September through April, and then it would go be available in June. So, the book is ready, is available for pre order on Amazon already. And it's called, again, Smart Cities for Dummies. And it is, I hope, and of course, I would say that being the author, I hope that it is the go to reference book for smart cities, not only in the United States but in the world. I want this to be the book that every person who's interested in the success of their communities buys, you know, everybody in agencies should be interested whether you're a city manager, you know, the same people who are interested in our course, are probably good candidates. But students will be great candidates, professors, vendors who want to sell into and support cities. So I talk about how to create a smart city strategy. I answer the question what a smart city is or what a smart city is not. I talk a lot about data. You know, data is one of the things that cities have in abundance. And while, whilst the private sector has sort of recognized, that data is driving, you know, competition, driving new innovation, new products, reaching new audiences, the public sector has been slow to to really recognize, hey, you know what we're sitting on some of the richest assets that we could possibly imagine which is all the data that we're storing and using on behalf of our community. So I talk a lot about that. And then I talk about all the future innovation too, and the future technology. You know, again, blockchain and self driving cars and the role of drones. I talk about things like Smart Water, about flying cars, because I go, you know, I go into the future to sort of help anticipate the reader about where our cities are going and what they may need to support. I talk about open data. So it's sort of a component of, of the data topic. Urban innovation, what is it? How can you innovate better? Oh, by the way, and this is sort of where, you know, this is sort of meat potatoes. I talk about procurement. How, yeah, how you can have more efficient, better procurement, lots of ideas around smart procurement, and then the funding side as well, you'd be happy to hear. So you know, lots of cities say we can't do smart cities or smart stuff because the money is required for, you know, filling the potholes or doing the basic blocking and tackling of cities. And yeah, that is true. That consumes a lot of the money. But I introduce a whole series of other ways that governments can raise money, collaborate, go into partnerships, other sources of income they can tap into and grants and things that can help them with their their smart city work so that they can do the potholes and keeping the parks clean, and, and, and, you know, the basic, important work of government but they could also do innovation too and provide better services and more unique services, better experiences for their, for their communities. So it is it is trying to be the comprehensive book on smart cities and the future of communities. We'll see if I achieve that. But I'm excited by it. I'm excited to finish it, I have to tell you. I've been I've been, you know, locked in my home here for so long, as so many of us have. And I'm using the days to write and teach and do some other things. So I'm excited to get this book in front of people, I think, I think it's going to be useful.
Kirsten Wyatt
What was the most fun chapter to write? I think like imagining the future would be fun, but it could also be, getting into the nuts and bolts of like, how do you like find, you know, the resources to do this? I mean, it seems like you probably had a great time with a lot of them.
Jonathan Reichental
I did. I, I found the book hard to write. You know, writing isn't for the weak. [Laughter] Or I should say, you know, all of us can write blogs and articles and things, but you try and try writing 280 pages and in just a few months, it's kind of overwhelming. And I and I want to be I want to be accurate in the book. You know, it's a technical book in some way. So you can't, you can't fluff this stuff. It has to be you know, yeah, you, you, you have to do your research, do your homework and get it right. What was most fun, you know, I think where I discovered and learned something myself, you know, I, there was lots of things I could write about that I had direct experience with urban innovation. You know, the Open Data chapter in the data chapters were pretty easy for me because I have been a sort of a champion and a leader in that space. But when it got into things like procurement of things like utilities, smart grid, these even things like wireless technologies, it was hard work for me and I had people sort of help with the research. I had a couple of interns by the way, which were amazing. And, but I enjoyed it at the end because I was like, it advanced me and my expertise, and my knowledge, so I guess that was, whilst the whole thing was hard, that was enjoyable, but only after the fact. [Laughter] When I was doing it, it wasn't so much fun. And I also enjoyed, by the way, history, I kind of I love history and it you know, it's a little bit atypical to factor in a lot of history in dummies books because dummies books are really trying to be very practical, like, here's what you do right now. But I insisted on doing some history of cities, and the history of urban innovation. And I, and I'm not talking about going back 40 years, I'm talking about, you know, going back to ancient Greece and the Roman Empire and stuff like that. I did delve into that, because that's where cities really started, you know, in right, Syria, you know, or what is Syria today, I should say, and Iraq, what is Iraq today, and, of course, Greece and the Roman Empire. These were the places where cities, the way cities are today was really formed, was through these ancient civilization and so I guess I liked that too.
Kirsten Wyatt
Well, again, I'm, I'm sure that it's good to be over with the writing or be done with the writing. But I'm glad that at least along the way, you got to explore some of your favorite topics and, and had a had a good time writing it. So we'll make sure we post a link to that pre order site on the web page for this episode. But we can't let you go without asking you our last question, which is if you could be the GovLove DJ, what song would you pick as the exit music for this episode?
Jonathan Reichental
I love this question. I loved it when you asked me the last time as well. [Laughter] Well, look, we're all at home. And it's, it's a little sad. You know, we're not we're not feeling the best. We're not our best selves. We'd love to be back outside doing the things we love. And so I was trying to think of something that would be upbeat and fun and there's one song that no matter when you play, you just feel happy. You just feel excited and you want to dance and it just improves your humor. And that is Pharrell Williams Happy. His song called Happy. And, you know, you just listen to it, you want to just get up and smile and dance. And it's, it's appropriate for these tough times that we're in right now.
Kirsten Wyatt
I think you're right. And I want to thank you for coming on and talking with me today on this episode of GovLove.
Jonathan Reichental
My pleasure. I always enjoy this. Thank you for doing it.
Kirsten Wyatt
GovLove is produced by a rotating cast of ELGL volunteers. ELGL is the Engaging Local Government Leaders network. Our vision is to amplify the good in local government. And we do this by engaging the brightest minds in local government. For our listeners, you can reach us at elgl.org/govlove or on Twitter @Govlovepodcast. Thank you for listening. This has been GovLove, a podcast about local government.
Message
GovLove is looking for your feedback. Please visit GovLovesurvey.com and tell us a little about you and what you think about the podcast. Hearing from you will help us make GovLove even better. That's govlovesurvey.com Thanks.
---