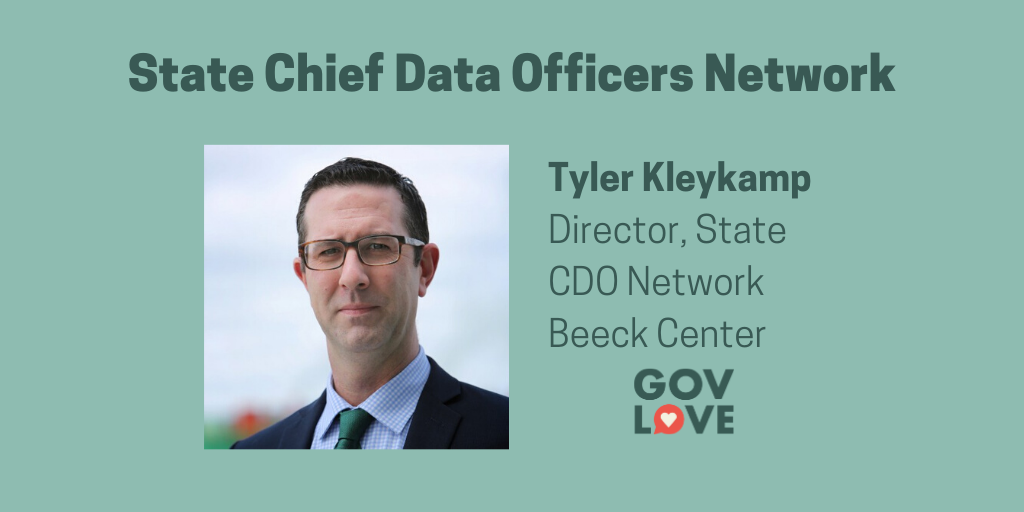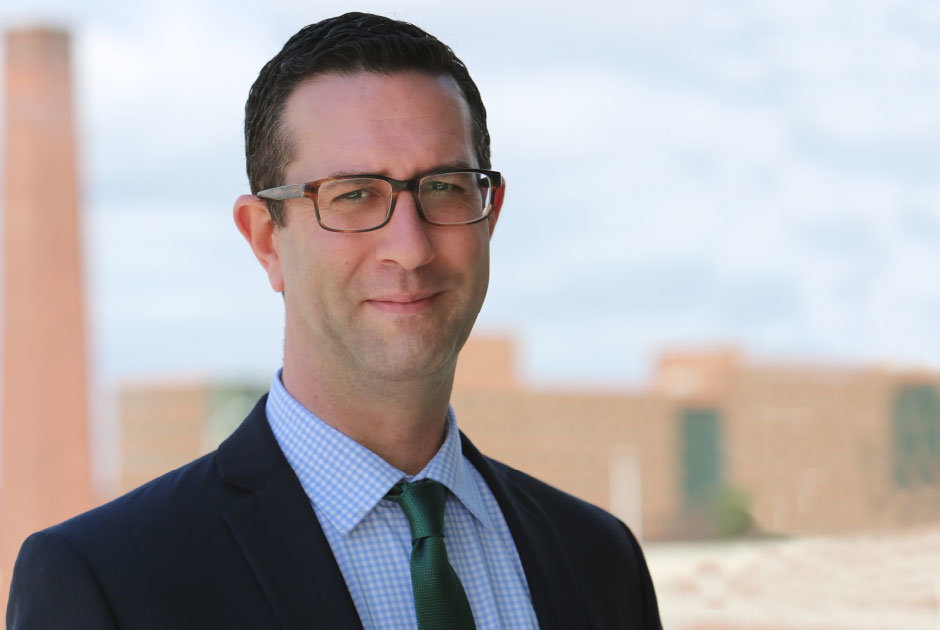 Tyler Kleykamp
Director, State Chief Data Officers Network
Beeck Center, Georgetown University
Bio | LinkedIn | Twitter
---
Connecting leaders to improve policy and service delivery. Tyler Kleykamp, the Director of the State Chief Data Officers Network at the Beeck Center for Social Impact and Innovation at Georgetown University, joined the podcast to talk about how data can be used to inform policy decisions. He shared how he supports Chief Data Officers across the country and the skills needed to become a Chief Data Officer. Tyler also shared his career path, which included being the first Chief Data Officer for the State of Connecticut.
Host: Kirsten Wyatt
---
---
Learn More
Website – State Chief Data Officers Network at the Beeck Center
Why States Need a Data Officers Leadership Network
CDO Tyler Kleykamp on How He Fits into Connecticut's IT Structure
Connecticut's first chief data officer steps down
Why I'm Working on This Whole DataOps for Government Thing
---
Episode Transcript
Kirsten Wyatt
Coming to you from Portland, Oregon. This is GovLove, a podcast about local government. GovLove is produced by ELGL, the Engaging Local Government Leaders network. We engage the brightest minds in local government. GovLove is looking for your feedback. Please visit GovLovesurvey.com and tell us a little about you and what you think about the podcast. Hearing from you will help us make GovLove even better. That's GovLovesurvey.com. Thanks. I'm Kirsten Wyatt, the ELGL co founder and executive director. And today I'm talking to Tyler Kleykamp, a data and digital fellow at the Beeck Center for Social Impact and Innovation at Georgetown University. Tyler, welcome to GovLove.
Tyler Kleykamp
Thanks Kirsten. I'm really happy to join you all today and I've listened for a long time. So it's great to join.
Kirsten Wyatt
Wonderful! Well, on today's episode we will learn from Tyler about his role in creating the state CDO network and national program to connect the Chief Data Officers to create a consistent vehicle to communicate emerging successes and exchange effective strategies related to the cultural, legal, and technological challenges associated with leveraging data as a strategic asset, ultimately providing better services to the public. But before we dive into that, we're going to get started with a lightning round. Tyler, what is your most controversial non political opinion?
Tyler Kleykamp
Pizza should never be cut into squares.
Kirsten Wyatt
Ooh, so you're not a Little Caesars fan?
Tyler Kleykamp
No. Nor the Chicago thin crust.
Kirsten Wyatt
All right. Okay, that's bold. I thought you might be going on the pineapple route, but I like, I like the shape as well.
Tyler Kleykamp
I'm in Connecticut. So we have really strong opinions about pizza.
Kirsten Wyatt
Okay, good. What is the correct pronunciation? Data or data.
Tyler Kleykamp
It's definitely data even though I might alienate some of the members of our network with that.
Kirsten Wyatt
You know, I I'm with you and, and then I was worried that you are going to pick data and then we were going to be at odds, this entire interview. So I'm just really glad we're on the same page.
Tyler Kleykamp
I've done a little collection of data to analyze this. And there's really no pattern or regional variation in the use of it. It's very random.
Kirsten Wyatt
I feel like it all comes down to whatever your very first boss where you did data focus work said, is kind of like where you land.
Tyler Kleykamp
That's probably true.
Kirsten Wyatt
All right, what is your favorite font?
Tyler Kleykamp
Definitely, Arial.
Kirsten Wyatt
Okay. We just had a big discussion in the ELGL Facebook group and Arial was definitely by far the winner.
Tyler Kleykamp
Okay, is that because it's just the default everywhere?
Kirsten Wyatt
Yes, but then everyone decided that Calibri was like the mom jeans, [laughter] a font. So Arial was definitely much cooler. So so you're in good company.
Tyler Kleykamp
All right.
Kirsten Wyatt
All right, and what was the first concert you ever attended?
Tyler Kleykamp
Well, whatever coolness I had obtained through my choice of Arial, I'm going to lose by letting everyone know that it was the Spin Doctors as [inaudible]. [Laughter]
Kirsten Wyatt
Oh, wow, I have to admit that I've actually seen to Spin Doctors multiple times. So again, like you have a fan on this podcast right now.
Tyler Kleykamp
You learn as you live, right?
Kirsten Wyatt
Yes, exactly. So let's dive in and talk more about your work. Tell our listeners more about your background and your career path.
Tyler Kleykamp
I was really a, I'm a career government employee until now. I started back in 2001 at the Connecticut Department of Public Health on what I thought was going to be a two year federally funded project to assess the potential for drinking water supplies to be potentially contaminated. And it was something called the Source Water Assessment Program. And it was a huge data collection exercise and reporting. And they just continued to sort of find work for me to do and I, I stuck around and in 2006, I joined what's called our Office of Policy and Management. For the local gov folks, if you go back to when Smart Growth was in vogue, we created something called the Office of Responsible Growth there. And again,  my background is really in GIS and geographic data analysis. Around 2009, during the American Recovery and Reinvestment Act, I was put on loan for lack of a better term to the governor's office to help do a bunch of the coordination around the accountability and transparency requirements, so as a huge tracking, data collection, reporting effort that all the states had to undertake. And after that, there was a change in the administration, I started doing more and more data and policy work. And so around 2000 was probably the latter part of 2013, the governor was looking into establishing a Chief Data Officer role with a, with a heavy emphasis on open data. And they engaged me in the process of sort of putting that together, getting the executive order in place. And at some point in time, they they, I think, said, I think you're already kind of doing a lot of this work. Would you, would you like to be the chief data officer? We'll give you that nice title and a trivial raise to do it. And I think, I think I allowed my ego to get in the way of, you know, earning potentially more money by accepting a nice title and less money.
Kirsten Wyatt
Well, and you were one of the very first Chief Data Officers in the nation. Tell us about that, you know, as you were helping put together that job and you know, and then and then stepping into it, you know, informally and formally. And what did that feel like? And, and and what was kind of that movement that made Connecticut go in that direction?
Tyler Kleykamp
Well, I think a lot of the early days for Chief Data Officers, if you look at Connecticut, New York, were two of the first. Colorado was really the first one, as well as Illinois. There was a heavy emphasis on open data, so much like the emphasis at the city level where we were seeing Chief Data Officers being created alongside Open Data initiatives. That was a big emphasis early on with states as well. And then what we found pretty quickly is there was a huge appetite for better being able to leverage and share all of the data that we couldn't make publicly available. And there was a lot of opportunity within that as well. So we've we've really started to see states really kind of looking more broadly at how they collect and leverage data. I think in large part because Open Data exposed many of the leaders to a lot of the challenges that, that governments were facing in leveraging data. There were, you know, quality issues, there were skill issues, there were coordination issues. And so we're now releasing Chief Data Officers. And I think it sort of is aligned with some of the dynamics that we're seeing in the private sector too. So there were these sort of first generation private sector CDOs, and now, I think they're at like CDO 4.0 in these Gartner reports. So it's really evolved into really this broad oversight of how we collect, manage and use data.
Kirsten Wyatt
Where did your passion and interest in data analysis come from? Like when you were 10 year old Tyler, were you thinking ahead to a career path that would, that would unfold the way that it has and did something spark that interest in you at some point?
Tyler Kleykamp
Not as a 10 year old. I, it's interesting, I as a, studying geography, I really thought I would do something like working outdoors and studying rivers or something. And I did that for a little bit. And I realized that that's being in Connecticut, that's not a great job to have in the winter. And it was really, you know, when I first started and I came into government, and this was 2001. So technology was certainly vastly different than it is today. I thought I would have access to the latest technology, the latest tools, that this stuff would all be really easily available to me. And when I saw that it wasn't and even one of my jobs was, as we were working on this project was going through literal file cabinets, looking through reports and pulling data out of those. I became really passionate about how powerful it is to have access to this information and data, really at your fingertips and and how much insight it was giving me just into this one little project. And so along the way that was really, I think, what what sort of drove me. One was, you would hear people I would hear policymakers say things like we can't answer this question or we don't know what happens to these people. And I would think to myself, we actually can answer these questions and we do have data that can help inform the decision that we're making, that can help us make better decisions in many ways. And so that I think that for me was was what got me to just continue to want to push ahead and making, you know, data available to more people, getting more people across government really connected to this resource so that they could be better informed or just maybe make their job a little bit easier for them.
Kirsten Wyatt
And how do you balance you know, sometimes people who are critical of data driven decision making, you know, they, they want to talk about empathy and like the human, the human response, you know, how do you balance that, when you're looking at, you know, statewide government operations and all of this great data that's available. What has been your approach or philosophy to not losing that, that human touch that, that some people would argue is critical to government?
Tyler Kleykamp
Yeah. So one of the biggest challenges I think, in serving in a statewide leadership type role is how 1) easily disconnected you can get from the people on the front lines doing the work on a day to day basis, the caseworkers who are dealing directly with clients and sort of thinking that oh, we have access to this resource, and this this paints the whole picture for us. And so it's really important and one of the things whenever I talk to a new chief data officer, and they ask me things that they should do, I tell them go talk to the caseworkers, the people out in the field doing inspections and, and understand 1) what they're doing, 2) why they're doing it and then 3) how you, how you might be able to help them so that you can understand there's so much nuance that certainly can't get captured in data. And so it's really important that you make those connections with the people that are really engaged heavily in this work to get their perspective. But 2) so that it's not sometimes we can get in an ivory tower type of mindset and think that we've got the world figured out and lose sight of some of the more intricate details and intimate interactions that government workers have with the people that we serve.
Kirsten Wyatt
Well, and that's what struck me about, you know, the power of this network that you're creating, the state CDO network. You know, this idea that it's not just about all of that, that technical and data focused items, but just what does it mean to have this role and you're creating a network of people that can talk that through and develop resources and, and that just seems tremendously powerful.
Tyler Kleykamp
Yeah, and one of the things we we've heard even from the other CDOs as we had our first convening of them, the ones that I think are more mature. So a lot of states are in many different places. Even the ones that are more mature, been in the job longer, well resourced, really stress the need to, 1) have shared objectives with the departments or people that you're working with. So making sure you're on the same page and moving in the same direction and 2) ensuring that they're, they're really demonstrating value. So I think those stories are really important for not only our existing members to hear, but for people sort of more broadly to understand that that's really I think what drives a lot of these CDOs is to really, you know, they understand what data can be capable of doing and they want to help people harness the, the power that it can have and the insights that it can, that it can deliver. And a lot of those are totally independent of the technology used to implement it.
Kirsten Wyatt
We're going to take a quick break, and I want to share some information with our listeners that's related to data. ELGL is conducting its first ever listener survey for GovLove. The podcast has grown so much over the years, and we want to get listener feedback about everything from sound quality, to hosts, topics and more. And we'll use this information from the survey to inform our decision making about the podcast and ways that we can improve. So please head over to GovLovesurvey.com and take this very brief survey. Again, that's GovLovesurvey.com. This is the way that you as a listener can help us improve GovLove and make it your go to podcast for local government topics. So let's dive back in continue talking with Tyler. Share with us the number of states that have Chief Data Officers. And then do some states not have the position? And what are the reasons why why they might not yet have that role?
Tyler Kleykamp
So we have about 28 states that have either an officially titled Chief Data Officer or somebody who is effectively a Chief Data Officer. So maybe the State of Ohio has somebody called the Chief Data Advocate. So slightly different title basically doing the same thing. And interestingly, the State of Alabama had a Chief Data Officer, and they'd only been in the job for maybe a year and they decided to eliminate that position for, for budgetary reasons. We haven't heard of states that maybe don't want to have one, I guess, I think, really, it's just an emerging role both in the private sector as well as the public sector. So there are certainly states who well are taking more of a wait and see approach to see if it really delivers on the types of things that the other states have recreated it are hoping that it does. And I think in general, there's maybe just not quite the broad awareness of a chief data officer in states. So they just haven't gotten to a point where they feel it's critical to to really put somebody in a leadership role for data.
Kirsten Wyatt
And is one of your hopes to be able to grow this network, so you can, you know, continue to emphasize or stress the importance of this role or is it really, you know, when a when a state makes that decision, there's a network or a resource available to them?
Tyler Kleykamp
We do believe that every state should have a CDO and we hope that in fact they do. We want states to be equipped to make informed decisions, and we want states to be high functioning, and we want them to be able to deliver services in the most effective and efficient means possible. And data can support all of those, all of those goals. And having somebody in a position who can think strategically about how to use data, or who can even just advise leadership when they maybe have a question, right? An example I use, from my time in Connecticut was we had a something called the Juvenile Justice Policy and Oversight Commission. It was made up of agency heads and legislators. And I remember hearing them deliberate on you know, what they could do about children. Basically, after they've left the juvenile justice system, and I remember somebody saying, well, we don't really know what happens to them, because we don't, we don't keep track of them after they've exited our system. But at states and even other levels of government, there's data that can tell us whether or not they've gone on to high school, if they've graduated high school, if they're employed, if they've gone to college, if they've ended up back in the adult criminal justice system. And so it's that ability to really answer these these difficult questions that policymakers are trying to answer where a CDO can come in and say, 1) we have data that exists in these different locations that can help answer that question for you. 2) We can do it in a way that preserves that sort of responsibly and securely preserves the identity of those individuals. So we don't you know, if it were Tyler Kleykamp who were involved in that juvenile justice system, they don't need to know the specific individual. They just need to know this percent moves on to high school, this percent moves on, you know, these are the outcomes associated with people that have been involved with that. And, and then 3) having that sort of technical skill set to them, help them understand how to make all that happen and make all that work. I think that's really why this is such an important role in frankly, all levels of government because we, we have these really challenging questions that we think anybody can really start to answer if they have this, this position in place.
Message
Hey, GovLove listeners. We are fundraising to support the podcast you love. ELGL is accepting donations to be used to take GovLove to the next level. And if that's not enough, one of the rewards for this campaign is a shout out on the podcast written by yours truly. Today, we have shout outs from four very proud GovLove supporters. And here they are. First from Jason Jones. He writes, for my brother Eric, who always seemed to find a way to make good things happen for the people. I asked them, maybe you can find some simple ways to do the same. Next from Joe Groesch Mall. He writes, I'd like to dedicate my donation to my mother Ann Groesch Mall, who helped spark my interest in local government and inspired me to serve my hometown of Great Barrington, Massachusetts after graduating. Sarah Cunningham writes, every episode I learned something. Thank you for helping us make our communities better. And our last shout out from my old boss at Guilford County, North Carolina, Michael Halford writes, all the bright creative local government people I've been lucky enough to align paths with over the years. You all keep making good things happen for other people. So thank you so much for all your support, especially to Jason, Joe, Sarah and Michael for donating to the GovLove campaign. For our listeners that haven't donated yet, you can find out more at elgl.org. Now back to the interview.
Kirsten Wyatt
Well, and a topic that we explored at the ELGL conference last year, in Durham was also how do you build a pipeline of talent to fill positions in innovation and data work? This idea that when you have these emerging fields, and you have some people who are really good at it, how do we also then create opportunities for, you know, the next round of CDOs or innovation directors or whatever the position is, that's that's newer on the scene, to build up their resumes and to figure out what path they need to go down, if you know being a state CDO is what they aspire to. If someone wanted to emulate that path, the path that you've taken or that you've seen some of these other Chief Data Officers take, what might some advice be that you would give to a listener?
Tyler Kleykamp
Well, having, I think a big part is having that understanding of why, why government of any level does what it does, the programs that it that it runs and administers and why those are in place is a really critical foundational element for anybody who's really looking to better leverage data. 2) You need to build up a set of technical skills and a great way to do that I think, and and I'm not a trained technologist.  I sort of acquired these skills along the way, is hopefully you work with or for someone who understands that they need to give you a little space to acquire some of those technical skills and to give you freedom. So this is, this is part a missive to people that are in the existing leadership roles, is if you have somebody you know, in a more junior role that shows an affinity towards using data and technology, give them some space to to do that in a way that you know is effectively allowing them to take some risk but you know, isn't sort of detrimental to your organization. A really critical component, I think, is get really comfortable with the technology tools that you have available. So get really good at Excel, use Microsoft Access, if everybody has to use those things, understand how, you know, databases work. And then if you can graduate into some more advanced things like using R or Python, that's great. Go go on GitHub, go on places like Stack Overflow, any sort of challenge you're trying to solve with writing code, somebody's already probably been down that path. So, so, you know, there are plenty of resources out there that can can help people kind of acquire those tech skills, but I think it's really important, especially overall, as we talk about bringing more technical talent into government is that they don't just have those technical skills, but understand why we're doing what it is that we're doing.
Kirsten Wyatt
Well, and what strikes me, you know, as you've been talking, you know, both about your career path and the work that, that you're doing and other states are doing. You've mentioned such a wide range of service areas, whether it's from clean water to, you know, to kids and families to criminal justice. And it just reminds me that kind of this changing way that we look at government is to not have, you know, knowledge that's an inch wide and a mile deep, but that it's important to recognize how all of these different pieces and functions of government can fit together, and how data sometimes is what unites us across all of those functions.
Tyler Kleykamp
Yeah, the CDO from Colorado, I remember I was on a panel with him. And one of the things he said that really resonated with me is the topic was really around sort of integrating health data and he made a comment. He goes, nobody ever talks to our Department of Transportation when it comes to health care. But transportation is a health care issue and understanding how we can get people to who health care or how isolated people may be due to lack of transportation is a health care issue. And a lot of times these organizations, you know, departments, often just by virtue of doing sort of the, the job that they have to do, aren't able to have that really broad view of the interplay of these things. But when you start, you know, when you are in a very broad role, and then you understand the data that people have and how it can be used, it can really just inform the conversation in a different way.
Kirsten Wyatt
Another aspect of your job that I think sounds fascinating is that you are supporting these existing state CDOs with tools like playbooks, model legislation, templates. Tell us more about these materials. How are they developed? And how are states using them?
Tyler Kleykamp
We, we really work collaboratively with the CDOs. So we are not telling them what we think they need. We want to hear from them. What are the things that are going to make their jobs easier? Or what are the things that they're really struggling with, you know, in terms of trying to get their programs moving forward and or in the direction that they want to go. So one of the things we did actually, during our first gathering of them was we went through an exercise and we had, you know, sticky notes and asked them to write down things that they think would be helpful to them. And, you know, we would rank them and determine how impactful they would be versus how much effort they might be, to create so it's really sort of a crowdsource thing through those videos, to to kind of get their get a sense from them of what's really going to help them and really the issue is, is there, there's a, they are all trying to do very, very similar things with different degrees of resources. And so if we can provide, say, model legislation around ways that they can improve their ability to integrate data across systems, so there are some ways to write into state law, mechanisms to sort of ease the, the legal restrictions that that might be in place, or to at least make them authorized users or integrators of that data. And then they're able to take that. So a lot of the, lot of the way we develop these tools, it's not by inventing something new. But it's really finding something that's that's working in an existing state and sort of replicating that out, trying to scale that out across the network. So as another example, a lot of states are, don't even have an inventory of the data that they have. You know, we have inventories of the buildings that we have and the cars that we have. And, you know, if you work in government, you probably have a bar tag on your laptop and your cell phone. But the same is not true for data. And it can be a really challenging thing to inventory that. So we heard from them, that it would be really helpful if there was a template and a playbook as you know. Where do I where do I get started? How do I prioritize these things? And so that's, you know, that's, that's how we sort of get the feedback from them and then go down the path of doing that. And then they're not wasting their time, frankly, trying to invent this process out of thin air, they have a reliable model that they know has worked somewhere else and now they're, they're able to just go and start implementing that. They can certainly tailor these things to the nuance of their state or whatever maybe they might feel a little more comfortable with, but having these places to start so that they're not starting from scratch, when they know other people, you know, and other states have done this work, you know, can really kind of accelerate their progress. And so that's kind of the role we see ourselves playing here is less, you know, less in the thought leadership space, I guess, for lack of a better term, but more just kind of scouting for things that are working and just helping the others replicate things that have already been successful.
Kirsten Wyatt
And so thinking about local government, you know, some cities and states, and as we know, there are some local government organizations with very sophisticated data programs, state offices. How much of your materials and your resources are scalable to a local government? I mean, is it is it something where our listeners could, you know, kind of plug into your network and get something out of it working at the local level or, or do you think it's really specific at the state level right now?
Tyler Kleykamp
Well, I I'll even go back to some of the early days around open data. I think New York City was the first government or at least the first local government to create an open data law. And so I was doing some as I was writing some model legislation for states, I had come across basically these artifacts from the New York City Open Data law, and we're seeing them replicated in a bunch of other places at the state level. And so I absolutely think a lot of the issues that local governments are dealing with whether it's around doing an inventory of the data that they have, are coming up with data sharing agreements, so that departments can share data, you know, responsibly and legally with one another. With that they would certainly be useful tools to local government. They are, you know often required to comply with the same laws that states are. So there are federal laws, like, you know, the Family Education Rights and Privacy Act. Obviously, education is delivered at the local level. They are bound by that law around student data. And if states can develop guidelines and guidance around using that data and sharing it legally and responsibly, local governments can certainly use those tools as well. And so I don't think a lot of the things that we're dealing with are unique to state level government. And I think there would be a lot of value in some of the resources that we will be putting forward. Some of the more things like model legislation may not be quite as applicable to a local government just with the way local codes are written and sometimes are are adopted. But I think as you see some of the tools and playbooks around more of the day to day work that CDOs would do I think there will be a lot of tie in to local governments.
Kirsten Wyatt
Well, and again, I think that anytime you can build out a network of people who are like you, are doing work similar to what you're doing, you know, one thing we've always said at ELGL is, the more the more people you have in your corner, when you hit those tricky spots in a career and a project, the more likely you are to stick with it when you have a network of people around you and, and who care about you or who want to be help you be successful. And so, you know, I think even for our listeners, who aren't planning at working at the state level, should just be made aware of this program. Because I think what you're doing is building out that that network of shared experiences and perspectives and stories, as well as these technical resources that you're that you're providing.
Tyler Kleykamp
Not only that, and I think the decisions that are made at a state level can have significant impacts to local government. They are often either in many ways, states will pass laws and local government are required to implement them or, you know, state governments obviously fund different things at the local level, whether it's directly through the forms of grants and, and other programs like that, or even like economic development incentives that can change the look and feel of a community potentially. And so I think there's a real opportunity, when states are making better decisions to have a better understanding of what the impact may be on local government itself. And I think as states, especially in the open data arena, are maturing and making data more and more available, one of the things I've heard in talking to people in local government are is how valuable some of the data the state is making available through open data in better helping them, you know, understand what's going on in communities around them or you know, they the state permits something right. It could be licensed professionals. It could be certain types of stores. And so the ability to easily get that data from from state makes life easier on local government in many ways too.
Kirsten Wyatt
And you're also working on identifying public policy areas where states are most uniquely positioned in relation to, you know, the federal government or local government and to have a positive impact. Can you tell us more about that effort?
Tyler Kleykamp
Sure. So as it's great that states have Chief Data Officers. We want them all to have one and at least our hypothesis is if they're not really engaged and, you know, supporting leveraging data in critical areas, then they're really only fulfilling a portion of the value that they can offer, and so a lot of these state CDOs or offices have one very little budget. And the expectations of them can be pretty significant in terms of what people hope to get out of one person, frankly. And so their ability to kind of focus their effort on things that are really going to be impactful can be challenging. There's they're getting pulled in a lot of different directions. So we're really looking to identify these critical areas where states, we think can leverage data better, obviously, where there are priority issues in those states, and work with a smaller group of Chief Data Officers to kind of walk through some of the more nuanced issues around leveraging data. So if we're, you know, looking at education, and improving educational outcomes as an example, there's it's going to come with it's own set of constraints and rules and, you know, barriers to using that type of data, where if we sort of work collectively within a smaller group, work through those issues, figure out what's working in other places, then we can ultimately scale that back out across the network so that all states learn from that. And then we're looking at the uniqueness aspect is not only in terms of what are the policy levers that states might be able to pull to have a have a positive impact in that area? But also what's what is unique about the data that states have, in terms of having a positive, a positive impact in that. So is there data that states have that local government doesn't or is it something that exists statewide, that's collected from local government that maybe you know, the federal government wouldn't have access to?
Kirsten Wyatt
And so I have one last question for you. It's a tough one. If you could be the GovLove DJ, what song would you pick as our exit music for this episode?
Tyler Kleykamp
Oh, that's good. I would go with "We can get down" by A Tribe Called Quest.
Kirsten Wyatt
Oh wow, that's a good pick. I don't think anyone's picked any tribe music yet so good call.
Tyler Kleykamp
Okay.
Kirsten Wyatt
So this ends our episode for today. Thank you for coming on and talking with me.
Tyler Kleykamp
My pleasure. Thank you for having me.
Kirsten Wyatt
GovLove is produced by a rotating cast of awesome ELGL volunteers. We are the Engaging Local Government Leaders network, a social startup with the mission of engaging the brightest minds in local government. Don't forget the National Day of Supper Clubbing or NDOSC is on March 5. We're hosting supper clubs in 32 cities on that day. So check out elgl.org for more information and register to attend the event near you. Supper Clubs are informal opportunities for local government fun and fellowship. And this year, we're partnering with the US Census Bureau for NDOSC so you can have a great evening and make some new connections with the census staff in your area. And they'll also have information to share with your communities about complete count efforts. For our listeners, you can reach us at elgl.org/Govlove or on Twitter@Govlove podcast. If you have a story idea for GovLove, we want to hear it. Send us a message on Twitter or email [email protected] Thank you for listening. This has been GovLove, a podcast about local governments.
---