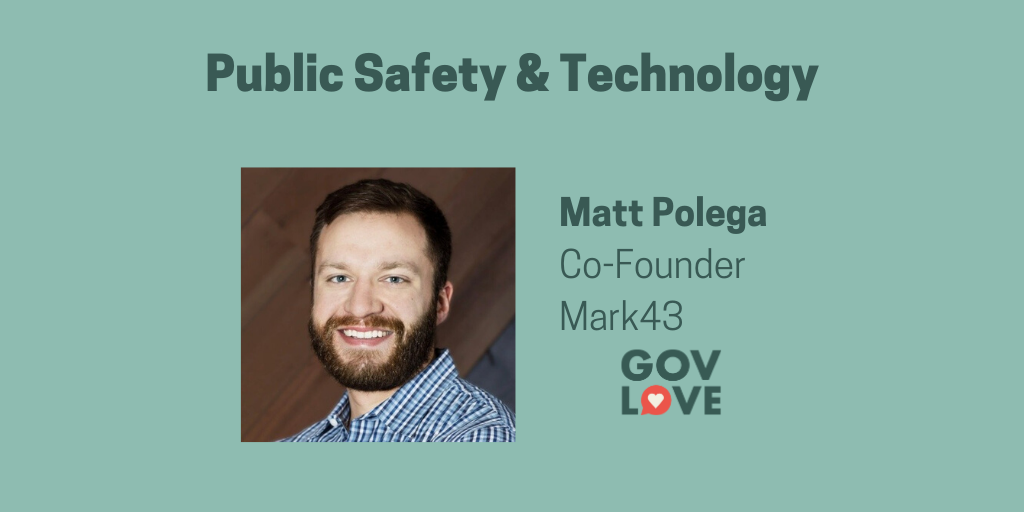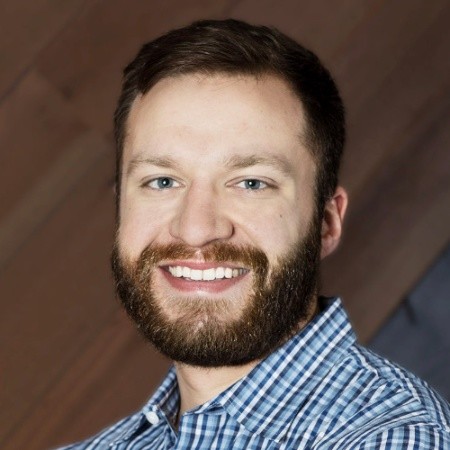 Matt Polega
Co-Founder & Head of Marketing
Mark43
LinkedIn | Twitter
---
Cloud-based first responder dispatch. Matt Polega, the Co-Founder and Head of Marketing at Mark43, joined the podcast to talk about how technology can improve public safety. He discussed the importance of computer aided dispatch and the flexibility that being cloud-based provides. Mark also talked about how public safety agencies can work better together and what he would change about the procurement process.
Host: Kirsten Wyatt
---
---
Learn More
Mark43 co-founder on revolutionizing police technology and scaling startups
VenturaFizz Podcast Episode 150: Matt Polega
SXSW 2019 Highlight: How are public safety agencies using new and emerging technologies?
Polaris Wireless Helps Mark43 Put 3-D Locations into CAD
Mark43 Signs With California Software Licensing Program To Enable Easier Purchasing For Agencies Statewide
---
Episode Transcript
This call is being recorded.
Kirsten Wyatt
Coming to you from Portland, Oregon. This is GovLove, a podcast about local government. GovLove is produced by ElGL, the Engaging Local Government Leaders network. We engage the brightest minds in local government. I am Kirsten Wyatt, the ELGL co-founder and executive director, and today I am talking to Matt Polega, the co-founder of Mark 43. Matt, welcome to GovLove.
Matt Polega
Thank you so much for having me. Looking forward to the conversation.
Kirsten Wyatt
Today we'll learn more about Matt's work with Mark 43. Notably, a recent ELGL Haverford award winner, and his company is a cloud-based platform for public safety, doing dispatch, evidence, analytics and records. And so we'll talk about his work in this space and what local government needs to know about the intersection between law enforcement and civic tech. But first, let's get started with a lightning round. All right, Matt, what is your most controversial nonpolitical opinion?
Matt Polega
I guess I take this as somebody that is on the road a good bit. I can't stand when somebody reclines on a plane. I don't think anybody should ever recline on a plane unless it's like a red eye or something. And I guess to make it more controversial, I probably like knock off a few like, selflessness or like character points from whoever's in front of me. If I think they recline, I can't stand it.
Kirsten Wyatt
So have you seen those plastic bars that you can buy? And you can slide it into your seat to make sure that person can't recline?
Matt Polega
I don't think I ever thought about it. But if somebody reclines, I'm a pretty tall person in the first place. So I've many times actually just leaned around to the person in front of me and asked them if they could put their seat back up. And they're typically so caught off guard that they do it. And people seem a little, you know, horrified to hear that I've done that, but it just makes a painful flight a little less painless.
Kirsten Wyatt
Exactly. Well, I say that the biggest predictor of people who do that are people that wear their pajamas on a plane and bring a full size pillow.
Matt Polega
That Oh, man. That's, a great leading indicator. Okay, I think I agree with you. I agree with it.
Kirsten Wyatt
So I mean, just do some, like market research in this next year when you're traveling and there's a definite correlation.
Matt Polega
That's a great point. Okay, I'll keep my eyes open.
Kirsten Wyatt
Okay, so if you suddenly found yourself on stage for a TED talk, what's one topic that you could talk about for 18 minutes without any preparation?
Matt Polega
Honestly, if you asked my family or my friends I'm sure they'd say something about food, regards to me, how to, what's good to cook, how to cook it, how to eat it, where to eat it, where to go. I think that's probably one of my biggest hobbies. I could pick something more noble like, you know, hammer throwing, which is what I did in college way back when but when it comes down to it, I could Yeah, I could probably talk about food for hours and hours and hours and hours.
Kirsten Wyatt
What's your particular food angle that you're most passionate about?
Matt Polega
I really enjoy cooking. I think it's just kind of like a cathartic relaxing thing. I think, you know, we spend a lot of time staring at computers and using our brains all day and cooking is kind of like a slightly more kind of hands off hands on at the same time, slightly more manual thing that just kind of helps me relax up. Yeah, I really enjoy cooking and then not right now I guess Asian food is probably top of my list that changes kind of by the month, I think.
Kirsten Wyatt
All right, and so ranked in order of what you most believe in to what you least believe in, out of ghosts, aliens and Bigfoot.
Matt Polega
Okay. I think statistically, aliens have to exist in some form or another. I think that's almost an absolute truth. Ghosts, I'm 5050 on, and so I guess that would be my middle pick. And then I think there's no way in the world that big foot or the Loch Ness monster or any type of Yeti exist. I think those are no chance no shot for a million different reasons.
Kirsten Wyatt
But when we get up, get you out here to the Pacific Northwest for ELGL 20 in May, I'm sure you'll meet some Bigfoot Sasquatch enthusiasts, and they might try to change your mind.
Matt Polega
That may have just turned into my most controversial opinion if I do that in Oregon.
Kirsten Wyatt
Potentially, yeah, so I think I know, generally the last, this last lightning round question. It might tie into your controversial opinion but, what is your pet peeve?
Matt Polega
Obviously, pet peeve, if I bring it back to people reclining on planes, that drives me nuts, but if I'm just trying to give a different answer, maybe a little more weighty of an answer. Zero tolerance for low integrity people I think, you know, in government, we're fortunate to work with a bunch of people that are there for the right reasons and they're all on a mission. But you know, there's just a million other different I think swaks and paths kind of you know that I've that I've taken in my background, or I've seen people that just aren't honest, don't do the right thing and are just low integrity people and I have zero patience for that. I think those people probably tie in with people that are climbing airplanes as well.
Kirsten Wyatt
So let's talk about your background. And let's talk about your mission. And tell us more about yourself and how you came into this workspace.
Matt Polega
Sure. So I'm originally from Chicago. I live in New York now but get back to Chicago a lot. And that's, definitely my hometown. And I'm proud to call it that. But myself and my two co-founders, Scott and Flo, we went to Harvard undergrad, were all some sort of engineer there. And in our junior year, we took an engineering class called Engineering Sciences 96. And we took it because it's just part of the curriculum, and it was part of the curriculum because you needed to learn how to work with a client. That was the very noble goal of this classroom. You are going to very often get clients in your professional career, you have to solve some sort of problem for them. We were fortunate enough to work with the Massachusetts State Police. They were deploying a new policing model in Springfield, Massachusetts, the North ends, particularly. The Springfield Massachusetts has had a lot of trouble from a crime and public safety perspective. There's a pretty challenging illicit drug environment there. Boston and just Massachusetts in general, it's very challenging to get a firearm, but it's actually pretty easy comparatively to score opiates. And the inverse is true in other states, kind of on the east coast. So basically, you see this imbalance that creates kind of an opiates for firearms trade up and down the East Coast and the north end of Springfield, Massachusetts was kind of victim to that. So the Massachusetts State Police asked us to partner with them the class of 12 people to understand whether this new policing model they were rolling out in police in Springfield, Massachusetts was effective or not effective. So we went in, that was our job that was our charge and kind of in the first month, we realized that as we were trying to pull homicide statistics or truancy rates or numbers around graffiti and calls for service and all these different things that we expected that we would have easy access to, we realized there was just no way to get the information. If you were able to get the information, it was typically a laborious, really painful process. So our professor Parker, he said, you guys go run off in your own direction, try to build these troopers, something that could help them out somehow, some way. And that's kind of where we, you know, got bitten by the proverbial bug, I think. So we started doing more around analytics in kind of how criminal networks form and coalesce and communicate and talk. That was what we started doing. And then from there, we realized that analytics and business intelligence is a really fun problem to solve. And it's interesting, but a lot of people want to solve that problem. And it's, I think, not really the most important problem facing law enforcement today. I think that actually applies to most industries. Most industries, just want another kind of cool, sleek tool to put on top of whatever they're doing and they think it's going to solve all their problems. Pretty quickly we realized that in law enforcement, and in fire and just all these public safety sectors, actually collecting the information in the first place was the big issue. So that kind of takes us full circle to April of 2014 when we got kicked off with the Washington, DC Metropolitan Police Department, and our job was to basically reimagine, rebuild, how a police department does records management, and we've been in that world ever since.
Kirsten Wyatt
Wow. And so before you took that class, would you have ever thought that you might end up working so closely with public agencies?
Matt Polega
I had no public safety personnel in my family or my extended family or anything like that. I had spent the summer at Raytheon, in their operations department working on radar maintenance for one of the planes that they supported. And that was kind of my first taste of government and mission and you know what, it meant to be somebody that was interested in that. But long and short of it now, I really had no idea that this was the path that I was going to kind of be taken on. But yeah, seven years later, kind of knee deep and working with public safety and law enforcement and, and all these amazing personnel that, you know, just span every sector in government.
Kirsten Wyatt
And so tell us more how the product works and how local governments that are listening to this podcast would use it?
Matt Polega
Sure. So we work right now primarily with law enforcement agencies, with fire agencies and fire departments, with PSAPS (Public Safety Answering Points), basically just kind of like a, like a call center that will receive calls and dispatch cars and emergency vehicles and emergency personnel. But we basically have three products. So we have this records management product that we started with. So if a police officer arrives at the scene of a crime, or an offense or anything that they're really called to, they have to write some sort of report about it whether that's traffic accidents, a cat stuck up on a tree, burglary, a homicide doesn't matter, you have to write some sort of report about it. Right now writing those reports is a really laborious, painful process. But all of the data and important Intel information that goes into police department typically comes from a system like that. So that's the first product that we built. The second product is actually what gets a police officer to the scene of the crime or to the offense that they're getting to or a firefighter for that matter. So if you ever call 911, and you say there's been a shooting at the corner of 14th and first, I, you know, I need I need somebody who needs some sort of emergency help. The dispatcher that's receiving that call will see Mark 43 on the set of four or six screens in front of him or her and they will look at a map and they'll look at all the cues of all of the kind of real time vehicles and units that they have available and they'll say, Okay, this unit is available. This unit has a trauma kit aboard. I'm going to get on the radio and say unit 123 Go to the corner of 14th and first. There has been a shooting. And that's basically how a PSAP or an agency or a fire department or police agency will do the real time management of where their fleet is, where their people are, and understanding exactly how to get people as quickly as they can to the scenes of crimes and emergencies like that. And the third product that we have is kind of an analytical product. So you have all this great data, the analytics does. So this is kind of bringing it full circle to where we started about seven years ago. Analytics just sits on top of all of the data. So if you want to understand how burgers have changed in the fifth district in the last two months, if you want to see how theft from autos have gone up or down in the last week, if you want to see which of your detectives are being most productive, you can slice and dice any of those reports in our analytics suite.
Kirsten Wyatt
Well, so how does this interface with a more traditional dispatch system, you know, in a city that's never really made an investment in any sort of tool like this?
Matt Polega
Sure. The first big thing that I think is kind of a hallmark of Mark 43 and you know how we plug into other systems, and what's kind of a, just a real important tenet for us is that we're completely cloud based. So what does that mean? That just means that we're an internet based application, and instead of agencies having to host their own servers and all this wiring all this crazy stuff in their basement, Mark 43 handles all of that. We use Amazon right now, Amazon Web Services, Gov cloud, and they handle all of the security and kind of hard core infrastructural stuff that departments would have originally been asked to handle, you know 3,5,7 years ago. So in terms of plugging into other applications, and interfacing with what police departments already have, we are built on the premise that you can't kind of do the apple walled garden thing and get everything from the same company. Public Safety is a very collaborative mission. And you need Mark 43 to plug into Axon and you need Axon to plug into an internal affairs tool. And in turn that internal affairs tool may be plugged back in the Mark 43. So, Mark 43 is built in a way where we can plug and play with really any partner out there. And we've built up big venture partners. And we can kind of bring that entire stable of capabilities into any Public Safety Agency.
Kirsten Wyatt
Talk to us about how you approach change management in agencies that maybe have been more resistant to things like cloud based technology, for example, what have been some of the trends or some of the issues that you've seen in the communities that you work with?
Matt Polega
Great question. Change Management, I think. We are a different company now than we were seven years ago. I think seven years ago, we thought, oh, we're going to be like every other consumer startup. And we're going to move really fast and we're going to break some stuff. And we're going to make people uncomfortable. And we're just going  to kind of try to get the stuff out as quickly as we can. And we're going to bring this new type of technology in this new approach to law enforcement and we should have realized that there are probably other companies that have tried to do that. And there was a reason that it didn't really, you know, exist. I think we're doing some really unique novel stuff for law enforcement. But in that first six months with Washington, DC, and I give them a lot of credit, they gave us a lot of coaching, they gave us a lot of guidance, and they really taught us what it takes to get an enterprise grade agency live. We really learned that you got to be consultative the entire way through, you gotta be willing to help the agency, listen to the agency, slow down, and they need to slow down and really, you know, kind of be an open ear to listen to, you know, the things that they're going through. You don't want to jam some sort of standard operating procedure down their throat. We really care a lot about the partnership. And I think that's where a lot of the change management comes from. We go into a department, we do a really long, very thorough assessment. That's something that's not very typical amongst other vendors in the space. Other vendors in the space will say, all right, you're going to get XYZ records management system, give us a list of how you do everything right now and inventory all your processes. And then we'll work with you to configure the application. Departments only know what they know. And it's sometimes good to have kind of that third party perspective. So we go into these agencies and we say, we're going to observe this as kind of a third party from the outside, we're going to understand how you do things. And we're going to be able to look at things in a way where we say, this is what makes sense in Mark 43. This is what doesn't make sense in Mark 43. So we're there with you the entire time. I mean, the partnership is really important. And I think that's, that's really where the change management comes from. People get comfortable with what Mark 43 is doing and where we're going. Because we're willing to put people on the ground for a long time. We're willing to fly people out to these agencies to really be there in person and make that really meaningful. We love having agencies come to our New York headquarters and talk to our entire company, about what they do, what problems they face, and making sure that every engineer that is working on the application and in our office in Manhattan understands in Fresno or in Richmond, California or in Washington DC, the problems that the officers and investigators are going through on the ground. So it's not like there's necessarily like a direct change management step in the Gantt chart for how we're executing the project. It's more of that if we can prove at the beginning that there's some real partnership in what we're doing, because these big systems don't get live without some real true partnership. That's very much where it comes from. And I think departments have certainly gotten comfortable with where we're headed purely because of that.
Kirsten Wyatt
Well, and one thing that struck us at ELGL, when we were looking at all of the nominees for the Haverford award was in the nomination language for your company. You know, they described this idea that not only do they have a chance to work with you to implement this, you know, change in process and system, but that you really seem to take that feedback and then build it into you know, your workflow in terms of how do you make the product better. And I think you know, that you can't understate how important that is for government, for the partners who work with government, to be iterative and be thoughtful about, okay, well, how are we getting better based on what our clients are teaching us? And so, you know, that really stood out to us at ELGL of why you deserve to be on this list? Just again, that thoughtfulness in working with government.
Matt Polega
I appreciate that. I mean police departments know that the law enforcement landscape is changing. Things that are concerns today, were not concerns, even six months ago, I mean, especially, you know, three years and five years ago, but the police landscape is completely changing. And you shouldn't be expected to go through this massive onerous, painful procurement every four years to get a new application or to upgrade the existing application you have. That's like going through a whole another implementation all over again. For us release minor features every two weeks we release, kind of big feature level upgrades every three months and those departments get the comfort that this may be, this should be the last records management system. It should be the last Computer Aided dispatch system that you ever have to procure right. You buy it once you're with Mark 43 forever, and the application is going to look way different in five years or 10 years, because we've been growing with you. And we've been growing with the way that that policing and public safety is evolving.
Kirsten Wyatt
So talk to us about emergency operations. And you know, how, what is the feedback? Or what are the questions that you most often get about using a cloud based system? Because to me, you know, as an uninformed podcast host, to me, it seems like a no brainer that you'd want all of this information stored in the cloud and not, you know, in your basement. But I know that everyone has kind of different opinions on that. And so what's some of the feedback that you've received, especially around emergency management?
Matt Polega
Sure. I mean, especially record records management is important and being able to write a report in a timely fashion, especially when it's like an arrest report and, somebody is at risk of, you know, needing to go to court or getting sentenced or something like that. Those are serious things. And that makes records management really mission critical. But I would say there's probably even a higher level of mission criticality with our dispatch application. Because no matter what's happening, somebody needs an ambulance at the corner of the street or somebody needs a police car in their cul-de-sac around the highway as fast as possible, right. And we're an internet based application. That's something that we will absolutely say up front. But totally fair, some agencies will say, oh, my gosh, you know, what if my internet goes out? What if? What if a fiber line gets cut? What if any of these things happens? What if I lose connectivity? Those are some of the objections we see pretty typically. For us, we think that there's way more opportunity for resiliency and robustness and uptime and access to our dispatch applications and our records management applications. Using this cloud model, instead of the on prem server in the base model ends because if your fiber line gets cut, that's an unfortunate painful thing. We can run our entire application, an enterprise grade dispatch application records management application off of a little hotspot. And so you could go to Starbucks and you could continue dispatching from there, if their internet is up, you could go to the local library and granted, security concerns and all that kind of stuff around there. But the point is, is that there is so much internet available these days, that just because you get your fiber line cut that honestly for department these days, should not be an excuse for not having access to internet. There's so many options you know, failover kind of capabilities. And realistically, what we really do see with police departments is that it's much more of a risk for somebody to trip over the server power cord in your basements where your entire application is being run from, or an air conditioner gets turned on in the summer and it shorts out the electric and then the you know, centers down. So you know for us we do a ton of stuff and again, departments you know, they still need another level of comfort and If there's kind of an interim period where you're getting that new internet or that fresh internet, you can still keep using the application. There's a bunch of stuff that we do in terms of offline mode to make sure that police officers and dispatchers are completely covered. But the long and short of it is, is that you will have way more uptime, resiliency and access to all of your emergency operations. And honestly, way more comfort given to all your constituents with the cloud application versus the stuff that's typically rigged up in agencies right now.
Kirsten Wyatt
Well, and I think that that's a much, much better answer than what I've often heard, which is, you know, this reliance on my ham radios and how that's still going to come back into play when, you know, the big one hits out here in the Northwest. And so, you know, being able to build in some reassurances that aren't, you know, user radio operated based, I think, you know, makes a lot more sense in this day and age. But how would you, like if, if let's just say, you know, out in the Pacific Northwest, again, you're out here for ELGL 20, talking about Sasquatch. And like the big Cascadia quake happens, why would your system be a better solution in that environment? Like every bridge in Portland is down and it's just like, you know, the whole Oregon coast is in the ocean. Like, why is Mark 43 a better solution?
Matt Polega
Unless Sasquatch took out some sort of satellites or the thousands and thousands of cell towers in the area, as long as you have a shred of internet connectivity, you know, one bar somewhere, you could have a meteor hit the dispatch center, you could have the police department completely get flooded, and you could have again, the entire West Coast of the United States crumble off into the ocean. If you have a little baby Verizon hotspot, if you have a little AT&T hotspot and an old kind of junky laptop, you can keep doing exactly what you're doing, no matter what happens to the physical environment around you. And that's the risk that agencies are having right now. I mean, again, they're not expected to be experts in how to set up hardware and servers and infrastructure and all of this kind of stuff. Amazon is. Mark 43 is. So again, you need such little technology and social infrastructure and such a little hardware to make the Mark 43 application run that you truly could have, like I said, the entire left half of the US completely wiped out and you could continue doing every single one of your operations as if nothing happened. All because you have some other alternative source of internet.
Kirsten Wyatt
I feel like I'm not doing a very good job of like tying in our annual conference in Portland in this conversation. You're talking about like disasters that could happen out here but you know, that's a really helpful response and I think you know, in all parts of the country with different sort of emergencies you know, it's always a consideration in local governments so I appreciate you sharing that with us. Tell us some more cool stuff like tell us more cool things and neat stories from the communities that you work in. Do you have any kind of favorite anecdotes or ways that you are seeing agencies transform their operations, because they're working with you?
Matt Polega
Yeah, absolutely.
Matt Polega
Mark 43 is typically pretty hesitant to say that, you know, the actual software itself played a role in reducing crime and there's really no percentage right now that we can say, you know, how much did Mark 43 reduce crime in this particular area. There's so many factors that go into it. And by and large, it's these agencies and these officers at these agencies really doing heroic work to actually move the needle on crime. But we like to believe in you know, we're pretty sure that we make it a little, you know, more frictionless, and a little easier. One of the big things that Mark 43 allows and this is shockingly, something that isn't very accepted yet in the world of policing. I think a lot of people assume that agencies share information unequivocally and without any type of hesitation and because a person isn't going to stop at the border of Maryland and Washington DC to commit a crime and say, Oh, you know, I'm going to stay in DC so it makes it easy for the police department to catch me or to, you know, collect all the station. That isn't the case. So you get all of these tertiary kind of third party stovepipe applications that are kind of conduit applications, sending information back and forth between these systems that weren't meant to talk in the first place. Mark 43 is built for you know, if one agency wants to run its own tenant, that's great. If you want a bunch of agencies actually in the Pacific Northwest, we have two consortiums right now. So groups of agencies that are working together and sharing information, we're actually about to merge those consortiums. So we're really excited about this model, where agencies can actually share information and again, I wish I had something you know, crazier and more futuristic and mind blowing for everybody that's listening to this, but the bar in a lot of different respects in policing, right now is pretty low. And that's one of them. So for example, there was when Pokemon Go came on, I don't even remember how many years ago it was at this point, a couple years ago.
Matt Polega
People were just going up and people that were playing Pokemon Go, because these people were just wandering around aimlessly looking at their phones, they would go off and kind of do a snatch and grab, they would grab the person's very expensive iPhone, and then they would sprint away. And that's how these tests were happening. So two officers from agencies were talking about it. They were saying, gosh, I wish I had any information on this. And one of the officers said, Oh, my gosh, you know, this just happened to us recently. We actually have a report about it and you can if that's maybe the person you're looking for, you can go pull it up and do it. So this person from the other agency went back, was able to search the opposite agencies information, they were sharing data, they had set that memorandum of understanding in place, and they were able to see that okay, maybe this didn't happen in my jurisdiction. Somebody from my department didn't necessarily record this information, but I can see that it happened in another department, and that's a big deal. That's like a huge thing that's very needed in policing right now. Different parts of the country have different appetites for it. But that's something that for us it's flipping a switch, it's a super easy thing. And that's just like, you know, a small, tiny little vignette of what data sharing really could mean for groups of agencies out there.
Kirsten Wyatt
Well, I'm glad you raised that point about how, you know, police and fire work doesn't know city boundaries or county boundaries, not at all. And, so have you experienced where you might have one government agency that's very progressive, very open to technology, you know, working in the cloud using internet based technology that is immediately adjacent to you know, a old school, we keep everything in file cabinets, everything's on a piece of paper, and how do they how does it change their interfacing or their relationship when Mark 43 comes on board in the progressive city? You know, and the other agency is still you know, very, you know, behind the times.
Matt Polega
Yeah, good question. At the end of the day, for the agency that's maybe a little less progressive, we are not coming in like Bulls in a china shop and trying to blow up how they've done things because I mean, there's still an agency because they've been doing a good job and they're still there, and they still have their charter and, and they've been able to positively affect the public safety mission for the constituents in that jurisdiction, right. So we're not coming in and trying to blow everything up. We do try to, we try to provide a lot of options. We try to provide a menu of, and kind of paint a picture of, hey, if you chose this direction, this is what you could be doing. And realistically, Mark 43 could go into a million different police departments and say, hey, don't you want this? Can you go in this direction? Don't you want like the newest coolest thing? Don't you want all this cool new age technology? That's not really going to compel them. That's going to get them a little bit of the way there but not nearly far enough. In no other industry that I've witnessed, is the reference a more important thing than it is to us. So plenty of agencies will call agencies that are in their same market and that's not even geographical. You know, we see that major agencies, Seattle's and the Boston's and the DC's and the Fresno's and the, you know, big agencies in Texas and all these different places, they'll very much reference with each other because big city problems are pretty typical across different states. They'll talk to each other. And if Mark 43 is doing a good job, all of a sudden, the agency that wasn't so excited about new technology may say, you know what, I am kind of interested in this because it's working really well in Boston. It's working really well in Seattle, it's working really well in the Fresno County Sheriff's Office. So we don't so much try to push agencies to say, hey, be more progressive. We kind of let the work in the deployments do a lot of that speaking for us, and that's typically the way that we see these that we kind of try to create this bull market and that's how agencies get drawn into moving forward and being a little bit more progressive.
Kirsten Wyatt
And as it relates to dispatch, have you seen, you know, efficiencies or you know, economies of scale related to having everything be so internet technology based? I mean, are you seeing changes in how dispatch centers are being run once they're working on your platform?
Matt Polega
You know, it's like I said, there's kind of low hanging fruit, the bars pretty low. We've seen improvements simply from just having a bunch of dynamic, impressive graphic designers and UX designers and product managers think about how to build the application. I mean, both from the dispatch perspective and a records perspective, we have a sheet of all these different kind of workflows and the application and how many clicks it takes to complete that workflow and all of our product managers measure, how can we reduce that number of clicks? How can we take it down even by one click, that sounds like a silly little thing, but that's something that really drives how we do stuff internally. And it yields really important results. In Camden, New Jersey they do these things called Virtual patrols where they go around to, they have a network of kind of like CCTV cameras around the city. And they periodically go through those CCTV cameras, kind of check what the feed is coming in, see if there's anything interesting going on that they need to be aware of, anything suspicious. And they would go through, they would log it. And they are managing, they are not dispatching people actually to that. But they have people in their real time crime center looking at these different video feeds. But they have to log all of those things in their dispatch application, they have to say I'm on this call, I'm on this call, I'm on this call, I'm going to this camera, this camera, this camera. They've anecdotally told us that they've been able to triple the number of virtual patrols that they've been able to do just because they're using the Mark 43 system. So again, that's not necessarily material for you know, we're not sure yet of what that means in terms of like a crime perspective, but just to be able to give police officers and dispatchers and all these users a little more time back, a little more efficiency, a little more productivity. That's again, it's kind of low hanging fruit but some easy things we've been able to see in some kind of real world, really near term examples of what's changed, because we've been able to get into these agencies.
Kirsten Wyatt
And you described a little bit before kind of how your approach and your mission has changed over the last seven years, you know, since that first, your first work in DC. You know, where are you headed? What's kind of that next big goal that's on the horizon, you know, for your company? Or what are some of the things that you're seeing that you might want to tackle?
Matt Polega
From a customer perspective, and agencies that we're partnering with perspective, I think we've started a really good foothold in the US and I think people in the US are pretty compelled by what we're doing. We have a lot of new interests. We have a lot of projects that we're excited about, coming up in 2020. So from a domestic perspective, we're still looking to get a really tough hold on the domestic market because we think we can do a ton of really good stuff for United States agencies. That being said, we very much kind of have this major agency DNA in our makeup as well. And when you look outside the US, so the US has 18,000 police departments, a lot of them are big, a lot of them, most of them are very, very small. We're able to serve all of them. But it takes, I think, a pretty special company to be able to serve really large agencies. That's a very comprehensive, complicated enterprise implementation. But that's very much how agencies are set up abroad. So the UK has something like 40, and maybe even like 43, agencies. Australia, Singapore, Italy, you know, Canada, they all have really big agencies that are in so much different picture than how things happen in the US. We're very excited to see what we can do abroad. So you know, we're working hard to make partnerships there and, and see how we can push the product outside the US, and then from a product perspective thing that I'm most excited about. I think something that's very controversial in public safety right now is artificial intelligence, machine learning and what implications it has. I know people are really scared about facial recognition. And people are really worried about if this Police Department has all this data about, you know, what can they do? I think people at Mark 43 personally think that like, some of the really scary use cases of facial recognition and what it's going to be our decades away, and something that's probably not really worth us getting too concerned about right now. But AI is something that we are still looking into. But I think what a lot of people don't realize is that AI doesn't have to be a scary Minority Report kind of thing. AI can be something that is completely harmless and achieves a bunch of very kind of like neutral objectives within the application. So for example, officers will write a report and they have to fill out a bunch of fields about what they're doing. And then they have this big narrative they have to report but they have to write the narrative is really, really important, because it's very much the officers understanding of what happens at the scene of the crime or during the period of the event. And that is often the most important part that comes up in a court case or in any court proceedings. Because of that, officers will fill up the narrative first, they'll write their whole story of kind of what happened first, and then they have to go back and they have to fill in all these fields. And we said, hey, would it be awesome if an officer wrote their narrative, and they said, you know, Max was the victim and Matt Polega was the suspect. And it happened at 123 Main Street at this particular time of day, the weather was cloudy and was raining a little bit. The offense was this and they're writing this narrative. It'd be really cool. They could just click a button, and then all of that information from the narrative was parsed and all of the relevant fields on the report were filled out knowing that the victim was the victim and the suspect was a suspect. That's something that we're testing in the beta of the application right now. Thanks to some of the awesome tools that Amazon has provided for us. But again, that's not something very controversial. That's going to scare a lot of people. That's something that is going to help a police officer write a report faster. So that's a long answer to a short question. But my main takeaway is that the main point that I'm trying to make is that AI can seem like a really, really scary thing. We have a lot of wonderful experts and really talented engineers and product managers right now, that can do amazing things with this artificial intelligence that on day one will provide value to police departments without having to, you know, be worried about what some group is going to be concerned with, or what their constituents are going to say, you know, we're very sensitive of those things, too. But an agency working with Mark 43 means they're going to have access to all this super cool, vetted, really, you know, powerful technology without having to worry about what are the real implications of it otherwise?
Kirsten Wyatt
It's awesome. Thank you for that. And thanks for a little preview on you know, what's coming in your life. So to kind of reflect it back on our gut level listeners and folks who are working in local government. So similar to how you tap on the shoulder of the person in front of you and ask them to put their feet up nicely, you could tap on the shoulder of Local Government Leaders and, and ask them to do something different or to approach something in a new way. What might that be? Like, what is your kind of third party, you know, outside but working closely with government perspective on how government gets better?
Matt Polega
This has been swirling in government and government procurement for a long time. A lot of people say the procurement process is really, really broken. I don't think it's as broken as a lot of people say. I think it's still one way to kind of make sure that you're at least semi efficiently using your taxpayer's taxes to achieve objectives on their behalf and for government. But I don't think there aren't things that can't be improved. So for example, a lot of RFPs Request for Proposals basically, for anybody maybe not familiar, just how the typical government procurement process works, an agency will go out and they will say, hey, I want to buy a bunch of pencils, and they need to be yellow. And they need to be this long. And they need to be number two. And they need to do all those, you know, all that stuff. And that's what they look like. People come back, they say, I can offer you that many pencils for $100, I can offer you that many pencils that do what you need for $120. When you scale that up to an enterprise level application, it turns into people saying I need this feature and this feature and this feature in this module, in this module. I need to be able to label this, I need to be able to change colors of this, I need to be able to do all these things. And what happens is that you have a lot of people that think they're covering their bases by requesting a ton of features. What it ultimately means is that you are forced to select the company that has this laundry list of features. And those features aren't very good. They're not very high quality, and how often do you end up using those features? Not that often, if ever, so. I would love to see something in government. And again, this has kind of been talked about for a while. I don't know how things change, but I'm happy to play any type of role in it that I can. Departments need to move more from a requirements based procurement process to more objectives based requirements process. They need to say, I need to be able to write an offense report and collect this information and have it approved by this particular person. That leaves it to the vendor to say, okay, we can absolutely achieve that objective for you. Let us figure out how we can do it most efficiently. Let us figure out how we can do it most effectively, let us figure out how we can design the screens and the flow and the business process to make sure that your objective is achieved, while overlaying our expertise in design and product management and engineering. Instead, departments typically will say, I need this field and this field and this field and this field and this field and this field, and I got to do this and I got to be able to change the colors of this and realistically, that provides no value to the department and they're just stuck with an application that feels dated and isn't achieving, you know that objective. So I think for taxpayers and constituents too, that's a big thing. I would love for my local agency to be saying, I want to make sure that I can respond to somebody's 911 call in under 45 seconds or something like that. That's important. Not that I have this million fields. Getting somebody dispatched really quickly, that's the important thing. So I think departments would do really a lot of great stuff and looking at what they're really trying to solve, and then handing that hard problem to the vendors. The vendors want to solve those problems too. I know I'm getting in a soapbox about this. But the vendors want to solve those problems. The vendors want hard challenges, or if you're in the business for the right reasons. That's why Mark 43 is here. That's why other companies that we partner with bigger because we want to solve hard problems. It's not great to be shoehorned into this big requirements matrix. But what is really great is when a department can describe, hey, I need a really elegant way to make sure that when somebody's record is expunged or sealed, because they were an adolescent and the judge decided that this isn't something that should reflect on them for the rest of their life. I need to seal it. I need to expunge it. And so they can get, you know, a great job in the future because the judges decided that this is something that, again, shouldn't impinge on them. We have a UX designer that did a really thorough, amazing process to decide how ceiling and expunging works in Mark 43,. She wrote an amazing blog post about it that's going to come out within a couple of weeks. That was a hard problem to solve. But it took people really thinking a lot about it. And it wasn't a department saying, I need this field, I need to do it exactly this way. And people are, you know, wildly happy with the solution that we came up with. So it's another long answer. But if agencies can just provide the objectives, these vendors can, again layer on their expertise to really solve those problems in ways that are, I think, way more elegant way, more efficient than agencies could have conceptualized otherwise.
Kirsten Wyatt
Well, and I think you are speaking our language because I know that a topic in both the ELGL members only Facebook and slack groups is often ways to write a more effective RFP. And I have been really impressed with our members who have looked at it from the perspective of one like don't require, you know, 50 paper copies, you know, printed and hand delivered. All the way to don't put in a list of requirements that you don't know if you need you just accidentally googled and found an RFP from another agency from five years ago. And so that thoughtfulness you know, and I think one thing that we've been trying to push as an organization is to get our private sector members to help our public sector members write the RFP, I mean, just because you say, asking for that doesn't make any sense anymore, doesn't mean they're going to pick you. But what it means is they're going to write a better RFP, they're going to get better responses for. So you're speaking our language like we're on board and it's great to hear that feedback and to let our members know and our listeners know that they're on the right path.
Matt Polega
Absolutely, absolutely.
Kirsten Wyatt
So I have to ask you this question as a One Tree Hill fan, but how often is Sophia Bush in your office?
Matt Polega
She is a great partner to Mark 43. She's a great advisor. And you know, she's she's fun to work with. I'm sure a lot of people wish that she was hanging out with the Mark 43 office a little more frequently. So if Sophie is listening this we'd love to have you by a little bit more, but now she's still very much in contact with us. And again, she was there from a long time ago. So she's been part of it for a while, and we're excited to have her aboard.
Kirsten Wyatt
Well, and she dealt with so many scary situations, you know, when she was on One Tree Hill, so I'm sure that the software really hits home for her.
Matt Polega
So we're certainly solving for that stuff. Yes.
Kirsten Wyatt
Exactly. So my last real question, if you could be the GovLove DJ what song would you pick as our exit music for this episode?
Matt Polega
I could name a million different things. I am a Big Christmas fan so I could say something about Christmas but I gotta go with my favorite band of all time, Red Hot Chili Peppers, Zephyr song. That's one of my all time favorites. I think that is like a perfect, perfect tune and mentality and kind of flow to help us write out the exit section of the podcast stuff. That's why I picked the Zephyr song by the Red Hot Chili Peppers.
Kirsten Wyatt
We will add it to the GovLove Spotify playlist. And actually, I lied. I do have one more question, please. How did you get your name, your company name?
Matt Polega
I'm just going to preface it with it's just a bunch of nerds being nerds. We were thinking about okay we know what could Mark 43 ….really Mark 43 was originally Nucleik, like referring to like the nucleus of a cell, which again, that was a nerdy thing. And we were a lot of the people that were involved with Mark 43 or, you know, potential clients and stuff, they were just like misspelling it left and right. So we realized we couldn't make that the name permanently so we changed the name. And we were fans of the Iron Man movies way back when and Tony Stark and you know, slash Iron Man his suit is named Mark 42. So, Mark 43 is in our mind, kind of the next evolution of the suit. Realistically, it's just just a bunch of guys that like comic books, and it's, you know, super nerdy. Yeah, that was. So it's always embarrassing question about Mark 43. But something to do with superheroes I guess.
Kirsten Wyatt
I think you just endeared yourself to the GovLove listeners though. So thanks for putting up with my final last three completely irrelevant questions.
Matt Polega
No, great question. And I hope people take something from that. So great question.
Kirsten Wyatt
So this ends our episode for today. GovLove is produced by a rotating cast of awesome ELGL volunteers. ELGL is the Engaging Local Government Leaders network, and we're a social startup with the mission of engaging the brightest minds in local government. For our listeners, you can reach us at ElGL.org/Govlove or on Twitter at GovLove podcast. And if you have a story idea for GovLove, we want to hear it and send us a message on Twitter or email [email protected]. And it's also time for birthday and books. This fun program connects you with another ELGL member to exchange a book on your birthday in 2020. Make sure your membership is current so you don't miss out on the chance to sign up. You must sign up by December 31 to participate in this program in 2020. Again, thank you for listening. This has been GovLove, a podcast about local government.