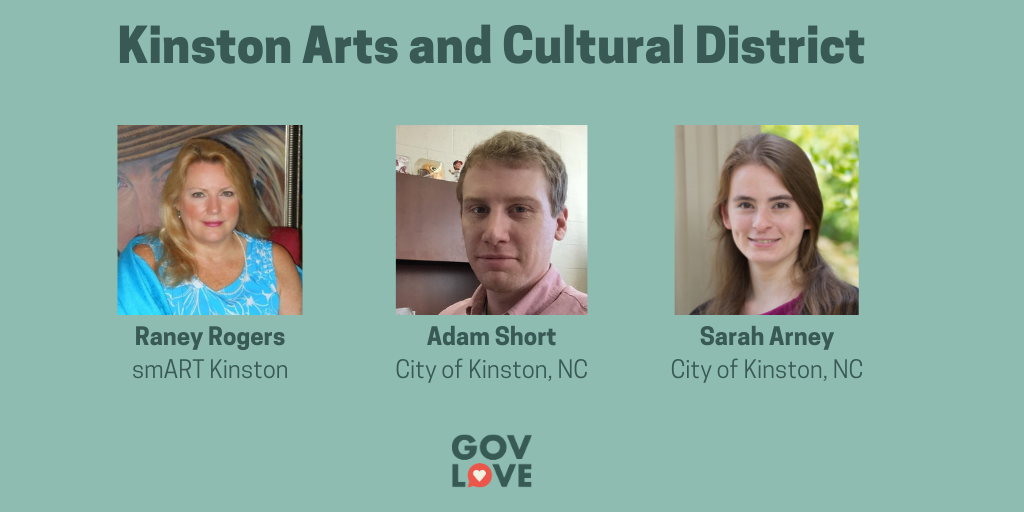 ---
Raney Rogers
Executive Director
smART Kinston
LinkedIn
Adam Short
Planning Director
City of Kinston, North Carolina
Sarah Arney
Community Development Planner
City of Kinston, North Carolina
LinkedIn
---
Redevelopment through arts and culture. Three guests joined the podcast to talk about how the City of Kinston, North Carolina has redeveloped their community through the implementation of a arts and cultural district. Raney Rogers, Executive Director of smART Kinston, details the 12-block residential area in downtown Kinston where artists live and work by long-term residents in colorful houses. Adam Short, Planning Director, and Sarah Arney, Community Development Planner, for the City of Kinston outline the positive impact this district has had on the City, highlighting increased tourism and lower vacancy rates.
This episode is part of ELGL's Creative Community series, a partnership with ArtPlace America and CivicArts to write, explore, share, and learn about creative placemaking.
Host: Ben Kittelson
---
---
Learn More
Kinston, North Carolina – A Success Story
smART Kinston – Arts and Cultural District 
Are you an artist looking to live cheap? Kinston may have a house for you 
smART Kinston continues the move to engage and grow the arts community
Kinston, North Carolina: A farming and industry city turned to arts hub
---
Episode Transcription
Message  00:00
This is Brian Murphy ELGL's Data Manager. The ELGL diversity dashboard is the first national data collection on the gender, race and age of local government leadership. We're excited to launch our third full year of data collection. This year, we're expanding our collection to include all levels of local government positions, not just Chief Administrative officers, in an effort to get a better understanding of diversity across a wider variety of local government positions. This year's survey is looking for responses from Local Government Leaders working in many different positions. We look forward to hearing from department heads, project managers, analysts and others as we hope to get data on the diversity of local government leadership. You can find more information on the survey and a link to respond at ELGL.org/diversity-dashboard. We hope you'll respond and follow the data as we work to make local government more diverse.
Ben Kittelson  01:02
Hey all, coming to you from Jacksonville. This is Gov Love, a podcast about Local brought to you by Engaging Local Government Leaders. I'm Ben Kittleson, consultant at the Novak Consulting Group and Gov Love Co Host. So we've got a great episode for you today. I'm very excited to have three guests with me. We're going to be talking art redevelopment in the City ofNorth Carolina. Today's episode is part of our creative community series, which is in partnership with ArtPlace America and CivicArts and for our listeners out there, the best way to support Gov Love is to become an ELGL member. ELGL is engaging the brightest minds in local government, a professional association with members all across the country and the best the best place for local government. So now let me introduce today's guest. First, Raney Rogers is the executive director of smART Kinston. And she's also the owner of Apron gallery in West Jefferson, North Carolina. She's had art exhibited in galleries around the world, and she's helped open the smART gallery in Kingston in 2019. And we've got two guests from the City of Kingston. Adam Short is the Planning Director and Sarah Arney is a Fellow at Lead for America, and is Community Development Planner at the city as well. So with that, thank you all for for joining me. Welcome to Gov Love. I really appreciate you guys coming up.
Raney Rogers  02:21
Thank you for having us.
Adam Short  02:22
Thank you for having us.
Sarah Arney  02:23
Ya, it's good to be here.
Ben Kittelson  02:26
Awesome. So a tradition on the podcast is we do a lightning round to kind of let our guests warm up a little bit and get to know better, let our listeners get to know you. So for my first question I'll make I'll make Raney go first. What book are you reading?
Raney Rogers  02:41
Through the Darkness by Janet Nohavec.
Ben Kittelson  02:46
Adam, what about you?
Adam Short  02:48
I'm reading the Book of Basketball by Bill Simmons and a book about the USS Jeanette which was a, they tried to discover the North Pole and it ended in calamity.
Ben Kittelson  03:04
That Book of Basketball book is very long, so I'm impressed.
Adam Short  03:08
It is very long. I'm not even halfway through it and it's enjoyable, I'm enjoying it.
Ben Kittelson  03:14
Sarah, what about you?
Sarah Arney  03:17
I'm actually doing a book club right now. And one of the books that we all are trying to get through but didn't quite get through in the month span we had was the Paradox of Targetable Politics. So kind of a study of North Carolina major political figures over history.
Ben Kittelson  03:35
I've got that on my shelf somewhere. I haven't haven't gotten around to it. But it was a book that caught my eye at some point. Yeah. Awesome. So my next lightning round question for you guys. In kind of our time of quarantine and you know, not be able to do some of our more social things. You guys bingeing or watching any TV right now? Sarah, why don't we start with you since you got to go last last time.
Sarah Arney  03:58
Sure. Actually, not any TV shows right now. But I will say it's Hallmark movie season, and I was not previously a hallmark movie person. But I've been getting into that this season and watching all the previous years. So getting in the spirit of the holidays.
Ben Kittelson  04:20
That counts. Adam, what about you?
Adam Short  04:24
I'm watching 30 Rock. I never watched it when I was on the air. So I needed something to binge. That's been really good.
Ben Kittelson  04:36
Raney, what about you?
Raney Rogers  04:38
Well, I heard about the Queen's Gambit and I had to start that and I believe I actually did binge it. it's a,  I could not could not quit watching it and highly recommend it.
Adam Short  04:50
Yeah, that's very good. We just finished that as well.
Ben Kittelson  04:54
Yeah, I think I think I finished that in like a day. And then one of the one question I'd like to ask folks is kind of how they ended up in their, their current role. So you know, what was what was the path that kind of led you guys to your current role? So Raney why don't we start with you and then go to Adam and Sarah again.
Raney Rogers  05:15
Mine was, was actually pretty simple. I saw an article in The New Raleigh News and Observer about the smART Kinston project. And I lived in the mountains and, where it's very cold and very snowy in the wintertime, and even even now, and I made an application to the program, and here I am!
Ben Kittelson  05:38
Adam, what about you, what was kind of your path to being Planning Director in Kinston?
Adam Short  05:43
Well, I was working in Carolina Beach, before I came here, and at the same time I was in grad school in Wilmington. It was fortunate and I was looking for jobs across the state and I was fortunate enough to get a job here in Kingston and I was originally a Community Development Planner and then moved up to the Planning Director position. It just so happened that my girlfriend, girlfriend at the time was living here in Kinston, who is now my wife, so that worked out well. Definitely was a part of the decision, wanting to be here in Kingston. So I was very fortunate.
Ben Kittelson  06:25
Sarah, what about you? What's been your kind of path to working in Kinston?
Sarah Arney  06:30
I will do a shameless plug for my program. So I graduated from UNC Chapel Hill. And when I was in the job search, I heard about Lead for North Carolina, which is the state specific program of Lead for America, which is a national organization that was started to encourage young people's interest in government or young people who are interested in serving their community but hadn't considered government or local government as a way to do that. And I read about the program and its principles and thought this was a thing that I didn't know that I needed, until I applied and I interviewed with Kinston first, actually, the record program said, I think I think this would be a really great pairing, and had a had a good interview and y'all wanted to have m and I, I have loved my two year fellowship here. And I've been working in the role of Community Development Planner. So I've been working with Adam, and have really enjoyed being here in Kinston. It's my, the first time I had been to Kinston was when I came here about a year and a half ago. And I've just loved my experience.
Ben Kittelson  07:48
Awesome, awesome. Well, and for our listeners that maybe are unfamiliar with Kinston or North Carolina, can you, and maybe Adam, we can we can make you answer first, but can you guys give a kind of like a description or kind of a little bit of perspective on what, so our listeners can know a little bit like what Kinston is or, or just tell us a little bit about Kinston?
Adam Short  08:12
Yeah, um, I think Randy and Sarah could certainly jump in they, being the same as I am. Before I was before I came to Kinston, spending time in Carolina Beach, I grew up in Roanoke Rapids, North Carolina. And when I came to Kinston, it's kind of hard to describe and I think everybody kind of gets a sense of it when you, when you get here, and when you live here is Kinston is a very welcoming community, very open, very friendly community. And that was one thing that kind of struck me right off the bat. The, Kinston has a long history. A lot of history in the tobacco manufacturing and cotton and kinda when those ended and went away there was, you know, a lot of population loss. And we've had certainly our trials with that, and then trials with flooding in recent years. And now it seems something that we experience every time we get a hurricane. But throughout or through all that ,we have an incredibly, was like a bit of a renaissance downtown with art history, with the investment that we're seeing in and around downtown. New restaurant, bars, stability. It's it's a completely different vibe even, I've been here working for 10 years and just the transformation that we've seen in those 10 years is really incredible. It's hard to really describe it and it's something that I just encourage people anytime I have a conversation with them that you just have to be here and experience it and just just come to check us out. It's really a great town, great community.
Ben Kittelson  10:03
Yeah. Raney, is there anything you want to add? Maybe like your favorite part about Kinston, what folks to check out there in the area.
Raney Rogers  10:11
I concur completely. I've been here for two years. And I love it. It's just the right size, the people are wonderful. And it's amazing. I think the businesses that are here, it's got a great foundation for, for a lot of growth. And, and it's a very comfortable place to be. So I'm very happy, I love where I live, what I do, and as Adam said, the people are just are very kind and welcoming, and very supportive.
Sarah Arney  10:45
I would echo that. I think a lot of what I have to say might revolve around the arts and cultural district and the public art that we have here, which I know that we're going to get to later. But I will say that Raney and I are actually next door neighbors. So that that's been really great for me, coming to a new city where I didn't have any family members or friends when I arrived, and thankfully, I got here before COVID started. So it was it was nice to be in a community that was immediately welcoming, and has a lot of, of things to do that are engaging and really interesting, especially in relationship to the arts.
Ben Kittelson  11:34
Well, and that's why I wanted to have you guys on the podcast is because Kinston you know, from the outside, maybe before some of this more recent redevelopment work was like a lot of small towns, I think in places across the country where, you know, there used to be a big industry and it's no longer there. And, and that's kind of struggling with kind of where to go forward. But, you know, we found this kind of, or Kinston seems to have found this little niche of like arts and culture. And so I just think it's such a great story. So Raney, can you give us a little background on smART Kinston and and kind of, you know, what, what that is and how it fits into into this?
Raney Rogers  12:13
Sure. The SmART initiative is really something that kind of falls into the North Carolina Arts Council and maybe on Arts Councils and other states as well, I don't know. But it basically is using the arts as an important component in the revitalization of a community. And the local resident, Stephen Hill, was aware of this, of course, serves in the North Carolina Arts Council. And he heard about this, and I'm sure looked into it, and just got the idea that that needed to happen here in Kinston. And so basically, that's what he did was he created this platform on which, in the town of, in Mitchelltown, which is a small area of the initially the downtown I guess, of Kinston, I don't know, residential area, and bought up a number of homes, and has been remodeling these homes and fixing them up so that artists can come in, but he saw this, he had this vision, and Mitchelltown is just a perfect place to, to hone in on and to create this growth and this opportunity that well, it's in particular works for Kinston and other places. You know, I'm not sure exactly how people go about it. But this was just so ideal, because it's a finite area that that can be used to house, to bring in artists to bring arts to the fore. And you have to have artists, of course to do that. But, but he just had this vision and has followed it through. And as I said, I joined the program two years ago. And it's it's just been really wonderful because it's it's just inspirational to be around other artists and you know, to have that kind of, of energy around and to see what the arts is doing with the community as well. So, and what we do basically is we bring artists in and we we support them however we can in terms of opportunities, and we work with local institutions as well in our community college, they, the Arts Council here, another Art Gallery, and bring bring artists in and encourage them to hone their craft, to learn, to teach, to to infiltrate into the community and share with the community what they do, because unless the community is educated as to the importance of the arts, they really don't have the knowledge, or the, the idea of what it's all about to be surrounded by artists and to be incorporated with the arts and to walk down the road and or Street and see a beautiful mural, just just just out there for you to enjoy. So that's basically, you know, where the backbone of this comes from.
Ben Kittelson  15:38
It's kind of the idea that, like, hey, you're an artist working in Charlotte, or Virginia or somewhere, and hey, come move to Kinston and work here. And, you know, here's this community that can support you, or, or what is what is that kind of look like, if I'm an artist wanting to, you know, check out Kinston as kind of a place to, you know, move my work to?
Raney Rogers  16:00
Right, right. And, and, and it just. And so what we do is, you know, we bring them in, we show them around, we and we pair them up with housing that's suitable for their needs. And there it is rent controlled. So the so the rent is much cheaper than what you would get anywhere else, get them settled in. And then basically, and we've also grown as, as this initiative, has been in place for maybe around six years. But now we have an art gallery, the smART gallery, which is basically the hub of the district where we can, you know, the artists come together, and we meet, and we have artist talks, and we invite other artists to come in, such as from Penland and to share their craft, and we want our artists to be going to other places, especially with the school systems, but it's just a place if you've got if you've got a problem, if you got a question, then you can, and I encourage the artists to let me know, let's talk about it. And let's talk about it as group as a group as well. Because artists more than anything, need a support system, it's very difficult to make a living as an artist, it's very difficult to day by day, go back to your craft and in spite of the ups and downs that happen in every artists life, in everyone's life, for real, but in spite of that, you just have to remember what you're there for, what what your goal is, what what you're trying to, what your statement, you know, what, what is it that you're here to do, and, and stay focused on that. And it's very easy for artists to get sidelined, because many of them have to have jobs too, to support themselves. So our goal is to get the artists as self supporting as, as we possibly can, through all these things, through support, through finding out what opportunities are there throughout the state. And, and and as such as what Sarah and Adam have done, the City has done with with these mural opportunities. And it's just, it's just letting the artists know that we we appreciate the arts, we want you here, we want you to stay as long as you can. And we want you to contribute to the community in any way that you see fit or that we find for you. And it's a support system, unlike unlike any other really that I have ever seen.
Ben Kittelson  18:27
And Adam, can can you give maybe the background on the arts and cultural district and kind of what what it is and kind of how it kind of fits into into this picture? 
Adam Short  18:38
Sure. I remember several years ago, Steven, Steven came, Stephen Hill came and met with me and he kind of laid out his vision for the arts and cultural district and that you know, it, we defined a district just laid out a map and kind of, he explained that he wanted an art and residence area where folks could come and live, the artists, and also display their art and also have gallery space. All in one district. And so we got to work, we did a, I think the first step was creating essentially a zoning overlay for that area. And included in that it expanded it from what was historically just a residential district to more of a mixed use district that allowed specifically for art use, art based uses, so anything from gallery space, small cafes, or outdoor display. The district itself is kind of a mix of part of the Mitchelltown historical district, and then there's this an area to the south of Mitchelltown historic district. It's also included in that area, but it's also been geographically connected to both Mitchelltown and Downtown and this Arts District brought all of that together. So you have this, from a historical perspective, a designated historic district, and then just the very close knit neighborhood that has been well established for a very long time, brought all together by the arts and cultural designation. After that, we did a formal designation as an urban redevelopment area through the state of North Carolina, which that opens up a lot of code for redevelopment and provides authority for eminent domain, you can do special regulations in the district, you can pretty well do anything in the name of redevelopment to help bolster that that area. So that was really a key for turning that that area around and keeping in mind that, you know, years ago when I first came here, that Mitchelltown, that the district and people refer to the area, and just generally as Mitchelltown, also, kind of beyond the boundaries of the historic district, but there are a lot of issues of, of crime, there was a very high vacancy rate, very high rental rate and all that. And it was, since that time, the vacancy rate has been almost eliminated, the issues of crime have been greatly reduced. And it's just, it's a total transformation. And just from that, that aspect, not even considering the all the rehab that's gone into the houses, it's just like a visual change. If you if you'd ridden through that area, even seven years, five to seven years ago it would look completely different than it does today. It's really, it's really incredible, how much the area has changed.
Ben Kittelson  22:08
Yeah, I was reading, I was reading about that, that that area had a lot of, you know, vacant or neglected buildings. And is that, Raney, Is that part of smART Kinston work as well? Or what is kind of the redevelopment piece of this? Like, is that part of kind of smART Kinston? Or is that separate?
Raney Rogers  22:28
Unless it's a specific art project, not particularly, but, but all of the homes in, in the district are are fairplay as far as being purchased and brought into the arts and cultural district per se. But, but that's basically what it is a lot of these homes were, were vacant or, or very rundown. So, as occupants still are in their homes. You know, as they move on, then those homes are renovated and included in the arts and cultural district. And the homes are, they're painted, beautiful colors of sherbet. And, and every every home has its own particular color. And, and sometimes it takes an artist to tell you what color that might be. But, but it just makes it so delightful. And they're, and many of them are are surrounded by white picket fences. And so so you have just that just the visual itself gives you a sense of, of almost, I think of scenes out of Pleasantville when everything kind of came to color. And and that's sort of sort of how it is, you can and as the artists occupy you know that as Adam said, they thee is studio space within each house, we want each artist to have a room that they can work in. And, and the galleries in addition to that, because that's where we exhibit the work of the artists and we're working on a workshop space, which is just on the edge of the arts and culture cultural district now in the old Napa building and, and the cafe. So it's interesting, it's just since I've been here, we opened the art gallery, or smART gallery as it is. And now we're looking into the workshop space at the Napa Center, which is which is very close in the district. And so it's very interesting to see already how we're making, how we're growing and just creating new opportunity and giving even more reason for artists to come here but it truly is a place that I think we've just made a very wonderful spot landing spot for artists to come and and to want to come and so to be a part of that and to know that there's more growth. Stephen is an incredible visionary and to know that there are still things to come. And he helps to make them a reality. And you've got to have all of those components to come together to be able to do what's happening here. And I have to say this smART initiative is something that other towns have tried to do, and have been unsuccessful for various reasons. This is a success success story. And, and it's really great to be a part of it. One of the things just very briefly, Sarah mentioned that we're neighbors, it is so cool to be on your porch and to look over and see somebody that you know, your neighbor and to talk to, you know, we're just walking by the fence and talking over the fence and and it's it's very friendly and very comfortable. And I certainly feel very safe here and just love it because there are new artists coming in right now. musicians, painters, we have sculptures we have and if anybody wants to do something to to donate or to contribute to the art scene, we welcome that. That gives it more of it's je ne sais quoi that is starting to spread by word of mouth.
Ben Kittelson  26:20
Well, Adam, like how does the district impact kind of other redevelopment work in the city like has it helped with, you know, downtown revitalization like a lot of other cities are doing or has there been kind of a connection with the rest of the City of Kinston?
Adam Short  26:34
Absolutely, especially for downtown. I mean, I think there's, there's a, such a close geographical link between downtown and the arts district. And having that mixed use residential district has just been great in a lot of ways, it feels very connected. I mean, you can be on top of downtown, you can see the arts district and very, very easily walkable. And then, you know, transitioning from like a residential district into downtown, passing by works of art, that kind of thing. It really enhances the livability of our community and it's, it's really nice to have.
Sarah Arney  27:20
I would also say that alongside the arts and cultural districts development, the city has also done a lot adjacent to the arts and cultural district to make it a more identifiable neighborhood and just a nice place to be. The Riverwalk is another project that the city is working on. That is a multi use path, which has multiple phases but will eventually go along a significant portion of the Neuse River, the phase that has been constructed, tt goes from a street on arts and cultural district down the Neuse River, past a relatively new park Pearson Park. And alongside downtown and passes the farmers market. It passes a memorial and it's really just a beautiful walk that connects the arts and cultural district to a park and downtown. It's actually how I walk to work most days. And it's been, that that was another thing too, just for me personally, being able to live in that neighborhood and not only really enjoy my neighbors, but also just enjoy that neighborhood. And it's a place that I don't think I would, I never imagined that I would be able to live in before coming to Kinston. So I would say that the city has also done a lot kind of adjacent to the redevelopment of the houses to make surrounding amenities good for the arts and cultural district and for residents and visitors alike.
Ben Kittelson  29:04
I'm a sucker for a Riverwalk, so now I have to go to Kinston and pay you guys a visit.
Raney Rogers  29:11
Yes, we certainly welcome you, this COVID thing has really put the the skids on a lot of things. But I just wanted to throw in Pierson park right next to the arts and cultural district when they have community events or or they have bands coming into play. You can hear the music all over the place and that is so cool. I could be sitting on my porch right here and and hear any songs that they play and right now there are Christmas lights and it's a wonderful little walk through the park with the lights. The city, Adam, I don't I don't know who I guess you guys and Leon spearheaded that but but that's just delightful.
Adam Short  29:57
Yeah, Leon Leon Taylor is the director of the Private Kingston Downtown Organization. He's done a great job with the whole Christmas season really, Kinston has been transformed. With his work. It's been really nice. And you're absolutely right, Pearson Park is completely different, even even today than it was just two or three years ago.
Ben Kittelson  30:24
That's awesome. Well, Sarah, Raney mentioned the mural program that the city runs, can you tell our listeners to kind of about that, and about the program and kind of what that is?
Sarah Arney  30:35
Absolutely. The City received a $100,000 grant from the National Endowment for the Arts to install seven original outdoor public murals in our downtown district. So the city has a municipal service district that covers Queen Street, which is our one of our main streets, and then heritage Street. And then several blocks. I'm not sure exactly how large the municipal service district is. But the goal of the mural program is to have seven murals in that area to enhance the connection between economic, cultural, artistic aspects of Kingston to have just beautiful pieces of art for residents and visitors and also to spark important discussion and progress in various parts of of what is important to Kinston. So that includes art that is from our local artists. So that includes Maximillian Mozingo, Jamil Burton, Seraphim Smith, and Choci Gray, are all muralists who are part of the program and are artists who are part of smART kinston, Raney, correct me if I'm wrong. But that was another really important piece was to incorporate the local artists here in Kingston. Two of the murals are all for representing Kinston civil rights history. Kinston has a very strong and important civil rights history, which is being represented in two of our murals. And the remaining murals are just original works of art. And the the muralist who are not from Kinston are from across the state and across the country. And that is another great aspect of the program. So three of those murals have been completed as of mid December, but we're hoping to have completed all seven by early spring. And another kind of benefit that we didn't necessarily anticipate, but has been really great through the program. And this is also because Kinston and the artists community is so welcoming is that the artists who come in to stay with us while they were painting their mural, were able to talk with and learn from the artists who are in Kingston, and vice versa. So that was another really great outcome of the mural program. And the last thing I'll say about it is one of what has been one of my favorite parts of the mural program is that I have had, along with Mercia Parrot, who is a consultant with the City of Kinston, who originally applied for the grant and has been administering this whole program. And she's done an amazing job, was was the creation of the mural Selection Committee, which is a group of Kinston citizens who are educators, artists, community members, business people who are all really great advocates for the city and for public art. And that mural committee did a huge bulk of the work in setting what our goals would be, in managing the hundreds of applications that we got, selected the artists and working with them, especially when those artists wanted to portray something for history in Kinston or wanted to honor people in particular to help them do that in a way that was authentic to Kinston, and we really could not have such a good mural program without the involvement of of our mural committee and those citizens who really made made that program possible and made it as meaningful as it as it is. So when I want to very much thank them for all of the work that they've done and say that in any city work with public art, the involvement of the community is is one of the most important things because this is, the art is meant to be in the public space. And is meant to serve the public.
Ben Kittelson  35:04
That's awesome. Is there any other kind of engagement with the artists or the community through through this program or in other ways with through the city?
Sarah Arney  35:17
For the mural program?
Ben Kittelson  35:19
Yeah.
Sarah Arney  35:20
Yeah. So sort of the creation of a mural and the program is to have virtual artists talk. So, once the muralist has finished, they'll what we have been doing virtually because we're no longer able to have in person meetings, but virtual events where the artist talks about their history as an artist, their experience, creating this mural, and the the content of the mural itself. One of our artists, Max Moses, who did our first mural, he spoke to an art class at Kinston High School, which was to kind of support those, those young people who are interested in art and had questions about what it means to be an artist in their career, or just to be an artist generally. And so we've been doing that initial engagement right after the mural is created. But we're also going to be following up these murals with plaques that explain the history and the artist, and the mural more specifically, and hopefully, that will come at a time when, after COVID has has, we're able to go out in the world again, we'll be able to, to kind of review some of those engagement events and invite those artists back either virtually or in person, depending on where they live. To speak more fully about that context. The other thing that we're working on, and I'll say that what is great about this program is that while the grant funding is finite, finite period when these murals need to be done, it's really a constant building process, like I would completely agree with what Raney has said is that there's always something to look forward to. And there's a lot of avenues of opportunity open. So we're exploring, we're exploring, searching for additional funding options to create an audio tour, so that we'll be able to scan a QR code, when they see a mural and they get curious about it. And they'll be able to hear from members of our mural selection committee, from the artists, and hear about the creation of that mural so that those stories that are told during those engagement events continue on long past the initial visit of the artist. So we're very excited about all of those things. And it will make it so that every time we visit Kinston, there will be something new, and a new way to look at the art that you've seen before.
Ben Kittelson  38:17
That's awesome. Well, and if you need a podcast consultant, I'll gladly come out that you only need to pay me in eastern barbecue. That's fine.
Sarah Arney  38:26
Awesome!
Ben Kittelson  38:28
That's great.
Raney Rogers  38:29
Yeah, you got to come now.
Ben Kittelson  38:31
Yeah. Kind of before we wrap up, I don't know if you guys want to take a step back and think about like how some of this placemaking kind of arts stuff has changed King\ston but because we've talked to some on this and kind of how it's changed, you know, the district and the neighborhood and the redevelopment, but is there any other kind of thoughts you want to add about how kind of these initiatives have changed the city?
Adam Short  38:58
From the time I got here, today, Kingston is just completely different, as I said earlier, and I think, you know, there's a lot of ways now, just intrinsically and you hear more about Kinston, Kingston is getting a lot of press around the state and around the country. But being that I was here 10 years ago and downtown Kinston, I mean, we just opened the chef and the farmer and I think Mother Earth Brewing was about to open and there just wasn't a lot going on downtown apart from a few shops being open and I mean, pre-COVID obviously, but if you went, if you go downtown Kinston today it is just pack and test right there just that you are in downtown on Thursday night, like Raney said, you have a concert and Pierson Park, restaurants are back, you know, the brewery is packed, you see a lot of people in it and it's a lot of people that are, may or may not be from Kinston. And in the summertime, a lot of people from Kinston actually go to the beach and the folks that are in town are from Raleigh or other parts of the state. So it's been an incredible transformation. 
Ben Kittelson  40:20
Wow.
Raney Rogers  40:25
I just wanted to throw in one more thing really quickly was that before COVID hit, of course, the the gallery was enjoying quite a number of people coming in, and they were coming from all over the world. That was amazing. And they would got so when they would come walk in the door, the first thing I would say was, what time is your reservation at the chef and the farmer and they would look at me funny, and they'd say, 630, or nine or whatever. But chef, and the farmer really made a huge, huge thing with bringing people in, I mean, that they were they were a place to go. They were a destination. So so that was really so amazing for me to see. And, and we miss that. We miss that all very much.
Ben Kittelson  41:16
That's fair. Yeah, that's fair. Can't wait for this pandemic to be over.
Raney Rogers  41:21
Yeah.
Ben Kittelson  41:25
So you guys kind of touched on some some things you have in the works are kind of planning is there anything else kind of been that you guys are working on or you have in store for, you know, the coming year, or that you want to do next on on kind of the list that you want share with our listeners?
Sarah Arney  41:43
I can, I can start. The expansions that we're planning for the mural program. We talked about revitalization and trying to understand how the creation of the urban redevelopment area and the arts and cultural district changed, changed the neighborhood. A survey was done when the arts and cultural district was created that tried to assess what was going on with vacancy, and with Home Repair needs and what what the neighborhood was like, we're actually that that survey is being redone. For from several years later in 2020, to see, to put some some numbers to the changes that have happened and to, to explain what has happened in our neighborhood. And to to then use that to say what's next, how can the arts and cultural district even better, and how we can share our experience in k\Kinston, with other local communities in North Carolina, to share what it's like to have an artist in residence program. And what cities can do to support citizens and organizations that are interested in having similar support in public art. So I'm very excited about that, to see some some numbers around the change that has happened.
Ben Kittelson  43:10
Very cool.
Raney Rogers  43:13
I would say the thing that that we're going to do there, we're doing in smART Kinston for the upcoming year is to get the workshop space open, which is, as I said in the old Napa building, which is right on the corner of the district and where we can rent out workshop space for artists, but also in the smART Kinston program and and elsewhere. But also where we can have workshops and have people come in from wherever and take workshops and also have other artists come in and do demonstrations and whatnot to create a real give and take with with the arts community directly. So, and a little cafe in conjunction with that. So that's very exciting.
Adam Short  44:03
Very cool. I'll say we're we're we look to try and find ways that we can continue and connect all of these projects where we have going on. One thing I haven't mentioned yet is the city invested a little over $3 million in our streetscape project for Queen Street and finding ways to spill over some of the development that's been clustered around heritage street onto Queen Street and doing what we can to remove barriers and encourage investment along that corridor is a priority, connecting our existing art installations and also connecting to other communities and trying to replicate what we've done in the arts district, things that we've learned that are successful and using those redevelopment tools for other communities to hopefully redevelop and reinvest in other parts of town as well.
Ben Kittelson  45:03
Awesome. lots of exciting stuff you guys got in the works. So we'll have to stay tuned and check back in with y'all. So our last our traditional last question on Gov Love, and it's always difficult with multiple guests, I don't know if there will be a consensus or we might have to bring it to a vote. But if y'all can be the Gov Love DJ, what song would you pick as the exit music for today's episode?
Adam Short  45:28
Well, I can guarantee either neither Raney or Sarah have heard the song. So mine would be The Suburbs (Continued), it's the last track on Arcade Fire's Suburb album. It's just a perfect fade out to really anything.
Sarah Arney  45:52
I think my suggestion would have to be some form from one of Kinston's artists. So Kinston is also very big, not just for physical art, but for music as well. Some of you may not know is a lot of James Brown's band came from Kinston. And Little Eva, who did Loco-motion is from Kinston. Deknight and Maceo Parker are both still with us and our amazing artists as well. So anybody who is from Kinston I would say, and the thing you can do is that you could do like all the people that you didn't know were from Kinston, it's just a nice discovery and looking for whatever song.
Raney Rogers  46:45
That's very true. That's a great, that's a great, Sarah and Adam. What kinda kept coming to me was Eye of the TIger, because that's what I feel like. We, you know, we're on a mission. And we have a lot to do. And we just got to keep our noses to the grindstone.
Adam Short  47:10
That's correct. You can open with Eye of the Tiger to get the listeners pumped up.
Raney Rogers  47:18
That's true, that's very very true!
Ben Kittelson  47:22
Yeah, I think I'll have to find a way to get all three suggestions in that. So with that, I want to thank you guys. Yeah. Thank you guys so much for joining me and taking the time to kind of share your expertise and experience. I really appreciate you guys coming on Gov Love.
Raney Rogers  47:39
Thank you so much for having us.
Ben Kittelson  47:42
And for our listeners Gov Love is brought to you by Engaging Local Government Leaders. You can reach us online at ELGL.org/GovLove or on Twitter at the handle @GovLovePodcast. The best way to support Gov Love is by joining ELGL. Membership is $40 for an individual or 20 bucks for a student. You can also sign up your whole organization. Subscribe to Gov Love on your favorite podcast app. And if you're already subscribed, go tell a friend or colleague about this podcast. help us spread the word that Gov Love is the go to place for local government stories. And with that, thank you for listening. This has been Gov Love, a podcast about local government.
---