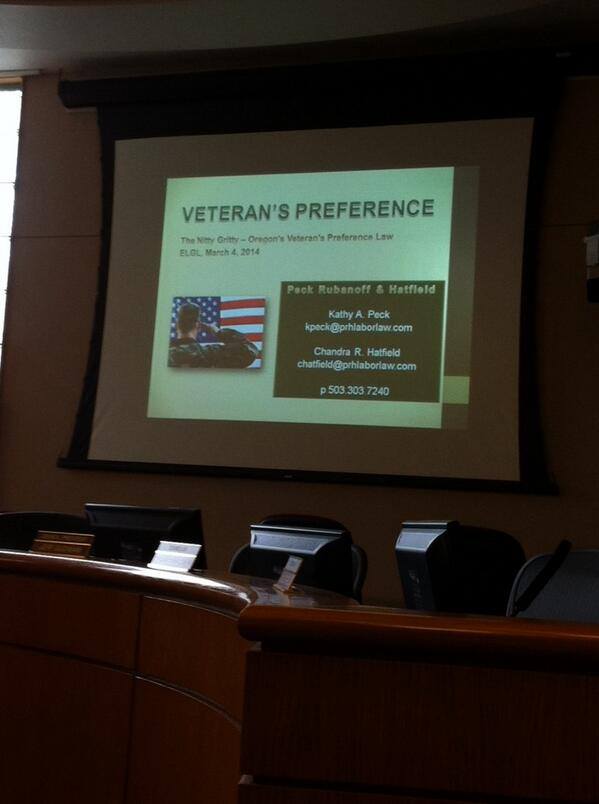 The complicated subject of Oregon Veteran preference law in employment has been a newsworthy in the high profile case of the Bonnevile Power Administration.  To speak on this subject, ELGL enlisted Elissa Preston, Kathy Peck, and Julie Morris.
Presenters
Elissa Preston: Has been the Human Resources Manager at the City of West Linn since February of 2013 and served as a Management Analyst for West Linn prior to that. Elissa will be able to provide the practical perspective of complying with the Oregon law while performing searches and hiring new staff.  Connect with Elissa onLinkedIn.
Kathy Peck: Is an attorney at the firm Peck Rubanoff & Hatfield PC and specialist in employment law.  She has been practicing labor law for 30 years. Kathy is a well-known lecturer on employment law topics and has published articles for the Oregon State Bar, the Oregon Law Institute, the Bureau of Labor and Industries, the American Arbitration Association and a variety of other organizations. She has also taught employment discrimination as an adjunct professor at Willamette University College of Law. Connect with Kathy on LinkedIn and read her profile here.
Julie Morris: Julie is a Human Resources Generalist for the City of West Linn and has worked in human resources since 2011.  Julie will also provide a practical take on how to deal with the veterans preference law as you navigate the hiring process.  Connect with Julie on LinkedIn.