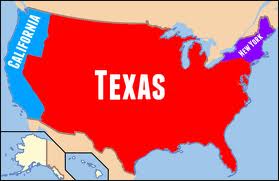 SGR Conference 2014

 


Creating a Learning Organization: Leading-Edge Strategies for Employee Development
http://www.youtube.com/watch?v=nDuWKSvS1a8
This week we will be taking a break from the Midwest to venture south to Texas, where ELGL will be travelling next week to speak the SGR Conference in Grapevine, Texas. I'll talk about some headlines, music and fun facts about Texas. It'll be like you took your own trip to Texas without leaving your desk… or even Googling it.
Texas: Quick Hits
Population – 26,448,193
5.2% increase since 2010
Land Area – 261,231.71
Roughly 1,200 incorporated municipalities
Cities with fewer than 5,000 residents are general law cities
Texas is one of seven states without an income tax.
Texas is projected to be the 9th largest oil producer by the end of 2009.
In Galveston, Texas, it is illegal to have a camel run loose on the beach.
Texas only makes one type of waterslide: Gigantic.
The Headlines – Texas Style
What the Frack?
In Texas fracking is big business and big controversy. Texas has far and away the most fracking wells of any State in the country; 33,753 compared to Colorado in second with 18,168 wells. Opponents of fracking say the practice may be linked to a string of earthquakes and may be endangering the water supply, among other things. Proponents say the benefits are wroth the risks; fracking can unlock major deposits of natural gas and lead to major economic benefits, among other things. The controversy continues across the State of Texas and across the country as the environment impacts are weighed against the potential energy boom. Check out where the oil & natural gas facilities are near you.
Impacts on the Midwest: Michigan, Ohio, Indiana, Illinois, Wisconsin, Minnesota
Get in the Zone…
Texas is known for being very business friendly; meaning they lack many of the regulations found in other states. The City of Houston does not have zoning; the largest city in the country to do without zoning regulations. It may sound crazy but Houston has had success developing without zoning laws; much to the delight of some urbanists who point to zoning laws as constricting and divisive mechanisms within our communities. The argument is simple; by getting out of the developers' way we allow them, along with market forces, to decide where developments should be located.
Although Houston doesn't operate under traditional zoning ordinances, it does regulate how and where businesses can operate. Critics of lax zoning laws point to the need to keep industrial, commercial, and residential developments separate in order to protect property values and residents' well-being. Many critics point to the tragedy last year in West, TX as an example of the dangers of deregulation (it should be mentioned that West is nearly 200 miles from Houston). The dangers of chemical facilities are not unique to Texas, a report compiled by Greenpeace, The Gardens Institute, Environmental Justice and Health Alliance for Chemical Reform, and Advocates for Environmental Human Rights 89 facilities across the country (including the Midwest) that put more than 1 million people at risk.
Don't Mess with……….Texas Politicians 
Have you ever noticed how many famous politicians are from Texas? Everyone knows Lyndon Johnson, Tom DeLay, Ron Paul, and George W & HW Bush (Jeb, what are you doing in Florida?). Rick Perry captured the limelight early in the 2012 Presidential before an early exit; if you're at all interested, there are rumors he may be back in 2016. More recently he's been spotted in California trying to draw firms from the tax-heavy Golden State to Texas. He is also Texas' newest fan of decriminalizing marijuana.
In a state widely known as being solid red in national elections Wendy Davis has emerged as strong Democrat and even a gubernatorial candidate. Davis gained the spotlight last year for her pro-choice filibuster in the Texas State Senate. In recent weeks, Davis has been the center of controversy about her personal life.
Are the Paychecks Bigger in Texas? Find out.
City Administrator. City of Castroville, TX
Human Resources Director. City of New Braunfels, TX
Planner I (Internship) . City of Austin, TX
Director of Communications/Media/E-Government. Corpus Cristi, TX
More Texas jobs here!
Thoughts from the Mitten State (about other places)
I graduate from my MPA program in April so every once in a while I poke around job websites or contemplate where I want to move after graduation; actually, I do this quite often. It's a diverse and lengthy list. Last Fall I came across this article and realized I'm nowhere near as unique I thought I was. Everyone my age wants to move where I want to move and what's more we're all going to Texas (in spite of declines since 2009). Why?
The reasons for the exponential growth in Texas are far too complex and controversial for me to distill and present in this column but I am more than happy to speak on behalf of myself. After some thought I came up with several reasons why I'm drawn to Texas. The first and most obvious reason is jobs. As a generation who graduated from college into the Great Recession, we love being employed but more than that is a sense of opportunity stemming, in my opinion, from the low levels of regulation and the rapid growth in recent years. The cost of living is also way cheaper than other major metropolitan areas. Austin may soon become the exception with prices on the rise, but the State as a whole remains well below the national average. The culture can't be overlooked. Spoiler alert: this week's Midwest Music is all about awesome musicians from Austin; the City also boasts 40% college attainment. My love of brisket and my affinity for cowboy boots make it the perfect place to be.
Midwest Music
The amount of truly great musicians from Texas is astounding. Stevie Ray Vaughn, Robert Earl Keen, Roger Miller, Hayes Carll, Townes Vant Zandt, Guy Clark and Willie Nelson to name a few. In keeping with the spirit of Emerging Local Government Leaders I thought I'd talk about two of my favorite emerging musicians from Texas. After all, as local government officials we are not that different from rock stars.
First is an artist named Shakey Graves. I know, what a weird name for a guy. He came up with the name after he and his friends heard a drunk guy mumble the term "spooky wagons" at a campground. Seriously. I couldn't make this stuff up. I had the pleasure of seeing Shakey Graves open for Shovels & Rope a few months ago and I can honestly say it the most riveting show I've ever been to. He maintained my full attention and kept my feet moving from beginning to end. Keep an eye on his tour dates. Money back guarantee!
The second artist I want to talk about is Gary Clark, Jr. He has gotten some serious attention after his debut album Blak & Blu came out. The first time I heard "I Don't Owe You a Thang" I snapped along… in the library. He shows flashes of SRV and Hendrix at times and in other songs shows he skirts the threshold between rock and R&B.
Supplemental Reading
TX: Amy Buckert, City of Balcones Heights, City Administrator
On Campus with University of North Texas MPA Program
The State of North Texas with Tim Clark
ELGL Grows Relationship with Strategic Government Resources