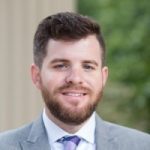 Matthew McKirahan
Village of Pinehurst, NC
Organizational Performance Director
---
Innovative, Effective, Curious
Matt recently transitioned from the City of Raleigh to the Village of Pinehurst where he is serving as their Organizational Performance Director. We first began working with Matt when he was fellow at the City of Fort Lauderdale, FL. and, at all times and in each role with consistency, Matt is always stepping outside of his day-to-day to contribute and learn from the wider local government community. Matt even worked at the UNC School of Government alongside Dr. Dale Roenigk on the North Carolina Benchmarking Project, which is a leading organization in the space.
Matt is a willing collaborator and sharer with other local government community. He will gladly share information and ideas with other organizations and seeks genuine opportunities to connect with others. Matt has served on our advisory board and as an ELGL Strategy cohort mentor for two years in a row. This year, he actually mentored two cohort members all the while moving into a new job opportunity. He didn't skip a beat and made sure that we knew he would maintain his support of the cohort even through the transition.
Matt works with other local government leaders and the Triangle J Council of Governments on their Innovation Academy Task Force, which aims to offer local government leaders from communities of every size the opportunity to develop new skills, collaborate with peers, and learn data-driven approaches for creating efficient, future-ready public-sector solutions.
While at Fort Lauderdale and the City of Raleigh, Matt helped to drive their strategy planning and performance management efforts. Matt pushes the envelope of what is possible and is creative in doing so. He's generous with his time, humble with his accomplishments, and regularly makes us laugh especially when he spars with Ingrid. He's a joy to work with and our cohort members who have been lucky enough to be his mentees are grateful for his commitment to each of them even well past the program. Matt is so deserving on this recognition!
---
The 2021 Top 100 Influencers List is made possible by ELGL's partnership with CivicPlus.