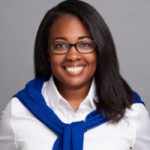 Monique Carter
City of Fontana
Communications & Marketing Manager
---
Inspirational, Passionate, Motivational
Monique hit the ground running when she started with the City of Fontana in the Marketing and Communications Office in 2020. She is an extraordinary leader who brings much patience and passion to our small but mighty office of two as we strategize and implement a comprehensive marketing and communications plan for a city of 214,000 residents.
Monique has completely transformed how we interact with residents and businesses in just a year through new tools and strategies. She views our communication initiatives through a resident lens in that everything our office does aims to strengthen the relationship between residents and local government.
Monique inspires everyone she meets and challenges them to be the best they can be. She is a wonderful mentor, manager, and friend.
---
The 2021 Top 100 Influencers List is made possible by ELGL's partnership with CivicPlus.