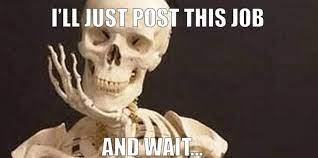 Today's Morning Buzz is by Patrick Mohorcic. Connect with Patrick on LinkedIn
What I'm Reading: Side hustle: from idea to income in 27 days by Chris Guillebeau
What I'm Watching: The West Wing
What I'm Listening to: Poems, Prayers, and Promises by John Denver
Local government is the best-kept secret in terms of a career path. The problem is, it can no longer be a secret. Local government employees are reaching retirement age and there are not enough young professionals on staff to move into those senior-level positions. There are many reasons why that is the case, but I want to focus on one reason, job descriptions.
Confusing Job Titles
Have you ever tried to explain your job to a friend and then just say you are like one of the characters on Parks and Recreation? Inherently, if we as local government employees cannot describe our jobs effectively, how do we expect to advertise open job opportunities? Many potential applicants do not understand city government management structures, whether it is a council-manager structure, mayor-council structure, or a mixture of both. And God forbid you are a port authority or special improvement district, good luck explaining that.
So that is why governments will not get quality applicants for a "Management Analyst" position or a " Planner I" or even an "Assistant to the City Manager." Human Resource Managers keep the job descriptions so vague thinking it will attract more candidates, but this ultimately hurts them because applicants have no idea what the job actually entails.
Like many local government officials, I stumbled upon my local government career. I took an internship in my city's economic development department because the job title had "economic" in it and that was my major. So I figured that was the job I should be working in. While the experience was amazing and I worked with an awesome group of people, I did not know what I was going to be doing going into the internship.
The same thing happened when I look my first job out of college as an Economic Development Manager with our local port authority. I had no idea what a port authority did (we don't even have a maritime port), but I wanted to work in economic development so I took it. I had no idea what "business retention and expansion" was or what a "community reinvestment area" is, but I learned. Had I not had an open mind and liked the job title, I would have never applied to the position in the first place.
Therefore, I think it is important that when local governments post new positions, managers need to get more specific about what the person will be doing day-to-day. Enough with the " Administers various economic development programs and multiple projects. Must be detail-oriented, with strong oral and written communication skills and computer skills" (taken from an actual job posting). These types of job descriptions will never attract young professionals to local government.
So Many Different Options
Have you ever scrolled through Netflix and never find anything to watch due to all the potential options? That is kind of like looking for a job in local government. Let me outline just a few career avenues one can take in local government: Parks and Recreation, Compliance, Auditing, Legal, Emergency Response, Disaster Planning, Waste Water and Sewer, Land Use Management, Sustainability, Planning, Health and Human Services, Economic Development, Community Development, Human Resources, Budgeting, Capital Improvement, and of course, management (Did I name them all?). This just outlines a minute amount of potential career paths a young professional can take.
Many young professionals want to work in these areas, but if job descriptions aren't clear enough, how will an animal lover know about the budget director position at the zoo or the kennel? People subconsciously take jobs that usually align with their interests, no matter how large or small. A teenager working in landscaping may really like working on baseball diamonds or football fields, tell them that in the job descriptions for the Service Department. Or the recent English graduate may have really liked going to book clubs in college, I am sure their local library may have an event planner position open.
We are a little weird for being local government nerds, so highlight the nerdy details in the job description! It helps job applicants see the different career avenues in local government and outlines how cool their jobs will be.
Don't Hide the Benefits
Too many times we think millennials or generation z will not appreciate the fantastic retirement and healthcare benefits local government has to offer. I happen to disagree. Movements such as the FIRE movement (Financially Independent, Retire Early) are catching on with younger generations and government can be a good pathway for these individuals. Many want to enjoy the spoils of life and recognize the benefits of retiring early. In many cases, such as in Ohio where I live, employees only need 32 years of service to retire with full benefits. For someone who starts in government out of college, that person can retire at 55! Not to mention other benefits such as deferred compensation that make retirement even sweeter.
The younger generation is also very aware of the cost of healthcare and prescription drug prices. Local governments offer great healthcare benefits to help cover these costs. They are great for families and singles. Do not just say "we offer excellent Pension and Healthcare benefits" in your job descriptions. Spell it out for them, over-sell the job. By doing this, you will get much more quality candidates.
Lastly, there is one benefit that is not discussed enough. Most local government positions are true 8 am-5 pm jobs. Government offices close at very specific times and very rarely do government administrators work late. Now, this may be unpopular to say, but most government jobs are people facing, so when the office closes, there is not much work left to do if people cannot get into the building. Why is this an added benefit? Because it allows your employees to pursue passions outside of work. Whether it is a side hustle, beach volleyball, or just spending time with family, the younger generation wants a life outside of work.
Meaningful Work
Now, we do not want to compare ourselves to Mother Theresa, but we do carry out the people's work! What we do is very rewarding, even if it takes years to see our efforts come to fruition (I am looking at my fellow economic development and community development professionals). Young professionals are eager to make an impact and are willing to run through a brick wall to do so.
Therefore, managers should give them "range" projects that have a major impact on the community, even though they may not be ready. Allowing them to prove themselves while guiding them along the way lets them to grow professionally while taking on important projects. The next generation of leaders want to work at places that make a difference. In my opinion, this is more important than salary or benefits. Therefore, in the job descriptions, spell out some of the long-range, strategic projects the applicant could be working on in the role. Young professionals will flock to these jobs if they know immediately their work matters.
In Closing
What I have discussed will not be a surprise to anyone who works in local government, but rethinking your job descriptions may be the beacon of light your HR department needs to attract new candidates. Let's brag about our industry, let's talk about all the great perks we have and the awesome work we do. By making job descriptions more clear, concise, and honest, young people will apply for your employment opportunities. Everything government offers is what the next generation wants, we just have to explain it to them. I may have a different perspective than most 25-year-olds, but these are the things I brag about to my friends. I love my job, and I hope more people can share in my joy.