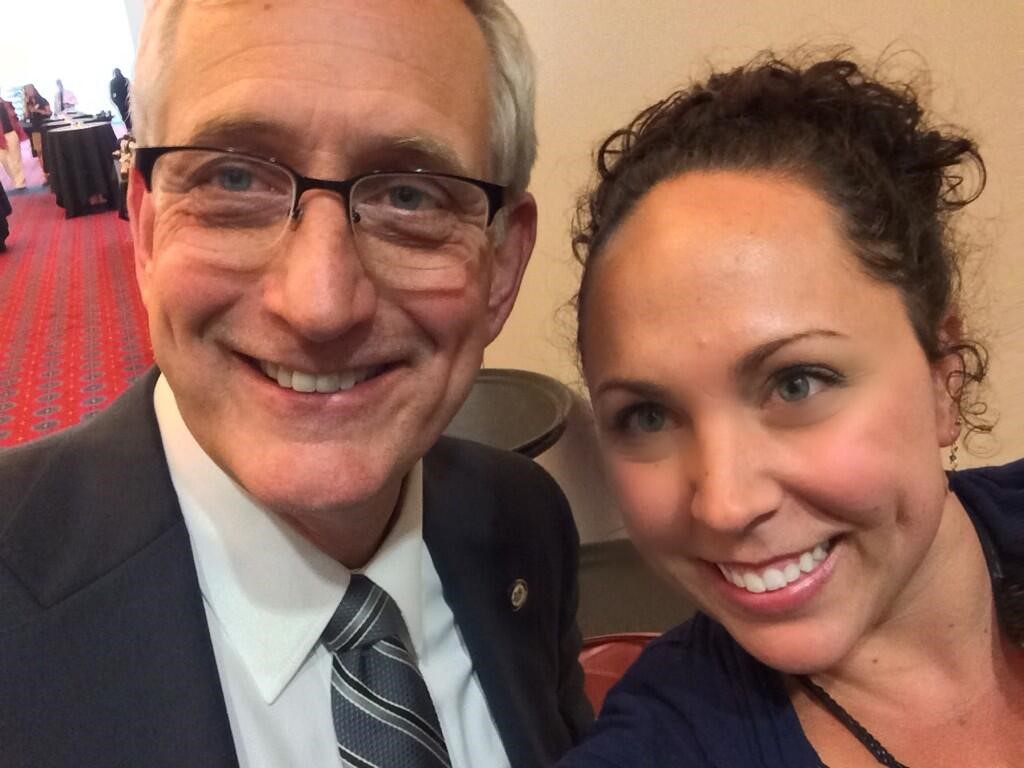 Emma Williams is the only lifetime member of ELGL. She was awarded the honor after posting a selfie with Portland Mayor Hales. Emma is the Cemetery Program Coordinator at Metro Regional Government. ELGL has asked her to write about her newest endeavor….running for elected office.
2nd Hardest Job In the World….Running for the School Board
By Emma Williams – LinkedIn and Twitter
Being a parent is the hardest job ever. Running for Portland Public Schools comes in second (sorry rocket scientists, you come in third).
The campaign trail is a weird, wild, wonderful world. I have learned a lot in last three months. My experience might be helpful for you to hear if you are considering a run for elected office or if you are passionate about advocating for various policy issues.
For starters, running for elected office is startling and difficult. Public scrutiny is constant. Of course, I expected people would ask me questions, look at my background and qualifications, and gauge my politics when I decided to run for a seat on the school board of Portland Public Schools. I was not expecting the level and intensity at which this would occur. If you have  followed my ELGL hashtag escapades, you know that I do not shy away from being the center of attention. I don't shy away from notoriety. I think everyone who enters politics is at least mildly narcissistic (totally a compliment). But my #CityHallSelfies and Twitter account are done on my terms. When others are writing about you and asking your opinion on the spot, it can be overwhelming.

I have, so far, escaped any public shaming and I have not succumbed to weeping uncontrollably in the bathroom. Running for elected office, even something as seemingly innocuous as school board, brings with it passion, intensity and high levels of politicking. Which I love. As a parent, our job is to be passionate about our children. I respect parents that get involved to any degree in their child's education.
Eleven candidates are running for four school board position. Of the 11 candidates, four are running for the seat that I am (to put it another way – I have THREE opponents!). This election is voted on district-wide, meaning everyone who lives in the Portland Public School district (essentially all of Multnomah County) is able to vote. This translates into 300,000 to 400,000 residents which means I would have a lot of door knocking to do if I wanted to reach each of them.
What's the alternative? 

I have filled out half a dozen questionnaires.
I have been interviewed at least two dozen times by special interest groups, PACs, newspapers, and magazines.
I will be doing a radio interview next week.
I have been invited to three debates and expect there to be more invitations soon.  "Debates?!" you may be asking yourself. Oh yes. I will participate in more debates this year than the Presidential candidates will in 2016 (which should make my run in 2032 a breeze).
PS: This is an unpaid gig.
People take the school board very seriously in Portland. And rightly so. You pay taxes that go to the schools regardless of whether you have school-age children.  If you own a home, you pay property taxes to the school district. You pay an arts tax whether you voted for it or against it. If you buy weed starting this summer, you will pay taxes that go to the school district. If you are an employer, you will be hiring from the students we taught in our schools – and it is in everyone's best interest to have a well-educated work force.
Sadly, Oregon, and PPS in particular, have some of the lowest ranked schools in the country. Graduation rate – worst in the country. Amount spent per student – the national average is $10,600. PPS spends just over $5,000 on average. The statistics are embarrassing and do not reflect who we are as Oregonians.


We can do better than this and we know it. Which is why I am taking the race for school board so seriously. While it makes my candidacy harder (and yes, campaigning is a full time job) it's encouraging that so many people want to fill these seats. It's encouraging that parents and community members from Multnomah County want a voice in who is elected.
I will gladly fill out any questionnaire I am given. I will happily grant interviews to anyone who will listen. Debates – totally my thing.  I will do what it takes to show the people of Portland that I am determined to make PPS a school district in which we can be proud. For my child. For your child. For the community in which we all live.
One last question, though – if I do win this election on May 19th, does that mean that every selfie I do from now on is automatically a #cityhallselfie?
Supplemental Reading
Emma Williams offers fresh look at school issues
Get to know the Emerge Oregon Class of 2015!
Emma Russac Williams for PPS School Board