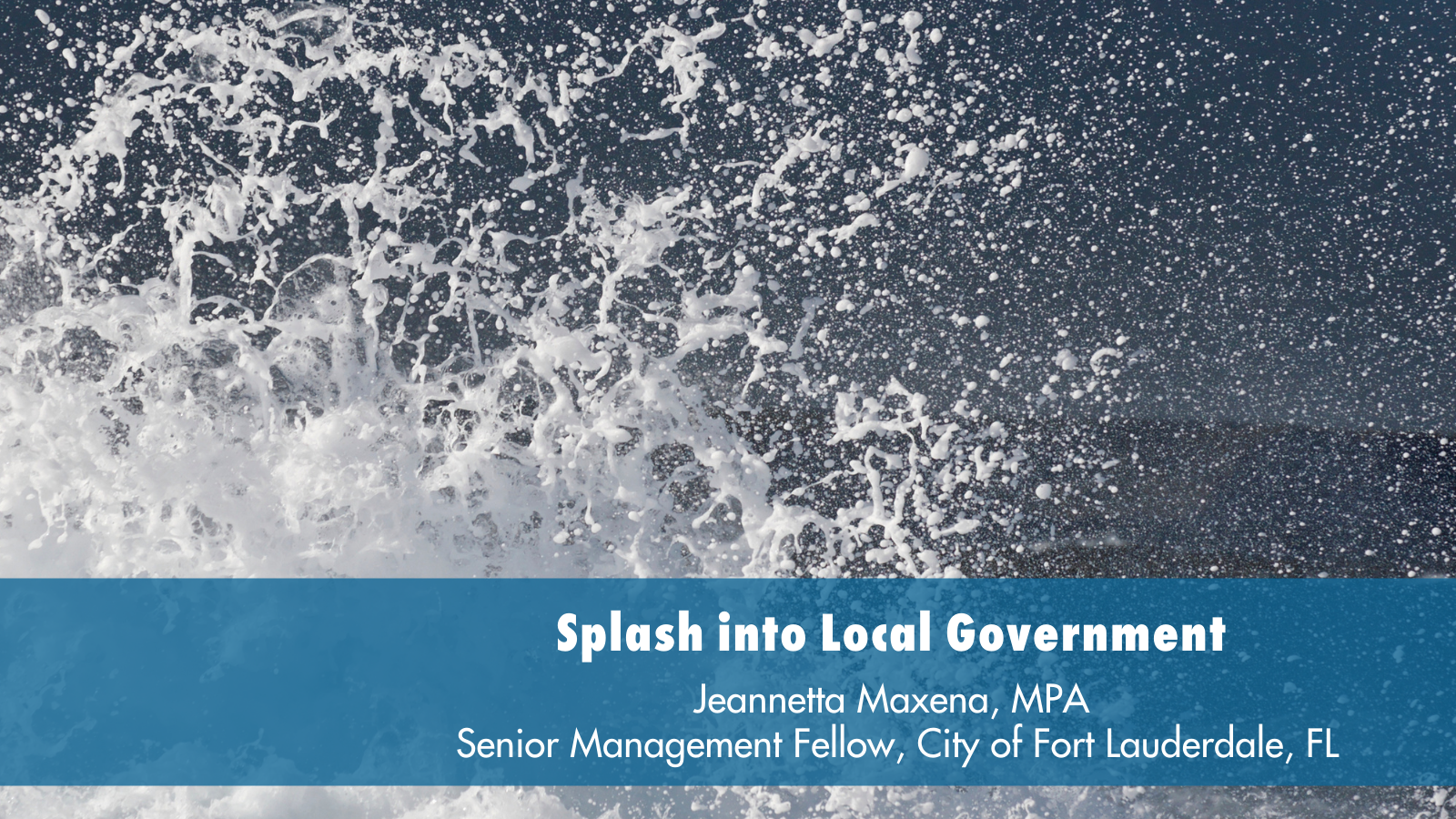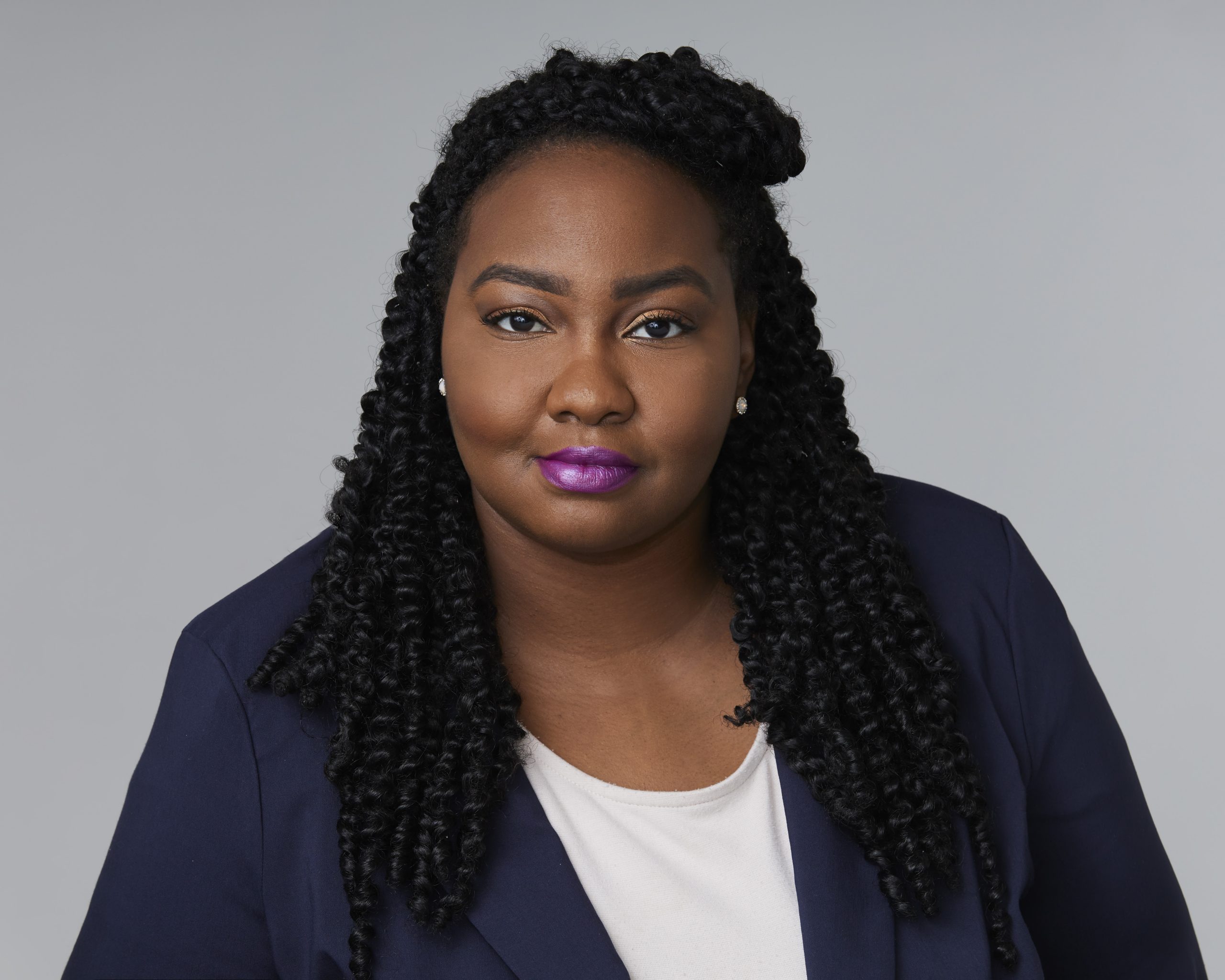 This article in Splash Into Local Government Series was written by Jeannetta Maxena, MPA, Senior Management Fellow, City of Fort Lauderdale, FL.
Jeannetta Maxena is a local government professional in the South Florida Region. She is a two-time graduate of the University of Central Florida, having earned both a BA in political science in 2014 and a master's in public administration in 2020. Jeannetta is passionate about helping others and promoting diversity in local government. She enjoys pastries, caramel lattes, and all things glamorous. Jeannetta aspires to become a Chief Administrative Officer/City Manager. Connect with her on Linkedin or Twitter.
---
My "splash" into local government occurred after a series of career misses. After graduating with a B.A. in Political Science, I had a difficult time finding a job in government. The jobs I applied for all required a degree in Public Administration. I really wanted a job where I could give back to the community, so I started working as an educator. The first job I got was as a Degreed Tutor for Orange County Public Schools. I enjoyed working as a tutor, but I really wanted to teach. I took the required state tests and paid the appropriate fees for my social studies teacher certification.
I worked as a teacher for three years at schools where most of my students lived below the poverty line. Each student had their unique challenges, and it was my job to rise to the occasion and see that their needs were met. Teaching was challenging but I learned a lot about fostering relationships with community partners. I knew I would miss my students, but I also knew teaching was not for me. So, I made the difficult decision to leave the education field and pursue a master's in public administration degree full-time.
I started graduate school with the hopes of using my degree to work in the nonprofit field. While I was a full-time student, I was able to intern with a local nonprofit. The internship was a teaching experience and I learned that I did not want to work for a nonprofit after I graduated. The nonprofit field sees a high turnover rate and it does not have the same accountability standards as local governments. I wanted a career where I could learn, grow, and make the community I was living in better.
While searching for entry-level jobs I discovered various fellowships for graduate students. Upon further evaluation, I found the International City/County Management Association (ICMA) Local Government Management Fellowship (LGMF). The LGMF program provides graduates of MPA/MPP programs with the opportunity to compete for full-time positions with municipalities all over the country.
During my second year in the MPA program, I began gathering all required documents and I talked to one of my professors who was familiar with the program. I diligently wrote my personal statement, ordered transcripts, and asked my professors and a work colleague for letters of recommendation. I was so excited to apply for one of the most coveted fellowships in the country.
I was named a Fellowship Finalist in February 2020. A few weeks later I learned that a viral disease began spreading all over the world. I prayed that the disease they were calling Covid-19 or Coronavirus would not spread to the U.S. However, after a week, I found out that not only had it spread to the U.S but it had also spread to my hometown. By April 2020, I had no fellowship opportunities.
Fall arrived and I was asked if I wanted to be a part of the LGMF 2021 Cohort and I happily agreed to the opportunity. In February 2021, I was recognized as a Fellowship Finalist again. This time I received more interviews from local governments. I studied each government entity before the interview so that I was prepared. I also looked up interview questions to expect and I asked my interviewers questions too.
By April 2021, I had received three job offers with well-respected municipalities. I chose to accept my current position as a Senior Management Fellow with the City of Fort Lauderdale.
Why do you think local government is a good career path?     
Local government is an excellent career path because public servants receive many opportunities for growth. Baby boomers are retiring, and millennials can take advantage of many leadership positions in local government. Also, municipalities encourage professional growth. As a teacher, I did not experience options for moving up the ladder. Local government gives me the freedom to choose many avenues of public service like neighborhood support, economic development, communications, diversity & inclusion, and so many more.
For people who may be up in the air about their future in local government, what advice would you give them? 
Well, working in local government is for people who are interested in making a difference in the community. If you are not interested in making the world a better place, local government is not for you. For those who are serious about local government, I would encourage you to get a master's in public administration degree. Leadership positions in local government are competitive and the MPA will give you an edge.
What are your thoughts on how we recruit new graduates into this field and from there how do we retain this talent?   
Honestly, local government could be better at recruiting new talent into the field. It all starts with Human Resources. Professionals in HR need to be trained in inclusive practices and must learn to check their bias at the door. After I earned a master's degree in public administration, I applied for administrative assistant positions. However, my application never made it to the manager's desk because it was weeded out by HR. Local governments must work with universities in their area to recruit talent and offer incentives to employees like tuition reimbursement, relocation expenses, and daycare for children.
What can we do as a profession to help make local government more appealing to folks who aren't in on the secret of how fun of a career path it is?    
My job is so much fun and so rewarding. Local government must utilize social media to show what we're doing in and around the community. I think #ELGLInspire is a great way to reach college students and inform the next generation about how great our work is.