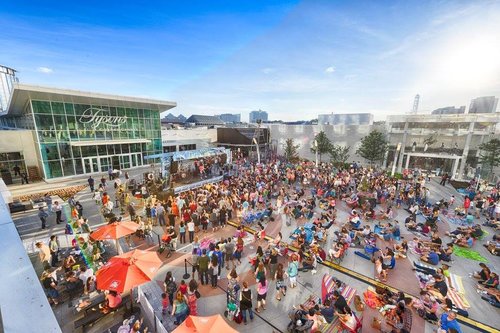 With ONE WEEK left before Christmas, State of Place thought they'd reprise last year's epic trip to one of Houston's largest malls and take the pulse of America's seemingly dying pastime. This year, State of Place Technical Product Manager Alli Torban got in on the "fun."
Read about her recent visit to one of the DC area's megamalls – Tysons Corner Center – with her 2 and 4 year old in tow.
You'll be surprised at what she discovered! 
---
As a place-lover, the mall is the last place I want to be, especially during the holidays. I do almost all of my shopping online. The thought of navigating crowded aisles, dodging fellow shoppers, kiosks and store displays – with two kiddos in tow! – is enough to bring on a sweat – not to mention shopping at the massive 2.2 million sq. ft. megamall-polis that is Tysons Corner Center in Northern Virginia – hello Amazon Prime!
I'll gladly wait 48 hours than brave that five minute drive to mall madness. But, enter my MOM. How could I possibly say no to her request to pick up a pair of Yankee Candles that she custom ordered for my Aunt (I kinda need to keep up my babysitting karma…)? Throwing all of my place-loving-snobbery out the window, I packed up my 4 and 2-year-olds and did my best to mentally prepare myself to face my nemesis, during peak holiday season…
I confront my first roadblock, literally, upon driving up: uniformed and serious-looking parking attendants attempting (keyword) to control the ungodly amount of traffic flowing into the mall entrance. What feels like two hours later, we find a parking space. I unload the stroller, somehow locate the parking garage elevator that leads to the pedestrian walkway, and struggle to decipher the directory to find the quickest route past the 300+ stores to the Yankee Candle kiosk (this better be an amazing candle!). Now talk about working up a sweat…again, literally. Someone got the "Let it Snow" memo early this year so I had to bundle myself and my kids up. Yes, I know that seems counter-intuitive but try carrying tiny humans around a gigantic mall, wearing layers of winter accouterments while trying to part the proverbial red sea of Christmas shoppers! All with no spot for respite, except for the food court or a random cluster of benches under the escalators. I'm exhausted just typing about it, and that's not even considering the inevitable trips (yes, plural) to the bathroom for my 4-year-old. Did I mention the panic of not remembering which of the eight parking garages we were in?
"Why are malls so painful???" I cursed under my breath as I continued to search for "mecca" (aka, the Yankee Candle kiosk). There are advantages of temperature-controlled spaces with access to so many stores under one roof. But surely we could work in some places where the kids and I could really take a break, right? And then, suddenly, Christmas came early as I caught a glimpse of a playground right outside the mall doors that made my eyes bug out.


Wow! Well, hello Tysons Corner Plaza! It was a Christmas miracle!
"Elevated 32 feet in the air, The Plaza connects directly to the Silver Line Metro Station, creating a beautiful and lively walkway for visitors of Tysons Corner Center. Throughout the year, The Plaza is home to exceptional events including concerts and holiday & cultural festivities, plus ongoing activities for children and adults alike."
What a pleasant, placemaking surprise!! Tysons Corner Plaza is on point – outdoor dining, access to public transportation, a kid's play area and mixed-use buildings. Apparently, the Tysons Partnership knows all too well that my mall dread is not unique – and if you can't get suburban moms to come to malls, then what? They realize that today, people are craving a "sense of place" and they must satisfy this urge to remain competitive. They also must have seen our Founder and CEO's blog post last year about malls and placemaking where she foretold how malls can stay relevant. 😉
"Ultimately, my (good ole dissertation) research showed that the urban design of malls mattered – in fact, based on (an early version of) State of Place, I found that as the Index increased, so did walking, sense of community, and interestingly enough – consumption. And, access to gathering spaces – not indoor food courts but true, third-spaces where people could come together and spend time, especially without feeling compelled to purchase anything – was linked to longer visits, which of course translated to more purchases across multiple outlets.
I believe these findings still hold true today… Perhaps the key to ensuring the success of traditional, regional malls is to move beyond transactional experiences…With the impending rise of on-demand everything apps (seriously, there's even one for cannabis!), malls will eventually lose their instant-gratification, agglomeration-economy competitive advantage. They must offer more than the ability to purchase to remain relevant. They must offer an experience – a pleasant one. They must offer Place." – Dr. Mariela Alfonzo
There is no one way to transform a mall into a place-lover's dream. But, as we've mentioned before, there is a hierarchy of needs that influence walkability and whether a place becomes magnetic: Pleasurability, Comfort, Safety, Accessibility, and Feasibility. Here are a few of the key aspects of the Tysons Corner Plaza that are making this place so magnetic:
Pleasurability: Lively event space, outdoor dining, kid's playground
Comfort: Greenery, benches, and tables
Safety: Aesthetically pleasing and abundant lighting
Accessibility: Pedestrian pathway from metro and bus stops, ample parking garages
Feasibility: Ample living space, mixed-use buildings
I'm so happy to see that a mall in my backyard is prioritizing placemaking! It made all the difference, transforming my exhausting chore into an enjoyable community experience – one that I actually look forward to experiencing again, which has clear economic benefits to boot. So next time you're in Northern Virginia and are looking for a mall experience that won't bring you to your knees, check out the new Tysons Corner Plaza. Enjoy access to hundreds of stores and space to relax and play. And if you're an urban planner or developer, please consider adding one of these placemaking marvels to your mall – suburban moms already struggle to keep their sanity enough as it is!
Not sure how to do that? Our software can help you identify what your optimal placemaking project looks like given your current conditions and budget. You can transform your city's mall from a utilitarian eyesore to an innovative, inviting, and thriving destination. Let's bring placemaking surprises to every mall in the world! Connect with us today to learn more about how we can help you get your placemaking plans approved and funded.