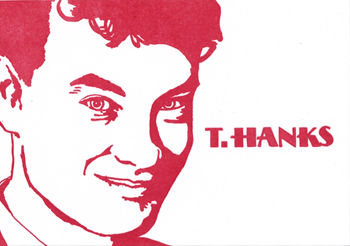 What I'm reading: Reading the new traffic and parking restrictions in Madrid.
What I'm watching: Family Feud with my spouse.
What I'm listening to: All the voices in my head telling me about the million things I need to accomplish in order to retire and transition from the military.
---
It's that time of the year again – beautiful Christmas sweaters, movies, holiday caroling, sweets, food, family and friends.  The joyous time of year when we pay tribute to our past and offer our best wishes for tomorrow.  It's also a time we reflect on our past contributions to our communities. To celebrate our victories and development, to learn from our losses and mentoring, and to prepare for next year's challenges. During these times we often overlook the value of "thank you."  We also overlook how valuable it is to acknowledge your co-workers, employees, and peers. This year, I'd like challenge to my fellow ELGL and #LocalGov peeps.
Challenge yourself to offer a HUGE thanks to your department, peers, employees, local government partners, communities and private sector contributors.
Are you hesitant? Unsure how to accomplish this?
I've made a quick how-to and tips for extending your gratitude this holiday season.
In Writing. It's true. Saying thank you is easy but it goes out the door as fast just as rotten eggs. These types of messages don't offer the sincerity as a written message, through a card or letter. DO NOT send an email. It can be seen as tacky and perceived as just another "blah, blah, blah," work related message. Let's agree not to do this. Buy a card and put some effort into it and the same effort when writing the message. Gather a few data points on their contributions this year and highlight those in the message. For example:
"Hey _____ (possibly throw in their nickname), I wanted to say thank you for the work you (accomplished / provided / contributed) this year.  Your extensive work on those ______ and the _____ provided ____ for the city, cut costs by ______, and offered the (city or community or office) _____, as well as raising production ___%.  I (maybe the team too) want to extend our gratitude for all the hours and continuous work you've put into our mission and operations.  I/We want to wish you (possibly "and your family or organization") a wonderful holiday season.  I/We look forward to all the great things we'll accomplish in the coming year.
Cheers, (or your preferred signature line) (insert your cool name here).
Offer flexible scheduling. If their work added value to the organization, it should be no issue to allow the individual some extra time over the holidays.  (Note: flexible scheduling is a benefit that employees desire all of the time.)
Provide opportunities for advancement. People desire chances for training.  They want to partake in special committees or attend professional association meetings to represent the organization.  Are only your executives or senior leadership attending these events?  Spread the wealth and offer your people the opportunities to excel.
We should take every opportunity to express our appreciation to the people in our organizations. Create an atmosphere in your workplace so that people feel welcomed and valued. Make every opportunity a chance to express your gratitude.
Cheers, and Happy Holidays to you all.