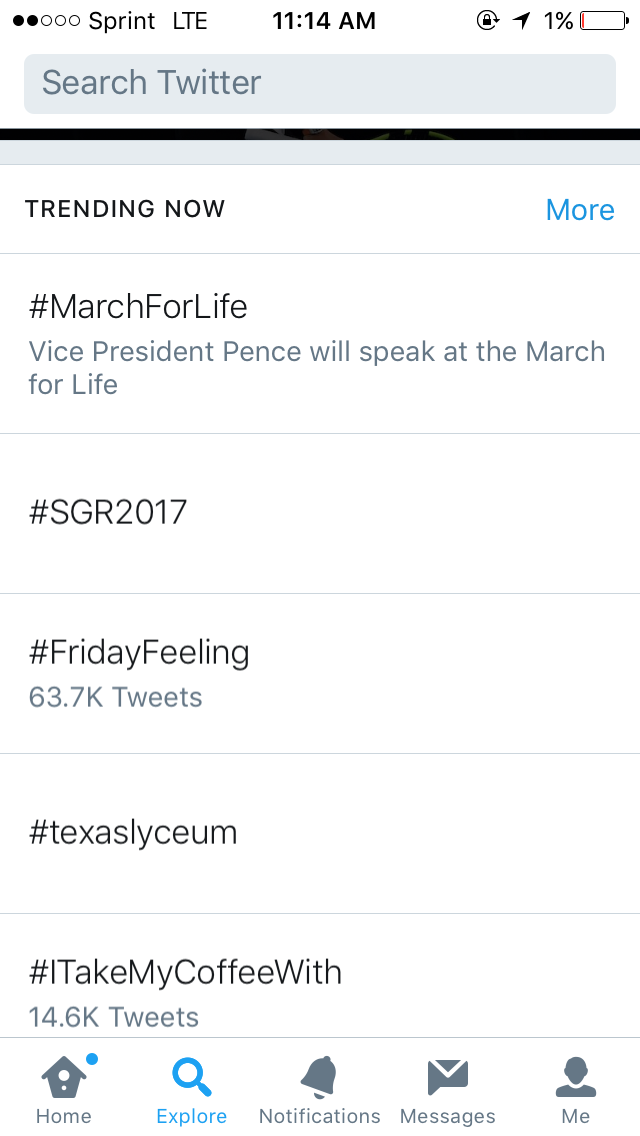 Live from the SGR Conference in Grapevine, TX! ELGL co-founder Kent Wyatt chronicles why Texas is more fun than Missouri – A Show-Me State Celebration: #MCMA17. He'll stoke the envy of the Missouri folks and create a few alternative facts to keep everyone on their toes.
---
Friday, January 27
Trendy
#SGR2017 has a highlight on Twitter.
---
Until the Next Episode
Thanks to Strategic Government Resources for offering an atypical conference. There were no sessions on generational differences and no mention of the M-word until the very end, and even then, Ron Holifield caught himself and apologized.
#SGR2017: Ron Holifield bringing it home at @StrategicGovt. https://t.co/K6jhazxTR3

— SWELGL? (@SWELGL) January 27, 2017
One takeaway from the conference is Carly Lorentz, City of Wheat Ridge, CO is a rock star. She energized the networking event by strongly encouraging people to engage in the selfie action. She also is responsible for capturing the quote of the conference.
What happens in #localgov doesn't stay in #localgov thanks to @ELGL50 "tweeting everything" says @RonHolifield #SGR2017

— Carly Lorentz (@CarlyLorentz) January 26, 2017
Follow Carly on Twitter. Hear more from Carly.
---
Friday Quotables
We don't hunger for a paycheck. We hunger for satisfaction of performing well in a role that makes an impact.
Real great leadership comes with broken bones. We have to have the courage to lead, to be an authentic servant leader.
Do candidates/employees want to be the best or the best paid? How can employers tell the difference? Are they mutually exclusive?
Bad systems are more harmful than bad attitudes.
Our performance evaluation processes suck, and at best, are irrelevant.
"Don't screw up" is too often the attitude toward new hires…need development, nurture, encouragement; higher expectations.
Local government has a 1985 approach to attracting and retaining employees.
Some managers are graveyards for your career and some are launching pads." As a manager, I want to launch rewarding careers.
---
What is an Assistant to the City Manager
In case you didn't know, we have a column for that.
---
The Rumor is True…
Supper Club involved karaoke that brought down the house last night. There are pictures and videos but I will not post them as they could prove to be valuable. I will say there was rap music involved and some inappropriate lyrics that we skipped to avoid a massive bar fight.
---
Picture Show
Check out the latest pictures from the SGR Conference. Mad props to the great staff at SGR! I showed my appreciation by following asleep during this picture.
My favorite picture of the night which is a not-so-humble brag. I would argue that this is only picture ever taken of three assistant to the city manager and one senior management.
---
Thursday, January 26
Hellllllooooooooo!
Welcome to new ELGL member Kristie Weaver, City of Hurst, TX Parks Director.
---
Drink Tickets, Drink Tickets, Drink Tickets
Win a drink ticket by tweeting or Facebooking your favorite ELGL article or taking a conference selfie.
---
Rollin' Along…
Cities of Frisco, Georgetown, and Grapevine are sharing experiencing on defining their organization's culture.
---
Hot in Here?
Not so much. The temperature is slowly dropping inside the Great Wolf Lodge. Carly has resorted to warming up with a cup of hot tea nestled against her face.
What everyone wants to know is, "where's Chris Maddox?"
---
Raisin' Cain…
We're learning about Raisin' Cain after our lunch break. ELGL member Brian Silcott, City of Goddard, KS city manager, is a classmate of Traci Loub, Raisin' Cain's Director of Training Development.
Chicken fingers are dancing in my head during the presentation. Raising Cain started in Baton Rogue, LS near the LSU campus. Traci is blasting us with fun facts including this one:
---
The Golden Rule…
We are learning about it from Jorge Luna, Four Season Hotels. What have we learned so far? Four Seasons is the only hotel that still has a bathrobe and slippers in each room. The little, tiny bottles of shampoo were first used by Four Seasons.
---
Ron! Ron! Ron!
Want more Ron Holifield? Listen to this GovLove episode with Ron.
Podcast: The Importance of Organizational Culture with Ron Holifield
---
Hot Take
In Governing, ELGL member Chris Maddox writes about the RFP process.
How did the RFP process, meant to encourage competition, end up undermining it? A major reason is the long list of requirements that companies are required to meet but which make little sense for young, innovative companies and create often-unsurmountable barriers for them.
---
Currently On Stage…
Shari Conaway from Southwest Airlines.
Fun Fact: 14% of Southwest employees are veterans.
"Develop strong values and hire 'tough' to those values."
87% of SW Airlines staff is unionized.
Southwest Airlines started as an intra-Texas airline.
Warrior Spirit, Servant's Heart, & Fun-LUVing Attitude
You can't post and pray when applying for a job.
---
Let's Eat (Later)
Still time to sign up for Supper Club tonight. Here's the 411. Dallas Supper Club.
---
Holla, Holla…
HUGE thanks to Ron Holifield for the kind words about ELGL
Live from #SGR2017…. https://t.co/NSulUbNwwm

— SWELGL? (@SWELGL) January 26, 2017
---
Book It!
Ron Holifield is releasing a book but…..you can't buy it yet. Only one copy exists.
#FunFact: @RonHolifield is releasing a book. @JimProce and I will get our hands on the 1st copy today. #SGR2017 https://t.co/KxEEkjrgZq pic.twitter.com/uzQlH5Pd0e

— Kent Wyatt #ELGLPopUps (@kwyatt23) January 26, 2017
---
Kickoff
#SGR2017 started with this video.
---
---
Ron's favorite phrase, which he believes describes local government, "a knight without armor in a savage land."
---
Wednesday, January 25
Cry…
I guess it's time for your daily cry. Earlier this week, I listened to an interview with Chris Mortensen, ESPN reporter, on the "Know Them From Adam" podcast. Chris' struggle with cancer is discussed and you will cry throughout the episode. For whatever reason, it's the first time that I've heard someone discuss in great detail the awful day-to-day struggles of a cancer patient. Your appreciation of daily life will increase after listening to the interview.
---
PDX
Breaking news: I made it to the Portland airport, and what an airport it is. Upgraded restaurants, movie theater (coming soon), and WiFi.
Pre-flighting at @kennyandzukes @flypdx. Next stop: @StrategicGovt. pic.twitter.com/8dkaxmKiQk

— Kent Wyatt #ELGLPopUps (@kwyatt23) January 25, 2017
My only complaint is walking past people getting the chair massages. So awkward…I look down and walk fast.
---
Hot Picks
Ben Kittelson, if you are reading this entry, please stop. I think your dog is loose or your car lights are on.
Everyone else – I took Ben's music recommendation and have been jamming to Migos all day. I searched the ol' Google to find more info on the Migos. Here are my findings – Migos and the Never-Ending 15 Minutes of Fame – The Ringer and….Watch Migos rap a children's book about llamas.
I don't want to brag but I was reading Llama Llama earlier this week. Jealous? Check out the Migos rapping Llama Llama.
---
---
I ask you — can you say that you've read every Llama Llama book? I have. Mic drop.
---
In Another News…
Another person thinks that I'm a serial killer. Kylie started this conspiracy which is gaining steam. I'll say once again that I am not Steve Avery.
When you get a letter from Ron Swanson you open it post haste! pic.twitter.com/LYiacpnpOF

— Laura Hardwicke (@localgovlaura) January 25, 2017
The handwriting did have me concerned…

— Laura Hardwicke (@localgovlaura) January 25, 2017
Writing from inside a coffin. I was murdered by a psychokiller. #trustnoone #dontopendeadinside

— Kylie ? (@TheBaconDiaries) January 25, 2017
Give Laura H. a follow. She's an ELGL member in Nashville, TN.
Speaking of conspiracies, how 'bout Ted Cruz blasting Grayson Allen will some Twitter burn. Ted Cruz wins Twitter feud with hysterical Grayson Allen joke tweet. If Dook and Ted Cruz played a game, I'm not sure who I would root for, but in this case, mad props to Mr. Cruz.
---
Tuesday, January 24
When I think of Texas, I think of…
Let's get loud, let's get loud…
Turn the music up, let's do it…
C'mon people let's get loud…
Let's get loud…
Thanks to ELGL honorary member J-Lo for getting us pumped and loud for the SGR Conference in Grapevine, TX. For some reason, this song is firmed lodged in my headed.
---
---
We'll make plenty of noise to show the ELGL crew at the Missouri City Management Association Winter Workshop that even local government conferences are bigger and better in Texas.
---
It's Just Me Myself and I…

---
Sorry, I clearly just wanted an opportunity to blast one of my favorite songs.
Me, myself, and I are headed to the SGR Conference in Grapevine, TX. I've packed my Dallas Cowboys swimsuit in anticipation of doing cannonballs at the Great Wolf Lodge, site of the SGR Conference. I will not be partying by myself at the Great Wolf Lodge.
A number of ELGL members are attending the conference including…..(drum roll)…..(more drum roll)…Carly Lorentz, City of Wheat Ridge, (even more drum roll), Chris Maddox, Seneca Systems CEO, Tara Briggs, Seneca Systems, THE Ryan Adams, and (final drum roll) more surprise guests.
---
Let Us Break Bread Together…
Whether or not, you're at the conference you can attend the ELGL Supper Club on Thursday night. Registration is required. Wet wipes provided on site.
Back Porch – Grapevine, TX
Thursday, January 26, 2017 at 6:00 p.m.
The private room can accommodate up to 30 people. ELGL would pay for appetizers and a round of drinks. Please bring cash to pay for the rest of your meal.
---
These Are My Confessions…
(Don't tell anyone else) I am super pumped/jazzed/excited that the Cowboys lost in the playoffs. I can't imagine spending time in Dallas leading up to a Super Bowl involving the Cowboys. I would rather swim in the kiddy pool after a long day of kids doing you know what.
P.S: I am not joking. The conference is at Great Wolf Lodge and has been in the past. It's a great location and rather empty during the weekdays.
---
I Tip My Cap…
To the SGR Conference planning team. The agenda strays away from the normal government topics – millennials, generational differences, aging workforce, etc. Instead, I'll be listening to:
Shari Conaway, Director of People Department, Southwest Airlines,
Jorge Luna, Regional Director of Human Resources Four Seasons Hotels and Resorts, and
Traci Loub, Director of Training Development, Raising Cane's Chicken Fingers.
I will ask each presenter the tough question – "are the #Mwords actually people?"
---
Die Hard…
If you are a die hard follower of this award-winning post, check out recaps from our previous trips to the SGR Conference.
ELGL on the Road: Preparing For the SGR Conference
Mind Meld: Preparing for the SGR Conference