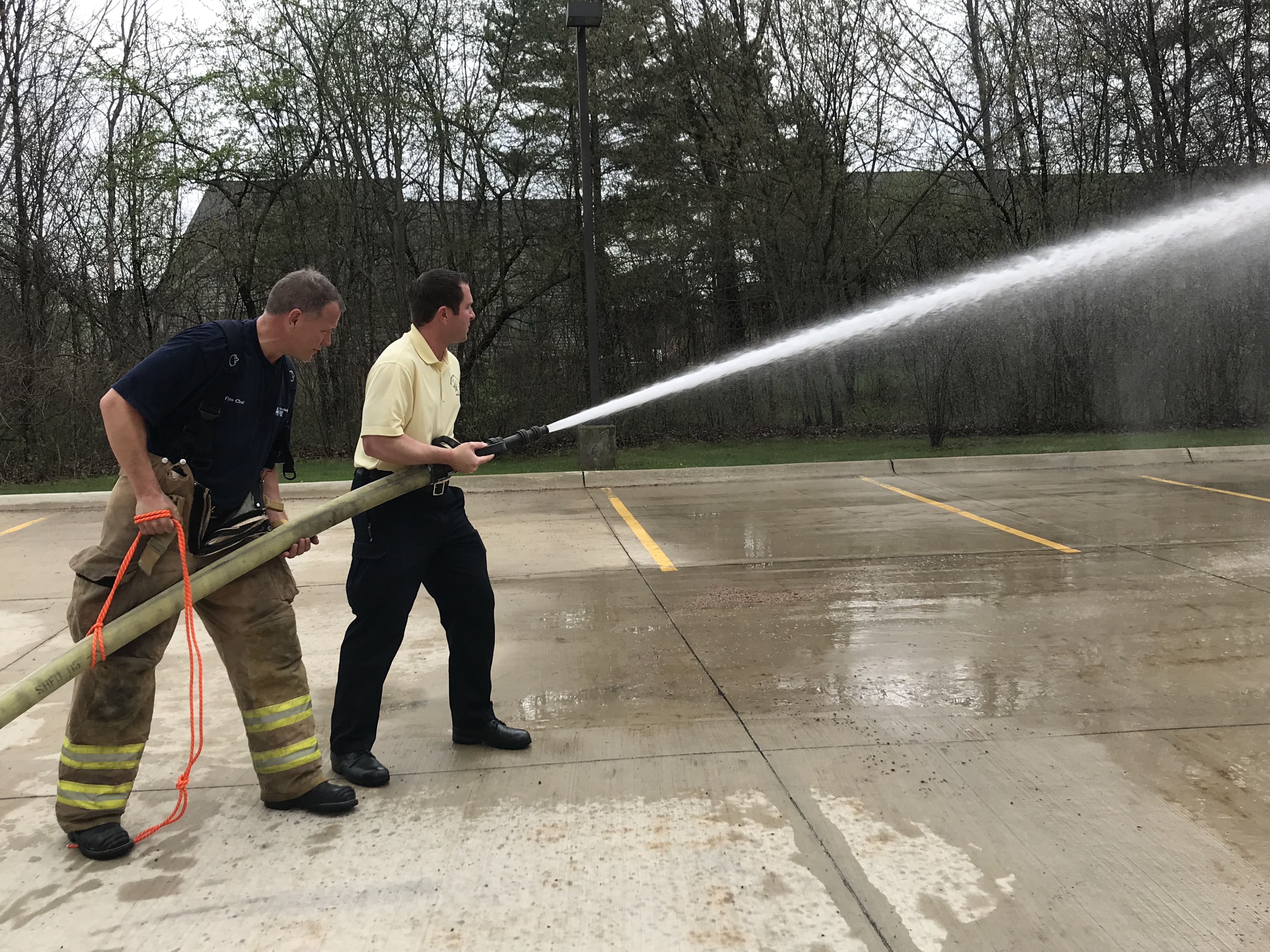 By Bridget Kozlowski, City of Sterling Heights, MI
Have you ever wanted to shoot a fire hose? See the inside of a jail cell? Drive a front-end loader? Yes? Follow me.
This spring, our city launched a new internal cross-departmental training program we called "Sterling U," short for Sterling University. Think of it like a Citizen's Academy but for internal staff. We know that many working in local government feel siloed into their department (Finance, Public Works, Management, Police, Fire, etc.) and don't often get to meet or understand the work of their colleagues. The goal of our Sterling U program was to help current and emerging leaders learn the basic ins-and-outs of neighboring departments — and have a little fun at the same time.
We kicked off the program with four groups of 10 people, or 40 people total for you mathematicians out there. There were four, day-long tours (City Hall, Fire, Police and Public Works) and each group was assigned one tour per week. Each department (or City Hall) got to plan their own day of activities, whether that meant classroom-style lessons, demonstrations, or hands-on activities. Participants were assigned to attend a day at each of the locations and had to complete all four in order to "graduate" from Sterling U. (It's a very prestigious degree.)
Some of the highlights from each of the days included:
City Hall: Basic get-to-know presentations with visuals and videos. from major departments such as Clerk, IT, Code Enforcement, Community Relations, Treasury, Building, Planning and others. Tour of City Hall. A Parks & Recreation walking tour of our major park. A walking Library tour of all corners of the area by the Director. A tour of our historical building on city campus (the Upton House).
Fire: Learn the battalion assignments and daily schedules of the fire department, understand response plans, learn from EMS Coordinator, learn about extrication and view jaws of life equipment, tour all five fire stations (including going down a slide!), shoot a fire hose, visit training site with training smoke, watch how to hook to a fire hydrant, understand the engines and ambulances and more.
DPW: Learn from fleet maintenance mechanics, driving a snow plow, operating a front end loader, visiting off-site pump station, watch the striping of soccer fields, visit a sanitary lift station, visit a road crew out patching, and more.
Police: View the evidence room, tour the department, learn from the traffic department, visit the records bureau, visit animal control cages, try-on SWAT equipment, shoot a taser, practice a hands-on reaction and decision-making exercise, view the city jail, learn from detectives about large cases in city history and more.
Almost all of the feedback we got was very, very positive, with many expressing a newfound respect and understanding of their neighbor departments. Many of the participants also enjoyed the mixed assignments of groups and got to know people from other departments they had either just emailed with prior or never met in person before. This was a morale-boosting, learning opportunity more than anything that built camaraderie and understanding among city employees and promoted a team mentality and effort. We're all in this together — let's learn from our colleagues what they contribute to Sterling Heights.
The difficulties: Taking a high-level manager, or any working employee for that matter, away from their job duties for one day a week over an entire month meant a bit of stress on the department and the employee participating. Often managers would still be taking calls and sending emails while watching a demonstration or participating. This also meant the departments hosting the tours were burdened for these same days — four whole days of touring a new group of employees through the program. While fun, it just meant other work piled up.
In the end, we felt Sterling U was very successful in its first run, and with some tweaking, we hope to offer twice a year. Once an employee is "graduated," he or she doesn't need to go through the program again. The idea is to continue 50-person class sizes until all of our 500+ plus employees run through the program. After that, we are considering to once a year and offering it to classes of new employees only.
Interested in starting your own internal cross-department training program? I'd be happy to share with you our model and related files. Email me at [email protected]. I'd also love to hear from any other ELGL'ers who have run similar programs internally. We can certainly improve and grow our offering and I'd love your feedback.