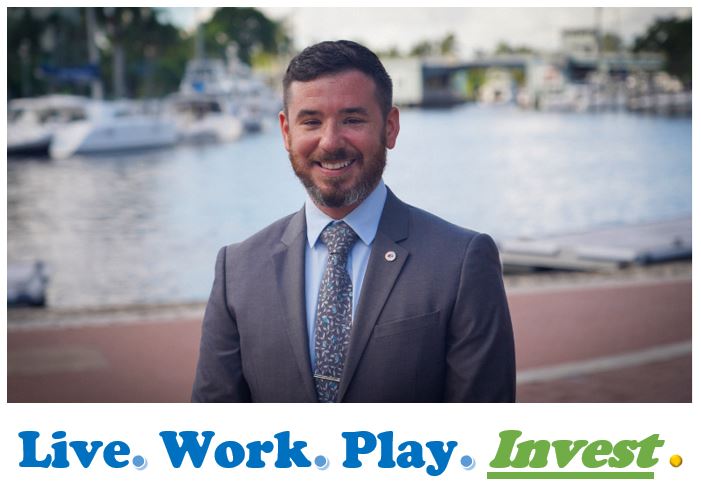 Today's Morning Buzz is brought to you by Christopher Leonard, Administrative Supervisor for the City of Fort Lauderdale. You can connect with him via LinkedIn
---
What I'm Listening To: "Meditation" on Apple Music.
What I'm Watching: Normally not much into shows, but I just finished America's Got Talent
What I'm Reading: Crisis Intervention Research
---

Live, work, play sums up my first few years in sunny South Florida. This September marks the eighth anniversary of my move from the northeast. I have such a deep sense of fulfillment from what I consider a wholesome life in Fort Lauderdale. Live, work, and play is a statement that encapsulates the diverse culture and experience one can find in Fort Lauderdale. The City's Government and Economic Development Manager, Daphnee Sainvil, added that her vision would be to tie in the word invest – "the investment of living, working, and playing in a diverse community is priceless". This resonates with me, as I am consistently immersing myself in the many unique aspects of our City. Throughout the years, my relationship with the term live, work, play has evolved. I am so thankful for every opportunity, that has expanded my experience and promoted growth to be a part of such a diverse community.
Living, working, and playing in the City is such a powerful embodiment. I love talking to new employees just starting their careers here. When I ask, "how are you feeling about your move", the progression of investment from day one to the year or so mark is astonishing. I love watching the progress from just getting their feet wet to being submersed in all that the City offers. There is something special about the cultivated desire to invest in advancing the City's goals and bettering the overall community.
Across the City there are many opportunities for investment and advancement. For example, the City's Community Redevelopment Agency's (CRA) mission is to improve the quality of life in targeted areas. Their efforts to equitably revitalize areas is astounding. As I am living, working, and playing I am seeing firsthand the consistent city investment which provides opportunities for neighbors and businesses.  Fort Lauderdale City leadership considers neighbor interest and need during the development process.  Whether it is development, redevelopment, or major investment in its people – the City engages all stakeholders in the decision making process.  It speaks volumes that the City invites local, minority owned and operated businesses to be a part of the planning and development process.  People are noticing and acknowledging the opportunities that the City is providing for economic and business development.
My recent first-time homeownership was a product of inclusive programming offered by the CRA. With rental prices being so high in South Florida, first-time homebuyer opportunities have become essential to equitably supply access to homeownership opportunities to families. My fami
ly and I appreciate the opportunity made possible by the City. Homeownership is amazing; the color of our house, type of fence we build, and which trees we plant shape what our neighborhoods look like. Homeownership has come with a sense of permanence and heightened interest in investing both personally and professionally. It is exciting to know that I "own" a part of our community and that I am personally improving my piece and in extension working to improve the overall community. Whether it is a neighborhood clean-up or home project, I look at the work as an investment in the development of OUR community. I continue to believe that teaching and managing is another form of community service and investment, check out a previous morning buzz on that topic: Taking it Back to the Classroom.
I am so thankful for every opportunity that has expanded my experience, helped me grow and be a part of such a wonderful and diverse community. As I move through personal and professional development, I look forward to continuing to Live, Work, Play, & Invest in the City of Fort Lauderdale.