This blog post is by ELGL member Steve Abdalla with Power Almanac. Connect with Steve on LinkedIn!
---
What separates a truly great local government vendor from the pack?   Naturally, your product or service needs to be a hugely positive impact.   But what kind of impact?  On whom?
And it turns out that, while making a hugely positive is a requirement, that's not enough to make you stand out.
Three Keys to Standing Out
We partnered with Engaging Local Government Leaders (ELGL), a professional association of local government leaders with more than 4,800 members, to analyze and determine how the best local government vendors stand out.
ELGL's Haverford Award is the most prestigious honor in the US recognizing companies serving local governments.  Haverford Award winners must be nominated by one or more of their local government customers (it's usually "more").   Power Almanac, in partnership with ELGL, analyzed the nomination ballots of the top 25 award winners for 2019 to identify common characteristics and traits that made those winners so valuable to the local governments they serve.    
Click here for a list of the 2019 award winners.  To nominate a supplier for the 2020 award (or to ask one of your local government customers to nominate you), click here.
While the 2019 Haverford winners offer widely varied solutions, they each have at least three of the following four attributes:
Their product or service delivers a hugely

positive impact

. (100% of the winners)

They are

innovative

.

Their

customer service

is uncommonly good.

The

character of their staff

stands out.
---
Deliver a Huge Positive Impact
The Haverford nomination form asks local government leaders to describe the outcomes/ benefits of the relationship.  We categorized their answers and summarized the most commonly cited impact areas in the two charts below.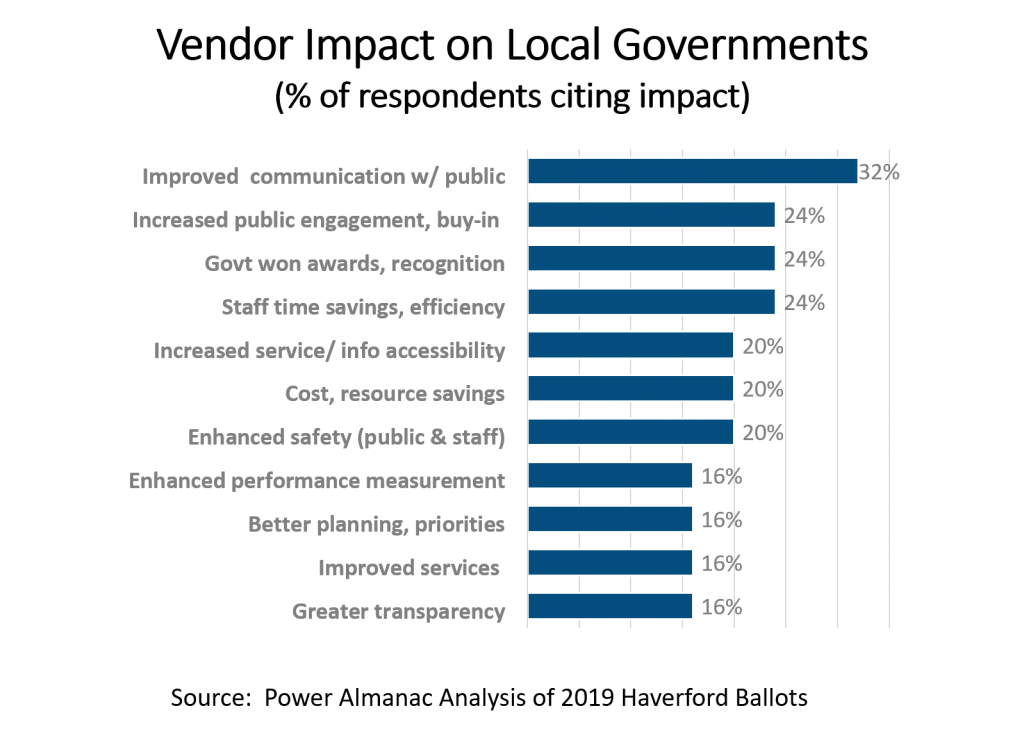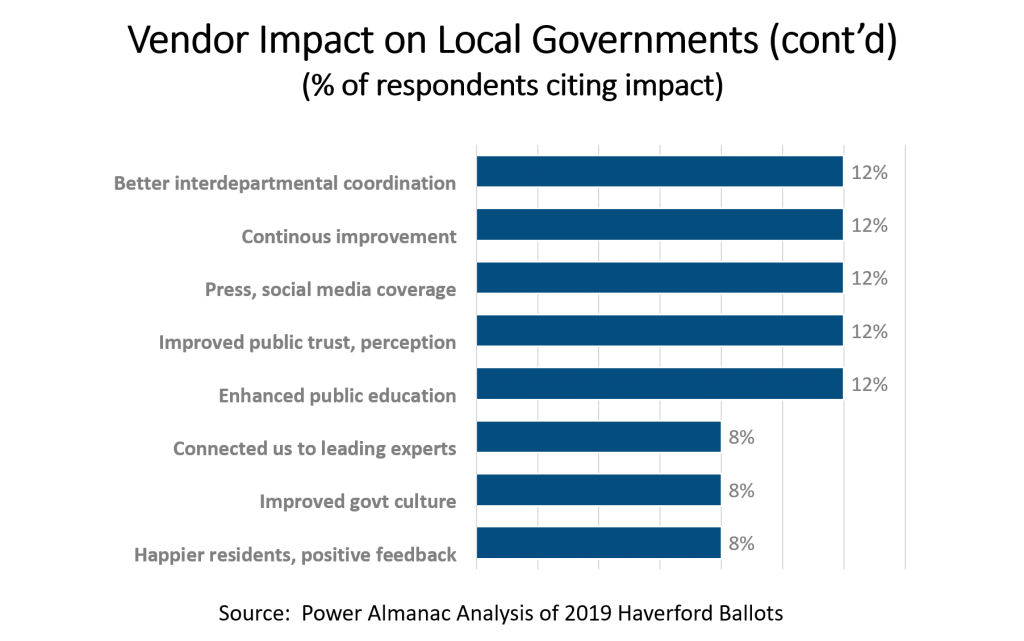 Collectively, these comments tell a story of the dramatic impact effective companies can have on both their government clients and on the citizens served by those governments.
The local governments are performing better, with improved communication, more efficient operations, improved service delivery and greater transparency.  
Substantial benefits are flowing through to the public in a variety of areas, including increased public engagement, enhanced safety, improved trust and higher satisfaction with their governments.  
Other improvements are primarily internal to the government operations and their staff, including better planning, enhanced performance measurement, better interdepartmental coordination, improved culture and connections to helpful experts.
Representative quotes from local government leaders illustrate the impact:
Improved Communications with the Public (Supplier:  OpenCities)
"The idea of writing for citizens rather than for government; the necessity of offering step-by-step instructions vs. long paragraphs of information (that no one would read or understand), the importance of using active, non-government language, the model of writing for 80% of cases and not getting stuck in the weeds, and the notion of empowering our employees to facilitate process improvement through their own discoveries and actions."
Staff Time Savings, Efficiency (Balancing Act)
"We reduced the amount of staff time required for public engagement from about 300 staff hours to less than 50."
Increased Public Safety (Mark43)
"Mark43's (product) can display precise location data for wireless callers, enabling call takers, dispatchers, and first responders to pinpoint the scene of an incident in real time."
Cost & Resource Savings (ResourceX)
"We have saved $11.5 million in resource allocations by applying priority-based budgeting".
Happier Residents, Positive Feedback (Bang the Table)
"The new system has dramatically reduced the amount negative feedback about homelessness that we used to receive through email and social media.".
---
Beyond Impact:  Identifying Winners' Key Attributes
The nomination forms asked nominating officials to name three words to describe the supplier (and, implicitly, their people). Their responses provide a concise summary of the attributes driving these firms' success.  The most common answers are charted below, color coded into three categories:
Product

Customer Service

Character of the Staff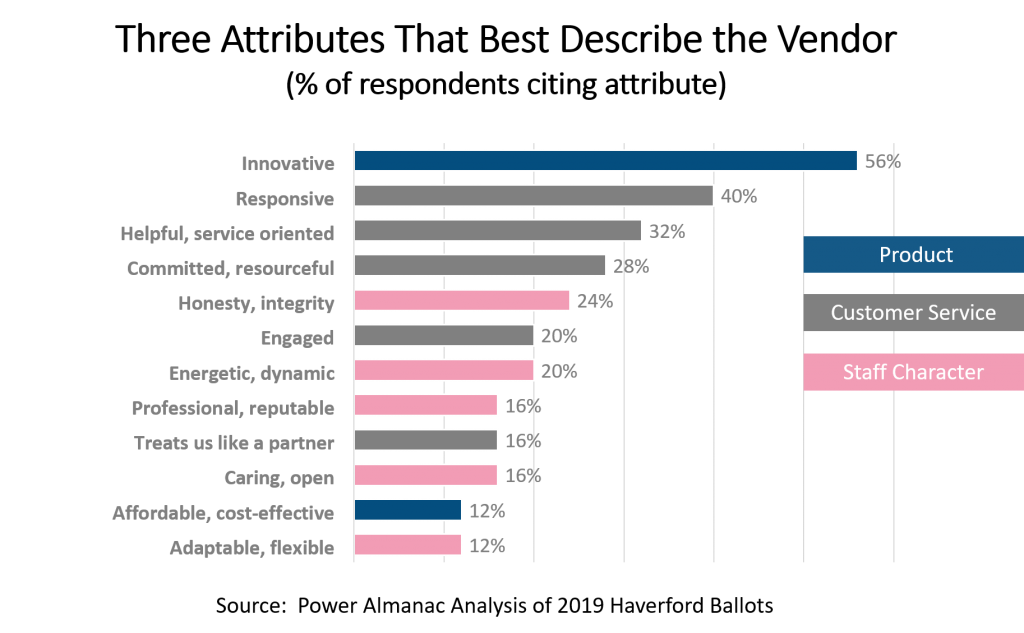 ---
Be Innovative
The most cited trait by a wide margin is "innovative".  This makes sense, as 68% of the Haverford winners are tech companies, vs. 28% consulting/ PR, and 4% media, as summarized in the chart below.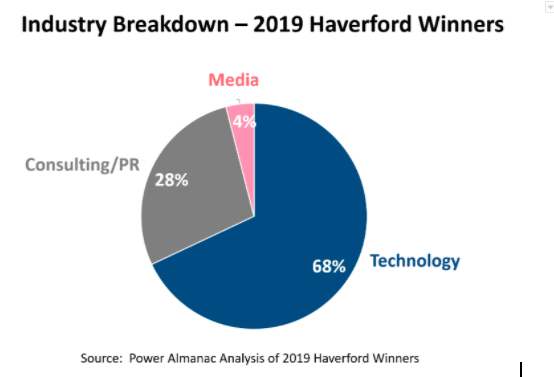 The nominating officials raved about their suppliers' innovation.
Envisio
"Through implementation [of the Strategy Manager], we were able to reveal some much-needed improvements to the city's strategic planning process and how to achieve better alignment across plans, measures, and tasks in the organization. The city's performance management program was significantly improved as a result of both the tools and consultation from Envisio."
MuniCode
"Partnering with MuniCode has given us an award winning (3CMA Savvy Award) website that meets ADA requirements, and is mobile responsive."
PublicInput
"Their features are engaging enough to keep respondents from experiencing boredom, and their analysis tools are innovative enough to get city planners (city planners!) amped about survey reports."
While there were no questions in the nomination form asking specifically about products or technology, quite a few officials addressed these topics in their comments.  We categorized the comments to find the most critical characteristics, summarized in the chart below.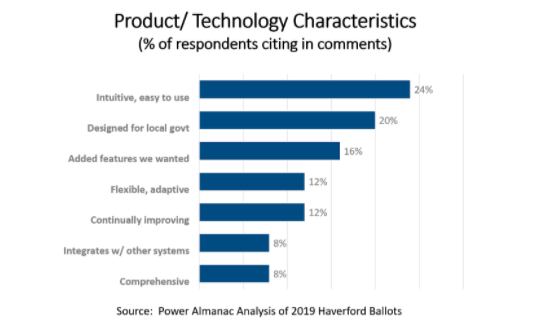 Given the challenges in recruiting and training technical staff in local governments, we were not surprised to see how important ease of use was.  The Haverford winners excelled in this area.  
Viewpoint
"The system is so easy that training was unnecessary. Employees were able to learn the software on their own with minimal direction."
Suppliers deep understand of, and focus on, local government was recognized and applauded in numerous comments.  
mySidewalk
"I worked with mySidewalk to create a community risk assessment tool for Hartford, CT….  mySidewalk did a phenomenal job in (capturing the relevant data and) breaking down in technical terms in a manner that lay firefighters, citizens, and elected officials could understand which contributed to the risk assessment being embraced with minimal resistance. With a priority and passion to serve public servants, the partnership between the Hartford Fire Department and mySidewalk has truly made a difference in our community."
Officials loved suppliers' willingness to incorporate their requests and feedback into product features quickly.
OpenCities
"As true partners, we provided OpenCities feedback that assisted with their future product roadmap (which we also benefit from), and they responded to our personal design requests in a manner rarely seen from gov-tech CMS providers."
---
Provide Uncommonly Good Customer Service
While innovation was the single most cited trait describing suppliers, the next three most mentioned traits – responsiveness, service-orientation and committed/ resourceful – are all indicative of exceptional customer service.  
In comments, officials frequently cited service "above and beyond" expectations.
Xavier Leadership Center/O'Keeffe PR ("XLC")
"XLC has gone above and beyond in our partnership to seek fundraising events to raise money for our customer assistance program. Not only have they sought opportunities, they have also taught us how to seek these events and work to make them successful."
PublicInput
"When PublicInput heard rumblings that our department was likely going to merge with another, they showed us how to consolidate our materials on their platform. There have been so many "when this happened…" examples (of their support) and there will be many more. What's clear is that the statement will always end with "…and PublicInput had our backs.""
As with technology, there were no specific questions in the nomination form about customer service, so we analyzed the nominators' comments to find the most common and valuable traits, summarized in the chart below.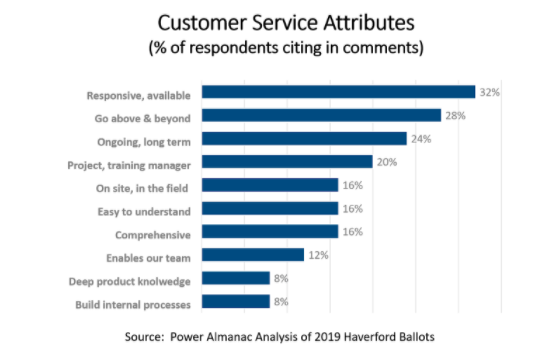 Reviewer comments illustrate the exceptional levels of customer service provided.
ResourceX
"ResourceX is also a company of fantastic customer service. Regarding response time, they have never taken more than 24 hours to get back to our organization when we inquire. In fact, we usually hear back from them within two hours."
ProudCity
"Not only are the products amazing, the process is always a joy.  They also helped us revamp our in-house tech support process and culture. They led a session at our department offsite and helping us develop a product management playbook."
---
Hire People of Great Character
The final category of traits cited relate to the character of the suppliers' team.  As referenced above, officials cited the integrity, energy, professionalism, caring and adaptability of suppliers' staff.  
The major themes that emerged in officials' comments about supplier staff are summarized in the chart below.
A profile of the staff of award-winning suppliers emerges: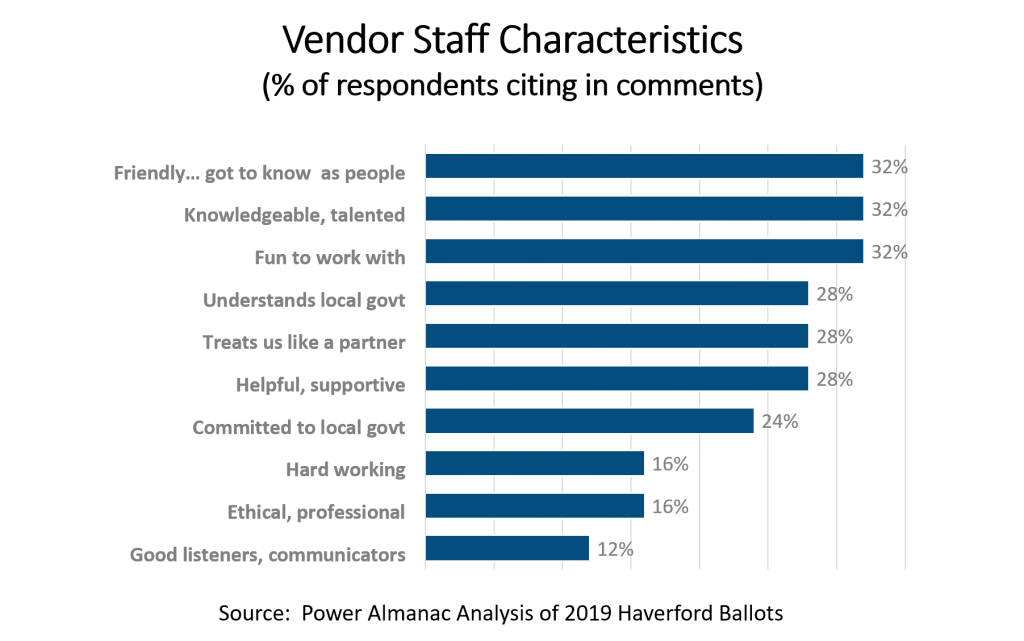 Friendly, helpful, and enjoyable to work with.  

A deep understanding and commitment to local government

Knowledgeable, hard-working and ethical

Treat clients like partners.
Many reviewers said they suppliers' staff felt became valued members of their communities.
McGohan Brabender 
"At McGohan Brabender (MB), family is the foundation of their culture and they treat their clients like family as well. That means they support each other; go the extra mile for clients; and serve their communities by being a proud sponsor of several non-profits and by their employees dedicating hundreds of hours, using their time and talents to serve on boards and by "giving back" through volunteering efforts in the communities they serve.   I cannot think of a better local government "partner" to recognize than MB.  
Several reviewers praised the focus on – and dedication to – local government.
Recreation Results
"Since Bobbi was previously a recreation practitioner for a local government, she is keenly aware of the demands and opportunities for our agencies.  She shows us how to use data, trends, and strategy to drive real change within teams whose mission it is to change the world."
JPW Communications
"Because they've worked in local government for decades, they know that public service is sacred—and it shows in their work."
---
A Word About Pricing
While pricing was not a critical common theme across the winners, it is clearly an important subject.  
The nomination forms also asked about suppliers' pricing.  A wide variety of pricing models were cited.  The most common for technology suppliers were:
Population based

Flat fee per month or year

Based on transaction volume

Based on number of users and/or departments

Based on the level of features.
The consulting and PR firms, by contrast, generally priced on project scope, monthly retainer and/or hours worked.
Unsolicited, several respondents applauded the suppliers for several critical practices related to pricing: 
A willingness to help the government say within its budget when issues arise

Provide volume and usage discounts

Allow for extended free trials (and beta tests) to allow the governments ample time assess the product, its suitability for their unique challenges, and to understand how hard (or easy) it is to use.
Quite a few reviewers praised both the value provided, and the willingness to work with the governments to help stay within their budgets.
Balancing Act
"Standardized pricing but they are good at working with us to get us what we needed.  The software is a steal for the value we got in return."
JPW Communications
"We recently went over budget on one of our city newsletters because we took longer than anticipated to review the drafts. This was due to our learning curve. JPW was kind enough to realize this and not charge us for any overages."
---
In Conclusion
The Haverford Award winners represent the premier service providers to local governments.   
These companies are helping to transform local governments and their ability to serve their constituents.  Benefits realized by these governments include:
Improved public engagement and communication

Enhanced efficiency and cost savings

Improved services and accessibility

Enhanced planning, performance and transparency.
The key factors driving these suppliers' success include:
Innovative technologies design specifically for local governments, and customized to user needs

An extraordinary customer service orientation… and commitment to going "above and beyond" the call of duty

Exceptional staff that are honest, professional, energetic, adaptable, caring and involved in their clients' communities.
At Power Almanac, we work with numerous local government suppliers, including many Haverford Award winners.  We have a vested interest in companies being successful, so we hope you take these findings to heart!  
To nominate a supplier for the 2020 Haverford award,

click here

.
---
Appendix
About ELGL
Engaging Local Government Leaders (ELGL) is a professional association of local government leaders with more than 4800 members from all 50 states plus Canada, UK, Israel, and Australia.  Focused on all levels of local government (from analysts to mayors; librarians to planners; and everyone in between), ELGL's mission is to engage the brightest minds in local government by providing timely and relevant content and conference gatherings, to foster authentic and meaningful connections grounded in equity and inclusion.
About the Haverford Award
The ELGL Haverford Award celebrates the top companies that work with local government. We often say "we're all in this together" and that mindset shapes the way we work with the people who work in the private sector. We don't differentiate between our members who work for local government, from people who work with local government.
When local government companies are well run, responsive, and in tune with the opportunities in challenges in towns, cities, counties, and districts, their work makes local government stronger. Simply put, diligent and responsible local government suppliers and their products and services make our communities run better.