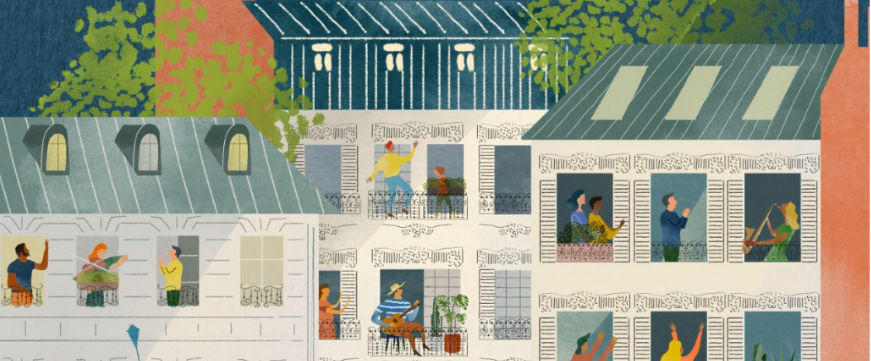 This article is written by Fabio Ramos de Andrade, Human Rights and Equity Analyst, City of Eugene, Oregon. Connect with Fabio by LinkedIn or email. He wrote this article as part of the Equity Ambassadors Cohort. You can find all the articles for this cohort here. 
---
Since the novel coronavirus and the Covid-19 disease spread through the US, many states and local governments limited economic activity to reduce community transmission of the virus.
This approach likely saved lives but has resulted in an economic crisis of historic proportions. With many non-essential businesses closed for weeks, and months in some places, unemployment skyrocketed, tax revenue declined, and people grew anxious demanding a strong governmental response. While federal and state government took the lead in providing immediate economic relief to unemployed people, local government had to adjust service delivery and start planning for the next stages.
The uneven pandemic
Not everyone is impacted by the Covid-19 pandemic in the same way.
This crisis laid bare the racial and ethnic inequalities of American society. Among those deemed "essential workers" there is a people of color and low-income workers are overrepresented. Essential workers had to remain in their jobs, be exposed to higher risks of contagion, and if sick rely on less comprehensive health insurance. Additionally, many of those workers could not provide the necessary care for their children who were home due to school closures. This "essential worker trap" will have long-term impacts for workers in that group and their families.
The tourism and service industry were also hit hard by social distancing policies and both have a higher concentration of employees of color. Most jobs in those industries cannot be performed remotely. In the agriculture sector, many Hispanic/Latino workers found themselves either in the "essential worker trap" or without jobs. Many farm workers have taxes paid for them via Individual Taxpayer Identification Numbers (ITIN) due to their inability to obtain work permits. Workers in this condition who become unemployed are ineligible to receive unemployment benefits or temporary federal government assistance. Recovery efforts must account for these industry and group differences or they will reinforce the racial and ethnic disparities that existed before the Covid-19 pandemic.
As the rate of contagion began to show a declining trend in some areas, municipalities in those areas started reopening non-essential businesses and planning for economic recovery. To appear responsive, many recovery planning teams may rush to complete planning processes that will likely include lower levels of public participation, be based on unreliable data, and be ill-suited to help residents and businesses equitably.
Some recovery planning teams may rush into adopting new packaged solutions presented by consulting groups and sector experts. Others may choose to utilize familiar tools that have proven useful in past crises. Whatever approach they chose, planning teams will be under pressure for achieving fast results. As the need for speed increases, the time and resources for considering equity in recovery planning likely decrease. This combination usually results in inequitable outcomes.
Where we go from here
The impact of the current crisis is not yet known.
It is wise to expect that some of the damage will be long-lasting. For example, recovery efforts may try to address unemployment in the tourism sector by trying to bring back jobs that were lost. Nevertheless, the tourism industry will likely experience lower activity extending for years and may never recover the employment levels pre-Covid-19.
A focus on unemployment numbers alone may prevent planners from focusing on workers' needs and career change potential. It is easier to plan on readily available data such as unemployment figures than determining which alternatives can be helpful to unemployed people. Investing recovery funds on business is easier but investing in people may prove to be more effective. The second option is more complex and requires more time and/or resources.
Alternatively, municipalities can choose not to draft a recovery plan.
This option may be justified by the assumption that, as in areas hit by natural disasters, economic recovery in many industry sectors will take a V-shaped curve in which a fast decline is followed by fast recovery. Assuming the current economic crisis is solely caused by social distancing to control the pandemic, everything would soon return to normal once social distancing restrictions are lifted. In this scenario, instead of rushing to plan something, local governments could spend more time assessing community needs and addressing them tactically rather than strategically.
This option entails sticking to existing long-term plans (strategies) and using emergency funding to address specific community needs. The result of such an approach may include expanded services at local libraries and business development offices to help people navigate the job market and access business funding. Building permits and licensing may need to be streamlined to help businesses and employees adjust to a social-distancing context that will not disappear until a vaccine is widely available.
The approach described here requires some form of community outreach and access to disaggregated data to identify the groups who need help the most. By adopting these recommendations, local governments may uncover hidden needs and ways to build more resilient and equitable local economies.