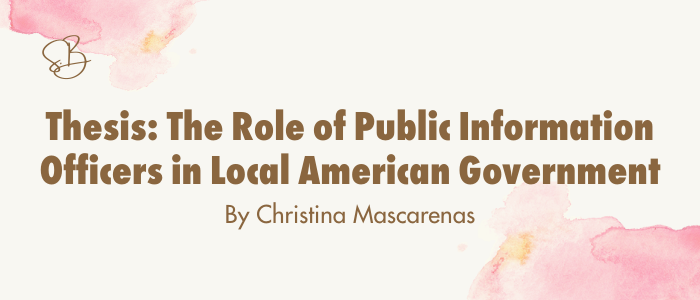 We are pleased to share the graduate thesis by Christina Mascarenas. Please see the below abstract, and download the full thesis below.
---
Public information officers (PIOs) see themselves as the liaison between the agency they represent and the public. They come from various backgrounds including broadcast and print journalism, for profits and the advertising world while others seek out local government jobs straight out of college since they loved public relations and wanted to serve their local community.
This thesis seeks to understand how PIOs experience and manage competing roles in their local government agency, as well as how they came into these PIO roles. This turned out to be a unique year for the PIOs as they learned how to navigate through an unprecedented pandemic to riots to an election on top of their everyday roles.
Through qualitative research that included 13 in-depth interviews from current local government PIOs and applying role conflict theory, this thesis presents the PIOs understanding on how they view their roles in their job, what it means to them and how they manage all that they do. 
Keywords
: Public Information Officer, role, media, agency, social media, engagement, communications, tasks, public relations, PR, PIO