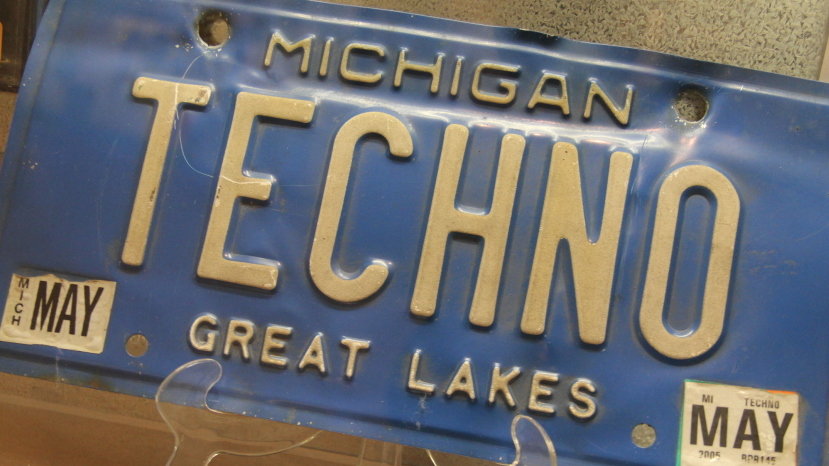 Detroit Rock City, Motown, Detroit has long been associated with music. Detroit is also the birthplace of another sound, Techno. Remember when Eminem said "nobody listens to techno?" Well, perhaps the hometown guy was paying homage to a shared musical success.
From The Guardian: "Technically, Detroit techno was born down the road in suburban Belleville, where chief architects Juan Atkins, Derrick May and Kevin Saunderson met in high school. By 1985, Atkins had his own label, Metroplex. If Motown had been aspirational, then Metroplex, and the Transmat and KMS labels set up by May and Saunderson, were the sound of a future snatched away by industrial collapse. Kraftwerk, George Clinton and 80s synth-pop were influences but the melancholy undertow was all Detroit.
"Because of a lack of readily available documentation, there is a gap in Detroit's music history between the days of Motown and the rise of techno in the mid-'80s. It's as though when Motown left Detroit in 1972 for Los Angeles, the city's music scene essentially died until it was revived by techno a little over a decade later. This is far from true: a fascinating tale mostly left untold, aside from a small chapter in Dan Sicko's Techno Rebels and a handful of articles, Detroit's blossoming dance music culture between 1973 and 1985 was a highly influential period that never received the credit it deserved." Source: Red Bull Music Academy. Read the full story here.
Every summer the electric music festival Movement, pays homage to that electronic sound.
Love techno? Hate techno? Either way, you should join us in Detroit May 11 and 12 for #ELGL17, where you can weigh-in on Detroit's musical history with your local gov colleagues from across the country. Register by clicking here.