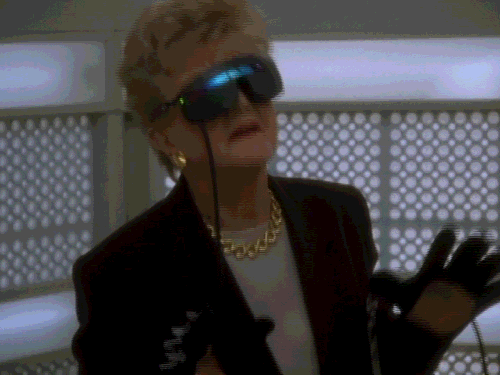 Right Now with Warren Kagarise (Linkedin/Twitter/Instagram)
What I'm watching: "Breakfast, Lunch & Dinner" — a mashup between buddy comedy and travelogue that pairs celebrity chefpreneur David Chang with a rotating cast of famous friends (and piles of food) in Vancouver, Marrakech, Los Angeles and Phnom Penh.
What I'm reading: Wired's nostalgia-packed recap of the foray "Murder, She Wrote" took into virtual reality in a much-GIF'ed 1993 episode.
---
With dog noses and cat ears, Snapchat ushered in the augmented reality revolution. The goofy filters, known as Lenses in Snapchat speak, allowed untold millions of users to up their selfie game with devil horns, clown makeup and much, much more.
Need a last minute #Halloween costume? Tweet at us and we'll hook you up with a link to an #AR Snapchat Lens made by our creators. pic.twitter.com/3zIQHMtIzp

— Snap Lens Studio (@SnapLensStudio) October 31, 2019
Snapchat brought augmented reality, abbreviated as AR, into the palm of our hands. Now, government at all levels is working to incorporate AR and more immersive virtual reality, shortened to VR, into the constituent experience.
First, a quick primer on the differences between AR and VR. AR superimposes images over the user's real-world environment, while VR creates a completely artificial environment.
In the public sector, AR and VR uses for emergency management, military and police dominate the discussion, but AR and VR also offer immense potential as storytelling tools — particularly by enabling people to visualize changes to the community, and offering access to places traditionally off-limits to the public or not yet built.
You can step inside the City of Boston's VR environment to envision the $70 million plaza makeover outside the city's love-it-or-loathe-it Brutalist city hall. The virtual experience captures what renderings do not: the feeling of a major infrastructure project at a human scale.
Have you heard about the plans for the renovation of City Hall Plaza? Check out a virtual map and take on online tour of the new design: https://t.co/GCRq3wWDMX pic.twitter.com/lqphSKTaAJ

— City of Boston (@CityOfBoston) August 14, 2019
You can venture underground in the City of Austin without ever leaving home and go on a virtual tour of caves within the community's watershed. VR exploration expands the number visitors, regardless of physical ability, and without causing environmental degradation.
Did you know we have FREE, award-winning virtual reality (VR) tours of our local Millennium and Wildflower Caves online for you to explore??You can "visit" the caves on your own VR equipment or from any computer or smartphone at https://t.co/QVBlv9kvT3! @AustinWatershed

— City of Austin (@austintexasgov) June 4, 2019
You can visualize how tiny houses could help provide more shelter to people living homeless in the City of Los Angeles. The city collected feedback from people who had experienced homelessness, using a no-frills cardboard viewer to help determine how a tiny house or backyard cottage might suit their needs.
Change can be hard for citizens to grasp and #VirtualReality can help. Here's how @LACity and @NewRochelleNY are using it in the #MayorsChallenge. #VR #AR https://t.co/nT74ZtqFTN @LAinnovates @ameliawb

— Bloomberg Cities (@BloombergCities) July 6, 2018
Museums, always eager to engage audiences in new ways, have embraced AR and VR as ways to dust off history or bring complicated concepts to life. In Australia's capital Canberra, for instance, the Australian War Memorial used VR to bring World War I's Battle of Hamel to life a century after the guns fell silent.
The battle of Hamel will be brought to virtual life in stunning 3D, 360 degree video. Using virtual reality technology you will experience the story of this key action alongside the Australian and American soldiers who fought there. Book now https://t.co/uIbqzErbgt #VisitCanberra pic.twitter.com/6S7w1IoQK8

— Aust War Memorial (@AWMemorial) June 9, 2018
Staff training is another opportunity for local governments to utilize AR and VR.
At King County, WA, Wastewater Treatment Division staff turned to AR for training at the county-run West Point Treatment Plant, a sewage treatment facility in Seattle. The effort, a collaboration among county government, King County-based Microsoft and local startup Taqtile, earned national recognition for incorporating digital and traditional methods to help employees stay current.
Congratulations to our information technology team — recipient of a Digital Edge 50 Award from @CIOMagazine! ?

Our IT team used @Microsoft @HoloLens goggles and @taqtile to train @KCDNRP's @KingCountyWTD operators at the West Point Treatment Plant. ? https://t.co/E6dS0EvwQz pic.twitter.com/86mh4ZXJgh

— King County, WA (@KingCountyWA) December 13, 2018
While the list of opportunities is long, balancing constituent needs with innovation is another key factor, and in the end, practical applications of AR and VR may rule the day in local government. Nevertheless, like other technology used by (or foisted upon) local governments, AR and VR also bring concrete challenges.
Equity is a key factor to keep at top of mind. As governments integrated AR and VR into operations, local leaders also bear the responsibility to ensure the technologies remain accessible to all community members. VR technology continues to drop in price, although the most popular VR headsets retail for about $400.
Cities have wisely added VR offerings to community centers and libraries, particularly as a way to draw Snapchat-savvy tweens and teens. AR and VR in libraries also offers the opportunity to bring the technologies to a broader audience, potentially increasing tech accessibility and literacy in the process.
Remember 2016's Pokémon Go craze? For many municipalities, the arrival of Pokémon Go represented the first time local governments had to confront the impacts of AR in a brick-and-mortar environment. After officials in several cities raised concerns about players overrunning cemeteries and parks, and visiting locations deemed off-limits or unsafe, the game's creator removed real-world landmarks known as PokéStops.
On the flip side, mega-popular Pokémon Go also prompted cities to use the app as a way to gamify health and wellness, encourage more people to visit business districts, and even attract residents to public buildings and city council meetings.
Not done yet! This #CityHallSelfie is pulling double duty as a #PokemonGo stop! Gotta catch 'em all! pic.twitter.com/bpNieF137v

— City of Raymore Gov (@CityOfRaymoreMO) August 16, 2016
Perhaps the last idea — using AR and VR to encourage access to city council meetings, places where a small number of constituents usually tread — is the real augmented reality revolution.