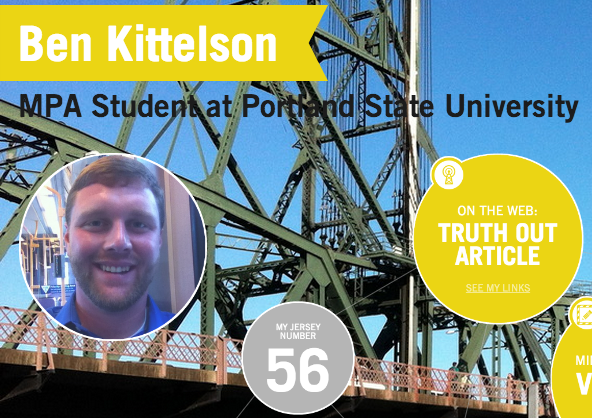 So after hearing about the Portland based start-up company Vizify, I set out to do some investigating in order to inform our ELGL readers about this new social media option and digital resume platform.  First, a little explanation about Vizify.  Vizify stands for Visualizing, Realizing, and Clarifying.  The goal of the organization is to give people a "sophisticated tool for showing the best of you online, all in one place" (https://www.vizify.com/about).  Essentially the program helps you sync pieces from different social media websites and summarize them into one visually appealing Bio.  This enables users to create a professional profile or digital resume that can show a different side of your background or personality.  This supplements a traditional resume and shows potential employers how you might fit in with their culture.
I thought creating my bio was simple and actually pretty fun, especially compared to other professional websites like LinkedIn.  You can also tell the company has a lot of fun with it, they even created a bio for Dr. Tobias Funke from Arrested Development!  Getting started with Vizify is really easy, you enter some login information (an email and a password) and then choose what social media websites you want to Vizify to pull information from.  I chose to just use my LinkedIn profile and my Twitter account.  The program automatically extracts information and creates a page all about you.  After that you can edit the different parts they created and add new things like quotes or pictures.  The editor feature is simple to use, just start by clicking "edit" in the upper right corner and  flip through each of your sections, or create a new one.
One interesting feature is their "Vizcards" section. This is a collection of pre-made infographics where you enter information about yourself and pair it with a graphic and a caption.  For example, I chose the "My Favorite Singer" one, (Jimmy Buffett naturally) and I added a short caption.  Each one has a similar set up and they range in topics from daily cups of coffee, to a quote from your favorite Arrested Development character.  I thought it was a fun way to show my personality in a visual way.
I also enjoyed being able to add my own photos, I added pictures from a hike I went on and a fresh hops festival I went to.  You can even add a picture as the background for your main page which really gives the Vizify bio a cool look.  Another fun feature if you sync your Twitter account, Vizify will pull out the top ten words that you've used in your tweets.  My number one?…Game. Apparently I tweet a lot about sports.
Once your profile is in place you can share it with a link, post it on any social networking website, and you can even set it up as a part of your email signature.  Click on the settings button in the upper right corner and check out all of the options.  There is even an analytics feature that shows how many people have visited your bio or have clicked on the email signature link, it gives you a monthly total and a nice self esteem boost.  You can also create badges like the one on the left that is a link to your bio, great for your personal website or an ELGL post.  The best thing to do is to just dive in and start exploring.
Check out my bio and let me know what you think: Ben Kittelson Vizify Bio.  I think it will be an easy way for potential employers to get to know more about my personality before an interview or when they are choosing between candidates.  Feel free to send me your comments, questions, or concerns.
Learn More about Vizify
Take a look at their website where you can start your own account, create your Vizify Bio, and you can also check out each staff members' profile to see other examples.  Read more about Vizify at the websites below: